The UNHRC'S resolution did not say there are no extrajudicial killings in the Philippines
Claim:
The United Nations Human Rights Council's (UNHRC) October 7 resolution on providing "technical assistance" for the promotion of human rights in the Philippines means that it found no extrajudicial killings (EJK) in the Philippines.
This claim was made by blogger Banat By in an October 7 livestream on his YouTube channel. It has 34,770 views as of posting. Banat By's channel has 417,000 subscribers.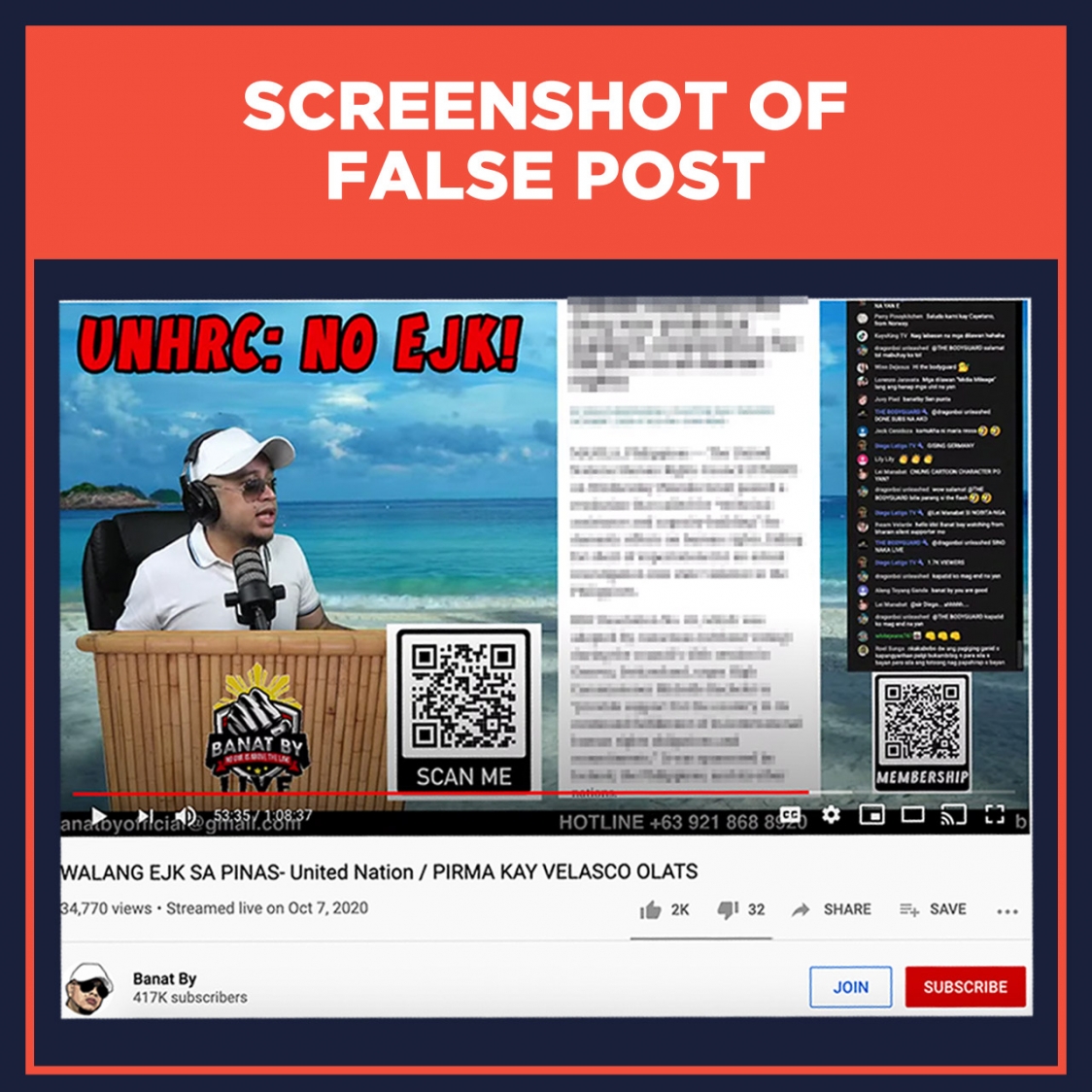 This claim was posted on the Facebook group "Fact-Checking in the Philippines" for verification.
Rating: FALSE
The facts:
The UNHRC's resolution did not deny that there were EJKs in the Philippines.
At around the 53-minute mark in his livestream titled, "WALANG EJK SA PINAS- United Nation (sic)," Banat By flashed an article from Inquirer.net about the resolution and said, "Sa madaling salita, wala naman silang nakitang EJK." (In other words, they did not find any EJK.)
The UNHRC's resolution took note of the report previously released by the UN Human Rights office on the drug war's violations. It encouraged the Philippine government "to address the issues raised in the report and other remaining challenges in relation to the situation of human rights throughout the country."
It also emphasized the important role of the Philippine government to ensure accountability for the rights violations, to conduct independent, full, and transparent investigations, and to prosecute those responsible for the abuses.
It also condemned all "acts of intimidation and reprisal, both online and offline, by state and non-state actors" against human rights groups and other critics.
The council did, however, fall short of conducting an independent investigation on the matter, which human rights groups have been lobbying for.
The Inquirer.net article cited by Banat By acknowledged this and quoted National Union of Peoples' Lawyers president Edre Olalia and Karapatan secretary general Cristina Palabay expressing their disappointment over it. – Vernise Tantuco/Rappler.com