(1st UPDATE) The spike protein, in the absence of the other parts of the virus, is not enough to function like a live SARS-CoV-2 and infect you or other people
At a glance
Claim: People who are vaccinated against COVID-19 transmit spike proteins that their immune system is building due to the vaccines. Exposure to vaccinated people increases the risk of getting infected, developing blood clots, headaches, and flu symptoms.
Rating: FALSE
The facts: The spike protein, in the absence of the other parts of the virus, is not enough to function like a live SARS-CoV-2 and infect you or other people. There is no evidence that the spike protein by itself can harm the body. There is also no evidence that you will shed the spike protein in substantial amounts after getting vaccinated.
Why we fact-checked this: A Facebook video with this false claim has gained around 1,700 reactions, 1,700 comments, over 1,100 shares, and 52,000 views, as of writing. While the page that posted the video has since clarified that its contents are misleading, the video is still being shared on other websites.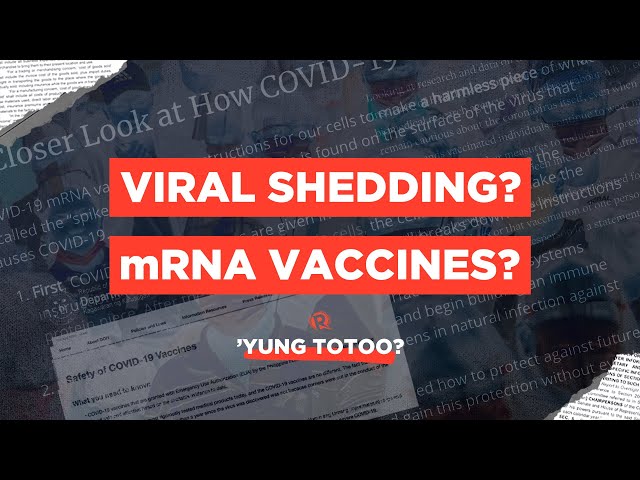 Complete details
An online interview posted on Facebook, featuring a River of Life pastor, Emilio Henares, contains several false claims about how the COVID-19 vaccines are associated with "viral shedding."
At around the 0:12 to 0:52 mark, the pastor falsely claims that people who are vaccinated transmit spike proteins that their immune system is building due to the vaccines. Because of this, exposure to vaccinated people supposedly increases the risk of another getting infected, developing blood clots, headaches, and flu symptoms.
This interview was conducted by Digital News Exchange (DNX), a digital news outfit based in Bacolod City, and uploaded on Facebook on July 6. DNX has since edited the caption of their video to cite expert opinions, but the video continues to circulate on other websites.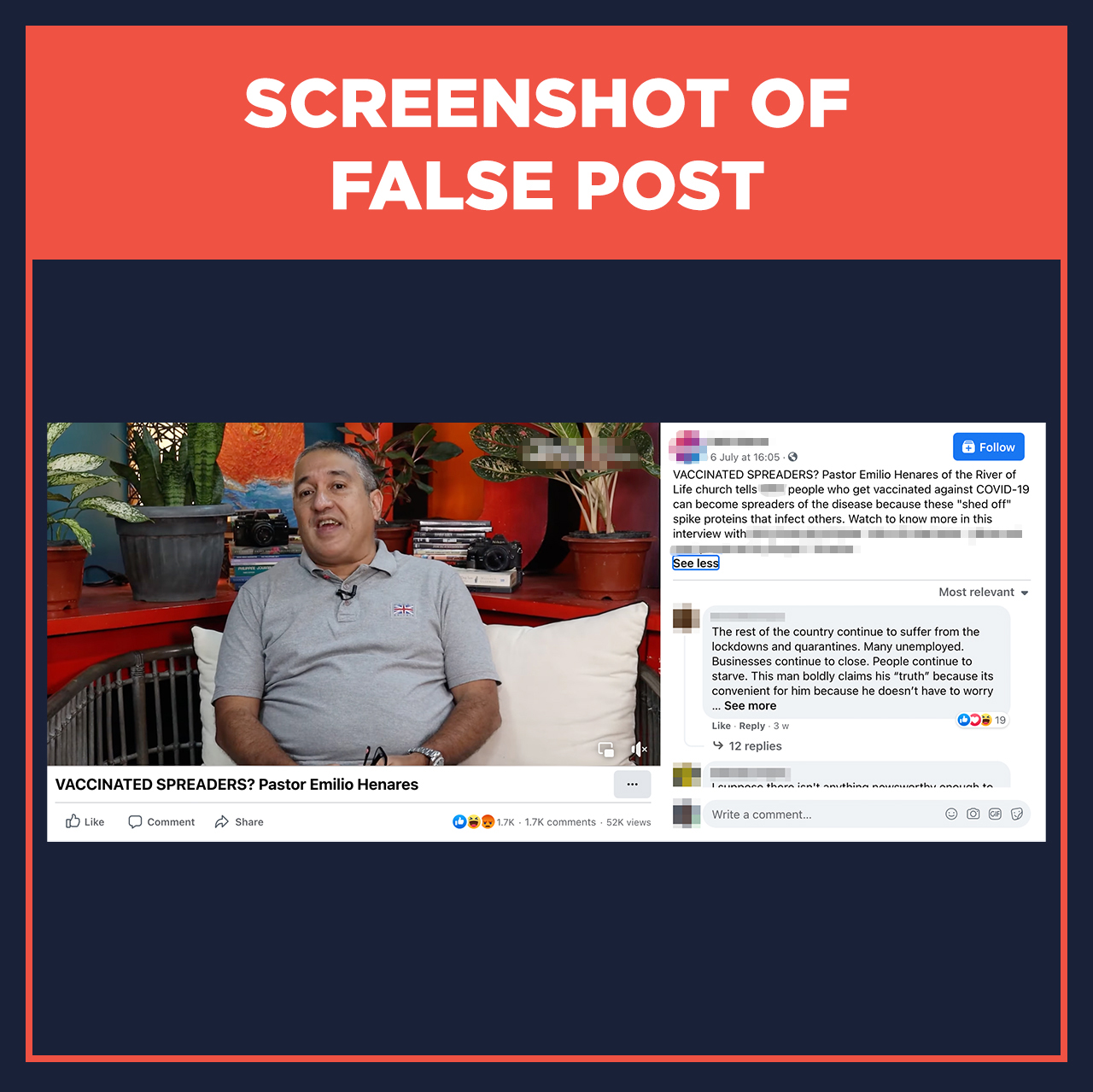 The video has gained around 1,700 reactions, 1,700 comments, over 1,100 shares, and 52,000 views, as of writing. In the comments section of the video, several netizens were alarmed as to why a pastor without medical expertise was invited to talk about the technicalities of vaccines and immunology.
The claim made in the video is false.
"There's no way for a COVID-19 vaccinated person to shed vaccine," the COVID-19 clinical team of the United States Centers for Disease Control (CDC) said in a Reuters' fact-check report.
Additionally, the US National Institute of Health spokesperson stated in the same report, "There's no evidence that individuals vaccinated for COVID-19 can transmit the vaccines to others or that vaccination of one person can have negative health effects on others."
On the CDC's website, it is said that vaccine shedding can only occur when a vaccine contains a weakened version of the virus. This refers to a live-attenuated type of vaccine.
For this reason, CDC also noted that none of the COVID-19 vaccines contain the live virus that causes COVID-19, so a COVID-19 vaccine cannot make you sick. This statement is also supported by the Philippine Department of Health on its website.
Paul Offit, a member of the US Food and Drug Administration's Vaccines and Related Biological Products Advisory Committee, told The Inquirer Philadelphia in a fact-check report that it is not possible for COVID-19 vaccines to shed live virus or the spike protein.
"It's just one protein, it's not a virus," Offit said. "It's just one protein from the virus and all that protein does is induce antibodies against it…. You don't shed the protein, you don't shed the antibodies, you just make antibodies to one protein. So, it can't possibly affect somebody else because proteins aren't shed."
According to CDC, mRNA vaccines teach our cells how to make a protein – or even just a piece of a protein – that triggers an immune response inside our bodies. After this protein piece is made, the cell breaks it down and gets rid of it.
In relation to this, the pastor Henares also falsely claims in his interview that these mRNAs contained in the COVID-19 vaccines alter our genome or the DNA. A Rappler fact check article has already debunked this claim and concluded that RNA vaccines do not alter DNA.
Henares also falsely claims that ivermectin is effective in all COVID-19 variants. Again, this statement is false.
In a press release dated April 30, 2021, the DOH and the Philippine Food and Drug Administration reiterated that the agencies "do not recommend" the use of the anti-parasitic drug for the prevention and treatment of COVID-19 due to "insufficient scientific evidence." The agencies clarified that off-label investigational drugs "can [only] be allowed under a compassionate special permit or when it is compounded by a duly licensed pharmacy and properly dispensed by a pharmacist to a patient with a valid prescription." (READ: FDA: 6 hospitals now have special permit to use ivermectin)
Similar posts with the false claims about the vaccine shedding and altering of the DNA have been debunked by fact-checking organizations around the world, including FactCheck.org, Reuters, The Journal, The Inquirer Philadelphia, and Health Feedback, and by health organizations, such as the CDC, ImmunizeBC, and Verywell Health. – Jefson Romeo Felix
/Rappler.com
Jefson Romero Felix is a contributor. This fact check was reviewed by a member of Rappler's research team and a senior editor.
Keep us aware of suspicious Facebook pages, groups, accounts, websites, articles, or photos in your network by contacting us at factcheck@rappler.com. Let us battle disinformation one Fact Check at a time.