Despite controversies, world-leading health experts declare that mass vaccination is still the most effective way to stop the rapid mutations and spread of COVID-19
At a glance
Claim: Vaccination programs run counter to impeding transmission rates because vaccines only prevent symptoms and do not actually block SARS-CoV-2, the virus that causes COVID-19.
Rating: FALSE
The facts: World-recognized and leading health experts say that mass vaccination programs remain to be the most effective way of stopping the rapid mutations and spread of COVID-19. While breakthrough infections can still happen among fully vaccinated individuals, the rate of transmitting the virus to others is much lower.
Why we fact-checked this: The public Twitter account that shared this claim circulates many similar falsehoods using the #NoToVaccine hashtag, which could affect public safety and opinion during the health crisis.
Complete details
According to an anonymous public Twitter account, experts worldwide claim that vaccination programs are the real reason why the number of COVID-19 cases and new variants continue to rise.
In one tweet dated August 23, the account said that the persistence of vaccination programs amid the pandemic as a means to combat the virus is considered "fake news," since vaccines "only prevent symptoms and do not block the actual virus."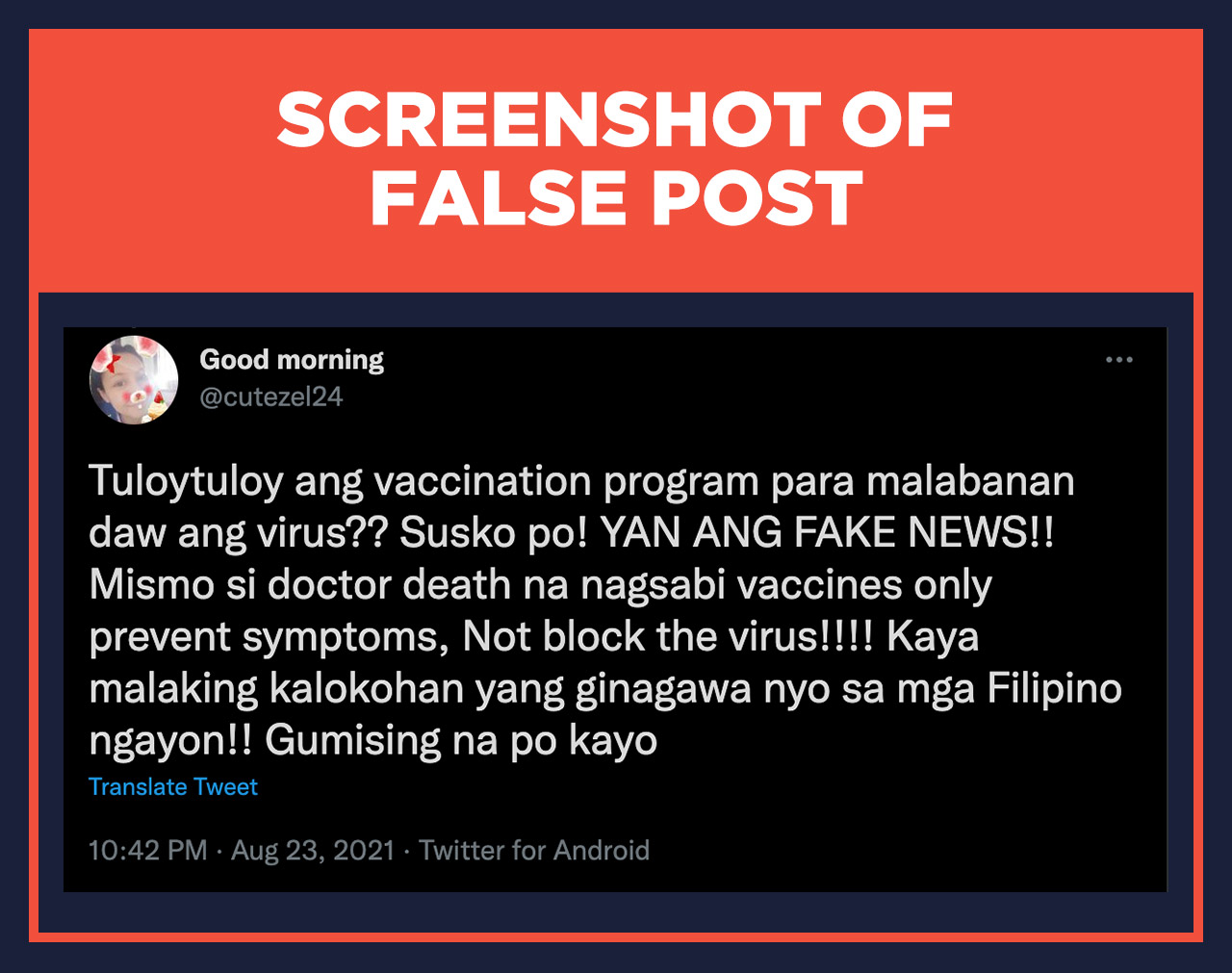 Related posts in this account use the #NoToVaccine hashtag, while calling for the use of Ivermectin instead as a defense against COVID-19.
This claim is false, based on information derived from credible news sites, as well as the World Health Organization (WHO), the US Center for Disease Control and Prevention (CDC), and experts from Johns Hopkins Medicine.
COVID-19 vaccines do more than prevent symptoms.
Both WHO and CDC have presented easy-to-understand and detailed reports on how COVID-19 vaccines work. Antigens – microbes found on the surface of the COVID-19 pathogen – are injected into individuals for their immune systems to grow familiar with and be trained to effectively fight the virus in preparation for an actual exposure. Vaccines strengthen people's immune systems while fighting the weaker and harmless versions of SARS-CoV-2, the virus that causes COVID-19.
Apart from effectively staving off high rates of symptomatic and asymptomatic laboratory-confirmed infections, being fully vaccinated also substantially lowers the risks of a COVID-induced hospitalization or a severe, critical, or fatal exposure to the disease.
The Department of Health also provided an information matrix on the various vaccines available here in the Philippines. These include efficacy rates of the vaccines available as well as serious adverse events reported in Phase III clinical trials.
Vaccines do impede transmission rates.
The CDC reported that while breakthrough infections – a COVID-19 infection in someone who is already fully vaccinated – are possible, the chances are rare and the cases less severe.
CDC also reported growing bodies of evidence which indicate that fully vaccinated individuals are still less likely to transmit the virus to others. Researchers from the Gavi vaccine alliance reported similar findings, such as those inoculated with either Pfizer or Astrazeneca having a lesser likelihood of onward transmission by 40 to 60%.
Because vaccines reduce the chances of acquiring the virus and developing the corresponding symptoms, vaccination programs can effectively limit the speed of infection, so long as they are accompanied by constant preventive measures, such as the wearing of face masks, frequent sanitation, and proper social distancing. 
The existence of variants and mutations, on the other hand, need to be understood as a reality of viruses. Doctor Stuart Ray of Johns Hopkins Medicine said "it is the nature of RNA viruses such as the coronavirus to evolve and change gradually" and as such, these mutations are to be expected. In this regard, mass vaccination programs – along with consistent mask-wearing, sanitizing, and distancing at both the individual and community-level – remain to be the immediate need of countries all over the world. 
While achieving herd immunity on a national and global scale appears to be increasingly remote due to new COVID-19 variants, WHO maintains that vaccines are still the best tool to combat these. If anything, the existing mass vaccination programs need to operate at even quicker speeds for the virus to be effectively contained. – Danna Gonsalves/Rappler.com
Danna Gonsalves is a Rappler intern. This fact check was reviewed by a member of Rappler's research team and a senior editor. Learn more about Rappler's internship program here.
Keep us aware of suspicious Facebook pages, groups, accounts, websites, articles, or photos in your network by contacting us at factcheck@rappler.com. Let us battle disinformation one fact check at a time.