Part 3: Gerald Bantag literally bulldozed his way to get rid of shanties inside Bilibid on his first week. Will it work in fixing congestion and criminality? We take an inside look.
READ:
Part 1 | Bilibid returnees die in Duterte administration blunders
Part 2 | Unqualified GCTA returnees lose jobs, are detained for months
Part 4 | Fixing the Bureau of Corrections: Government walks a tightrope 

AT A GLANCE
New BuCor chief Gerald Bantag employs his shock style and demolishes shanties, creating a domino effect on living and food situations.
"Illegal" shanties built by inmates themselves have been allowed by past BuCor leaderships because they created more living space for the overly congested Bilibid. This, however, allowed corruption to thrive.
From 500 troopers, the PNP's Special Action Force is reduced to 72, while the DOJ takes a step back.
The PDEA Bilibid team has also been pulled out after an order to vacate from former BuCor chief and now senator Ronald dela Rosa.

MANILA, Philippines – Gerald Bantag was appointed by Rodrigo Duterte to be a savior. The news of his rise immediately created waves because, days before, Senator Bong Go had said the President wanted a killer as new chief of the Bureau of Corrections (BuCor).
Enter a notorious jail warden previously charged with 10 counts of murder for the 2016 explosion inside Parañaque City Jail. Put delicately, Bantag was a radical. 
On October 9, as the noise of the Good Conduct Time Allowance (GCTA) crisis started to die down, he rode a Special Action Force (SAF) armored vehicle into the heart of the Maximum Security Compound in the New Bilibid Prison and mowed down shanties.
He barked orders from his tanker, as bulldozers slammed structures. Inmates watched, disappearing into the shadows.
"Hindi naman natin iniintindi 'yung galit nila kasi wala naman silang karapatan, pribilehiyo lang 'yan na inabuso (We don't take notice of their anger because they have no rights anyway. These are just their privileges that they have abused)," Bantag said.
Maximum Security Compound inmates told Rappler they thought the move did not make sense. The shanties were made by inmates to make the congestion bearable.
The New Bilibid Prison can hold only 6,435 inmates. As of October 2019, it kept 30,426, translating to a 337% congestion rate. 
After the demolition, elderly prisoners were forced to sleep outdoors. Families worried about the food for the inmates.
Wrapped in tension, the prison was placed on lockdown for two weeks by Bantag as relatives agonized over information about successive deaths inside. (READ: 1 prisoner dies in Bilibid every day, says new chief doctor)
A history of community and corruption
For the longest time, the illegal shanties were seen more as assets than liabilities.
The shanties, made of materials bought by inmates using pooled or borrowed money, reflected a community trying to fill in the gaps left by a government unable to provide an acceptable standard of living for the country's convicts. 
This was the New Bilibid Prison's Maximum Security Compound in 2012, more than 4 years before the Duterte administration. 
Left photo shows Building 1 inside Bilibid in February 2012 while the right photo was taken in October 2019. Drag the slider to see the difference. 2012 photo by Angie de Silva/Rappler, 2019 photo by Lisa Marie David/Rappler
Rows of wooden shanties stood parallel to two-story cement buildings painted blue. Inside and around them were inmates doing chores that mirrored a life outside the tall and heavily-guarded walls of Bilibid.
Inside these buildings were rooms furnished with essentials – a bed and an electric fan to ward off the intense heat, among others. Some common areas also had television sets and adequate seating for conjugal visits. It was not unusual to see children running around. 
Scattered all over the 10-hectare compound were small stores manned by inmates themselves. Eateries serving adobo, sinigang, and fried chicken – dishes far different from rationed food. How they sourced their products, sold higher than usual, were topics reserved for whispers. 
Living comfortably inside was a matter of knowing where you belonged. Inmates were divided into gangs or pangkats, each with their own territories with varying levels of abundance, forming what has been described by sociologist Filomin Gutierrez as "units of self-governance."
Belonging to a gang meant a lot of things. It meant not settling for BuCor-provided meals that reminded inmates of pig feeds. It meant not lining up for hours outside the Bilibid hospital for medicine. It also meant protection.
But it was also a "give-and-take relationship" that became more and more vulnerable to corruption, according to a 2019 article by prison reform scholars Clarke Jones and Raymund Narag.
"In exchange for their support in running the prison, privileges are extended and minor rule violations permitted," Narag and Jones wrote.
With such a level of openness inevitably came abuse, mostly by high-profile convicts. Contrabands, such as cellphones, were recovered during a raid by the Department of Justice (DOJ) under then-secretary Leila de Lima in 2014. Further raids under the Duterte administration yielded more outrageous things, including a recording studio. (READ: The high life: Illegal drugs and the New Bilibid Prison)
"You can criticize the system because of all the gangs and violations, but actually on the other side of the coin, it's a supportive structure," Jones told Rappler. 
Jones, who has been studying the Philippine prisons system since 2005, added that "if BuCor can't provide adequate facilities and resources, inmates are going to do it themselves."
The leaders, often well-to-do themselves, acted on behalf of Bilibid officials, given the below-standard officer-to-inmate ratio. As of October 2019, the ratio for the entire system handled by BuCor is at 1:58. The revised implementing rules and regulations of the BuCor Act of 2013 states that it shall maintain a "custodial personnel-to-inmate ratio of 1:7." 
Amid this peaking congestion and criminality, Duterte and his promise of change came.  
Goodbye to SAF
Electrified by his campaign promise to cleanse the country of drugs in 6 months, Duterte approved the takeover of the Philippine National Police (PNP)'s Special Action Force just 3 weeks after he assumed the presidency. 
With the order of his most trusted cop former police chief and now senator, Ronald dela Rosa, the PNP plucked 320 commandos across the country and pooled them to guard the fortress-prison.
Dela Rosa said the SAF were chosen because they were "incorruptible."
Behind the scenes, the order caused a silent tremor within the SAF's ranks. Present and former SAF troopers Rappler spoke to stressed that their SAF brothers and sisters were going on a mission far removed from their mandate. (READ: Inside Bilibid: Resurgence, resignation, 'recanting')
The SAF is the police's premier striking force, shaped to fight communists, high-profile abductors, and jungle rebels. Instead, hundreds of them were sent to guard a prison.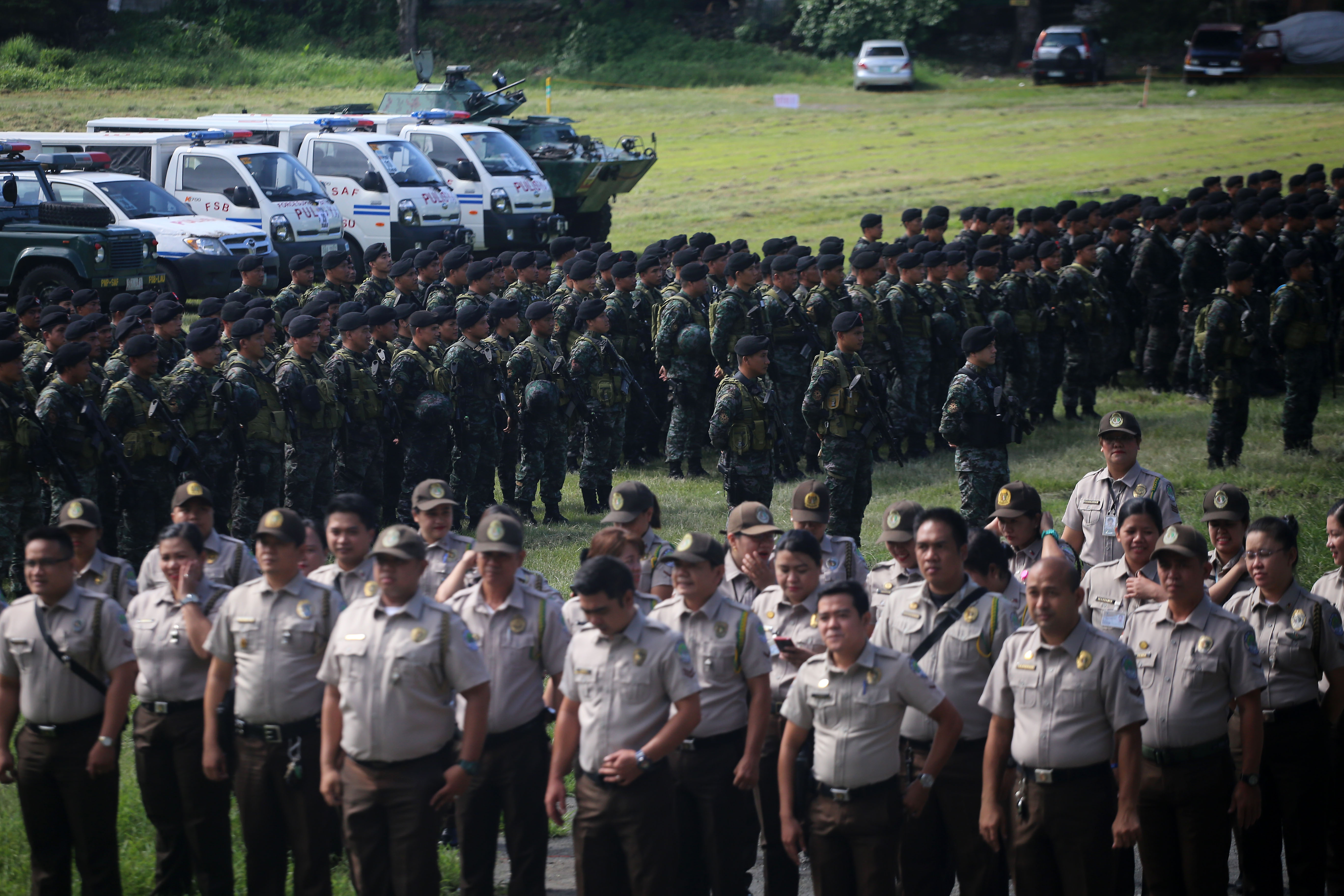 NEW TASK. PNP-SAF and BJMP Jail officers listen to then-police chief Ronald dela Rosa before their deployment to the New Bilibid Prison in July 2016. Photo by Ben Nabong/Rappler
Still, as the police's anointed "savior" force, they could not turn a deaf ear to their call of duty. On the first day of their assignment, the SAF ransacked the Maximum Security Compound and the infamous Building 14 where high-profile drug lords resided. They seized P200,000, cellphone signal boosters, and a bundle of shabu sachets.
The SAF assumed the role of jail guards and anti-drug operatives, said former Bilibid SAF commander Lieutenant Colonel Michael Caraggayan. In the morning, they stood watch perched on the prisons' walls. At night, they descended.
For a time, Caraggayan said the SAF felt a certain level of control and progress in the compound. They met and nurtured informants and began to receive tips more frequently, and had been inured to the chaos inside.
At their peak, the SAF had around 500 troopers deployed. But as of September 2019, only 72 remained. From a battalion guarding the flashpoints, the Bilibid SAF troopers have been reduced to a company tasked to guard the gates.
"It's not even the main [gates]," Caraggayan said, referring to the entrance to the Maximum Security Compound. "It's the gates only for the cars."
"Our function has been completed. There are new personnel at the BuCor," Caraggayan added. 
Eventually, the National Capital Region Police Office (NCRPO) eventually pumped in 368 cops to take their turn manning the prison. This time, they were ordered to follow the orders of Bantag.
PDEA gone too
Agent Jonard Cuayson scratched his stubble as he hesitated to tell his story. It was an overcast afternoon on November 29. The office of the PDEA's Special Enforcement Service – considered the agency's repository for its finest agents – was mostly empty save for him and a few administrative officers walking past with binders of operations reports.
For 6 months, Agent Cuayson led the PDEA's contingent tasked to cleanse a drug-infested Bilibid. They were not even stationed inside the reserve where prisoners slept and wandered. The agents were kept in a single-floor building inside the Director's Compound, where the BuCor chief held court.
They cleaved the building into three rooms: one for office and two for their quarters. Behind stood the cages housing their 6 K9 dogs. The building, like their team, was small, but it was enough for a pioneer team.
Like the SAF, PDEA entered the scene at a pivotal moment: when President Duterte, facing the backlash of the killing of Kian delos Santos, ordered the PNP to step back and let PDEA be the "sole" actor in his grand plan to end drugs.
In the morning of November 14, 2017, PDEA chief Aaron Aquino and then BuCor officer-in-charge Valfrie Tabian cut the ribbon leading to the PDEA's liaison office for the New Bilibid Prison.
Their work primarily involved thrice-a-week raids they called greyhound operations where Cuayson decided whether or not to raid the Maximum or the Medium Security Compound.
Their raids – evoking images of ransack operations – were, in reality, a slow enterprise which cast a small net in an enormous pond.
PDEA agents chose only one packed cell a night. The agents ordered dozens of prisoners out, spoke with their mayor (the leader of the cell) as witness, and with him in tow, rummaged through the cell with their dogs. Some nights they got sachets of shabu, most nights they left empty-handed.
Like the SAF, PDEA agents were ordered to blindly watch over uncharted territory.
"It was experimental. We did not follow anyone before us," Cuayson said, adding that he found more progress training BuCor jail guards in the processing of evidence so that drug cases withstood the scrutiny of prosecutors and courts.
Slowly, they got assimilated and began working on cases that they had hoped would pin down gangs involved in the drug trade.
But when Dela Rosa came in as BuCor chief, their exit began.
Dela Rosa wanted to house his family closer to him and within the Director Compound's protection, meaning, the PDEA had to be moved to another facility outside. 
"Understand me, kasi ano lang, as a Director General iniisip ko rin ang safety and security ko (Understand me because as a Director General, I am also thinking of my safety and security)," Cuayson recalled Dela Rosa telling him.
For Cuayson, their new building was "uninhabitable." It had no gates for protection, was small and rundown, and its windows were bare.
Cuayson reported their untenable transfer to PDEA chief Director General Aaron Aquino, who told them to withdraw troops.
"The DG told us to leave. So we left," Cuayson said.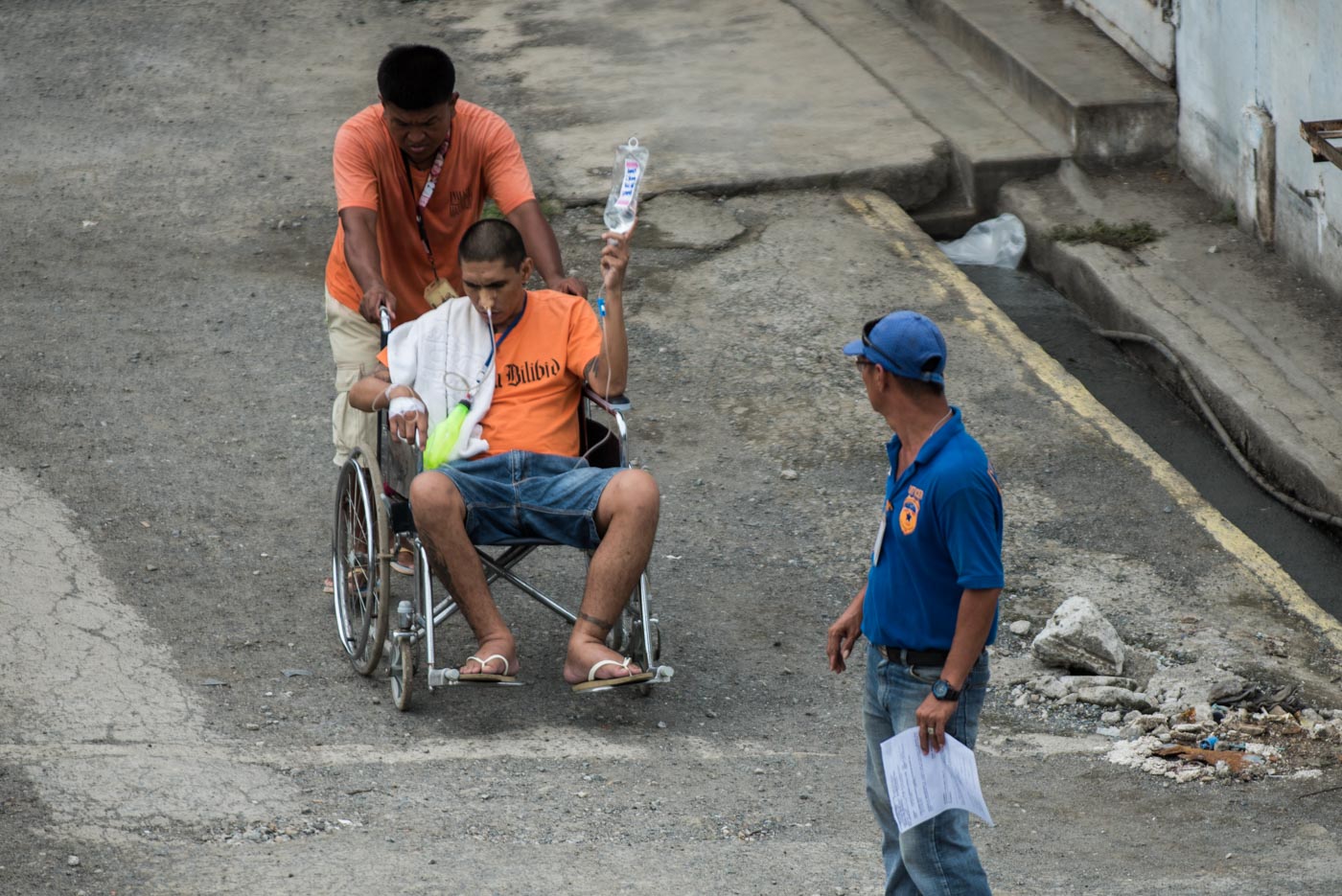 Problems remain
As administrations tried different formula, the same problems remained in Bilibid.
Top law enforcement officials told the Senate: the drug trade is operated from inside. Cellphones were plentiful, although Bilibid is supposedly isolated from telco signals.
According to prisoners, a basic burner phone costs around P5,000. A basic smartphone is P15,000 and the more advanced smartphones can cost as much as P50,000.
Cellphones were confiscated, but sold at a higher price, inmates said. It's a thriving business inside.
For those who could not afford their own cell phones, they could borrow and send a text for P20, and make a call for P50. To avoid leaving numbers and traces in somebody else's phone, prisoners instead created Facebook accounts, so they could log out and protect the privacy of their messages.
Former Bilibid SAF chief Caraggayan admitted there's no signal jammer.
"Lagyan ng jammer. Para at least kahit may cellphone ay wala na yan kasi di mo magagamit. Ang tagal na naming sinasabi. Sinauna pa lang. Bini-bid na raw 'yan dati," Caraggayan said after being asked for an antidote to criminality inside.
(They should install a jammer. So even if there are cellphones you still won't be able to use them. We've been saying that for a long time. Ever since. We were told the contract was already being bidded out.)
The conditions in Bilibid turned every prisoner into an entrepreneur. But the class divide still left the poorest prisoners behind, and in more grim conditions.
Rationed food was their least favorite. For breakfast, they had a bowl of porridge and a piece of bread. For lunch they had one viand and a cup of rice.
"Pero igigisa pa ulit namin 'yun para lang magkalasa (We'd still have to recook that just for it to be tasty)," the inmate said.
For dinner, they had a piece of fish.
Bland meals that were lacking in nutrients were standard fare. In fact, former inmate Godfrey Gamboa testified during a Senate hearing in October 2019 that they were mostly fed with broth only.
The authorities' inability to provide meals up to standards set by nutritionists is no surprise, given the information that BuCor has only a minuscule budget for 3 meals a day per inmate. (READ: Looking into the food system of PH inmates) 
According to caterer Angelina Bautista, BuCor spent only P39 per inmate a day as early as July 2018 or nearly half of the P60-budget allocation. She said the bureau failed to hold new biddings after her contract lapsed.
In 2013, BuCor implemented a policy which did away with choosing the lowest bidder for the food of  inmates. In its accomplishment report that year, it said that "the focus is on selecting the contractor that can provide the best food nutritional content or prescribed daily caloric value." 
The current situation does not reflect such a policy change.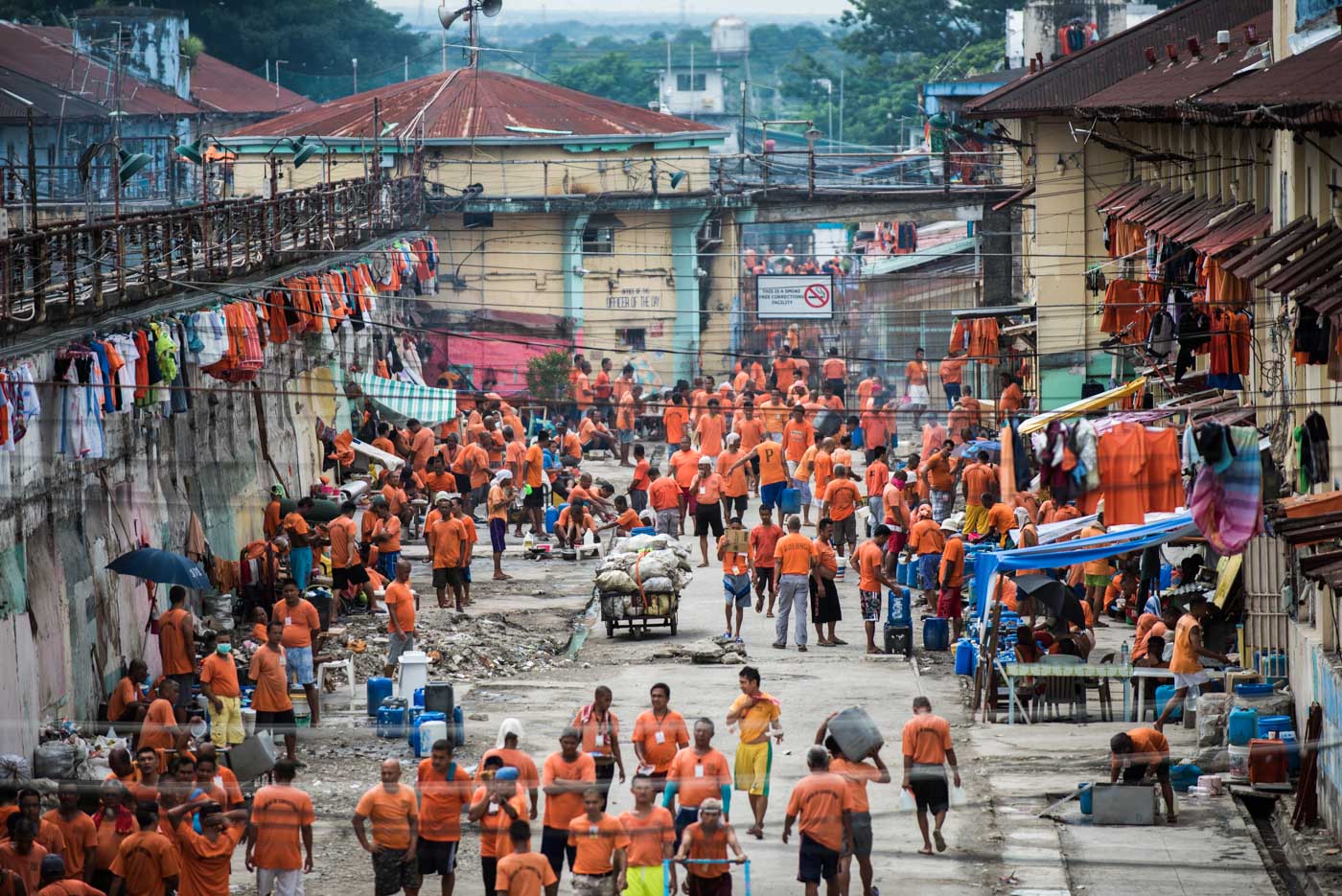 GONE. Bilibid inmates gather around what is left of their shanties. Photo by Lisa Marie David/Rappler
The mess in the mess hall
Inmates preferred buying from the grocery store where they got even more entrepreneurial.
One inmate told Rappler that the richer inmates hoarded supplies from the BuCor shop and sold them in their respective stalls at a higher price.
But Caraggayan had another problem apart from the hoarding. The "mess hall" or the commissary may be a source of corruption, as shabu could be smuggled through the produce shipments.
"Bultuhan kasi ang pagpasok ng pagkain so hindi mo mai-inspect lahat ng raw food," said Caraggayan. (They bring in food in bulk so you cannot inspect all the raw food.)
"Kapag tsinetsek namin yung pagkain parang binababoy daw namin, eh siyempre ang dami na naming nahuhulihan na doon nilalagay ang shabu eh. Bone marrow sa bulalo. 'Yung mga babae makapal ang tsinelas," Caraggayan added.
(If we inspect the food, they accuse us of making a mess, but of course we have to because we have caught shabu hidden in the food many times before. They sometimes hide it in the bone marrow of beef stew. Women wear thick slippers.)
Caraggayan was aware that the SAF had a bad reputation among inmates. One inmate told Rappler the SAF guards were the abusive ones, punching him once on the chest on his way back from the hospital.
"Nirerespeto ng mga bilanggo ang mga empleyado. Sila lang ang walang respeto sa amin, lalo na ang SAF, minsan pinapagpush-up kami," the inmate said.
(Inmates respect employees, but they're the ones who disrespect us, especially SAF, sometimes they even make us do push-ups.)
Caraggayan said the complaints were fabricated and were a part of a conspiracy to put them out in favor of returning, corrupt BuCor officials.
"Sinisiraan kami. May mga complaints, sinusulat na masyadong strikto ang SAF, tapos hindi makatao, lagi kaming nage-explain dati. Kasi kung bawal, bawal," said Caraggayan.
(They make up stories about us. There have been complaints that we're too strict, that we're inhumane, and we always explain ourselves. Because what is illegal is illegal.)
The Bantag show
The GCTA crisis exploded in the face of the Duterte administration partly because its BuCor chief at the time, the disgraced Nicanor Faeldon, already suffered from low public trust. 
Senate investigations grilled the DOJ why it wasn't more on top of the situation.
Justice Secretary Menardo Guevarra backed calls to restore the DOJ's control over BuCor, rather than the mere administrative oversight provided for in the BuCor's charter or Republic Act 10575. His department is currently working on proposed amendments to the law that would give them more control over BuCor.
But since Bantag came, the DOJ has had to take a step back. By the end of November, the DOJ no longer approved the release of returnees qualified for an earlier grant of freedom.
Until then, it would be Bantag running the BuCor show. His first shock-move, which was to demolish the shanties, created new problems, at least in the interim, as families complained about lack of food and clean water previously stored in the kubols.
As he deals with long-standing institutional problems, Bantag would also have to grapple with a deluge of lawsuits as inmates – both returnees and those whose GCTA grants have been stalled – start to file cases of arbitrary detention against the bureau.
The worst trials for Duterte's savior are yet to come. (To be concluded) – Rappler.com
TOP PHOTO: DEMOLITION. Bureau of Corrections chief Gerald Bantag leads the demolition of illegally-built shanties inside the New Bilibid Prison. Photo courtesy of BuCor