(UPDATED) Maria Theresa Cruz's story is the heartbreaking story of many Filipino health workers
(UPDATED) There were many reasons why Maria Theresa Cruz could have sat out the COVID-19 pandemic even if she was a nurse.
The 47-year-old mother of 3 had health conditions that made her vulnerable – obesity and an enlarged heart or cardiomegaly.
But there was no discouraging her from joining the frontlines at Cainta Municipal Hospital, where she had been working for the past 9 years.
"Anak, hindi puwede 'yun kasi ito yung sinumpaan kong duty, and 'yung mga kasama ko kawawa naman, dalawa lang silang mag-du-duty," Theresa, called Tess by her friends, told her daughter Joie back in March.
(I can't because this is my sworn duty and my colleagues are pitiful because only two of them will be on duty.)
Philippine President Rodrigo Duterte, last August 3, had asked Filipino health workers to stay true to their mission and not give up despite the onslaught of cases. Surely, Theresa is an exemplar of his call.
But Theresa never lived to hear Duterte promise to help besieged medical frontliners.
She died on July 22, three days after getting her COVID-19 swab test. It was during her online funeral service 3 days after her death, that her family got her test results: positive. But they already knew that because Theresa was intubated before she died. Scans of her lungs showed a white cloud, a tell-tale sign of Sars-Cov-2.
When Joie, her daughter, went to claim Theresa's hazard pay from Cainta Municipal Hospital on August 10, she expected to get P30,000 – or the equivalent of 60 days of risky work multiplied by P500, the daily hazard pay promised in Department of Health (DOH) press releases.
What she got was P7,265. Based on the hospital accountant Joie spoke with, the amount represented her mother's special risk allowance which was 25% of her basic salary plus her COVID-19 hazard pay which the accountant said was whittled down to P60.93. This represents the balance of Theresa's P239 usual hazard pay and the P300 COVID-19 hazard pay that the hospital came up with to abide by Duterte's Administrative Order No 26.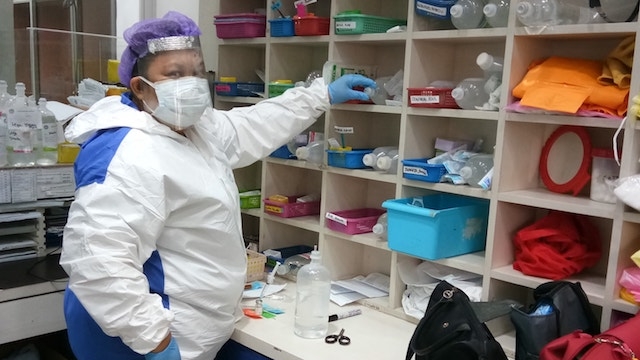 The amount shocked Joie because her mother had been expecting P30,000, holding on to DOH press releases promising P500 daily COVID-19 hazard pay. Other nurses at the hospital were expecting the payment to be on top of their usual hazard pay.
"I was really appalled. Oh my gosh, my mom died for this? Seriously? Yung isa naming family friend, 'Grabe 'yung hirap ng nanay mo sa ospital tapos ganyan lang pala 'yung katumbas,'" Joie told Rappler.
(Our family friend said, "Your mom went through so much hardship at the hospital and this is what she gets.")
Theresa had plans for her hazard pay. She was going to buy Joie's 7-year-old sister Grolier home learning materials to study with during quarantine. But the more than a month's worth of hazard pay was delayed for so long that COVID-19 took her first.
Delay in swab test due to 'negative' rapid test result
The late payment was only the last frustrating chapter in the Cruz family's struggle to deal with Theresa's fight against COVID-19.
As if it was not enough that they were confronting a deadly disease, the ineptitude of the hospital and government authorities compounded their problems.
Joie blames the death of her mother partly on the late administering of her swab test. As a health frontliner, Theresa should have been prioritized for the more expensive but more accurate reverse-transcription polymerase chain reaction (RT-PCR) test.
It's not really about the money. It's really about the plight of the frontline workers… They're afraid that if they speak up, they'll get targeted. This fight is really not just about my mom, this fight is bigger than my mom.
Joie Cruz, daughter of Maria Theresa Cruz
Theresa had already inquired about getting herself swab-tested after exposure to a mother and child who tested positive on July 11. On July 13, two days after, her fever started.
What she got immediately was a rapid test but it came out negative. Medical experts, including those in the DOH, have long warned about the inaccuracy of rapid tests. The Philippine College of Physicians has said it fails to detect COVID-19 in half of active and infectious cases who take it.
But Malacañang continues to defend the use of rapid tests.
Cainta Mayor Kit Nieto, in a Facebook post after this article was published, claimed that Theresa herself declined to take a swab test when her rapid test came out negative.
Nieto showed photos of messages between Theresa and a certain "Vince," a hospital worker, where the nurse said she didn't have to take a swab test because she was feeling better.
"Vince" didn't persuade Theresa otherwise even if it should have been mandatory for the nurse to get swab tested.
But the day after, she took this back, saying she needed a swab test after all because she felt worse. Vince replied that there were no swab tests that day but said he would try to get her tested anyway.
Theresa finally managed to get a swab test two days later, July 19, but at a private hospital, Taytay Doctors Multispecialty Hospital.
Rappler had asked Nieto for his side on this issue on Wednesday, August 12, but he never responded. His response to Joie's Facebook post came after Rappler published this article.
While waiting for the results, Theresa was given a bed in the same hospital. At the time, she was still conscious. In the coming days, she would even assure Joie that she might return home soon.
But COVID-19 is a "traitor," said Joie. Theresa's condition quickly deteriorated and Joie was told her mother would have to be intubated. On July 22, three days after she was swab-tested, Theresa passed away.
Joie said that if her mother had gotten the swab test earlier, she may still be alive.
"Because there are hospitals that give the test drug, remdesivir, if they see the results of a swab test. So if she was tested back when it was just a slight fever, we would have brought her to a medical facility that could've administered that to her," said Joie.
There are studies that show remdesivir shortened the recovery time of some COVID-19 patients.
Back in July, the Philippine Food and Drug Administration said it would give "compassionate permits" to allow severe cases to be given remdesivir.
Rappler called Cainta Municipal Hospital several times but no one answered their landline. Rappler also sought comment from Cainta Mayor Kit Nieto but got no response.
However, the mayor had posted on a Facebook thread of nurses that he had "allocated P14 million" for the hazard pay of "all relevant regular employees."
A fight for all nurses
Joie, the eldest among her siblings, has had to handle the aftermath of her mother's ordeal. But the experience has fueled her commitment to a new mission – improve the lot of her mother's co-nurses at the hospital.
"It's not really about the money. It's really about the plight of the frontline workers… They don't want to be mentioned or named but they want us to fight for them because they're afraid that if they speak up, they'll get targeted. This fight is really not just about my mom, this fight is bigger than my mom," she said.
Since her Facebook post about her mother was shared by thousands, she's heard from authorities. Cainta's Mayor Nieto promised her family P50,000 a day after Theresa died. Senator Bong Go has promised to probe into the issue.
Malacañang also said her mother's small hazard pay and the delay in releasing it was unacceptable.
"Sisiguraduhin natin na ang ganitong delay ay 'di mangyayari. Unfortunately po, ito po ay isang local hospital na pinatatakbo po ng isang lokal na pamahalaan so ang delay po ay sisiguraduhin na lang po siguro ng DOH na sa mga lokal na ospital, hindi na po mauulit ito," said Roque when asked by Rappler during his August 13 press briefing.
(We will make sure that this delay won't happen again. Unfortunately, it's a local hospital run by the local government so DOH will make sure there are no delays in local hospitals.)
As for the small hazard pay, Roque said not all local hospitals have the funds to provide the P500 daily amount the nurses were expecting. But the government would conduct a "survey" to find out the state of hazard pay in such medical facilities.
"We will do a survey to find out how many local hospitals are complying and if DOH can find a way to address the inadequacies," said Roque in Filipino.
The Duterte spokesman also vowed to "personally" see to it that the Cruz family gets the P1-million compensation Duterte promised for healthworkers who die of COVID-19.
Meanwhile, the DOH said they lobbied for healthcare worker benefits to be funded by the Bayanihan to Recover As One Act, which is supposed to give the government fresh funds to respond to the pandemic.
The problem: Duterte's hazard pay AO
However, the reason why Theresa's hospital, Cainta Municipal Hospital, gave only P60 additional hazard pay may be Duterte's very own Administrative Order No 26.
Signed in March, the AO provides hazard pay for government personnel who physically report to work amid the pandemic. This includes public hospital health workers.
Section 1 of the document says COVID-19 hazard pay should be P500 multiplied by the number of days a worker reports for work. Then a line under it says personnel who already get hazard pay or allowance "shall continue to be entitled to such benefits or the COVID-19 hazard pay, whichever is higher."
But the real killer is Section 3 which says that should an agency have insufficient funds, "a lower but uniform rate may be granted for all qualified personnel."
Cainta Municipal Hospital apparently decided it couldn't afford P500 a day and so they set the hazard pay at P300. But because its nurses get around P230 in regular hazard pay, they just paid P60 more in order to make it total to P300.
A group of health workers called Duterte's AO "deceptive."
"The grant of COVID-19 benefit should be an added benefit due to the risk of physically working during the time of ECQ. AO 26 is deceptive. COVID-19 Hazard Pay is not an added benefit to health workers who regularly receive hazard pay," said the Alliance of Health Workers (AHW) on June 5.
Nurses like Theresa did not read the AO provisions and trusted press releases that promised P500 a day.
AHW Robert Mendoza told Rappler that hospitals might be using Duterte's AO to justify giving amounts lower than P500. The AO also straps the hospitals themselves because it states that funds for hazard pay should be sourced from their Personal Services and Maintenance and Other Operating Expenses which are also very limited, especially given the pandemic.
"It's a big problem because the government didn't allocate a budget for these benefits so the alibi of hospital directors is they can't give the full amount because their budget is insufficient," said Mendoza.
If Duterte's AO is not amended, Theresa's story will be repeated many times over. She is already one of at least 38 health workers who have perished from the coronavirus.
Healthcare workers are the backbone of the country's campaign against COVID-19. Every painful ordeal they and their families go through is another blow to the dwindling morale of frontliners. – Rappler.com