An often silent workforce, top doctors at the front lines tell the Duterte government its shambolic response to the pandemic will not work. They have solutions – but will the President and his men listen?
For a nation starved of rational voices, health workers at the front lines of the coronavirus outbreak told the Duterte government what it needed to do if there was any way the country's health system could survive a pandemic that has brought it to its knees.
Stop.
Take a pause.
Regroup.
The sober call came from what has long been a silent and faceless force, as doctors and nurses warned the public the front lines of hospitals were breaking.
"Healthcare workers are united in sounding off a distress signal to the nation – our healthcare system has been overwhelmed…. We are waging a losing battle against COVID-19," they said.
In sounding a distress call, over 80 medical societies issued their strongest statement during the pandemic, rousing a government window-dressing its shambolic response to address a reality they have been witnessing first-hand: the pandemic is far from over.
Far from it, doctors and nurses fear the worse of the virus is unfolding. The Philippines reported over 5,000 new cases on Sunday, August 2, shattering a single-day record for the fourth time in the last week. The total number of confirmed cases soared pass 103,000, ushering the most feared 6-digit mark.
The way the health workers delivered their message – through a Zoom call on a rainy Saturday morning – would have otherwise seemed like any other video conference held in a time of physical distancing.
Except that the voices in the call were some of the nation's best doctors, who backed the call to have government leaders reassess their current response.
Often immersed in the quiet work of treating patients, the country's top microbiologists, infectious disease, public health specialists, and nurses were among those who spoke out on the critical condition hospitals are facing as the government looks to further easing quarantine restrictions.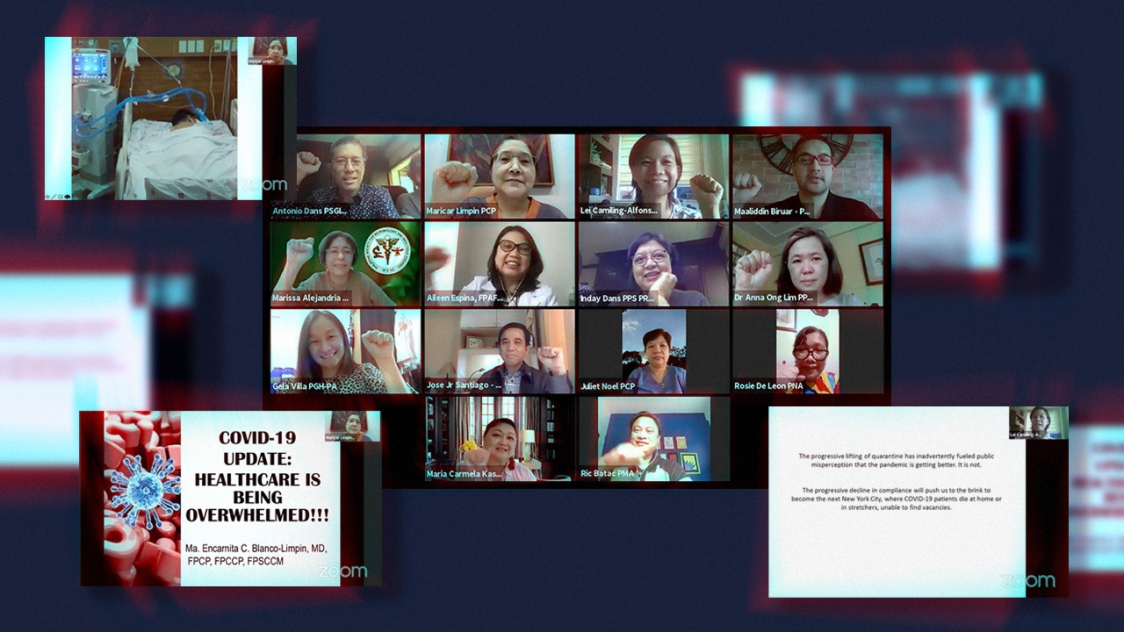 In a collective show of force, they called on the government to implement a two-week lockdown in Metro Manila – the epicenter of the outbreak – to be used as a "timeout" for current strategies to be refined.
More of the same, they warned, will leave a battered health system inundated.
But will President Duterte listen?
In the hot zone
Dr Ronnie Baticulon, a neurosurgeon who is part of the Philippine General Hosptial's (PGH) coronavirus crisis response team, shares the task of ensuring health workers in the pandemic have the personal protective equipment they need to keep safe. He is reluctant to call himself a frontliner, believing the term should be reserved for those who step into hot zones and risk their health daily, caring for the sick.
But Baticulon has nonetheless felt the toll the pandemic has taken on the country's largest public hospital. Health workers are not just tired – they're exhausted, he said.
"The health workers now, if you ask them, if we had a choice, we would stop what we're doing, just go stay at home, watch Netflix. But we don't have that luxury. We cannot do that. We cannot do that because we have sworn to serve," Baticulon told Rappler. "The only things that would really keep us going are the small wins."
In some of the country's top private hospitals, the situation is no different. Rooms are flooded with coronavirus patients and more health workers are falling sick.
Dr Saturnino Javier, medical director of the Makati Medical Center, told Rappler the recent increase in cases has led to emergency rooms teeming with COVID-19 cases. Patients come in faster than the hospital can discharge or send home, he added.
"All frontliners try to respond with utmost compassion and unrelenting commitment to what is expected of us – for as long as we can. But I can safely say many are exhausted and frustrated with the situation where there seems to be no end in sight," Javier said.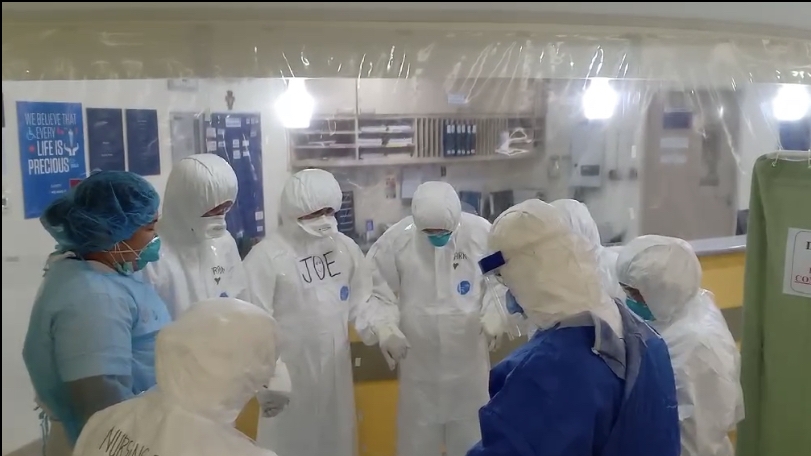 The reality in the nation's front lines is what has propelled an otherwise quiet workforce in the medical sector to sound the alarm that the country is reopening too quickly.
Dr Lei Camiling-Alfonso, a technical specialist of the Philippine Science of Public Health Physicians (PSPHP), said the government's continued lifting of quarantine restrictions and reclassifying of business has fueled misplaced notions the pandemic was letting up.
"It is not," Camiling-Alfonso said during the health workers' forum on Saturday. "What we are experiencing now is worse than what we have experienced in the beginning."
"If we don't take a timeout now, my countrymen, what will happen to the health workers who will protect us?" she asked.
Researchers studying the outbreak in the Philippines have the data needed to back the medical community's call.
In a report sent to Rappler, the Octa research group of experts flagged the increasingly concerning state hospitals in Metro Manila are headed.
They point to the next two weeks as a crucial window for response.
The group's review of critical care facilities in the metropolis showed the number of COVID-19 ward beds and intensive care unit beds breaching the 70% critical "danger" threshold that had been established by the Department of Health (DOH).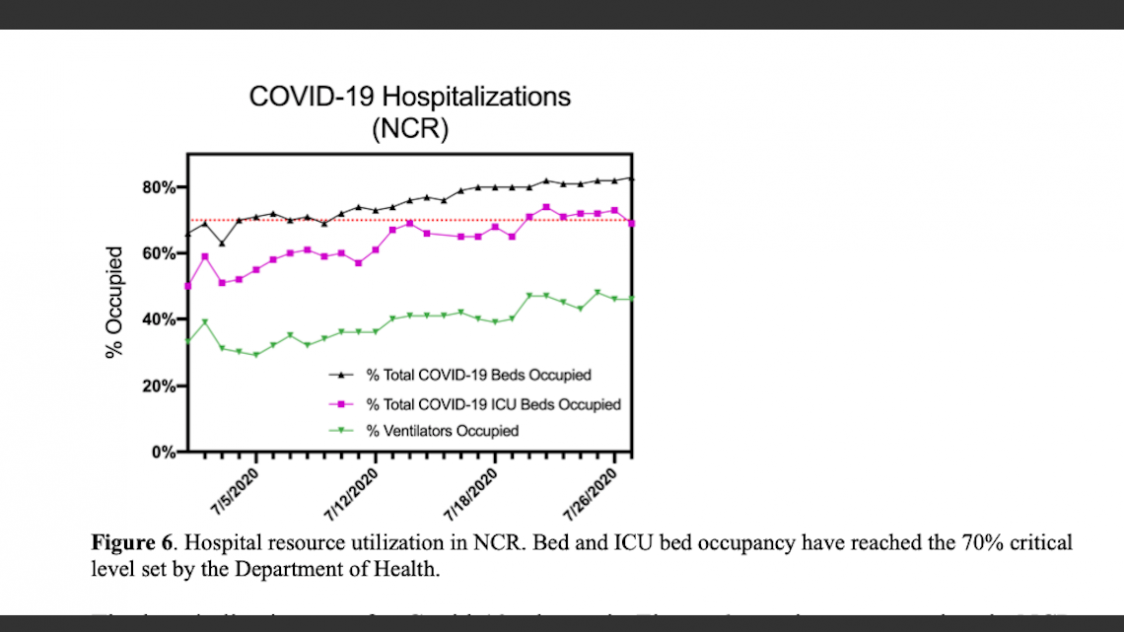 "More worrisome," they said, is data that showed 12 local government units in the capital region have exceeded the 70% critical "danger" threshold for total COVID-19 bed occupancy established by the DOH and the government's coronavirus task force.
Seven more cities were in worse shape, as they surpassed the same 70% critical threshold for ICU bed occupancy. Makati and Pateros have also reached 100% occupancy for both total COVID-19 beds.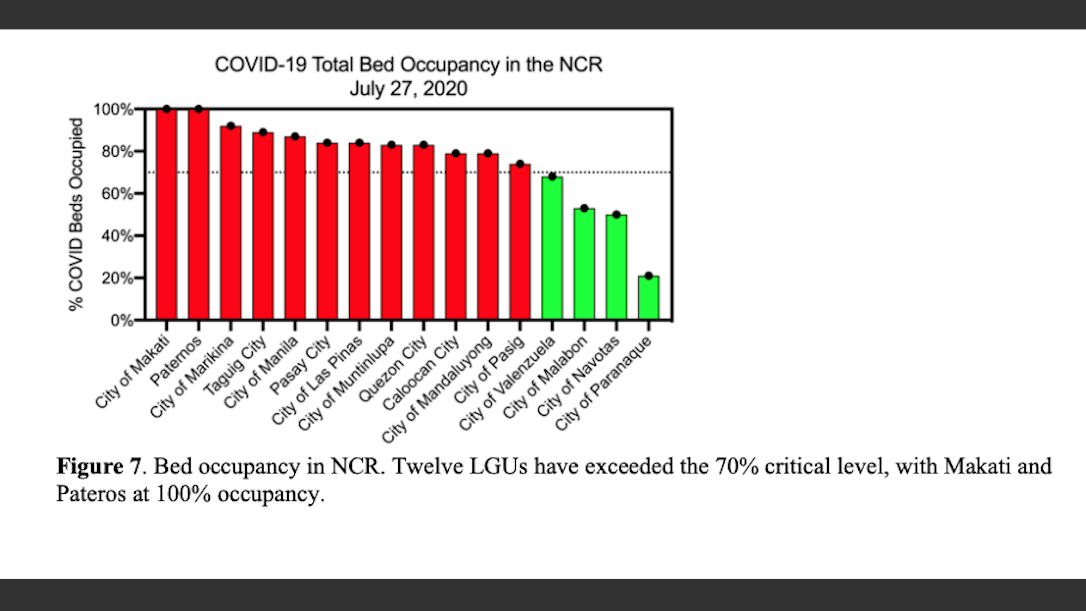 "At this time, these expanded facilities are already filling up and there is no sign that the current surge has peaked. This suggests that many of the hospitals in NCR are in imminent danger of becoming overwhelmed with COVID-19 patients in the next two weeks."
Against this backdrop, the group projected infections nationwide may reach 150,000 cases by the end of August if prevailing quarantine restrictions will be implemented "strictly and effectively." An additional 20,000 cases on top of this may also be seen with a "less effective implementation."
With the virus still spreading, the estimate is hard to swallow.
Though weeks of surges in cases have resulted in the current flood of patients, PSPHP's Dr Aileen Espina pointed out health workers have borne the dangers of the pandemic for months.
"We medical professionals are suffering so much from the mental burden of this pandemic. We have been in this fight since March and we feel we are nearing the end of the line," she said.
Unbalanced response
The initial response of the government to address the strain on hospitals has so far centered on asking the health centers to expand facilities dedicated for coronavirus patients.
Under its "One Hospital Command" program, the health department said it would implement a robust referral system and urged public hospitals to increase their allocation of COVID-19 facilities to 30%, to be ready to go up to 50% in case of a surge, and even 70% if needed.
In private hospitals, the DOH mandated 20% of their beds to be set aside, and to be ready to dedicate 10% more.
It's a decision backed by Malacañang, as Presidential Spokesperson Harry Roque, who also serves as the spokesperson of the inter-agency coronavirus task force, announced that government had ordered public hospitals in COVID-19 hot spots, Metro Manila and Calabarzon, to increase their bed allotment.
Yet in the weeks leading up to the directive, several hospitals had already declared capacity.
Roque, however, cast doubt on their claim, saying hospitals were simply not allocating enough beds needed.
"The truth is we don't have a bed shortage, it's just that government hospitals only allot 30% of their bed capacity for COVID," Roque said during Duterte's recorded speech on Friday morning, July 31.
But when hospitals declare capacity, health workers know that beds alone don't make up for the health system's response to the pandemic. Hospitals need more health workers, a workforce already in shortage in the Philippines.
"No matter how much a hospital desires to increase capacity, this will depend on many things – not just on the physical infrastructure or the availability of beds, but also on manpower," Javier said.
Makati Medical Center's bed allocation is already in the requested range, he added, and its emergency rooms never see less than 25 patients needing confinement.
Meanwhile, experts warned that focusing on bed capacities only will come at the expense of healthcare workers and non-coronavirus patients who have waited at the sidelines for months.
"If public health authorities are not careful, these critical patients will experience a lack of proper care because of lack of healthcare workers. This will lead to an increase in non-COVID-19 deaths," the Octa research group said.
At PGH, this has long become the current situation. Baticulon said with more of the hospital's facilities directed at COVID-19, it is patients seeking treatment for other illnesses who are most affected. Elective surgeries have fallen from 8 to 10 a day, to about 3 cases per week.
"For example, in general surgery, when you talk about breast cancer and colorectal cancer, these are so-called elective procedures. All of these are also down. So can you just imagine, these are patients who have been waiting for several weeks or months for their operating room slots, but all of them are being asked to wait for much longer now," he said.
For the country's largest hospital, its largest operations have likewise taken a hit. With its outpatient service department closed, Baticulon worried where – and if – other patients could still seek treatment.
"We really have to remember we're working with a fixed number of doctors, nurses, and staff. If you put more people into the COVID unit, then we have less people to work in the non-COVID units. Our outpatient clinics are still closed…. PGH serves around 600,000 patients. 500,000 of those are outpatients. Where do they go now?" he said.
For the most part, hospitals do what they can.
Since first becoming a COVID-dedicated hospital in March, PGH has nearly doubled its bed capacity for coronavirus patients from 130 to 210 beds. As of Saturday night, the hospital had a total of 198 suspected and positive COVID-19 patients confined and had admitted a cumulative number of 1,099 patients.
"The problem is not just the beds, because yes you can always put up beds…. The crucial limitation is the human resources. There is only a limit to the number of hours people can work and working in the COVID unit can be very tiring," Baticulon said.
Since the start of the pandemic, weaknesses in the Philippines' weak health system have emerged once more as workers have also fallen ill with the virus or left their workplace in search of better opportunities.
"A number of nurses and non-medical personnel have resigned for fear of contracting the virus, from pressure from family members to resign, for greener pastures elsewhere abroad," Javier said.
Edwin Pacheco, a nurse Rappler spoke with from the National Kidney Transplant Institute, said at least 92 of his colleagues have left as of June, after either resigning, retiring, or finishing their contracts. At the Philippine Orthopedic Center, nurse Sean Velchez said at least 114 of his co-nurses were now sick as of the end of July.
While the DOH has put out a call to hire more health workers, many are reluctant to answer.
"There are many vacancies but no takers," Baticulon said. "It takes a toll. It's not just physical fatigue. It's worrying about getting COVID yourself, and inadvertently infecting your family. It's worrying about how to go to work every day. It's all those things, and they accumulate over time especially if you don't know when the pandemic will end."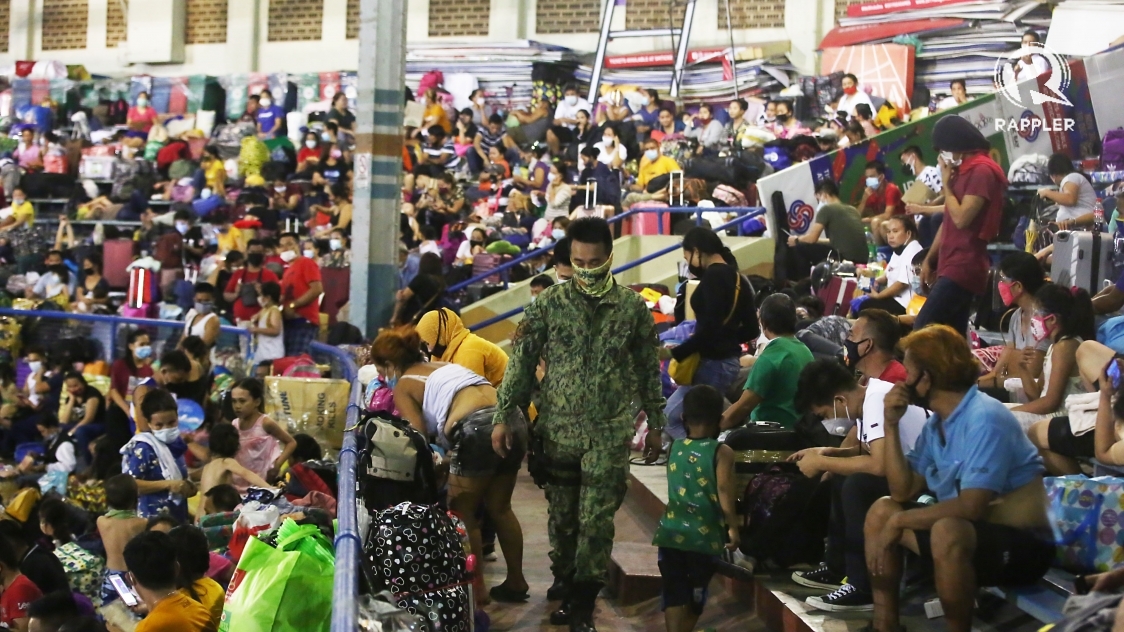 "You cannot just rely on goodwill…(and) say, That is your work. You need to serve. You chose to serve.' Because you have to remember these people, they also have families to look after…. They also have to think about these things, their safety, because of their loved ones and the people who depend on them," he added.
Armed with solutions
In issuing their call, the 80 medical societies hold no delusions about their plea for a timeout. Their request, measured to two weeks, acknowledged the balance government officials are to reach as they struggle to reopen the economy.
They likewise come armed with solutions and key areas of focus in reassessing the administration's response to the pandemic. Among the issues medical workers said administration officials need to target are the following:
Hospital workforce deficiency – Aside from resignations and poor working conditions, manpower is reduced to ensure workers can undergo intermittent quarantine or isolation if they get sick. Philippine Nurses Association President Rosie de Leon reissued their decades-old call for government to provide higher salaries and to ensure all frontliners receive hazard pay.
Failure of case finding and isolation – Medical workers call for a review of the use of rapid tests, citing its misuse by workplaces and local governments which may have contributed to the rise in cases since the tests miss half of people with active infections.
Failure of contact tracing and quarantine – An area "failing miserably," the medical community said implementation in communities needs to be strictly enforced. While DOH and DILG guidelines exist, they lament that compliance is optional. Tracing czar and Baguio City Mayor Benjamin Magalong had likewise said only 4 of 614 local governments who answered a survey sent to1,800 localities had good contact tracing system in place. That's 0.68% of the surveyed group.
Lack of transportation safety – Keen on findings that the surge in cases were partly caused by increased mobility among people, Dr Antonio Dans of the Philippine Society of General Internal Medicine (and a key expert behind the Universal Health Care Law) said workers need safe transportation options that will not cause congestion in public places. Long-term infrastructure plans won't address these, he said, adding that bike lanes and even pedestrian lanes are prompt solutions with long-term impact.
Lack of workplace safety – Safety measures are often only assured in high-income jobs. Among low-wage earners, there is clear failure in most settings, they said. The use of rapid tests as clearance to return to work is not advised.
Stronger public compliance with self-protection measures – Reminding the public to wear face masks and face shields, wash hands, and practice physical distancing is needed.
Assistance for vulnerable groups – In a proposed two-week timeout for the health sector, the medical community urges the government to provide aid for the vulnerable populations whose livelihoods will be affected.
In raising these aspects of the government's response, Dans said health workers are simply asking the government to "sit down and talk and replan with a sense of urgency."
"Health workers in the front lines are the first to witness failures in our strategies," he said. Solutions are needed fast.
"Not next month. Not next year."
Duterte's decision
In the hours that followed the medical community's plea, Malacañang initially sounded dismissive of their call. But by the end of the day, with the weight of public support behind health workers, the Duterte government promised that it would review their request in a task force meeting on August 3.
For now, the public is left to guess what Duterte's decision will be.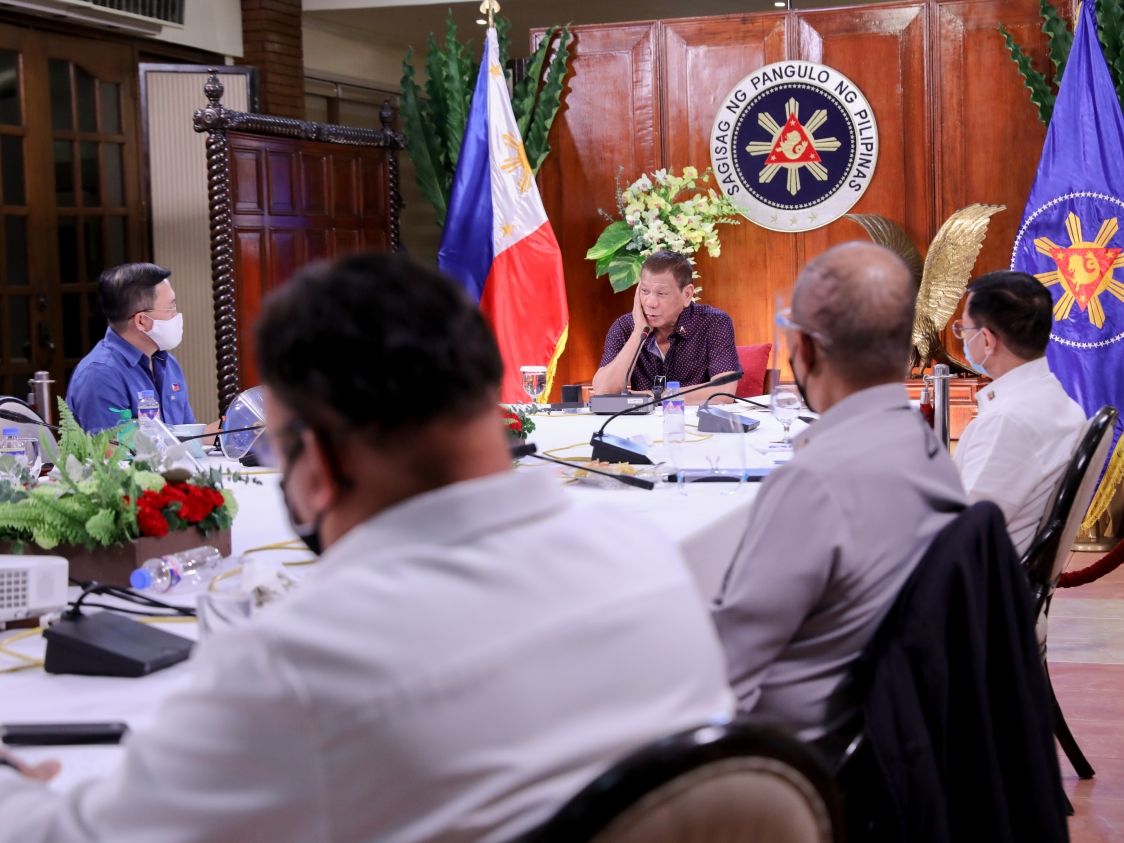 Only days before did mayors and business groups express support for keeping Metro Manila and surrounding provinces under prevailing quarantine restrictions that would allow the economy to reopen, opting instead for "localized lockdowns."
Despite warning last July 15 that the mega-city could return to stricter quarantine if cases continued to rise, Duterte on July 31 also ultimately chose to keep the metropolis under general community quarantine.
On August 6, the country's economists are also expected to officially declare a technical recession after posting two consecutive quarters of negative GDP growth. This, aside from key inflation, trade, and agricultural growth announcements that are expected to remain on the rebound.
Whatever the President decides, what has become clear is health workers have neared their breaking point. All they ask, the Philippine College of Physicians' Dr Maricar Limpin said, is that the government listen.
"Help us. We don't want to break." – Rappler.com
Editor's note: Quotes in Filipino have been translated into English