Urban planners and doctors say the government should create more public parks and green spaces to usher in a 'better normal'
Sarah Aquino just spent one morning trail-running in a park. Her face is drenched in sweat, her legs are aching, her rubber shoes are caked with mud. She's overjoyed.
"I was happy to be able to breathe fresh air and feel the cool wind on my face, to run under the shade of the trees, to see the light seeping through slowly in the morning, to have mud on my shoes and legs again. I was free!" she told Rappler.
Stuck at home for 6 months, Sarah felt restless and claustrophic indoors. The Philippine government has allowed outdoor exercise like running and biking since May 16, even for elderly and children.
But in the urban sprawl of Metro Manila, the region in the country that has spent the longest time under quarantine, there's just not that many places to do this safely.
You're lucky if you live close to a park, or inside a gated subdivision where the streets are safe. If not, you have to drive a car to a faraway green space or risk public transportation to get you there.
"NCR doesn't have enough parks. I think our society has given much value to malls that we've fostered a culture around it – family lunch in malls, birthdays in malls, hanging out with friends in malls," mused Sarah. (READ: Filipinos' mall culture under threat due to lockdowns)
Unfortunately for mall-loving Filipinos, these are exactly the types of places where the risk of COVID-19 transmission is higher. There is growing consensus in the scientific community that indoor spaces are riskier than outdoor spaces because poor ventilation fails to dilute SARS-CoV-2 viruses in the air and because the limited space makes physical distancing difficult to do.
This is why face shields, apart from face masks, are required in places like indoor commercial establishments and offices.
In comparison, being outdoors is far safer.
"An activity in open space, like eating, compared to the same activity in an enclosed space, reduces risk of transmission by 94%," said Dr Antonio Dans of the Healthcare Professionals Alliance Against COVID-19 (HPAAC).
Experts, including those in the US Centers for Disease Control and Prevention, say safety can be achieved when a person does 3 things: wear a mask, do the activity outdoors, and ensure a 6-foot distance from other people.
For these reasons, urban planners and public health advocates think the pandemic may just be the much-needed push for the creation of more public parks and green spaces in Philippine cities, especially the concrete and electric wire jungle that is Metro Manila.
"It's something that we have known for decades because we've underinvested in the quantity, the accessibility, and the quality of the public realm. But we felt it collectively, very strongly during this pandemic. And I think that's what's giving new energy to this agenda to really increase the number of public spaces that people can use in our cities," said Julia Nebrija, an urban planner who co-founded Agile City Planners, an international firm that advises cities on responding to new urban challenges.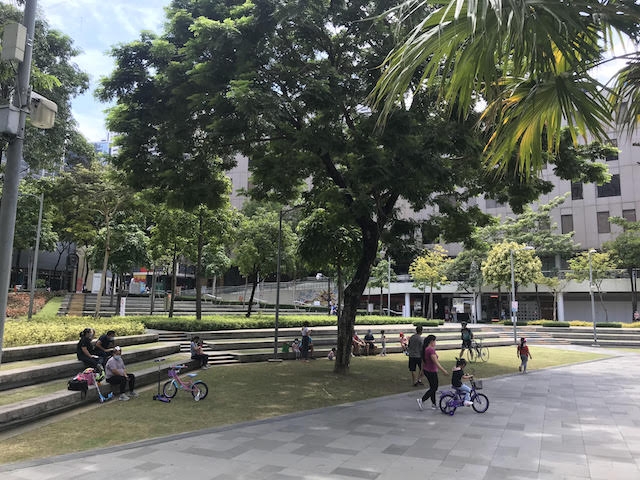 Filipino doctors also want more publicly-accessible green spaces.
"Parks and green spaces are important even without the pandemic but much more important because of it," former health secretary Dr Esperanza Cabral told Rappler.
"People cannot remain cooped up for long and parks provide them with outdoor space where they can breathe fresh air while practicising physical distancing," she added.
The mental health benefits of being outside and in nature are well-documented. This public good cannot be ignored given the devastating toll of the pandemic on mental health. In the quarantine months of March to May, the National Center for Mental Health got double the calls for mental health consults per month compared to the months before lockdowns.
There was an increase in suicide-related calls, an average of 45 calls a month as of May-end.
The disturbing trend even led government officials to publicly call on religious leaders to spread a "message of hope" and ease anxiety among citizens.
But numerous studies already attest to the healing powers of the outdoors.
According to the WHO, "physical activity in a natural environment can help remedy mild depression and reduce physiological stress indicators."
Being outside has been shown to lower blood pressure and heart rate and ease stress.
A 2019 study published in the International Journal of Environmental Health Research showed that just 20 minutes in an urban park can improve life satisfaction. A 2018 study published in JAMA Network Open showed how the greening of vacant lots in Philadelphia improved overall mental health of its residents.
Doctors affiliated with the US Centers for Disease Control and Prevention even recommend that the government keep parks open during the pandemic.
"For both urban and rural areas, state and local parks with trails and open green space should remain open. Modifications in scheduling might be needed to help control the number of visitors at one time and allow for appropriate physical distancing," reads their recommendations published on the CDC website as part of the US Public Health Response to COVID-19 and Chronic Disease special supplement.
"If park, trail, and playground patrons remain appropriately physically distant, do not engage in lengthy conversations with nonhousehold members, and wear a protective face mask, their risk of contracting COVID-19 by exercising outdoors is low, making parks and green spaces safe places to be physically active during a pandemic," they said.
Parks can be part of the 'better normal'
With most of the Philippines now under the most lenient community quarantine (modified general community quarantine) and Metro Manila gradually opening up under general community quarantine, Nebrija said there are many ways for parks and open recreational areas to be enjoyed safely.
The rule right now in GCQ areas is for people to stay home as much as possible and to go out only for essential activities and individual outdoor exercise. As such, more and more people can be found jogging around their subdivision or in the nearest public park.
However, Interior Secretary Eduardo Año said the government is yet to issue a rule on the reopening of parks. Coronavirus task force spokesman Harry Roque said parks are allowed in MGCQ areas at a 50% capacity.
This is confusing since the same task force has allowed jogging and other outdoor exercise since May, activities which are typically done in urban parks, especially in places where roads are dominated by cars.
What should not happen is the flocking of people to the artificial white sand beach of Manila Bay, in violation of physical distancing rules.
Cabral recommended the following health rules for parks:
People should wear masks and stay at least 6 feet from each other.
People who aren't wearing masks (like young children who refuse to do so), should keep a distance of at least 12 feet from others.
People from the same household can group themselves more closely but maintain distance from others.
Symptomatic persons, like those with fever, should not be allowed to enter.
Meanwhile, Nebrija had suggestions for crowd control for park managers and city officials.
Parks can impose "blocked times" wherein a certain group, like young kids or the elderly, can go to the park at a certain part of the day. Authorities can also use technology to detect when a park or open space is getting crowded and then communicate this through a website or app so that people know when or not to go. In places like Canada, park-goers have to reserve a slot in advance so park officials can maintain capacity limits.
Authorities can also deploy persons to monitor park activities and ensure people follow health protocols.
It would still be up to the government to decide when to safely open parks, based on the rate of infections in the area and capacity of local healthcare systems.
Streets: An untapped resource
But where to put up parks in Metro Manila, one of the most densely-populated urban hubs in the world?
Nebrija said we need to put one very common resource to use: the streets.
All over the world, cities are transforming certain streets into multi-use public spaces – for jogging, biking, outdoor markets, and outdoor dining – largely because of air circulation and social distancing concerns in the COVID-19 era.
"That's actually how New York is able to kind of come back with some of its restaurant industry. It's being able to put that outdoor seating to ensure that they can get more tables, more foot traffic," said Nebrija.
Closing off streets to cars, even for just certain hours of the day like in the morning and evening, is a low-cost way for cities to improve quality of life and spur income for small businesses that aren't able to attract customers because of their tiny, enclosed premises. All it takes are cones, plenty of signs, an information drive, and that most crucial ingredient: political will.
"It's really making the decision to say: 'All right, this space now belongs to people and we're going to use it for business. We're going to use it for play. We're going to use it for exercise. We're going to use it for personal mobility. We're not going to use it for private cars.' That's the decision that is needed to be made since before this pandemic. And this is our opportunity to do it once and for all and give people the kind of city that they deserve," said Nebrija.
These kinds of innovative street uses have been called "slow streets" or "shared streets" and they've been done before.
Prior to the health crisis, Pasig City had its pop-up bike lanes project. Cities like Taguig would close off main roads for fun runs organized by corporations. Outdoor weekend markets were commonplace.
Setting aside streets, parking lots, or other small pockets of unutilized space could be the solution to Metro Manila's dearth of public open space.
City planners can take a look at the National Association of City Transportation Officials' Streets for Pandemic Response and Recovery guide.
"We do not really need large central parks. A system of smaller pocket parks, a quarter to half a hectare or so in size, is good," said urban designer and landscape architect Paulo Alcazaren.
He said cities should target for a park or open space to be within a 10- to 15-minute walk for each of their constituents, which has been achieved by other Asian metropolises like Singapore and Hong Kong.
A system of highly accessible parks and open spaces is especially important during the pandemic when taking public transportation could increase risk of infection. And it would democratize access to parks which are more often found in upscale areas, to be enjoyed by the wealthy, or those with cars.
Metro Manila's urban slums are sorely lacking in green open spaces, aggravating the situation of poor urban dwellers who already have to make do with cramped living quarters.
Outdoor spaces to uplift local businesses
Trade Secretary Ramon Lopez agrees that outdoor spaces should be put to use by businesses.
"Definitely, outdoor stores, restaurants, and markets are safer and should be encouraged. That will support our gradual and safer reopening," he told Rappler on Wednesday, October 7.
Asked if the Department of Trade and Industry would be issuing guidelines for the reopening of outdoor markets, weekend markets, and al fresco dining, he said there was no need as the existing rules would apply.
"Same strict minimum health protocols. But under this pandemic, outdoor restaurants and markets are safer because of better ventilation and air circulation," he said.
It falls on mayors to decide how to encourage outdoor business activity – whether its planning for a gradual reopening of weekend markets or reserving certain streets and under-utilized spaces for recreational and exercise activities that could also attract people to stores in the area.
Dearth of public open spaces
One only needs to drive around Metro Manila for 20 minutes to know that it lacks publicly-accessible green and open spaces.
But this fact has been indicated by many statistics.
The 2011 Green Cities Index by Siemens and The Economist Intelligence Unit showed that Metro Manila has only 5 square meters of green open space per inhabitant, compared to the minimum 9 square meters recommended by the WHO.
The Philippine urban planning resource Public Parks and Open Spaces says that the proportion of open space to every 1,000 population is now down to 0.2.
For visual proof, here's a map of Metro Manila's few green spaces made in 2019 by the DATOS Project of the science and technology department.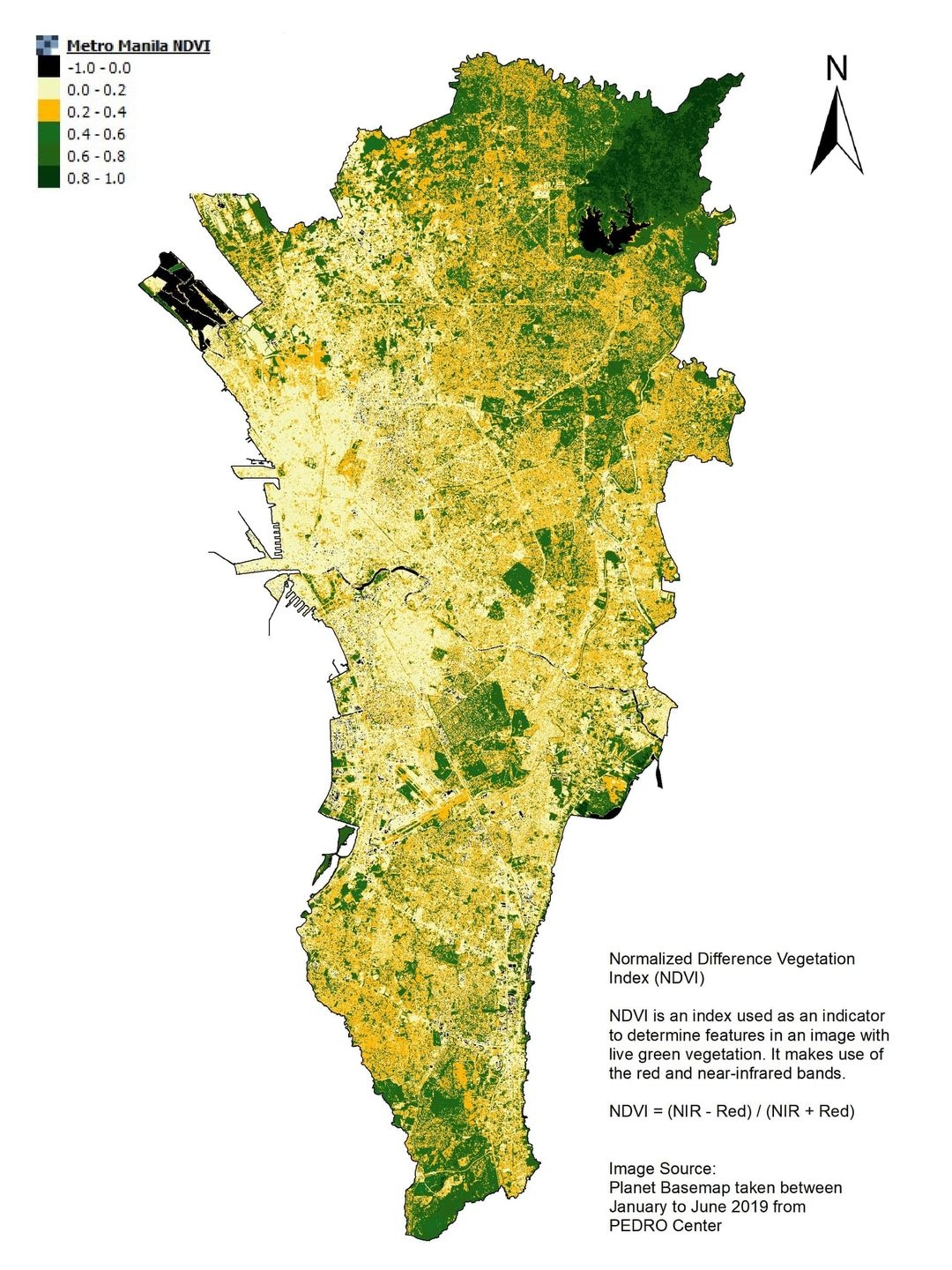 The map uses red and near-infrared bands to detect live vegetation in an area. Green areas mean areas with vegetation. The darker the shade, the more vegetation. The large patch of dark green on the upper right is the La Mesa Watershed located in Quezon City but only a portion of it is open for public use.
Many of the green spaces are cemeteries (like the Manila North and South cemeteries) and exclusive golf courses (like Wack Wack and Manila Golf and Country Clubs).
The lack of open green spaces varies for each of the 16 cities and one town that compose Metro Manila. Data obtained by Rappler from the Department of Environment and Natural Resources (DENR) NCR office shows that 9 cities fall short of the WHO standard of green open space based on their respetive population sizes: Caloocan, Malabon, Mandaluyong, Manila, Navotas, Pasay, Pasig, Pateros, and San Juan.
Manila, the city with the highest deficit, needs 26 more Rizal Parks if it is to comply with the WHO recommendation.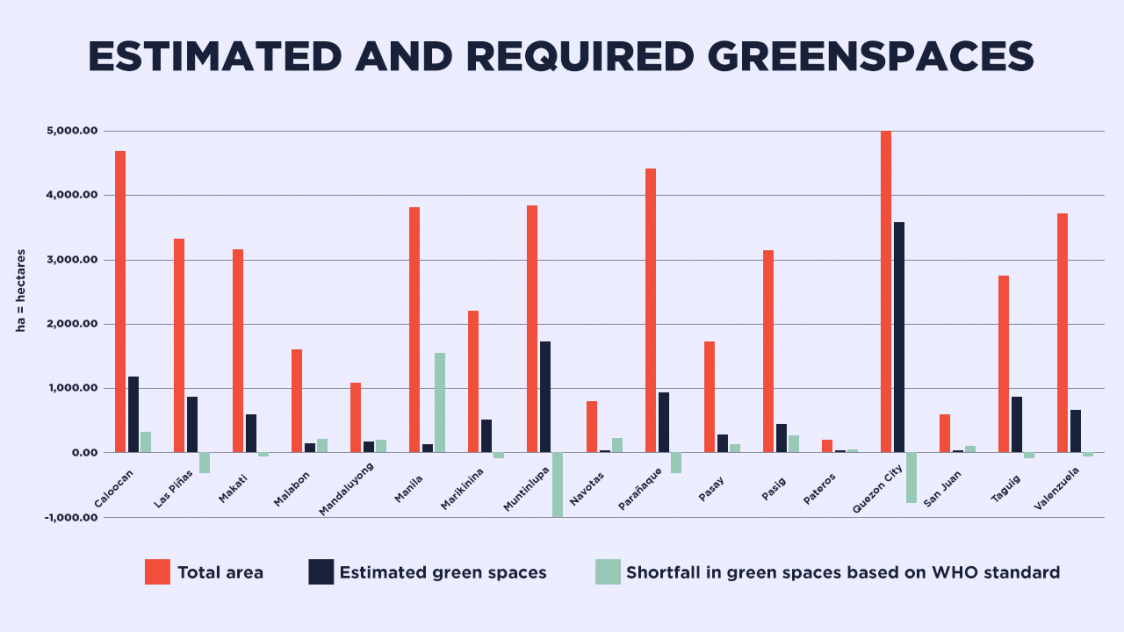 According to DENR-NCR's Production Forest Management Section chief Arturo Calderon, the lack of green spaces is due to "poor urban planning, conflicting government policies and programs like the Build Build Build program, absence of database for parks and green spaces, and exclusion of green spaces in urban development projects."
For the city of Manila, one problem observed was identifying available areas for green spaces, given its high population density. There are also challenges in finding enough manpower to carry out greening programs and getting the private sector involved, according to Manila's 2019 Climate Resilient and Localized Urban Greening Plans.
But Alcazaren, showed the DENR data by Rappler, said the green open spaces indicated per city may not refer to spaces that are accessible to the public. This figure is likely to be much smaller.
Take a look at Muntinlupa, which is said to have some 1,700 hectares of green open space and thus surpasses the WHO minimum. Its Googlemap view shows that the largest green space in the city is actually the Alabang Golf and Country Club.
To truly democratize parks and green spaces and improve more lives during the pandemic, more of such spaces need to be publicly accessible.
That's why Alcazaren supports legislation requiring a minimum area for public parks in cities and towns. Currently, there is only a law requiring a portion of green space in subdivisions and residential developments.
Some Metro Manila cities are already thinking of ways to maximize outdoor areas during the pandemic.
Quezon City Mayor Joy Belmonte said that if the city is able to further reduce its coronavirus infections, it will push through with plans for an "outdoor Christmas."
Departments in the city government are in talks with restaurants and small and medium business owners for this plan.
"They are proposing closing down certain streets during weekends to give way to cycling, pedestrianization, al fresco dining, and weekend markets," she told Rappler.
Also in the pipeline are plans to beautify parks so that people can spend the holidays outdoors, instead of in the usual, but now riskier, air-conditioned malls.
As for Sarah, she is looking forward to another day outside, even if it means having to don a face mask and keeping a safe distance from others.
"Rather than sulking about the previous lifestyle that we can't enjoy right now, I think it's an opportunity to reimagine how we'll rebuild the future." – Rappler.com