The Duterte administration's mishandling of the coronavirus pandemic unites a fractured opposition crushed in the 2019 elections
UP Diliman swelled with people even before the scheduled 10 am start of the unified State of the Nation Address (SONA) rally on Monday, July 27.
"Tama na, sobra na! (Enough is enough)," printed in huge red letters on a massive white tarpaulin, greeted everyone entering University Avenue just before the program started.
It read like the everyday rally sign of the Left, except that it belonged to the Kilusang Bente Dos, which claimed to be centrist.
"We are neither Left nor Yellow, yun na nga ang gusto naming sabihin eh. Ito 'yung sentimyento ng mas nakararaming mamamayan ng ating lipunan, ang pagpapaalis kay Duterte hindi kailangang meron kang kulay," said Rizalito David, infamous for his failed candidacies in 2013 and 2016, now a convenor of a group named after the February 22, 1986 People Power Revolution that toppled the Marcos dictatorship.
(We are neither Left nor Yellow, that's what we want to say, that this is the sentiment of the majority, the call for Duterte to resign does not need a political color.)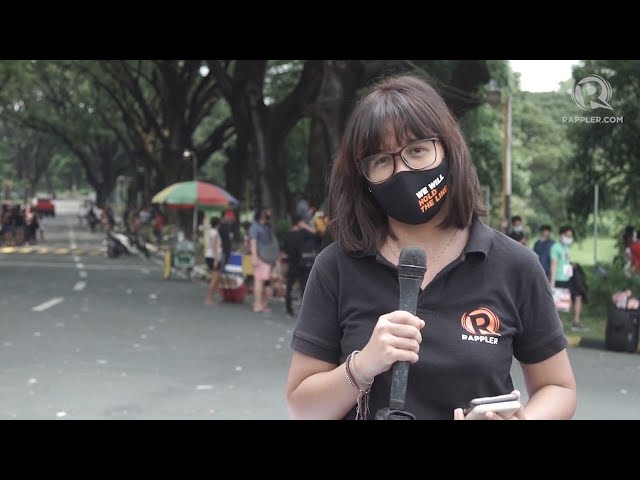 The group, formed just months earlier, held up mini posters of what for them were boiling point incidents in the presidency – the Good Conduct Time Allowance (GCTA) scandal that jailed already-freed inmates, and the P1.4-trillion infrastructure spending bill that the group thinks stinks of corruption.
"Siya 'yung puno't dulo ng kahirapan na nadarama natin ngayon (Duterte is the source of all our hardships)," David said.
At the opposite end, in front of the Oblation, young people from the progressive group Anakbayan held up a poster of Duterte and stamped him a terrorist. It was an odd sight because beside them were Churchmen in cassocks led by La Sallian Brother Armin Luistro, who was allied with the other faction – the liberals.
Luistro stood there unassumingly, as if he did not take on a leadership role in bringing together a frustratingly elusive united opposition that gathered around 1,800 people, according to police estimates. Protesters, however, estimated they numbered at least 8,000.
The unified resistance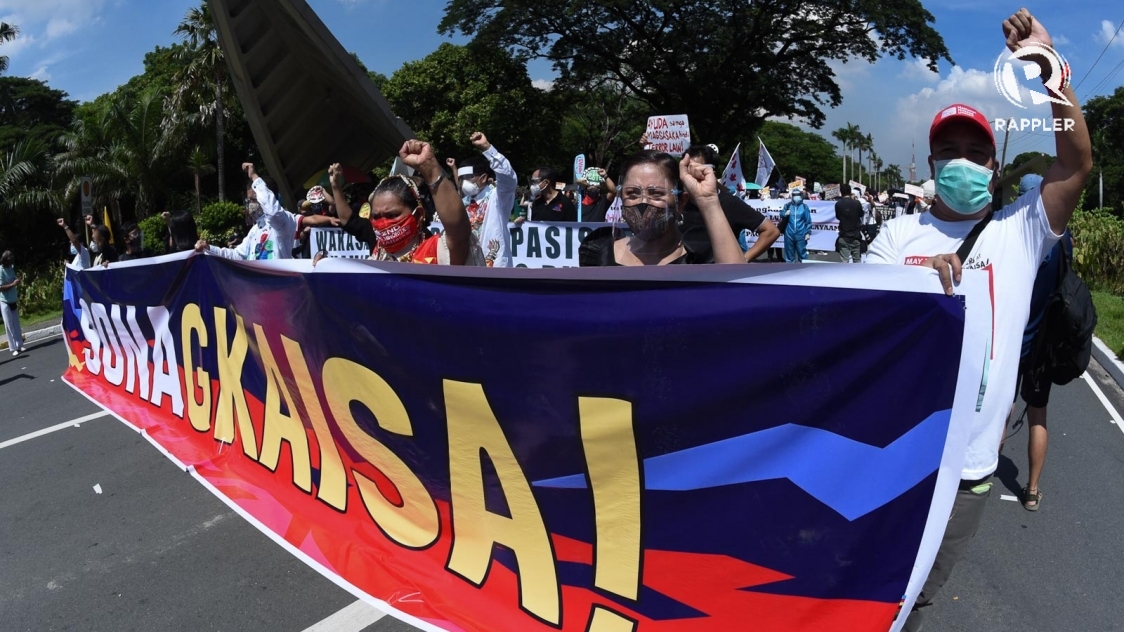 The coronavirus pandemic may have limited rally logistics – it's the first grand protest ever to be held ahead of the President's speech – but it's also what turned on the heat on already simmering discontent.
"Sa tindi ng problemang hinaharap ng ating bansa, mahalaga ang pagkakaisa, mahalagang isantabi natin ang ating kanya-kanyang pagkakaiba," said Liberal Party Senator Francis "Kiko" Pangilinan in his taped video message to the protest on Monday. (The problems the country is facing today are so bad that it's important to unite and set aside our differences.)
For Pangilinan, the last time this happened was 20 years ago during the EDSA Dos Revolution in 2000 that overthrew the presidency of Joseph Estrada.
Pangilinan's view of unity is reminiscent of his impassioned appeal during the 2019 midterm elections, when tensions rose between the liberals and Left, and bickering punctuated a landslide loss for all of them.
But it appears, at least for now, that this is behind them.
Prominent Left figure, Renato Reyes of Bayan, even credited Pangilinan for planning the unified protest called the #SONAgkaisa.
"It was initiated by, the inviting personalities were Senator Kiko Pangilinan, Sister Mary John Mananzan, and Brother Armin Luistro was the one who facilitated, Bishop (Broderick) Pabillo was also there, that was before he got sick, and we decided to hold a common activity for SONA," Reyes told Rappler on the sidelines of the rally Monday morning.
That they are showing a united front is historic achievement in itself, and signals what appears to be a less fractured opposition to lead the growing resistance movement.
Resign or oust?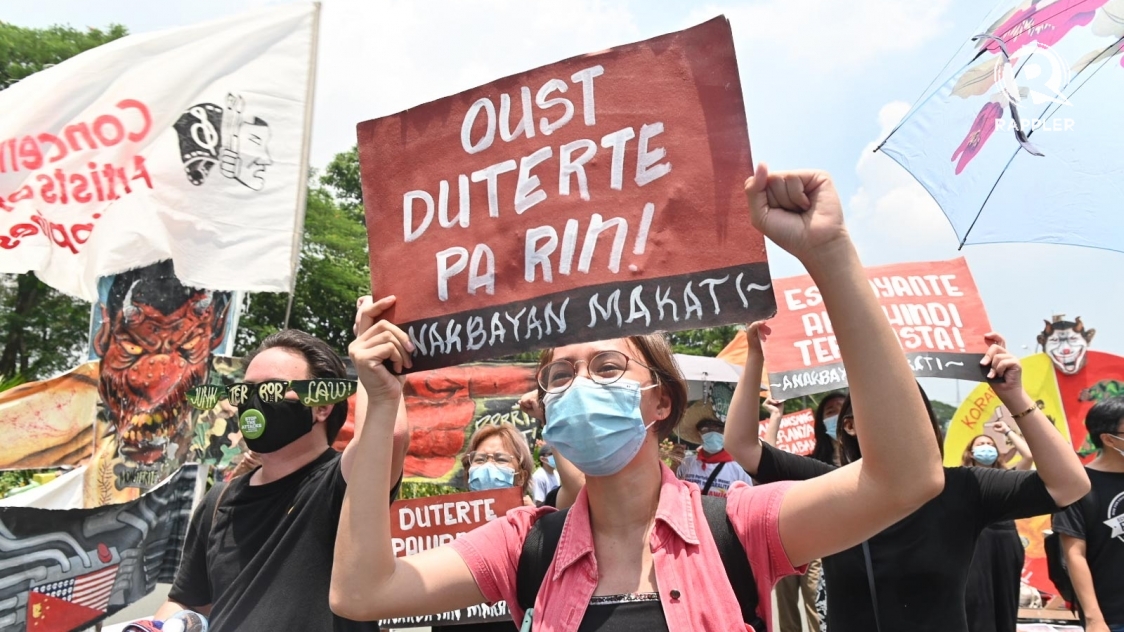 In the famed Hong Kong democracy protests, a focal point of the resistance is a categorical call for leader Carrie Lam to resign.
The Left turned that up a notch higher: a call to oust Duterte.
The last speaker of the program was Bahaghari's Rey Salinas, among the arrested Pride 20, who unfurled a rainbow-colored "Oust Duterte" sign on stage, left fist in the air, shouting: "Duterte, patalsikin!" (Oust Duterte)
An ouster call, however, is a very touchy point in this fragile alliance.
Former Bayan Muna representative and longtime activist Teddy Casiño said that the Left and the liberals almost had a lasting coalition in July 2018 during Duterte's 4th SONA – until a few months later that year when the supposed Red October plot to oust Duterte reopened the crevices.
Vice President Leni Robredo, the LP, and its allied groups, had to go on record to say they do not want to oust Duterte.
Chel Diokno, who ran as senator in 2019 under LP, and among the lead organizers, said he "understands why people are making that call."
"Every person has the right to express themselves, sa tingin ko lang marami nang hindi satisfied sa mga nangyayari, at hindi na rin satisfied sa pag-manage ng COVID, so I really understand why people are making that call," he told Rappler.
(Every person has the right to express themselves, and for me there are many people not satisfied with what's happening, and not satisfied with how COVID is being managed, so I really understand why people are making that call.)
For, Neri Colmenares, the Left's candidate in the 2019 senatorial elections, whether the call is to resign, to oust, or otherwise, a common message clearly emerged.
"The consensus here is President Duterte is the worst leader we could ever have in times of crisis. He has no competence to lead a nation in times of crisis, especially in a pandemic like COVID," said Colmenares.
'They agitated, outraged the people'
Political analyst Ela Atienza, chair of the UP Department of Political Science, said that foremost, the expansion of the opposition coalition was born out of the frustration of people over the government's coronavirus response.
It tapped a critical strand of the population: the middle class.
"Because of the pandemic, a lot of middle class was affected by the pandemic and the government's response. Some of them had difficulty with their businesses and jobs, and many are turning to social media for their frustrations," Atienza said.
For Colmenares, the passage of the feared anti-terror law paved the political crossroad for Duterte. The pull to unite the broad-based coalition strengthened, Casiño added, during deliberations for the passage of the controversial legislation.
"They realized that it will hit ordinary people. They realized that even though the law was meant to target Leftists, it still needed to be opposed. Because if the law can hit the Left, it can hit everyone," Casiño said.
In the Supreme Court, the unified voice is further amplified by the 19 petitions so far coming from all sides, including a former soldier, Magdalo's Ashley Acedillo, who joined the Antonio Carpio-UP Law case.
Then the ABS-CBN shutdown happened.
Government pulled the plug on the biggest television network, and with it, the regular entertainment and news source for millions of Filipinos.
Journalists and media workers, raised in a culture that upholds neutrality to a fault, were suddenly thrust to the frontline of resistance.
Veteran journalist Ces Drilon took to the stage Monday, and spoke at a rally for the first time ever in her more than 3-decade decorated career.
"Narito po ako ngayon dahil lubha na pong nakababahala ang kalagayan ng ating lipunan (I am here because the state of our society is already very disturbing)," Drilon began her speech, before pausing to say how much it makes her nervous.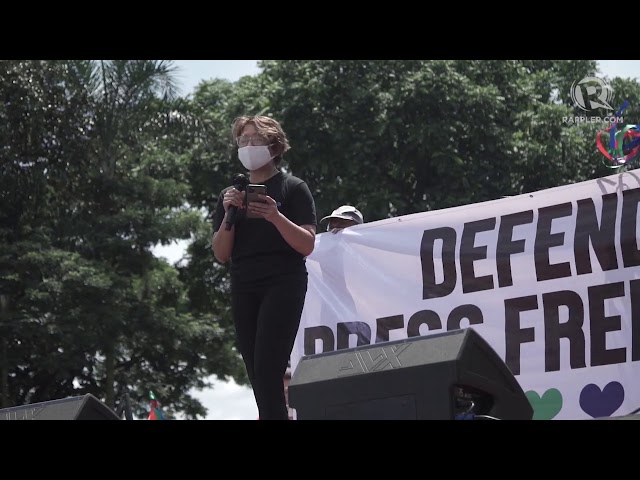 Drilon, among the first to be let go by ABS-CBN in its mass retrenchment, said it was crucial that she spoke.
"What really compelled me was – all these arguments I see on social media from trolls, and maybe legitimate followers, that ABS-CBN closure is not equal to press freedom, and I really want to say my piece why it's connected," Drilon told Rappler after.
While press freedom may not be a gut issue, the ABS-CBN shutdown was widely felt, such that the network's weekly rallies have gained steady traction, and pushed celebrities to talk politics among themselves – and sometimes against each other.
The crowds that ABS-CBN rallies attract now are a far cry from the sad sight of just a few dozen people when the demonstrations started in February.
"Minsan naman may pupunta diyan, mga nanay. Sasabihin nila, "Naku, lagi kami nakapila dyan kasi nanonood kami ng Showtime. Ano na papanoorin namin? Babalik pa ba si Cardo?" Minsan may lalapit, "Saan na namin mapapanood ang TV Patrol?" said Dabet Panelo, Secretary General of the National Union of Journalists of the Philippines (NUJP), which has been leading the rallies for ABS-CBN.
(Sometimes mothers would go and they would say, "We always line up to watch Showtime. What will we watch now? Will Cardo still return?" Sometimes they would ask where they can watch TV Patrol.)
NUJP's Panelo said that the issue has become bigger than ABS-CBN or its artists and workers. "Niyakap na siya ng sambayanan bilang issue niya (the people have embraced this issue as their own)," she said.
"Ultimately it's the fault of the government. They created the issues that agitated the people. They're the ones who created issues that outraged the people," said Reyes.
Government pushback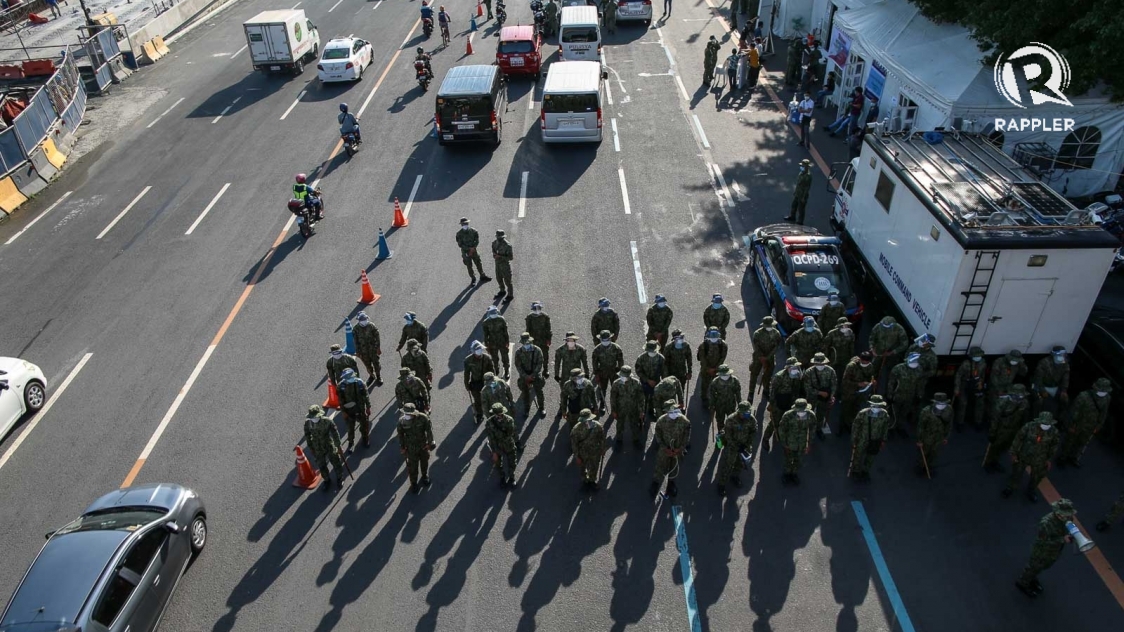 Consolidation, however, occurred on both sides. Where there was dissent, the government was there for pushback.
Aside from the threat of the virus, protesters had to brave the threat of government charging them with violating strict quarantine rules, believed by critics to be selectively applied by the government. Then there was the untrodden anti-terror law, too.
Four days ahead of the SONA on July 23, Department of the Interior and Local Government (DILG) Secretary Eduardo Año issued a memorandum reminding all local government units nationwide to enforce the national ban on mass gatherings, including mass demonstrations on SONA day, or face possible charges, Rappler learned.
"Local chief executives, particularly those LGUs that are currently under Modified Enhanced Comminity Quarantine (MECQ) and General Community Quarantien (GCQ) are reminded and enjoined to strictly observe the IATF Resolution No. 57," Año said in his memorandum obtained by Rappler.
IATF Resolution No. 57 bans mass gatherings, which the government has defined as assemblies of at least 10 people. Año reminded the local chiefs that they will be monitored by local DILG authorities, who will then report their compliance to Año.
The government, in the end, allowed protest only inside the University of the Philippines-Diliman, considered a safe space by virtue of the Martial Law time Sotto-Enrile accord that prohibits the uniformed force to enter without notice to the university.
"For consideration na lang din para mapagbigyan at maituloy din ang program (It was also out of consideration, so that they can be given an opportunity to continue with their program)," a top police official told Rappler in a text message.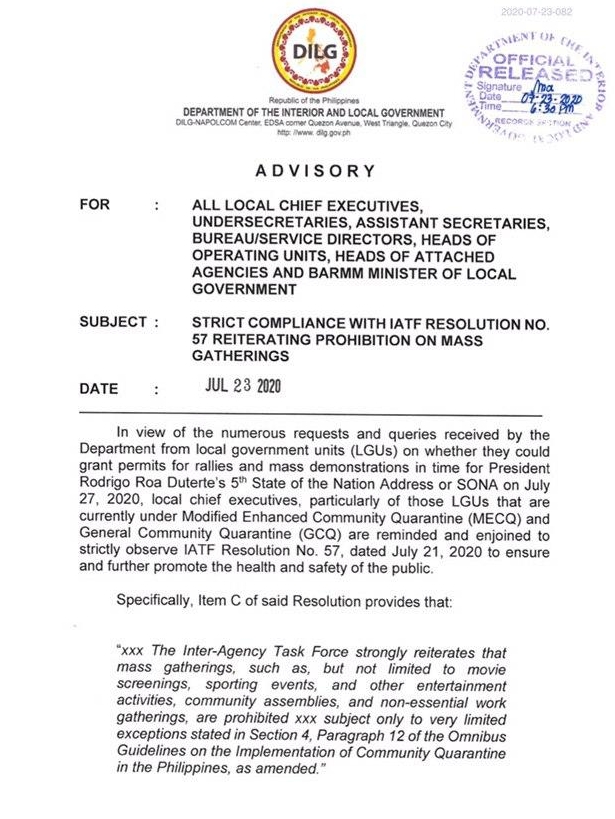 Arrests
Still, police arrested people as demonstrators made their way to the protest site.
In Quezon City, cops flagged down a group of 5 protesters aboard a jeepney without being told what charges they were facing.
Hundreds of kilometers north in Tuguegarao, two student protesters were arrested even before they started their program. Cops accused them of violating quarantine rules by being outdoors while being below 21 years old.
In Southern Luzon, cops stopped and detained over 60 demonstrators in Cavite who were en route to their protest venue, only to release them hours after without informing them about their alleged violations.
The jeepney protesters in Quezon City were released without charges, and the Cavite 65 caravan were charged but released the same day.
Policemen acted with the same force when they took away placards and protest materials from protesters hearing Mass at the Quiapo Church. The materials were taken, said Manila police chief Brigadier General Rolando Miranda, because they disrupted the ceremony.
Online
Even in cyberspace, where critics openly call out government for lapses and where anti-government hashtags trend almost every week on Twitter, law enforcement has extended its reach in defending the President.
"The government is really trying to instill fear and intimidate the public to keep silent about their dissatisfaction. That is the challenge for groups like us. To break that, to provide venues that have to galvanize and expand that momentum," Casiño said.
He added: "In some sense, the fear is working, but, in another sense, it is being overcome, because otherwise, this unified rally wouldn't have pushed through. If they had succeeded, there wouldn't be a rally."
Will it last?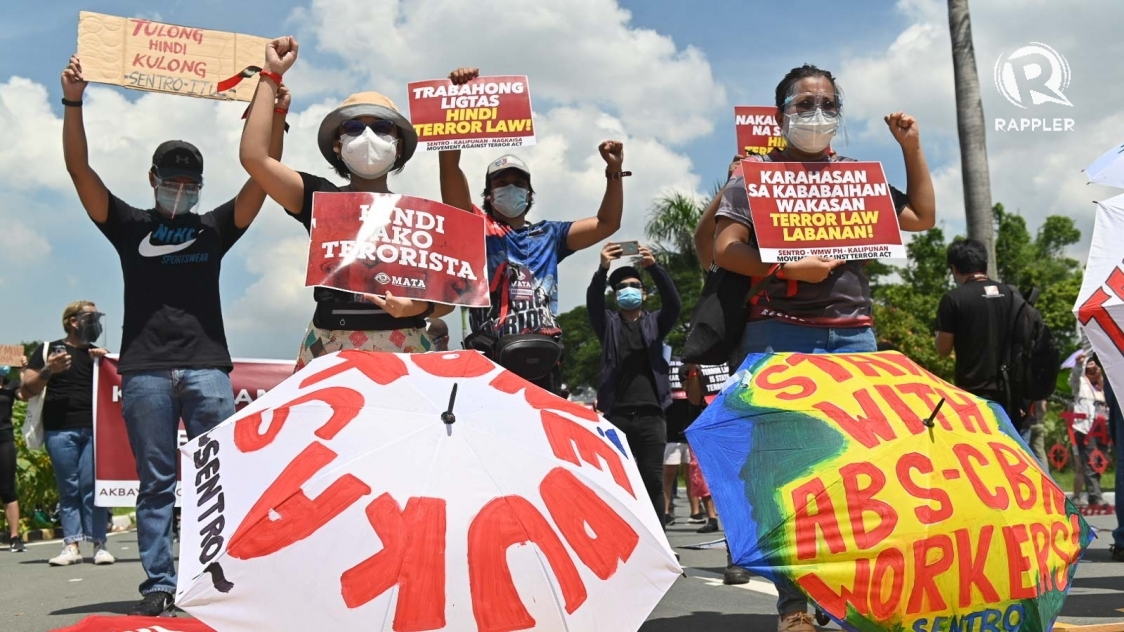 In the years that Atienza has been following Duterte and the politics of the opposition, she, along with her fellow political scientists, has encountered multiple moments that were thought to be tipping points – such as instances when Duterte lost public favor.
In 2016, during Duterte's first address, there was no effigy-burning. Instead, a wall of aspirations stood, reminding the firebrand president not to forget his promise of ending criminality and battling poverty, all while showing courage and compassion.
The following year, the honeymoon phase ended. Protesters set ablaze different images of Duterte as a display of their dismay and disappointment. They found that the so-called war on drugs was a deadly failure. Still, public favor remained with Duterte.
In 2018, protesters cried out against the rapid rise of prices caused by the administration's tax reform legislation while reminding Duterte of his promise of ending contractualization.
In 2019, protests looked beyond the country's shores and demanded that the tough-talking president assert the country's rights over the West Philippine Sea after a Chinese vessel sank and abandoned a Filipino fishing boat with 22 fishermen in Recto Bank. Still, Duterte survived the tide of controversies.
The mishandling of the pandemic ahead of the 2020 SONA is the latest in these successive events.
"We have been observing if this would be it. Marcos burial? South China Sea issue? Maybe the pandemic has affected a lot of people. It's actually mobilizing a lot of people," Atienza said.
The challenge for organizers and leaders, according to Atienza, is to sustain the momentum to prevent a repeat of the 2019 upset.
The 2019 midterm elections was unprecedented for all the wrong reasons as it was the first time in 80 years that the opposition did not win a single Senate seat, despite bold campaign claims of a resistance – the same claim they are making now.
Diokno, who placed 21st in the Senate race, would like to believe they have made strides since then. For one, they're all together now.
"I hope that this is a taste of things to come." – Rappler.com