For health frontliners, a coronavirus vaccine is duty, and finally, safety. Taking the first step to putting fear behind them, vaccinated doctors and nurses say they feel 'liberated.'
This is all too much, she thought – the flashing cameras, the rush of reporters, the ceremonial shot, and even the health secretary holding the injection to her arm. All Dr Eileen Aniceto signed up for was a vaccine. 
"I thought this was too much publicity! That's not why I did it," Aniceto told Rappler in an interview. "I just wanted peace of mind."
The endless days checking on coronavirus patients and fearing a virus a thousand times smaller than a dust mite never really faded from view in hospitals, where health workers lined up to receive a COVID-19 vaccine for the first time.
On March 1, 2021, so close to getting doses ready to be doled out, patients in COVID-19 designated centers were still confined to their wards, left to themselves and their bodies to fight the virus.
"There is this constant fear of getting (COVID-19) – and dying from COVID because we've witnessed patients dying. It is not a nice way to die. You are alone. None of your family can go to you," Aniceto said. "We're constantly under that threat that we may get sick."
Aniceto told herself that as soon as a vaccine arrived in the country, she'd sign up to get one. She was excited when the government told health workers they would be receiving the shot developed by Pfizer and BioNTech, a favored one among many. "It has the best numbers so to speak," she said.
But in the auditorium of the Lung Center of the Philippines, only Aniceto and 19 others were part of a "ceremonial kick off" vaccination. The jab was in the hands of Health Secretary Francisco Duque III, Sinovac's CoronaVac, flown all the way from China, transported in a military plane, until it arrived to where Aniceto received it.
"I recalibrated and thought: What's more important? To me, what is important is, I do not die from it (COVID-19). The earlier I can get it, the more peace of mind I have," said Aniceto, who heads the Lung Center's outpatient department. "So I signed up."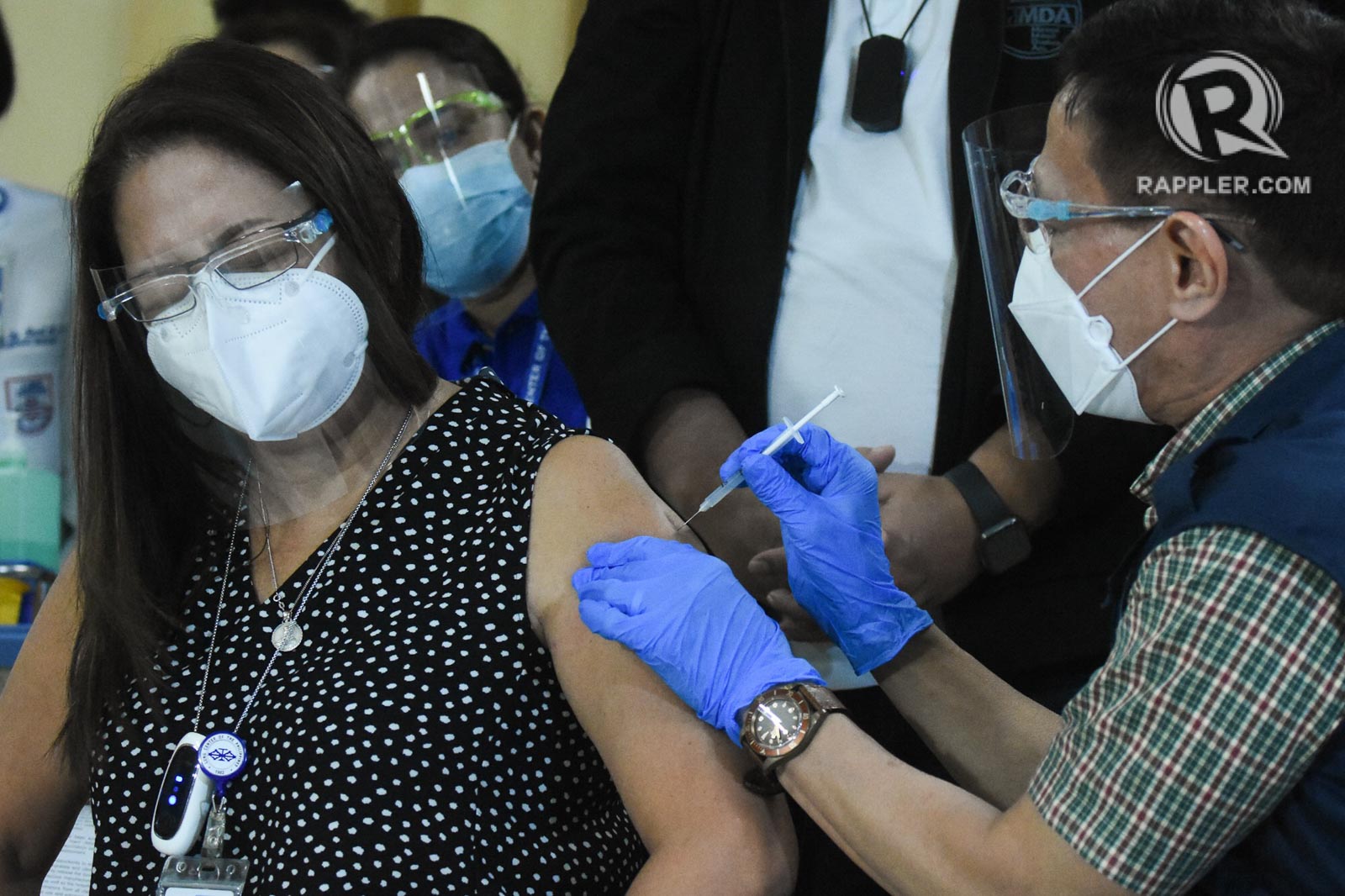 Risk vs benefit
Twelve kilometers away at the Philippine General Hospital (PGH), Malacañang Spokesperson Harry Roque hailed the arrival of vaccines as a moment of triumph. One just as important as the day he was born. "I was born here in PGH so it's only right that we start giving vaccines here," he said.
Roque's words glossed over the emotional aftershocks the Duterte government left on health workers. Given the delay in the delivery of Pfizer's vaccine and the imminent arrival in the Philippines of Sinovac – which had not been recommended for medical frontliners – the vaccine was understandably met with reluctance and anxiety.
Just 4 days earlier, during a press conference on national TV, Roque asked PGH director Gerardo Legaspi: "Have you communicated that you are still willing, the medical frontliners of PGH are still willing to have the Sinovac vaccine on Monday? So I know if we'll have a press briefing there in PGH where I was born?"
Legaspi, hearing about the arrival of Sinovac's vaccine for the first time, said he had been given no earlier advice. "But I'm sure that the community is ready and we will welcome, and maybe I will give you the exact details of the arrangement as soon as I get off this briefing," he said.
The exchange left health workers upset, emotions brought to level only during weekend town hall meetings. This was where workers in hospitals expected to receive the vaccine, spoke with their leaders, some of whom happened to be the government's medical experts.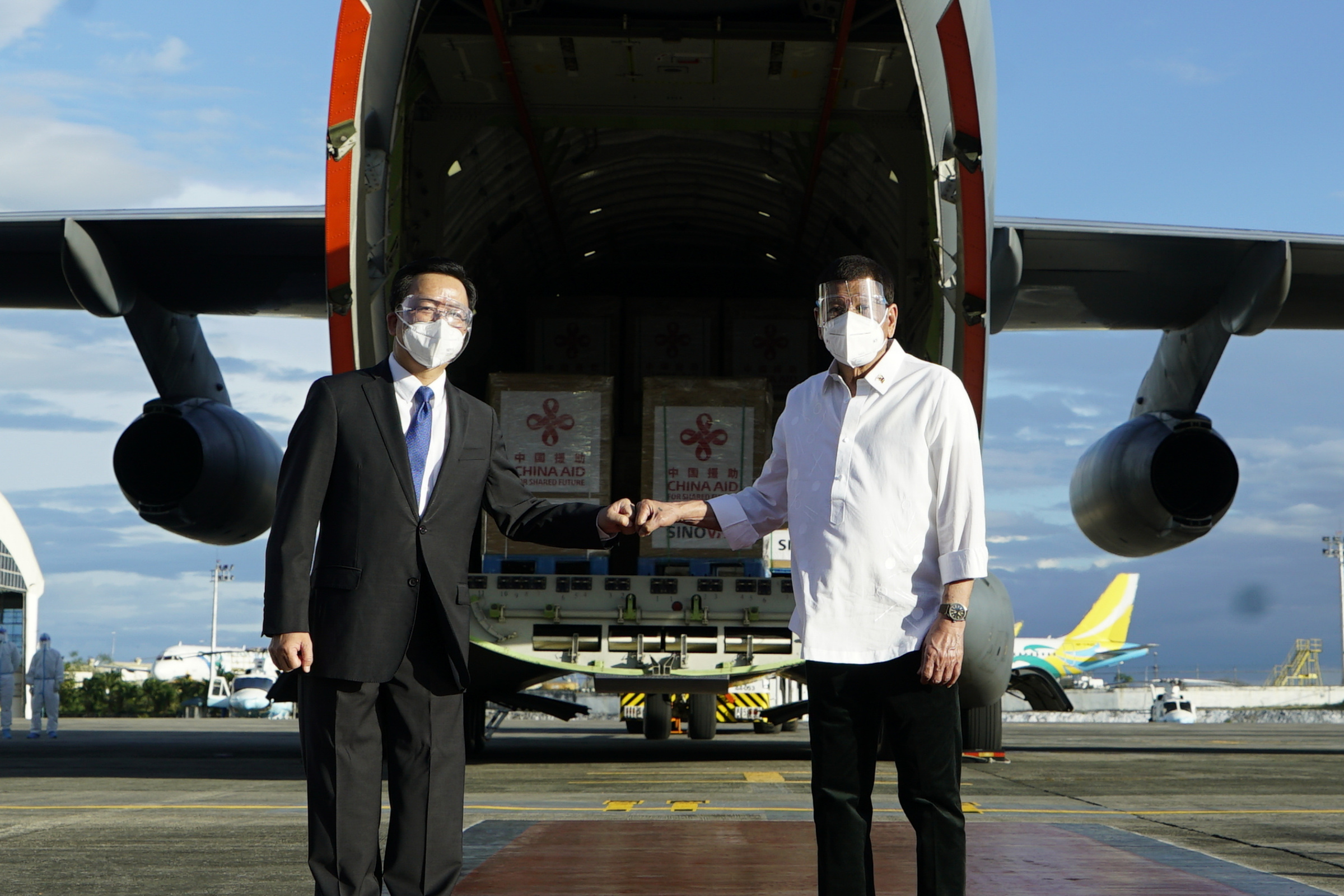 The discussions, open and transparent, laid out the reality facing health workers at the time: Sinovac's CoronaVac, though not the best for those like them who were exposed to COVID-19, had still been the only vaccine certain to arrive in the Philippines soonest. With data on the vaccine explained, government vaccine experts agreed that the decision to take the vaccine – or to wait – would be each person's to make.
The choice was difficult, even for Dr Anna Ong-Lim, a pediatric infectious disease specialist and a member of the Department of Health's technical advisory group for COVID-19. Days before the arrival of Sinovac, Ong-Lim received waves of messages asking her what she was going to do.
"My response at that time was I'm still thinking it through because I wanted to make that choice – I needed to be able to justify it to myself, so that whatever happened, I knew that, that decision was made based on my values, and not because I was being pressured by anything else," Ong-Lim told Rappler.
That weekend, Ong-Lim drowned herself in the pros and cons, choosing between Sinovac's vaccine, the option sure to arrive, and AstraZeneca, another option slated to arrive but whose delivery at the time was still unclear. (AstraZeneca's vaccine finally arrived in the Philippines on March 4 after initial delay).
"If you have options, you would want to opt for the choice that gave you better protection overall. I want to admit that mild thing really gave me pause," she said, referring to Sinovac's reported efficacy of 50.4% against mild COVID-19 among health workers in late stage trials. "But in the end, the main thing that we really need to be protected against is severe disease."
"And then the question of being able to be protected because I continue to see patients…the consideration of the variants…overall, I felt like the balance of benefits outweigh the risk," Ong-Lim said. She received her vaccine on March 2.
Life and death
Like Ong-Lim, the decision of many medical frontliners to take an unpopular vaccine had been reduced to two stark options. One could choose safety, protection against a disease sooner, or continued uncertainty and the threat of a severe bout of COVID-19.
A concern the Food and Drug Administration's experts had in deciding to not recommend Sinovac for health workers exposed to COVID-19 was wide confidence intervals seen in trials for the vaccine done in Brazil, where health workers had been participants. Confidence intervals pertain to the certainty of data at hand, Ong-Lim said, explaining that the tighter or smaller the range, the more precise the estimate is.
For Sinovac, trials in Brazil showed that for health workers exposed to the virus, the risk of getting symptomatic COVID-19 was reduced at best to 62%, and at worst, to 36%. Considering this, Ong-Lim said she reduced the choice to the best and worst-case scenarios.
"Assuming that would be my only option, what's my worst case scenario? It doesn't work, which leaves me at zero, where I'm at now. If it works, if there's some kind of benefit, then at least I got the benefit," Ong-Lim said.
She continued: "My value has always been, once that vaccine comes, I'm going to get vaccinated. I'm not going to wait. Because it would be irresponsible for me to wait longer when when I am exposed on a daily basis. It's not fair for my family. How can I defend that to them?"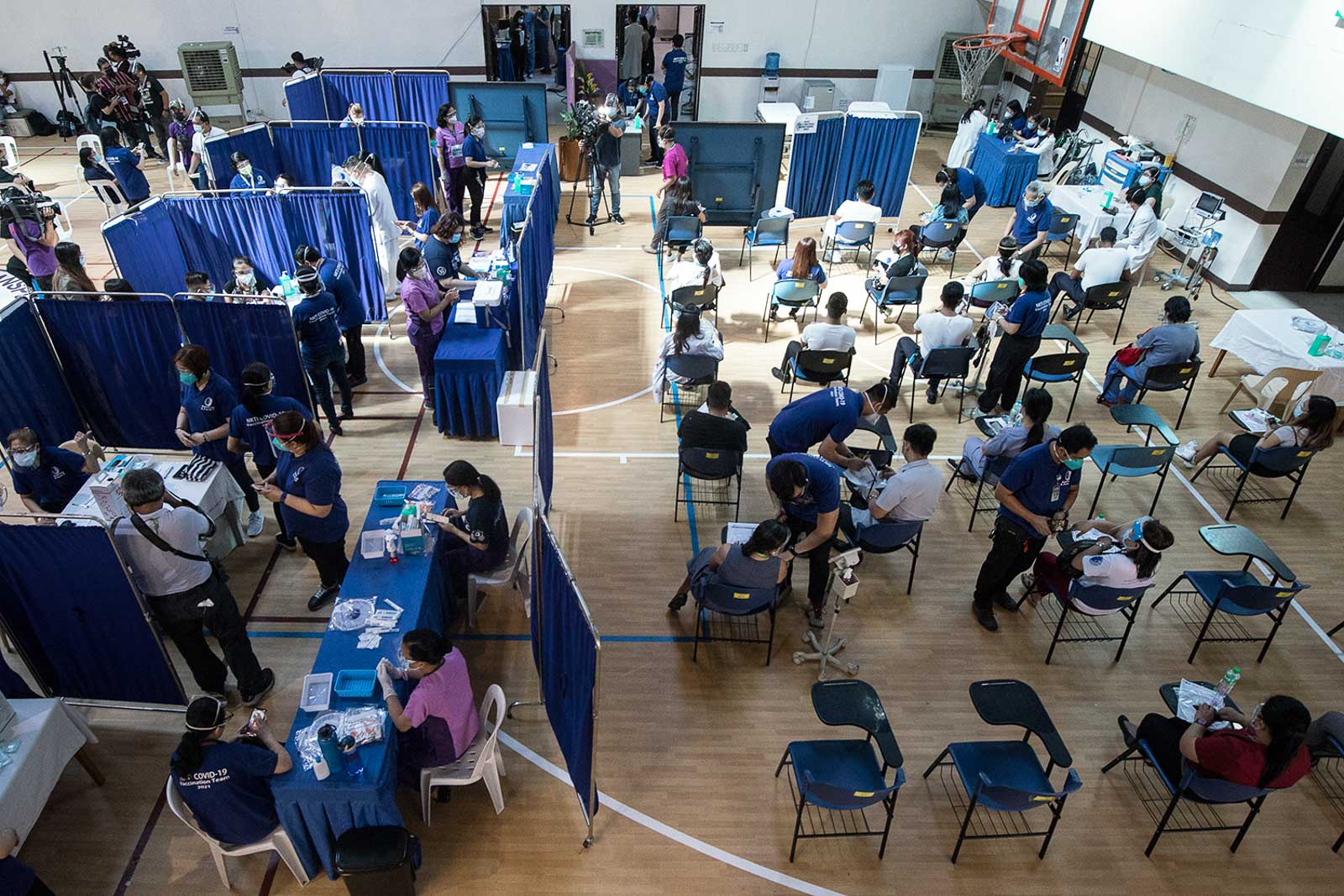 The most senior doctor first to receive Sinovac in the Lung Center, Aniceto admitted that Sinovac was not her top choice. For health workers, a vaccine that would prevent even mild disease was best, she said, because any symptoms, no matter how small, would prevent them from coming to work, reducing already limited manpower.
"If we're talking about what's best for healthcare workers, it's really the one with the overall efficacy of 90% and above…. But as far as I'm concerned, when is Pfizer going to arrive? In the meantime, what about the threat from this time to when it comes? No matter how good you are in maintaining the mask, the face shield, the hand hygiene, tao lang tayo at malilingat na malilingat (we are only human and are bound to let our guard down)," she said.
Lourdes Liza, the head nurse of Lung Center's COVID-19 ward, has moved through the threat of disease for over a year now. Any protection at this point, no matter how imperfect, still holds value for her.
A fraction of protection, "even just 1%," would add to safety – proper face mask, plus a face shield, and physical distancing – adding to a 99% reduction in contracting the deadly disease.
"We're tired. We know many frontliners have died, so at least, even if you tell me it's 20%, at least I'll have 20% more protection and I can take other measures to increase that and avoid getting COVID," Liza told Rappler.
Liza said her "principle in life" was to see the pandemic through, so deciding to get the vaccine was an easy decision to make.
"When I think about COVID I always cry," she said with a chuckle."But it is what it is. Laban lang araw-araw (We fight every day)," Liza added, before turning quiet.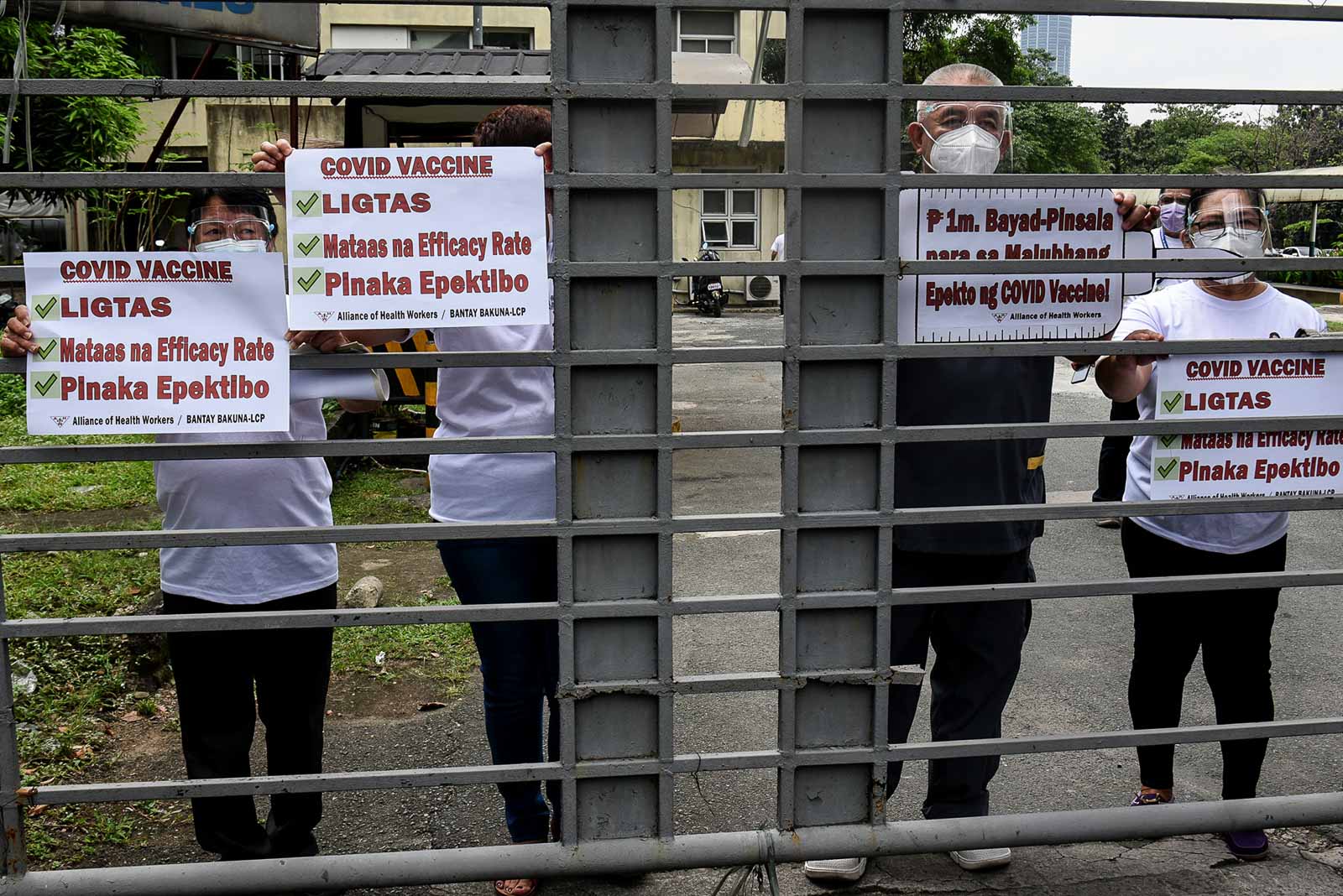 Going first
When the vaccines finally arrived in health centers, health workers who decided to wait for a shot different from Sinovac's were watching, too. Up until the launch of the Philippines' mass vaccination campaign, some health workers were reluctant to receive it, while others called on the government to hear their concerns.
Several health and labor groups criticized the government for passing on to them the burden of encouraging public trust in vaccination, saying it was the government's responsibility to provide the best vaccines and be transparent about them. (READ: COVID-19 vaccines have arrived, but are Filipinos willing to get them?)
On March 1, Legaspi – the first person to get vaccinated against COVID-19 in the Philippines – addressed this, saying: "Separate our view of the vaccine from politics, party, administration, belief, and base it only on clear science. It might not seem like the best one for many, but if you look deeper you'll understand why I was the first to volunteer to get vaccinated."
As of Sunday, March 7, PGH counted 1,773 of its workers who had received the vaccine.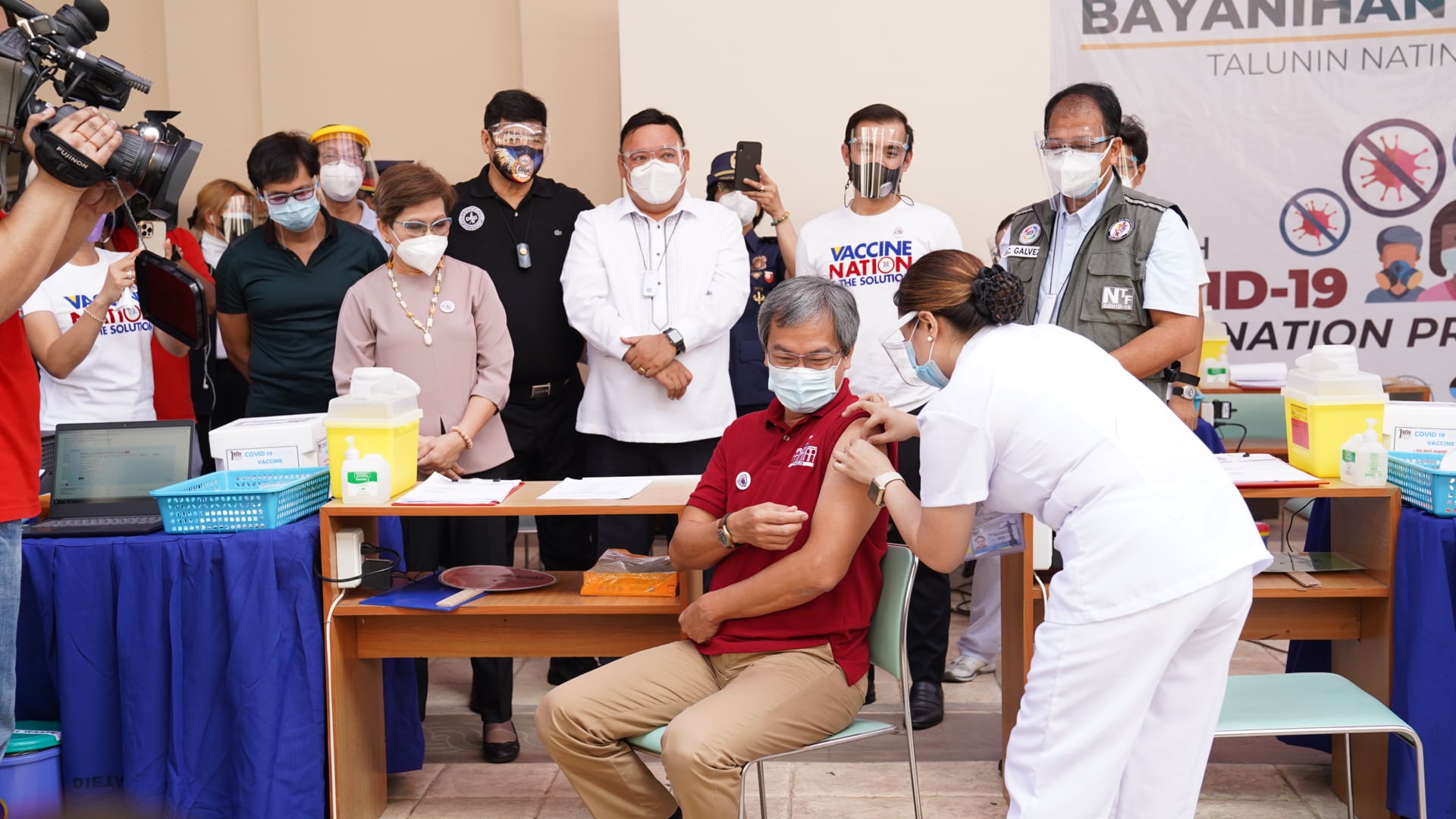 Health workers who decided to get the Sinovac vaccine did so with others in mind too.
Liza said of the 19 nurses in her ward, only one signed up for the vaccine before it arrived – herself. "From the very start, regardless of the brand, it was a yes for me. Because as head nurse in my unit, you can't tell people to get the vaccine unless you do. It comes from the leader downward," she said.
Since getting the vaccine herself, Liza said she received calls from two of her nurses who said they decided they would get one on their day off.
Leo Macaraan, another nurse at the Lung Center, said he respected each person's position on the issue. But on the day vaccines finally arrived in his hospital, he considered it his responsibility to get one, hoping others would reconsider, maybe even follow.
Macaraan felt that it was part of his privilege of being in a priority group. "You have to grab that opportunity because there are other people who want a vaccine and won't have a choice, who still can't get it because of the prioritization and limited supplies now."
Aniceto accepted her role too, she said. To her, it was important to take the first step, both for her patients and her superiors, who were not eligible to receive a vaccine yet. "You'd probably think I'd wait for it (another vaccine)…. But it's not just what's good for me. You have to remember it's a limited resource," she said.
"If I can't influence the country, or Quezon City even, at least for my hospital, I'm doing my part…. I feel safe now and I can tell my patients, get the vaccine – whatever is there that is available because for some of them, there is really no choice."
On March 8, Health Undersecretary Maria Rosario Vergeire said while initial uptake of the vaccine had been low on the first day, succeeding days saw acceptance among health workers increase after more of their peers were vaccinated.
Home safe
The day the first COVID-19 vaccine arrived in the Philippines, the Duterte government hailed it as a day it saw "light at the end of the tunnel." Roque said, "At least we have started, and this will continue."
The day the first COVID-19 vaccines arrived in the Philippines, health workers in hospitals located in risky areas continued to work. Aside from the ceremonial vaccinations, lunch time protests, and special press conferences, on the day of first vaccinations, doctors and nurses still did their rounds, just as they did on any given day.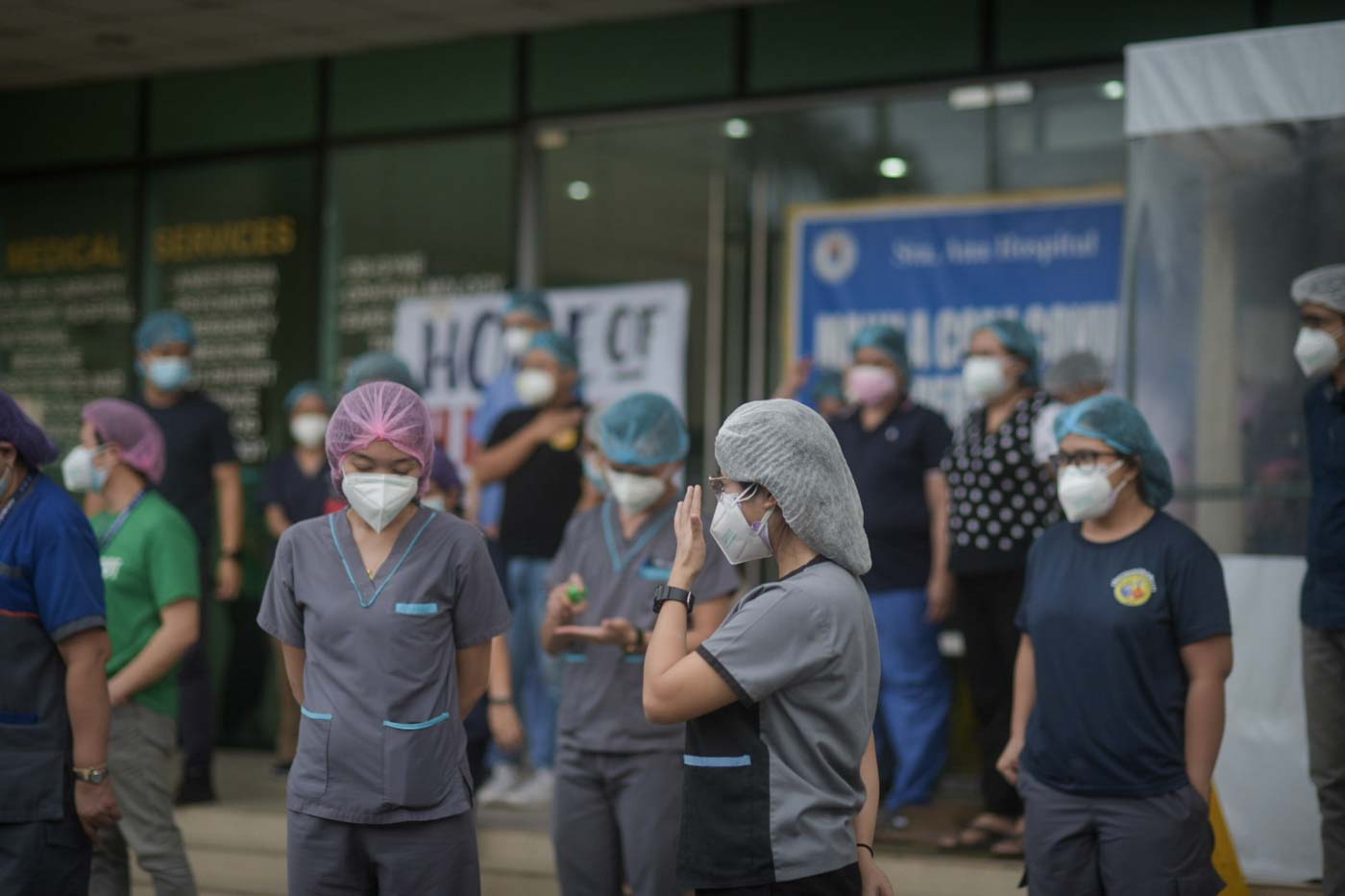 But between the government's victory cries and concern about the first vaccine, medical frontliners took the first step to start putting death and loss behind them. "It's liberating to know I'm vaccinated," Aniceto said, after a year of contending with disease and uncertainty.
This is what being vaccinated means for doctor Eileen Aniceto. She'll be able to walk into a mall, free from the fear that comes with seeing a crowd. She'll get to ride a plane and see her family in Mindanao. She'll get to walk into her home and finally hug her nieces and nephews.
Nurse Lourdes Liza will get to see her kids again – in person – not just on Facebook messenger. The pandemic has kept her inside hospital walls for nearly a year now. She'll get to ride a bus and greet her husband, a seaman, when he comes home later this year.
Nurse Leo Macaraan will get to greet his family, knowing that they'll be at least a bit safer. He'll get to tell others to get vaccinated because he did, too.
For doctor Anna Ong-Lim, she'll get to keep treating patients. She'll get to keep her family safe. She'll get to sleep at night, comfortable with the choice she had made. – Rappler.com
*Quotes have been translated to English