It's a portrait of Philippine politics at its finest, where personality trumps principles and enemies can become friends. If the price is right.
The future of Alan Peter Cayetano's political career rests on surviving the biggest threat to his speakership at the House of Representatives.
For this 49-year-old political tactician, the final blow could come from an enemy that he, or any politician, would never want to have: Paolo "Pulong" Duterte, 45, son of one of the most powerful presidents that the country has seen in decades.
Paolo Duterte, who is deputy speaker, threatened to ask a powerful bloc to unseat Cayetano by Monday, September 21. It sent the Speaker and his allies into backroom talks to snuff out the brewing ouster.
What's at stake? Not only Cayetano's role as leader of the House of Representatives, making sure that 299 lawmakers file their bills and show up at committee hearings. On the line, too, is his political ambition – which, for political watchers, is to succeed his former running mate Rodrigo Duterte by 2022.
The position of Speaker, after all, means unrestricted access to a massive war chest – on top of media exposure that can only be envied by ordinary members of Congress. It also means having access to a nationwide network of local politicians who can be instrumental in any presidential campaign. On top of these, whoever is Speaker is No. 3 in the presidential line of succession.
According to political insiders privy to backroom negotiations, Paolo Duterte's coup threat is all about the money – particularly the government's proposed P4.5-trillion ($92.82-billion) budget for next year. The lawmakers don't necessarily want Cayetano ousted; they just want a bigger slice of the budget.
The annual budget season is usually ripe for power struggles in the House. Multimillion pesos worth of infrastructure funds – in the billions, if a lawmaker is lucky – are said to be the new political currency in Congress, ever since the Supreme Court struck down the lawmakers' old pork barrel as unconstitutional in 2013.
For experts, the latest power shakedown in the House exposes the weakness of Duterte's coalition, filled with allies who are ultimately loyal to their own agenda. And in a Congress dominated by political dynasties, foremost among their priorities is to tighten their grip on power – in other words to win the next elections – at all costs.
Part of a long-term election strategy is to ensure a greater share of the budget, which goes a long way in a country infamous for patronage politics – where votes can be courted through "projects" or can be bought outright.
"The fight around the budget is really becoming more about how are we going to position ourselves better for the next elections," said Herman Kraft, political science chair of the University of the Philippines, in an interview with Rappler.
Political analyst Tony La Viña, former dean of the Ateneo School of Government, said the House power play matters for Cayetano because it is "very formidable" to be the Speaker.
"In terms of getting press attention, in terms of favors he can give to fellow congressmen, it's very formidable if you're in the running for president," La Viña told Rappler. "Of course, you have to see his numbers, because he usually doesn't have the right numbers with respect to the presidency."
This means that if Cayetano does not appease the budget grumblings in the House, including that of the President's son, he could kiss his speakership – and his 2022 prospects – goodbye. The Taguig City-Pateros 1st District congressman, of course, denies he is gunning for the presidency.
But with his speakership in peril, Cayetano knows he cannot take any chances.
The presidential elections may be two years away, but the posturing has long begun. The political showdown at the House is ultimately about the Palace.
Cayetano, who hails from a political clan, started his career in their stronghold Taguig where he first became councilor in 1992, then vice mayor in 1995. He has been gunning for higher positions since then, having served his first 9 years in Congress as Taguig lawmaker from 1998 to 2007.
He went on to become senator for another two terms before his failed vice presidential bid in 2016. The President then appointed him his foreign secretary, a post Cayetano left in 2019 for his successful congressional bid in his bailiwick Taguig City. He assumed the speakership only in July 2019.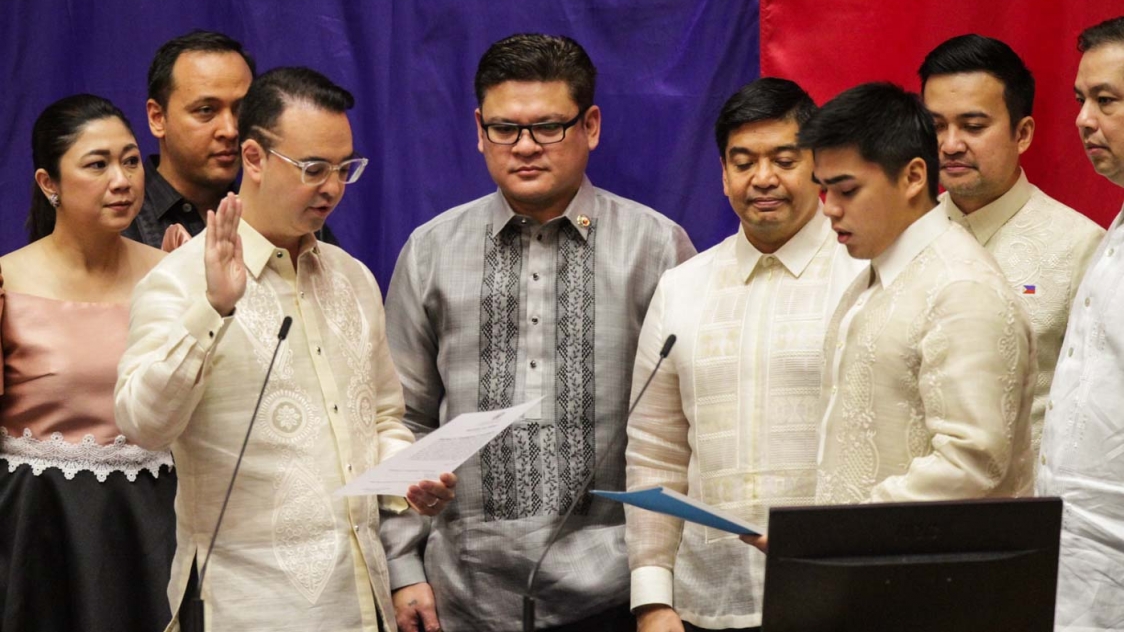 Horse-trading over pork
Paolo Duterte's coup threat – already the second he has made against Cayetano – came at a precarious time in the House.
It compounded the growing uncertainty among lawmakers if the term-sharing deal brokered by the President would even push through between Cayetano and Marinduque Representative Lord Allan Velasco.
Both are close allies of the President. Velasco, 42, is a friend of the President and is a known ally of Duterte's heir Sara, mayor of Davao City. The Marinduque congressman leads the House bloc of the ruling PDP-Laban, which has seen a huge exodus of members in the past year despite it being the President's party.
But Cayetano had always been two steps ahead, showering his colleagues with plum House posts and hefty budget allocations in his first months in office.
In March, Cayetano accused Velasco of staging a coup against him, though insiders told Rappler it was merely a ploy to scrap the term-sharing agreement.
Karma may have caught up with Cayetano, however, as he found himself just 6 months later dealing with the 2021 budget mess.
Cayetano's troubles began when a lawmaker questioned the budget for his bailiwick Taguig as well as his ally's district.
Negros Oriental 3rd District Representative Arnolfo "Arnie" Teves Jr asked the Department of Public Works and Highways to confirm rumors that Taguig City and Camarines Sur province are getting the largest slices in the 2021 budget: P8 billion ($164.9 million) and P11.8 billion ($243.24 million), respectively.
Cayetano and his wife Lani represent the two legislative districts in Taguig City-Pateros. Deputy Speaker Luis Raymund "LRay" Villafuerte, Cayetano's close ally, represents the 2nd District of Camarines Sur.
Villafuerte retaliated and accused Teves of colluding with the Velasco bloc to botch the swift passage of the 2021 budget under Cayetano. Teves and Velasco are both members of the ruling PDP-Laban.
But the damage was done: Lawmakers started questioning the disparity in the funds distribution for 2021.
Several of them, including Teves, supposedly ran to Paolo Duterte and, in the Davao City lawmaker's words, "expressed their disappointment and consternation."
The neophyte congressman distanced himself from the issue, but not before confirming his coup threat and saying the budgetary concerns indicate "mistrust" of the Cayetano-led leadership.
"Most of these concerns shrouded doubts over the process and mistrust of the lawmakers ruling the House, those who are acting as if they are bigger than their colleagues. Respectfully, I told them that I did not want to get involved," Paolo Duterte said.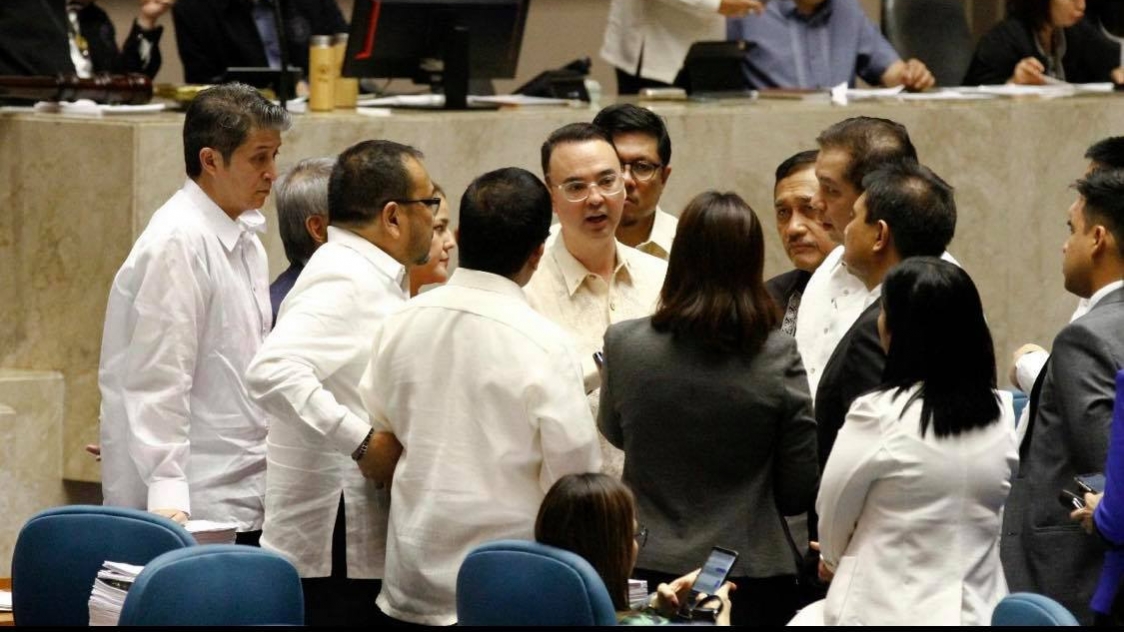 House sources said the Speaker tried to douse the fire by promising there would be equitable shares for House members in the "For Later Release (FLR)" funds under the current 2020 budget.
The FLR refers to around P271 billion ($5.59 billion) worth of congressional realignments in this year's national budget. There had been accusations that these were illegally inserted, but the President did not veto these line items.
Instead, the Department of Budget and Management withheld the release of the FLR, which legislative districts can only tap into upon the submission of certain requirements.
But a House source privy to the negotiations claimed the FLR funds were immediately released to allies of Cayetano, while other legislators are made to wait as their allocations have been incorporated instead in the 2021 budget.
Paolo Duterte himself allegedly has qualms about his own district's FLR funds.
"One of the complaints ni Pulong 'yung FLR niya. 'Yun 'yung nire-resolve ngayon, papaano 'yun mare-release. Lahat naman may FLR, so that's part of the effort of the Speaker to solve this problem," the same source said. (One of Pulong's complaints is about his FLR. That is what's being resolved right now, how that will be released. Everyone has FLR, so that's part of the effort of the Speaker to solve this problem.)
ACT-CIS Representative Eric Yap, Paolo Duterte's close friend and chair of the House committee on appropriations, already said they are trying to address the "parochial concerns" of lawmakers
"I have 99%, 99.9% feeling na talagang si Speaker Alan Peter Cayetano pa rin ang magiging Speaker namin dahil wala naman pong problema sa pamamalakad niya. So 'yung mga ibang parochial concerns ng mga congressman, we try to address that," Yap told ANC's Headstart on Monday.
(I have a 99%, 99.9% feeling that Speaker Alan Peter Cayetano will still be our Speaker since we don't have a problem with the way he's running things. The parochial concerns of the congressmen, we try to address that.)
But it's all just a matter of semantics. Deputy Minority Leader Carlos Zarate of the progressive Bayan Muna called the squabble for what it really is: a battle over pork. This is critical as the election year 2022 approaches.
"This is also the reason why many lawmakers are questioning the supposed huge allocations of projects to some areas while others did not get as much," Zarate said in a statement. "These pork-like allocations are also one of the main reasons why funds for social services like that for public hospitals, schools, and social pension are being perennially being slashed."
Cracks in the Duterte coalition
Though his speakership is now on thin ice because of Paolo Duterte, Cayetano does not pin the blame on him. After all, it would be political suicide to further agitate the eldest son of the President.
"Si Deputy Speaker Duterte, I respect him very much. I believe he respects the Office of the Speaker. I believe magkaibigan kami. Clinarify naman niya na 'wag kasing gagamitin ang pangalan niya at gusto lang niya maayos ang takbo at 'yung mga pondo," Cayetano told DZRH on Monday.
(Deputy Speaker Duterte, I respect him very much. I believe he respects the Office of the Speaker. I believe we are friends. He clarified that his name should not be dragged into this and that he only wants things to be smooth-sailing with respect to the House and the budget issue.)
The Speaker instead pointed his fingers to his rival Velasco.
"Well, 'yun po (coup) ang inaasahan sana ng grupo ni Congressman Velasco at 'yung ilan niyang mga kakampi, 'yung umiikot para kumuha ng numero," the Speaker said. (Well, a coup is what the group of Congressman Velasco is hoping for, including their allies who are now going around to secure numbers.)
"From their side, gusto nila, gentleman's agreement daw, sumunod ako. Pero I think, pangatlo, pang-apat na coup attempt na nila 'to eh. Tingin ata nila na padamihan ng attempt at, finally, kapag maraming attempt, makukuha nila eh 'no?" he added.
(From their side, they want me to follow the gentleman's agreement. But I think this is their 3rd or 4th coup attempt. Maybe they think the more attempts they make, the higher chances of finally getting what they want, right?)
Taking a cue from their boss, Cayetano allies lashed out at Velasco for receding into the background in the past months. The PDP-Laban lawmaker was a no-show in deliberations on major issues tackled by the House, from the non-renewed franchise of ABS-CBN to the controversial anti-terror law.
Velasco finally broke his silence on Tuesday, September 22, but made no mention of Cayetano's allegations against him.
He still believes he would become Speaker "at the right time."
"'Mum on issues' means I just don't want to call attention to myself. Being party to the term-sharing agreement, one does not and should not seek to compete with the current Speaker as a gentleman's agreement is in force. We will have our turn at the right time," Velasco said in a Facebook post.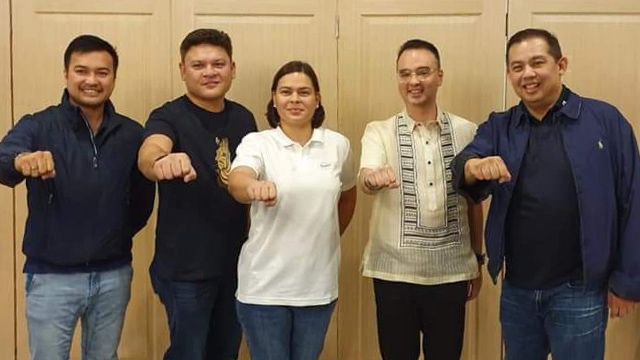 For Professor Kraft, the power struggle in the House only shows just how loose the Duterte coalition is in the lower chamber.
It is also a preview of how factions within the Duterte alliance – from Cayetano to Velasco to the Duterte siblings – can easily be at each other's throats once the 2022 campaign season is in full swing.
"If you look at the House, yes, there's a coalition around the President. That's always the case, but it's a loose formation, by and large, of individual politicians with their own agenda," Kraft said.
Cayetano knows this all too well, having shifted his alliances in the past. As senator, he was among the harshest critics of former president Gloria Macapagal Arroyo. He even sought her impeachment.
But a decade later, in March this year, Cayetano offered to bury the hatchet with the woman he once denounced as corrupt. Both of them now appear to be close Duterte allies.
Cayetano also made a turnaround for Arroyo's successor, Benigno Aquino III.
In the 2010 presidential elections, it was Cayetano who coined the term Topak – which stood then for trapos, oportunistas, and kamag-anaks (traditional politicians, opportunists, and relatives) – to refer to people in Aquino's presidential campaign. At the time, Cayetano was secretary-general of the Nacionalista Party, which fielded former senator Manuel Villar Jr as its standard-bearer.
Cayetano would later mellow against Aquino when the latter claimed victory in the presidential race. In 2013, Cayetano even won his second Senate term under Aquino's "Team PNoy" ticket.
The alliance was short-lived. Fast forward to 2020, Cayetano and Aquino are once again political enemies.
Clinging to power
If Cayetano is to be believed, he would willingly give up being Speaker as long as the President or a majority of lawmakers say so. There won't be a need for a coup, he said.
"Sa ating mga kaibigan na kongresista, o kung sinumang mga power brokers sa ating bansa: Kung hindi 'nyo na gusto ang panunungkulan ko bilang Speaker, hindi kailangan ng coup d'état," Cayetano said. "Ipakita 'nyo lang sa akin na ang majority ayaw na sa akin at magiging very smooth ang transition natin. Pero hindi 'nyo po ako ma-ba-blackmail."
(To my friends who are congressmen, or any of the power brokers in the country: If you no longer like my leadership as Speaker, there's no need for a coup d'état. Just show me that the majority doesn't like me anymore and our transition will be very smooth. But you can't blackmail me.)
But would he even step down? Cayetano's allies are now saying the coronavirus pandemic is no time for a leadership change in the House, let alone a coup.
Bad news for Velasco, as the President is no longer keen to intervene in the affairs of the House to save him.
The Speaker already knows how to tame the unpredictable son of the President. Appease Paolo Duterte, and the coup threat is extinguished. It would then become all too easy for Cayetano to kick Velasco out of the picture.
If Cayetano plays his cards right, there's no stopping him in 2022.
"The greater fight really is within the Duterte factions for 2022," Professor La Viña told Rappler. "The person to really watch is the President and whether he can take control over this, as he did after the elections of 2019."
No more pretensions about independence between the executive and the legislative. In the Philippines, lawmakers vote according to the wishes of the President.
It's a portrait of partisan politics at its finest, where personality trumps principles and enemies can become friends. If the price is right. – Rappler.com