As the government struggles to fund pandemic measures, military pension continues to bleed public coffers dry – P850 billion annually for the next 20 years
A month after his inauguration, one humid day in the country's largest military reservation, President Rodrigo Duterte spoke of one famous but now forgotten promise – to increase the salaries of military personnel.
"Starting next month there will be an incremental increase in your salaries," Duterte told around 500 soldiers lined up before him in Fort Magsaysay, Nueva Ecija.
"Pangako ko, doblado (I promise, it will be doubled), you will get it," the President said.
Duterte eventually partly fulfilled this promise, doubling the base pay not just of low-ranking soldiers but also policemen, and approving smaller increases for those with higher ranks.
But as he nears the end of his term in 2022, the repercussions of this promise continue to reverberate because of one problem Duterte does not mention in public: the government must pay hundreds of billions of pesos a year to fund the ballooning pension of military and uniformed personnel.
The pension fund for military and other uniformed personnel (MUP) is fully subsidized by taxpayers. Unlike civilian employees, the MUPs do not pay contributions because their pension is funded through the government's yearly budget. The pension of judges is also paid in this manner, but they don't number nearly as many as military and police.
Duterte's doubling of soldiers' salaries was a popular move, and generals have quietly conceded that this is one of the factors that has shored up the military's loyalty to him.
But it exacerbated the pension fund problem because increases in the base pay of active personnel trigger an increase in the pension given to retired personnel.
Bleeding coffers dry
Now, the government will need P848.39 billion annually for the next 20 years to pay for the pension, according to the Government Service Insurance System (GSIS).
That amount is bigger than the entire 2021 budget of the Department of Education, the agency that is given the biggest chunk of annual budgets.
Pension takes up more and more of the Department of National Defense's budget every year, at the expense of other sorely needed programs for the country's security.
In 2018, expenses for the pension of MUP ballooned by P34.2 billion because of the increase in the base pay. Since that year, MUP pension needs have already surpassed the P110-billion mark – even larger than the annual budgets of the labor and transportation departments that go through congressional scrutiny before these are passed.
With more soldiers and uniformed personnel retiring every year, it's only a matter of time before the pension is equivalent to 60% of the entire budget of the military – a figure that came from Duterte's own former budget secretary, Benjamin Diokno.
The situation has become more dire amid a pandemic bleeding public coffers dry. It does not help that the pension fund itself is open to misuse.
In the 2021 national budget, which was supposedly designed to address the COVID-19 crisis, at least P134.9 billion was devoted to paying for pension and benefits, compared to P97.05 billion the previous year.
Senator Panfilo Lacson, a retired national police chief, said the issue, if not resolved soon, would lead to "fiscal disaster."
The budget department has even floated the need for a supplemental budget, or a budget outside the yearly national budget, just to cover pending payments – a supplemental budget just for pension, at a time when the government has needed to borrow money to buy vaccines.
The urgency of the problem is felt both in the executive and legislative branches. But with Duterte's term approaching its last year and the distracting election season coming up, the window of opportunity is shrinking for him to sign a pension reform law.
Will Duterte's government finally find a solution where past administrations have failed? Or will it leave an even bigger problem for the next president to fix?
'Populist' but not pragmatic
A year and 5 months after Duterte's Nueva Ecija speech, the President had something to boast about at the Armed Forces of the Philippines' 82nd anniversary.
"Take a look at your paycheck [in] January," he told soldiers.
By that time, he had signed the national budget for the following year, 2018. Included were funds for higher salaries of military and police.
"It fulfills my campaign promise of doubling the basic pay of our hardworking men and women in uniform, which will take effect on the very first day of 2018," he told the soldiers proudly.
The increase in salaries was further officialized by Duterte's signature on Congress Joint Resolution No. 1 on January 1, 2018.
The news may have heartened the lowest-ranking soldiers and police, but Duterte's own economic team was not as pleased. Even in the joint resolution Duterte signed, their efforts to temper the effect of the measure could be seen.
The resolution contained a fiercely-debated clause that suspended pension indexation for a year, or until January 1, 2019. Indexation means that the pension received by retirees increases whenever the salaries of active-duty personnel increase. By suspending indexation, the new increase in base pay would not immediately lead to higher pension, thereby lessening the amount of funds the government would need to allocate in 2018 for those payments.
However, it was only a delay. The government would still eventually have to pay that increase.
This provision was actually a compromise, according to the account of retired navy officer Vice Admiral Ariston delos Reyes, a very active crusader against the pension reform proposed by economic managers.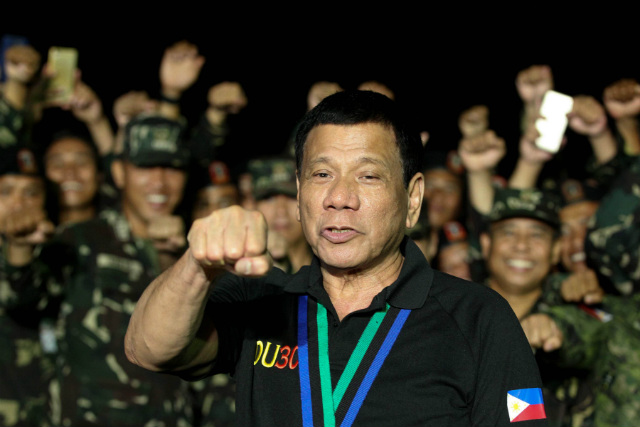 In a draft joint resolution endorsed by then-budget secretary Diokno in September 2017 (or 4 months before Duterte signed the resolution), Diokno "strongly" recommended the suspension of pension indexing to the new rates, citing "huge budgetary implications" if this was not done.
A flurry of meetings followed because of the fierce opposition of retired officers, including Delos Reyes. Senator Lacson and then-senator Gregorio Honasan II – retired police general and army colonel, respectively – came up with their own draft joint resolutions, both allowing pension indexing. (Honasan is now information and communications technology secretary.)
But, on December 11 of that year, those who wanted pension indexing to continue with the higher salaries received multiple blows. The House of Representatives approved a joint resolution suspending pension indexing. Then, Duterte's own office endorsed a draft Senate joint resolution also suspending pension indexing, Senate Joint Resolution No 9.
But mere hours later, fate smiled on the retirees. Duterte, in Delos Reyes' words, did a "complete turnaround" by supporting another joint resolution version, which does not include any suspension of pension indexing.
Senate Joint Resolution No. 11 was authored by senators Aquilino Pimentel III, Lacson, Honasan, and Cynthia Villar.
"It is not known how Senator Honasan was able to convince him (Duterte) to set aside SJR No. 9 (Senate Joint Resolution No 9)," said Delos Reyes.
But because the House was equally determined to oppose pension indexation for the proposed pay hike, a compromise was agreed upon: pension indexation would be suspended, but only for a year. The suspension would be lifted automatically on January 1, 2019, or upon the effectivity of a pension reform law, whichever would come earlier.
Thus, it was this version that was adopted by both chambers and signed by Duterte in 2018.
The security establishment, already with a win in the form of higher salaries for active personnel, secured another victory in that its retirees would also get higher pension.
Meanwhile, fiscal managers of the government were left with an even bigger problem in their hands.
Messy problem
Duterte had twice sided with soldiers and police, but left the number crunchers hanging.
"The messy problem to begin with was made even messier by Duterte and his populism," said former senator Antonio Trillanes IV, a longtime Duterte critic who had also attempted to fix the pension problem when he was chairman of the Senate committee on national defense and security.
During the first two years of the Duterte administration, the government paid around P75 billion for the pensions of the military and uniformed personnel.
Duterte's approval of higher salaries for active personnel directly affected pension payments, as shown by a marked increase in releases and unpaid arrears.
If we're to compare, the amount spent on pension is around 50% of the appropriated amount for soldiers' salaries. In effect, for every peso allocated for soldiers, the government spends another 50 centavos on pensioners.
For uniformed personnel under the Department of the Interior and Local Government, the ratio is about 30% as there are more active cops, fire, and jail personnel than retirees.
Urgently-needed solution
But after Duterte approved the pay hike, there were efforts in his Cabinet to once and for all address the ballooning pension costs.
In June 2018, Duterte ordered his economic managers to do something about the pension problem. Come August to September, Finance Secretary Carlos Dominguez III said they were ready to present a package of proposed measures.
Among these was to require new recruits to pay retirement contributions – an attempt to address the existing problem of an entirely taxpayer-funded pension.
Dominguez, one of the few people who can be frank with Duterte, has described the MUP pension system as "not sustainable" and "already taking a toll" on the country's finances.
Finally, in February 2019, Malacañang announced that Duterte planned to certify the MUP pension reform bill proposed by the Department of National Defense (DND).
A year later, however, there was no such certification.
Asked why this is the case, Dominguez told Rappler, the bills are not yet ready to be certified.
"When the bill is ready to be certified as urgent, I am pretty certain that the DND and DBM (Department of Budget and Management) will join the DOF (Department of Finance) in recommending so," he said.
Different proposals: What works, what's acceptable
There are several permutations of solutions to the pension problem. The most cost-cutting of reforms are championed by economic managers, the DOF and the DBM. Some of these are acceptable to the defense sector, others are not.
The ultimate solution must be both financially sustainable and acceptable to pensioners and future pensioners.
According to a GSIS actuarial study using 2019 figures, the total unfunded liability for MUP pension reached P9.6 trillion – or P848.39 billion annually in the next 20 years. According to the Bureau of the Treasury, the unfunded liability almost doubled from 2016, when it was estimated to be at P5 trillion.
To save the much-needed fiscal space for other programs, GSIS came up with different scenarios to solve the problem.
Here are these scenarios:
The computation covered a total of 402,086 active personnel, who, on average, served for 10 years with a mean salary of P39,687 per month. The study also included 196,004 pensioners aged 64 on average, with a mean monthly pension of P39,520.
The scenario that will help the government save the most funds will include the following terms:
Removing indexation
Retiring at actual rank
Maximum pension payment amounting to 90% of MUP's base and longevity pay
Retirement age of 56
Mandatory contributions
If these terms are met, the national government will only have to pay around P211 billion in the next 20 years. This does not include the infusion of capital if MUP assets and properties are sold.
If soldiers and uniformed personnel do not agree with removing indexation and mandating contributions, the liability will only marginally decrease by 4.12% to P9.22 trillion, or P813.42 billion per year in the next two decades. Mandatory contributions in this scenario will also not help improve expenditures, as contributions are typically divided between the personnel and the government as the employer.
There were also proposals lodged with Congress to increase the retirement age to 60 years old. But without scrapping the indexation scheme and requiring MUPs to pay for their pensions, the liability will even go up to P9.71 trillion or P856.6 years annually in the next 20 years, according to the GSIS.
National Treasurer Rosalia de Leon reiterated that removing indexation is key to preventing the problem from snowballing. Taking out indexation from the equation will reduce expenditures by 68% to P3.07 trillion or P270.56 billion in the next 20 years.
Rather than sourcing pension payments solely from the government, creating a pension fund will also have advantages as the fund manager will be able to grow the money to ensure returns. This is similar to how state-run pension funds GSIS and Social Security System operate, where investments in assets and capital markets generate income.
Defense and financial departments move
To this end, the DND and the DOF drafted their own bills containing their desired package of reforms.
Dominguez said the DND and DOF bills are one and the same.
However, the DND version the Palace said Duterte was willing to certify in 2019 did not include key features like removing indexation and mandatory pension contributions from uniformed personnel.
What the DND version contained was moving back the compulsory retirement age to 60, from the current 56, and requiring the retiree to have had 20 years of active service. The retiree would also receive a monthly retirement pay equivalent to 2.5% for each year of active service, not exceeding 90% of the monthly base and longevity pay of the current salary grade.
But it seems the DND is now more amenable to certain reforms that economic managers want.
In a February 2 Senate hearing, Lorenzana said the department is willing to remove indexation as long as retirees' pension is automatically adjusted to current inflation rates. He also said it is acceptable to stop the practice of giving a retiree the pension amount intended for one rank higher than their rank upon retirement.
"For the removal of the indexation, I think that will be possible. But let us put something in the law that will increase the pension of the pensioners based on the price index. Maybe 5% to correspond with inflation…para di naman masyadong maiwan pension nila (so their pensions will not be left behind)," Lorenzana said.
But Trillanes, who spoke with retirees and enlisted personnel, said it would be close to impossible to take out indexation.
"Walang papayag na tanggalin 'yung indexation (No one will agree to removing indexation)…. It's really heartless and even illegal to take away the indexation from the existing retirees," he told Rappler.
Hence, some bills (like Trillanes') that proposed pension reform sought a compromise by removing indexation only for new entrants – meaning, present retirees and those in active duty now will enjoy pension that increases when salaries of active duty personnel increase.
The downside of this is that the fiscal rewards of the reform would only be felt in 20 to 35 years, when new entrants retire.
But some retirees, including Delos Reyes, are adamant that pension indexation cannot be touched, unless indexation of the pension of the judiciary and constitutional commissions is also stopped. Otherwise, it is "discriminatory to the MUP."
There is also staunch opposition to asking soldiers, in particular, to pay for their retirement.
Delos Reyes, who is firmly in this camp, said that, while other uniformed personnel may be told to give contributions, the military should be exempt because of Section 7 of the 1987 Constitution, which says that the state "shall provide immediate and adequate care, benefits, and other forms of assistance to war veterans and veterans of military campaigns, their surviving spouses and orphans."
"All benefits for the veterans are considered gifts of the Filipino people to soldiers who serve the country with honor and devotion to duty, and when called for, even at the risk of life and limbs. Thus, recalling it will be an affront, an insult, to the dignity of the Filipino soldiers," Delos Reyes told Rappler.
Efforts to tinker with the MUP pension have failed administration after administration. Within Duterte's presidency, no bills have been passed by the legislative branch to address this.
Duterte's closest aide, Senator Bong Go, has himself filed a bill seeking MUP pension reform, Senate Bill No 1419, under the 18th Congress. Go's bill nixes indexation for new entrants, imposes mandatory contributions, and creates a Military and Uniformed Personnel Retirement Fund to manage the fund. Go says his measure is backed by both the finance and budget departments.
In the House, Albay Representative Joey Salceda filed his own bill, House Bill 8593, only in March. Salceda's bill also takes out automatic indexation and requires contributions. It is backed by the DOF.
The main difference between Go's and Salceda's bill is the pensionable age – 60 for Go and 56 for Salceda.
Both create a new fund authority, but Salceda wants the GSIS to manage the fund.
Go, who is close to many military generals and was instrumental in the appointments of retired generals to key civilian government posts, thinks the Duterte presidency is a golden opportunity for pension reformers.
He believes only Duterte can convince both financial managers and the military establishment to compromise and agree on a pension system that is both fiscally sustainable and fair to military and uniformed personnel.
What does Duterte want?
But we haven't heard from Duterte what type of pension system strikes that balance.
The President has never publicly delved into the nitty-gritty, technical details that would require the most debate and compromise.
All he's said in public is his support for the finance department's proposal to develop MUP assets – like land and real estate – to generate funds for the pension requirements.
He also promoted the idea of a "mini GSIS" for soldiers and police.
"Ayaw lang kasi ni Dominguez 'yung any other arrangement, 'yung finance. Sabi niya, 'Magtayo na lang sila ng sariling GSIS nila.' The Armed Forces of the Philippines and the Philippine National Police would have an independent financial body," said Duterte back in November 2017, again in front of soldiers.
(Dominguez doesn't want any other arrangement. He said, "They can put up their own GSIS.")
But his current stance on mandatory contributions and indexation – the two most hotly contested aspects of pension reform – is unknown.
Yet it may be that Duterte is the president best suited to finally address the gaping hole of MUP pension funds – with his popularity among the foot soldiers as a salve to the sting of any move to touch their retirement nest egg.
His populism may have given them cheer in the earlier years of his presidency, but pragmatism must come into play to save the country's financials.
Will he exert all efforts to avert a financial disaster in the coming months, or will he toss the problem on to the next president? – Rappler.com