Two former friends face off as columnist Ramon Tulfo shows pictures of helicopters supposedly delivering duffle bags of cash to former justice secretary Vitaliano Aguirre
At a Senate committee hearing on the "pastillas" immigration bribery scheme on Tuesday, September 22, columnist Ramon Tulfo presented pictures of helicopters arriving at an idyllic location.
One picture showed a yellow helicopter parked on a grassy lawn, with two black duffle bags sitting by its landing skids.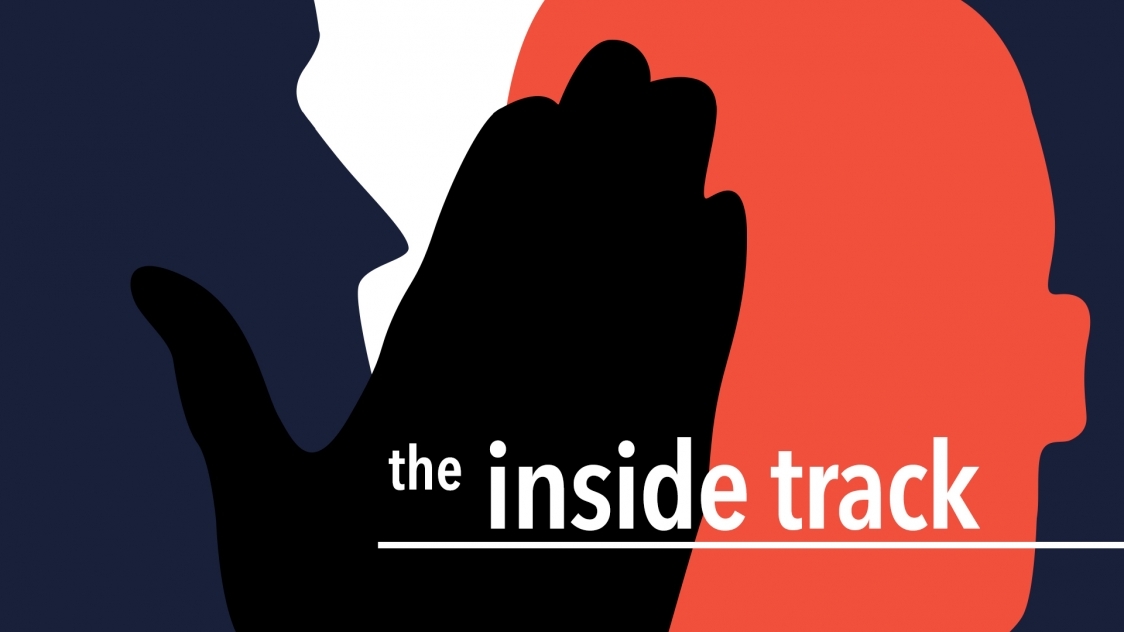 Tulfo said the location was the town of Mulanay in Quezon province, and the duffle bags contained "payola" or cash delivered to former justice secretary Vitaliano Aguirre – allegedly his share from the bribery scheme that let illegal Chinese online casino workers enter the country.
It was the Senate committee on women and children's 5th hearing on the "pastillas" scheme. The panel chairperson Senator Risa Hontiveros wanted to catch the "big fish," since the 19 immigration personnel charged in the mess so far were "foot soldiers" and middle men, not the bosses of the operation.
Tulfo had accused Aguirre of involvement in the "pastillas" scheme before. When a photo of Bureau of Immigration (BI) officials aboard a helicopter was shown at a Senate hearing on March 2, Tulfo claimed they were bound for Mulanay, Aguirre's hometown, to deliver his cut from the bribes.
Helicopters brought duffle bags of cash to Mulanay "3 to 4 times a month," Tulfo said during Tuesday's hearing.
Aguirre: 'I'm not stupid'
Aguirre denied these allegations. In his opening statement, he quoted his son's friend Marc Red Mariñas who said the group on the chopper were en route to San Narciso, Quezon to attend a fiesta – not Mulanay.
Aguirre had appointed Marc Red Mariñas and his father Maynardo Mariñas to high-ranking positions in the BI. Whistleblower Allison Chiong told the panel that Marc Mariñas, as Port Operations Division chief at the time, would have known about the "pastillas" scheme.
"Assuming for the sake of argument that I was receiving part of said 'payola,' why would I let my share be flown from Manila to Mulanay, Quezon by a chopper? This manner would not only attract attention from the people of said small and remote town, but would also alarm my political enemies," Aguirre told the panel.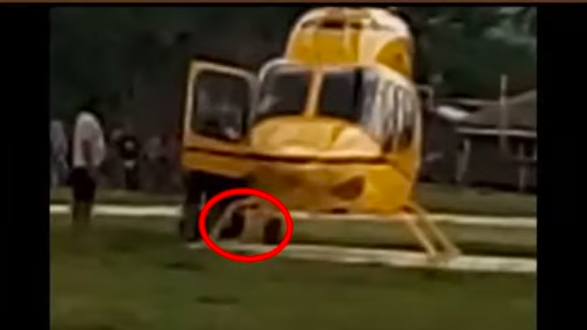 "Hindi naman tayo tonto…. Kung totoo 'yang sinasabi mo, dapat ililihim ko sa mga tao (I'm not stupid…. If what you're saying is true, then I would have kept that from the people)," he added, addressing Tulfo.
But Tulfo afterwards presented the photos and videos of helicopters landing in Mulanay. Some even showed locals taking a spin on one of the choppers. He said they were Aguirre's relatives.
Tulfo pointed to a man photographed aboard the yellow helicopter, saying he is a certain Burgos "Boogie" Bariata, allegedly Aguirre's bagman.
"Anong pinatutunayan ng mga pictures na 'yan? Nasaan ang picture ng isang pera diyan (What do those pictures prove? Where is there any picture of money in those)?" Aguirre retorted. All of Tulfo's accusations were pure hearsay, he said.
"Paano naging bagman 'yan? Porke't may hawak na bag (How is he supposed to be a bagman? Just because he's holding a bag)?" Aguirre added.
He wasn't even in Mulanay at the time those choppers supposedly brought him the money in February, Aguirre said. He was at a speaking engagement at the Manila Hotel at the time, he told the panel.
'Are you the mastermind?'
Choppers did descend on Mulanay in May 2018, Aguirre said, when President Rodrigo Duterte visited his "small hotel" upon his invitation, when he was no longer justice secretary. He resigned in April 2018.
What's wrong with letting some barrio folk take a short spin on a helicopter? It's a once-in-a-lifetime chance for most people, Aguirre said.
Tulfo should have known better than to listen to his sources in Mulanay, who gave him those photos and videos, Aguirre added, because they must have been instigated by his political opponents.
Tulfo said Aguirre is "very unpopular" in his hometown.
"Bakit hindi mo pinag-affidavit 'yung lahat ng nag-supply sa 'yo (Why didn't you ask those who supplied you [pictures] to write affidavits)?" Aguirre asked Tulfo, challenging him to file proper cases.
Aguirre said Tulfo must be smarting because his appointment as special envoy to China was not renewed.
When Aguirre and Tulfo started using derogatory language on each other, Hontiveros stepped in to impose order. She asked Aguirre point blank, "Kayo po ba 'yung mastermind na sinasabi, ng pastillas scheme (Are you the so-called mastermind of the pastillas scheme)?"
"Nakikita 'nyo naman po, Madam Chair, na puro bibig lamang, walang ebidensiya, ang sinasabi ni Tulfo. Paano akong naging mastermind? Alalahanin po natin, Madam Chair, na ako ay nag-resign noong April 5, 2018. Sumabog ang 'pastillas' itong the latter part of 2019 na," Aguirre replied.
(As you can see, Madam Chair, Tulfo's statements are all talk, no evidence. How could I have been the mastermind? Let us remember, Madam Chair, that I resigned on April 5, 2018. The "pastillas" controversy broke out in the latter part of 2019.)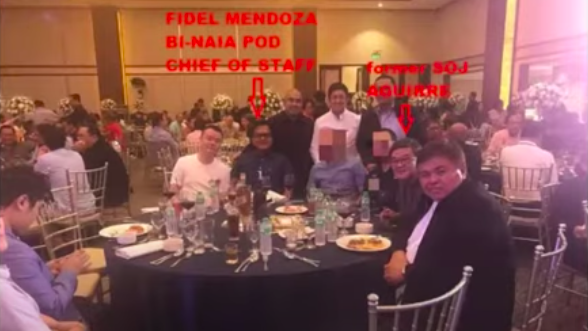 Aguirre insisted, how could he have been on top of the bribery scheme when he was already two years out of the Department of Justice, which oversees the BI?
According to Chiong, the immigration officer whose exposé prompted the investigation, the "pastillas" scheme began as a small-time operation in 2016, and it kept growing until the BI became "like a marketplace."
Former friends
Other issues came up during the hearing.
Aguirre said it was Tulfo's sister former tourism secretary Wanda Teo who kept pushing for the visa-upon-arrival (VUA) privilege for Chinese arrivals. This VUA eventually became the pretext for the "pastillas" scheme.
His friendship with Tulfo "soured," Aguirre said, after he declined Tulfo's request to consolidate some 90 cases filed against him by the Iglesia ni Cristo. Aguirre said Tulfo did not understand that under the present rules, the justice secretary no longer has the authority to consolidate cases.
"'Yang magkakapatid na 'yan, feeling entitled…. Akala mo'y kung sinong mga hari," Aguirre said of the Tulfo siblings, who are prominent personalities. (Those siblings, feeling entitled…. You'd think they were kings.)
But before all this, the two men were friends. Aguirre lawyered for Tulfo free of charge when he figured in a tussle with actors Claudine Barretto and Raymart Santiago in 2012.
Now, each man accuses the other of lying.
"He is groping for words kasi nagsisinungaling siya (because he is lying)," Tulfo told the Senate panel. He rebuffed his old friend for dragging his siblings into the fray.
Besides the "pastillas" controversy, Hontiveros had asked Aguirre about the time he faced questions over a P50-million bribery scandal involving two immigration officers – his fraternity brothers – in late 2016.
Hontiveros also asked Aguirre for records of arrivals of passengers who availed of the VUA privilege. The former justice chief said he didn't know, because he did not micro-manage the BI's affairs when he was in office.
"Sinungaling 'yan. That's it. Kaya siguro inalis ni Pangulong Digong 'yan, dahil bobo 'yan (He's a liar. That's it. Maybe that's why President Digong removed him, because he is stupid)," Tulfo told the panel, referring to Aguirre.
"Hindi ako inalis (I was not removed). I resigned," Aguirre shot back at Tulfo.
"No…. You were told to resign," Tulfo said.
"I was never told to resign," Aguirre insisted.
At this, Hontiveros ended the day's discussion, saying she would continue to hold hearings on the "pastillas" scam.
The opposition senator did not bring up the incident in which Aguirre was photographed texting an ally to expedite cases against her – during a 2017 Senate probe into the killing of drug war victim Kian delos Santos. – Rappler.com