(2nd UPDATE) Malacañang announces her resignation after observers point out that Angeles is not among those reappointed by President Marcos and whose oaths have been administered earlier in the day

Lawyer and former blogger Trixie Cruz-Angeles, head of Malacañang's press and communications office, is out.
Angeles handed her resignation also on October 4.
Speaking to Malacañang Press Corps officers on Tuesday, October 4, Senior Deputy Executive Secretary Hubert Guevara said Angeles resigned due to "certain medical conditions." The Palace has yet to select her replacement, he also said.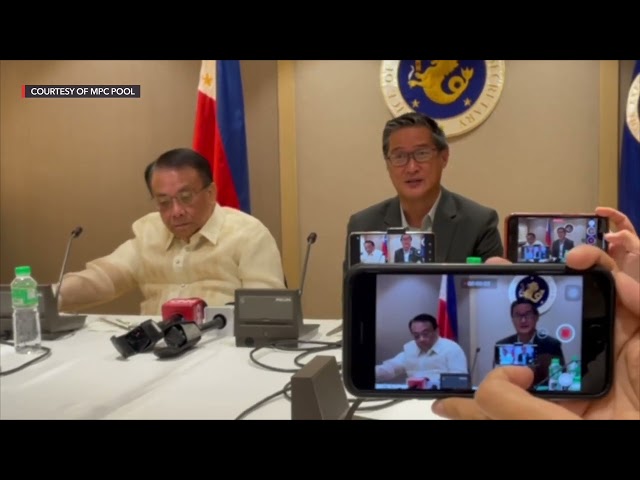 The announcement came after observers became curious why Angeles was not among the Cabinet officials who were reappointed and took their oath Tuesday morning after being bypassed by the Commission on Appointments (CA), a bicameral body that confirms presidential appointees.
The Palace made no explicit announcement at the time. Earlier, neither Malacañang nor the Office of the Press Secretary (OPS) answered inquiries on Angeles' status. Also left unconfirmed by the CA and seemingly absent from the list of reappointed Cabinet officials was Communications and Information Technology (DICT) Secretary Ivan John Enrile Uy. The DICT would later tell media that Uy was overseas for an official work trip, hence his absence. 
President Ferdinand Marcos Jr. led the oath-taking of the following Cabinet members ahead of a Cabinet meeting on Tuesday, October 4, according to the OPS:
Lucas Bersamin – Executive Secretary
Benjamin Estoista Diokno – Secretary of the Department of Finance
Manuel Manligas Bonoan – Secretary of the Department of Public Works and Highways
Alfredo Espinosa Pascual – Secretary of the Department of Trade and Industry
Erwin Teshiba Tulfo – Secretary of the Department of Social Welfare and Development
Jaime Jimenez Bautista – Secretary of the Department of Transportation
Renato Umali Solidum Jr. – Secretary of the Department of Science and Technology
Raphael Perpetuo Mercado Lotilla – Secretary of the Department of Energy
Maria Susana Vasquez Ople – Secretary of the Department of Migrant Workers
Arsenio Molina Balisacan – Secretary of the National Economic Development Authority
Jose Rizalino Larion Acuzar – Secretary of the Department of Human Settlements and Urban Development
Angeles is the second Cabinet official to exit in the first three months of the Marcos administration.
Marcos' first executive secretary, Victor Rodriguez, resigned from his post in late September, but was supposedly reappointed as the President's chief of staff – an announcement that Rodriguez himself said in his statement announcing his resignation. A day after his successor announced that Rodriguez had no position in Marcos Cabinet, Rodriguez confirmed this as well.
Roles, gaffes
As press secretary, Angeles spoke on behalf of Malacañang but not the President himself – Marcos had insisted, even before he assumed the presidency, that he didn't have a need for a spokesperson.
Angeles' position was created through Executive Order 2. The order reverted the Presidential Communications Operations Office (PCOO) to the OPS.
Several agencies were under Angeles, although RTVM (Presidential Broadcast Staff – Radio Television Malacañang) and the Philippine Information Agency were placed directly under the Presidential Management Staff and the Office of the President, respectively.
Angeles has been a constant of sorts in Marcos' engagements, including the ones overseas. She was part of the delegations to his first state visits to Indonesia and Singapore and during a six-day working visit in the United States.
It was in the last foreign trip where Angeles arguably made her biggest gaffe in her short term yet – she claimed, falsely, that Marcos was the only leader with whom US President Joe Biden had engaged in bilateral talk.
Angeles apologized for the mistake hours after making the first statement in a press conference in New York. She later appeared alongside Marcos during a send-off press conference in the Carlyle. Neither Marcos nor Angeles made mention of that gaffe then.
Since the US working visit, Angeles' official activities included defending her office's budget before the House of Representatives plenary session, meeting with the National Commission on Indigenous Peoples, and a briefing with Palace press on September 27.
On Monday, October 3, Angeles was on the defensive for Marcos, who was being criticized online after photos of the President and his family members and friends (who also happened to be government officials) enjoying the Singapore Grand Prix went viral on social media.
Angeles, in social media posts, said the unannounced trip to Singapore was "productive," although she did not go into the details of what Marcos did in the city-state aside from watching Formula 1 racing.
Angeles herself has yet to speak on the CA bypassing her and her absence from the oath-taking in Malacañang, but she posted on her personal Facebook page: "Road trip on Wednesday. Maybe I'll see you smile."
As press chief, Angeles either holds press conferences or hosts media engagements with other Cabinet chiefs. The former blogger had made it part of her routine to go live on Facebook to recap the President's activities and to release videos – either via Facebook or TikTok – to recap her own activities as press secretary.
Angeles is a lawyer who is most famous – or infamous – for her blogging. She ran a blog called Luminous by Trixie Cruz-Angeles & Ahmed Paglinawan, although she was on leave while she was press chief.
While Angeles was a visible constant in the President's engagements, she wasn't a part of Marcos' core group. In fact, she was not formally a part of his 2022 campaign.
Angeles did host a sit-down with presidential candidate Marcos – then infamously media-averse – in the waning days of the 2022 campaign.
In a message to reporters after the Office of the Executive Secretary confirmed her resignation on Tuesday, Angeles said in a text message: "I tendered my resignation this morning, effective end of business hours today. Due to health reasons. It was a pleasure working with you."
Candidates
A day after Angeles' resignation was announced, Transportation Undersecretary Cesar Chavez confirmed to reporters that he was offered the press secretary post, but said he was not interested as his "concentration" is on the rail sector. Chavez is the transportation undersecretary for railways and oversees the implementation of the Metro Manila subway project, set to be operational by the end of Marcos' term in 2028.
Chavez, a former journalist, also confirmed to media that two others were being eyed for the post – Mike Toledo, former presidential spokesperson during the Estrada administration; and former House member Gilbert Remulla.
Toledo is currently head of government relations and public affairs of the Manny Pangilinan-led Metro Pacific Investments Corporation while Remulla led parallel group efforts for Marcos in the 2022 campaign.
If Remulla would be picked, there would be two members of his family in the Marcos Cabinet. He is the younger brother of Justice Secretary Boying Remulla. 
Toledo and Remulla both worked with the media as well – Toledo used to co-anchor ABC5's The Big News, while Remulla used to be an ABS-CBN reporter.
Director Paul Soriano, a relative of First Lady Liza Araneta-Marcos, also confirmed that he was "considered" for the post. But in the same interview with ABS-CBN, Soriano said he "[feels] that the position needs more qualified people to help the President."
Soriano directed Marcos' campaign ads and his first State of the Nation Address. He is the husband of Toni Gonzaga, among Marcos' top celebrity campaigners in 2022.  – Rappler.com