Retired Davao police officer Arturo 'Arthur' Lascañas, one of the original members of the Davao Death Squad, says he is prepared to face his former boss, Philippine President Duterte, at the International Criminal Court
Arturo "Arthur" Lascañas has spent the last four years in hiding, but the retired policeman remains resolute in his goal to expose President Rodrigo Duterte and the reign of terror he unleashed for decades in his hometown of Davao City.
Defiant but at the same time fearful for his and his family's security, Lascañas left the country in 2017.
Duterte, who served as mayor for more than 20 years, was behind the Davao Death Squad (DDS), Lascañas alleged in a 186-page affidavit submitted to the International Criminal Court (ICC) in October 2020, a copy of which was obtained by Rappler.
Duterte's rule, supervision, and financial support allowed the death squad to thrive, leading to thousands of killings in Davao City. Lascañas, in the affidavit, said he personally knew about the killings of at least 129 victims – Rappler's own count based on his affidavit – from 1988 to 2015, the years before Duterte became Philippine president.
Lascañas' latest affidavit submitted to the ICC is consistent with his past pronouncements, including his February 2017 affidavit, which he executed when he first went public with his confessions, and his statements in the Senate hearing afterwards.
Having been a Davao cop for more than three decades, Lascañas claimed he knew the extent of Duterte's involvement in the killings that appear to have been replicated in his administration's nationwide war on drugs. Lascañas insisted he was there from the very beginning.
"I was one of the original members of the Duterte Death Squad – it was not yet known as the Davao Death Squad, way back in '88, '89 – and I can narrate everything, what our group did particularly," he told Rappler in a September 23 interview.
"Mayor Duterte, hindi ako natakot sa iyo, kahit sinong mga back-up mo, Mayor, kasi hawak ko ang katotohanan, binigay ito ng Diyos sa akin as mission ko ito, ngayon malapit nang matupad," he declared.
(Mayor Duterte, I am not afraid of you, whoever your back-up is, because I hold the truth. God gave me this mission that will be accomplished soon.)
Sought for comment on Lascañas' latest affidavit, Malacañang told Rappler on November 3 that it "can't respond to hearsay evidence."
"We will respond if there's evidence that would corroborate self-serving affidavits," then-presidential spokesperson Harry Roque said.
It is hard to place the exact number of people allegedly killed by the DDS, considering issues related to documentation and overall treatment of unresolved deaths. The Commission on Human Rights (CHR), which investigated the killings in 2009, identified 206 deaths attributable to the death squad between 2005 and 2009 alone. The DDS was formed in 1988 under a different name, as a unit under the local police.
The ICC in September 2021 announced that it had approved a full investigation into the situation in the Philippines, including killings in Davao City between 2011 and 2016. The similarities between the Davao City killings and the nationwide war on drugs "merit further investigations" and the "similarities in the modus operandi are also discernible," the ICC pre-trial chamber said in its decision. (READ: Killing as state policy: 10 things the ICC says about Duterte's drug war)
"I, along with my fellow members of the [DDS], have allowed ourselves to be turned into monsters by our evil master, Rodrigo Roa Duterte," Lascañas said in his affidavit.
From loyal cop to whistleblower
Lascañas was not always this remorseful. When the general public first got a glimpse of him on October 3, 2016, he was a picture of a loyal cop.
He denied and rejected all accusations hurled against him, Duterte, and other Davao cops by self-confessed DDS member Edgar Matobato.
"Wala pong Davao Death Squad, your honor, media hype lang iyan (There is no DDS, your honor, that's only media hype)," he told Senator Leila de Lima back then, despite documented killings not just by the CHR, but also by other organizations, including Human Rights Watch.
The Davao contingent came out of the Senate hearings unscathed. Senator Richard Gordon, the chairperson of the Senate committee on justice and human rights then, said there was no proof that Duterte ordered the DDS killings or that widespread extrajudicial killings were state-sponsored.
Five months later, Lascañas made a 180-degree turnaround. In a surprise press conference on February 20, 2017, alongside veteran lawyers from the Free Legal Assistance Group, the once-loyal cop turned his back on "Mayor Digong" and openly accused him of lording over the death squad.
Abandoning his previous denial, he told reporters, was in line with what God wanted for him. His conscience couldn't take it anymore: "Dito nagwakas ang blind obedience at loyalty ko sa isang tao, kay Mayor Rodrigo Roa Duterte (This is where blind obedience and loyalty to one person, Mayor Rodrigo Roa Duterte, ends)."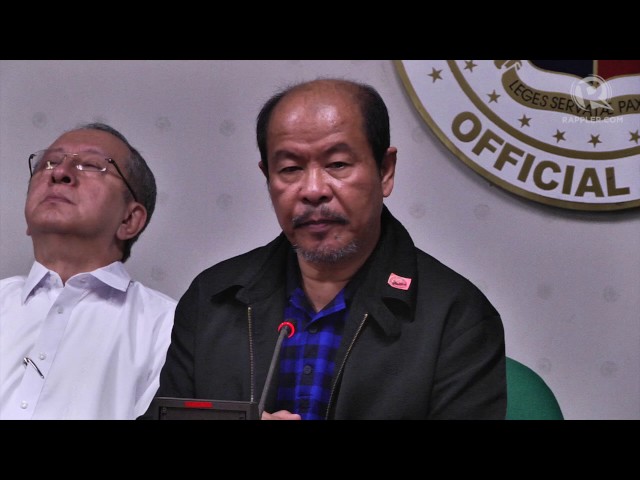 It was the beginning of more damning allegations, with Lascañas corroborating the information released by Matobato and findings of the CHR that go as far back as 2009.
In his February 2017 affidavit and appearance before the Senate, Lascañas accused Duterte of launching operations against suspected criminals and enemies, with death squad members even presenting the captured suspects to the then-Davao City mayor before they were executed.
He also said Duterte had the last say on what to do with people who fell into the hands of the DDS. (READ: ​​Lascañas' affidavit: Duterte's roles in Davao Death Squad killings)
The group, according to Lascañas, first got paid P10,000 per killing, which later increased to P15,000 to P20,000. In some "special project killings," Lascañas said in his October 2020 affidavit, the group got as much as P300,000 to even millions of pesos, depending on "the status of the target, social standing, and Duterte's intensity of anger on the target individual."
Aside from monetary rewards, the DDS members were also assured of protection, particularly evident during the 2009 CHR investigation into the killings, Lascañas said in his February 2017 affidavit. De Lima led that investigation when she was CHR chair.
Lascañas, the powerful
Lascañas knew all these because he was at the center of everything. Matobato even tagged him as the most powerful policeman in Davao City.
"Parang kapatid na ang trato ni Duterte kay Lascañas," Matobato claimed in his December 2016 affidavit submitted to the Office of the Ombudsman.
"P'wedeng maturing na siya ang pinakamakapangyarihan na pulis sa Davao, ang mga utos na galing kay Duterte ay dumadaan sa kanya," he added.
(Duterte treats Lascañas almost like a brother. He can be considered as the most powerful policeman in Davao. All of Duterte's orders go through him.)
Lascañas became an active police officer in April 1982. In 1989, he was assigned to a unit specifically under then-mayor Duterte. The group he belonged to later became known as the Anti-crime Task Force and the Heinous Crime Task Group, whose members allegedly either oversaw or carried out the killings.
He and the other original members were "handpicked" by Duterte and another high-ranking Davao police named Police Major Ernesto Macasaet, he said.
An organizational chart submitted by Lascañas to the ICC in October 2020 indicated that Macasaet served as the commander of the Anti-crime Task Force from 1989 to 1998. According to Lascañas, Macasaet already passed away, while the Davao City Police Office told Rappler he retired.
In the same period, Lascañas said he was one of the police officers carrying out killing contracts as part of the anti-crime task force.
In 2001, Lascañas served as team leader himself, overseeing the planning and actual operations of the death squad, according to the same organizational chart.
Lascañas said the group eventually grew, with police and civilian force multipliers as members. The civilian members, he said, received a monthly salary and allowances from Duterte's office.
In his October 2020 affidavit, Lascañas said he handled four people, including Matobato, and secretly oversaw two "intelligence officers" who were tasked with collecting information on Duterte's non-allies who entered Davao City.
"From Superman Duterte down to the last policeman-handler of players/hitmen, the kill, kill, kill order of Mayor Duterte resounded unabated and obeyed blindly to the letter," Lascañas said.
His loyalty to Duterte was unyielding for so long that he couldn't even do anything when his own brothers, suspected of having links to illegal drugs, fell victim to the death squad.
"I remained silent and forced myself to swallow the pain, for it was in this period that I've had a serious kidney illness," he said in his October 2020 affidavit submitted to the ICC.
He said he agreed that his brother "posed grave danger to society," but added that "what broke my heart and sanity was that they killed my brother despite being unarmed and being controlled already by them."
A 2013 SunStar report documented the killing of a man named "Fernando B Lascañas" during a supposed police chase.
Because he was suffering from a serious disease then, Lascañas said he forced himself to be "composed, lucid, and pretended to be unmindful [of] what [he] saw [as] danger lurking over [his] person, and [he] was very watchful."
"Secretly, I carried two hand grenades in my car, for suicide offense in case the situation turn against my life, but time and opportunity were not in my favor then. Perhaps the Lord God has a special mission for me," he said in his October 2020 affidavit.
"My strength, my whole being, then withered, but not my soul and spirit," Lascañas added.
Not backing out
Lascañas' appearance before the Senate in March 2017 did nothing to address the killings under Duterte. Senator Panfilo Lacson, who chaired the Senate public order committee, said they adjourned after just one hearing because they "could not get any further point to pursue." The information Lascañas presented, according to Lacson, was "filed and noted."
By then, De Lima, the staunchest critic of Duterte, was already arrested and detained on alleged drug links.
But the testimonies of Matobato and Lascañas became part of a communication filed before the ICC in 2017 by now-deceased lawyer Jude Sabio, in which he said there was "direct proof beyond reasonable doubt" that Duterte's "best practice" of killing suspected criminals in Davao City transformed into a nationwide policy under his anti-drug campaign.
Sabio, in January 2020, said he intended to withdraw the communication he filed before the ICC, a move that does not have any bearing on the ongoing proceedings. Sabio died in April 2021.
The late lawyer's move to withdraw was, however, enough to bring Lascañas back to the spotlight after years of staying under the radar and slipping out of the country for his own safety.
"What triggered me to submit [was] because of what the late [Sabio] did, he implied that I will back out as witness," he told Rappler in September 2021.
With the ICC's decision to open a full investigation into the Philippine situation and the Davao killings, Lascañas said he is prepared to face Duterte.
Isn't he afraid of possible retaliation given the extent of what he knows?
According to him, the uncertainty of the future was one of his reasons for pushing forward with his confessions.
"That is expected, I expected because I know Mayor Digong Duterte very well, thoroughly, so I expected everything. So for me, it is the best thing that I have to divulge everything," Lascañas declared. – Rappler.com
Contributors to "THE LASCAÑAS AFFIDAVIT | 'I KILLED FOR DUTERTE'" series: Lian Buan, Jodesz Gavilan, Glenda M. Gloria, Chay F. Hofileña, Pia Ranada, Rambo Talabong
Read and watch the other stories in this series: