(UPDATED) The Supreme Court names Justice Secretary Alfredo Benjamin Caguioa the 174th Associate Justice appointed to the Supreme Court. Get to know more about him.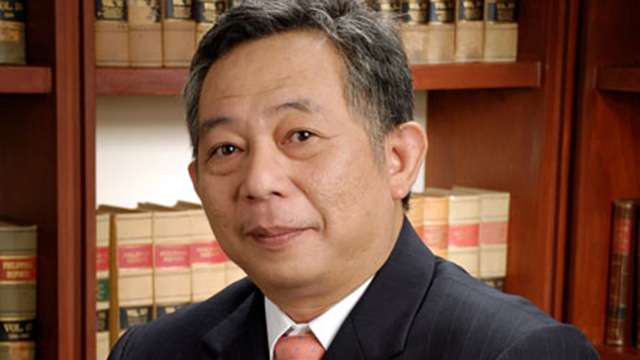 MANILA, Philippines (UPDATED) – Malacañang named on Friday, January 22, Justice Secretary Alfredo Benjamin Sabater Caguioa the newest Associate Justice of the Supreme Court, replacing retired Associate Justice Martin Villarama Jr.
Son of former Court of Appeals Justice Eduardo P. Caguioa, the 56-year-old lawyer beat 4 other nominees to become the 174th Associate Justice appointed to the Philippine Supreme Court.
He was appointed Secretary of the Department of Justice in October 2015 to replace Leila de Lima, who left the post after filing her senatorial candidacy for the 2016 elections.
Prior to this, Caguioa served as Chief Presidential Legal Counsel where he was part of the official delegation of the country to the Permanent Court of Arbitration in the Hague, Netherlands. The case involved maritime disputes with China over the West Philippine Sea.
President Benigno Aquino III appointed him Chief Legal Counsel in 2013 after Caguioa's 27 years of legal experience, particularly in civil litigation and criminal law practice.
Based on his 2014 Statement of Assets, Liabilities, and Net Worth (SALN), Caguioa's net worth is P117.18 million, making him the 8th richest member of the Cabinet at the time.
Married to Pier-Angela P. Caguioa, he has two houses in Marikina and two condomium units in Mandaluyong, according to his SALN.
Among his business interests and financial connections is CaGat Holdings Inc (a holding company) acquired in 2007.
According to his Personal Data Sheet (PDS), he has handled around 40 cases – civil, criminal, arbitration, labor, family, disbarment, and administrative. He has handled contract disputes, intra-corporate controversies, conflicting mining and real property claims, medical malpractice claims, and international and domestic arbitration, among others.
He won around 17 cases and lost around 10, and has handled 13 cases in the Court of Appeals (CA) and the Supreme Court. While practicing with his father for a year in 1987, Caguioa handled appeals to the CA and the Supreme Court.
He used to be part of the law firm Caguioa & Gatmaytan (now Gatmaytan Yap Patacsil Gutierrez & Protacio), where he was founding partner. 
According to the website of his former law firm, he specialized in litigation and arbitration and had been extensively exposed to the Philippine criminal justice system. He has acted as private prosecutor or defense counsel before regular courts and the anti-graft court Sandiganbayan. 
Caguioa obtained his Economics degree (Honors Program) from the Ateneo de Manila University in 1981 (Honorable Mention), and acquired his Bachelor of Laws from the Ateneo Law School in 1985, ranking 5th in his class.
He ranked 15th in the 1985 Bar exams and was admitted to the Philippine Bar the following year. He then joined SyCip Salazar Hernandez & Gatmaitan in 1986 as an associate and became partner there from 1994 through February 2007.
He was a loyal Atenean, graduating from the Ateneo Grade school in 1973, then the high school in 1977. He was a classmate of President Benigno Aquino from grade school to college.
Caguioa also teaches civil law at the University of Sto Tomas. – Rappler.com
Editor's Note: In a previous version of this story, Caguiao was referred to as the 174th Associate Justice of the Philippine Supreme Court. The Supreme Court clarified, however, that this number is "simply his number in the roll of Justices according to the date of their appointment." Appropriate changes have been made.