This is AI generated summarization, which may have errors. For context, always refer to the full article.
(UPDATED) PNP chief Debold Sinas' infamy goes beyond the mañanita controversy
General Debold Sinas is the new Philippine National Police (PNP) chief despite being a controversial figure who is known for holding a well-attended birthday party in violation of quarantine guidelines.
Sinas' appointment to the top PNP post was announced by Presidential Spokesperson Harry Roque on Monday, November 9. He succeeds General Camilo Cascolan who retired from service on Tuesday, November 10.
Sinas has had more than his fair share of controversies in the past year alone during his stint as Metro Manila police chief, drawing flak from both government critics and the general public. These are on top of the issues he faced while police chief of Central Visayas. 
1. Broke quarantine rules via manañita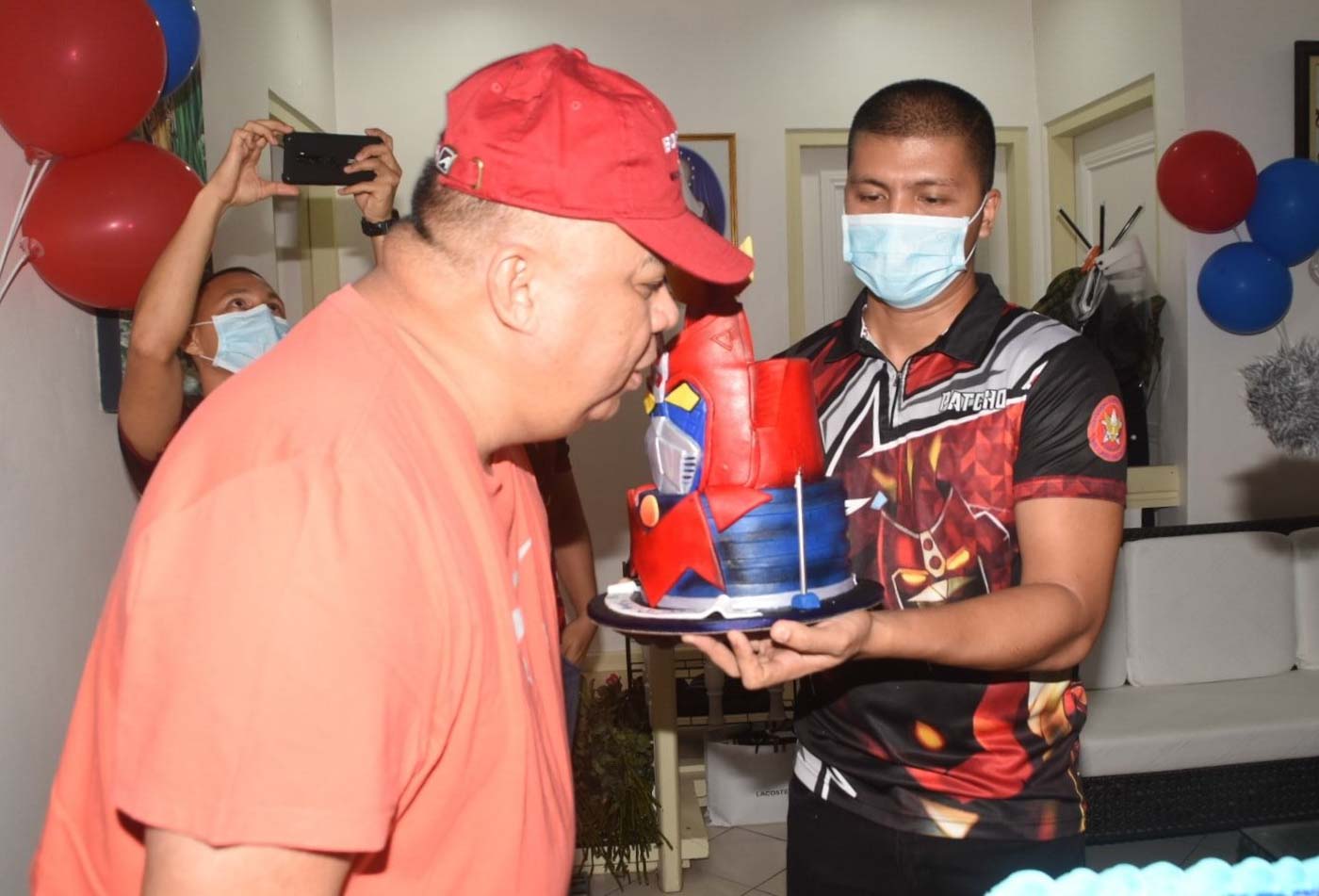 Sinas shot into infamy when he and several other police officials broke quarantine rules on physical distancing and mass gatherings in May 2020 during his 55th birthday party.
Photos of the early morning event – also called a mañanita – held at Camp Bagong Diwa showed a crowd beyond what's allowed during a pandemic.
This event happened amid a high number of incidents of police brutality against ordinary citizens who allegedly violated community quarantine rules – from not wearing masks to even just going out of the house to find work to put food on their table. (READ: Policing a pandemic: Philippines still stuck with drug war blueprint)
Despite the obvious double standards, senior officials were quick to defend Sinas, who later apologized. Duterte himself sided with the controversial cop, calling him "a good officer" and "an honest one." (READ: Duterte sides with Sinas: 'He stays until further orders')
Sinas and 18 other officials are currently facing criminal and administrative complaints over the mañanita.
2. Left unresolved killings, violence in Central Visayas
Even before his appointment as Metro Manila police chief, Sinas' record as police chief in Central Visayas was not exactly spotless.
He led the controversial anti-communist operations called "Oplan Sauron," which led to more violence and killings in Negros. (READ: Negros Oriental bloodshed: State-sponsored or insurgency-related?)
The regional office of the Commission on Human Rights described Sinas' stint as a time when they "noticed killings in Negros became more frequent and none of the investigations had produced results."
Killings in Cebu also became more rampant in 2018 under Sinas.
Read more about Sinas' track record as the region's top cop: Sinas' sins in Central Visayas: Killings rampant, investigations incomplete
3. Called protesters 'dagdag trabaho' (more work)
Sinas said he hopes groups stop holding protests and mobilizations during the coronavirus pandemic so as not to burden the police force.
This was the then top Metro Manila cop's answer to Anakalusugan Representative Mike Defensor during a House hearing in August when asked about how the PNP protects its personnel.
"Kung ako sir tatanungin mo talaga, Mr Chairman…kung puwede 'wag na talaga sanang mag-rally. Kasi 'pag nag-ra-rally po sa kalsada, mahaharangan 'yung naglalakad…at tsaka dagdag trabaho pa rin kasi ita-transport pa namin 'yung mga tao namin na magbabantay sa kanila hanggang uuwi sila," said Sinas.
(If you're going to ask me, Mr Chairman, I'd prefer that people not hold rallies for now. Because when they protest in the streets, they block pedestrians, and it's extra work for us because we have to transport our people who will be keeping an eye on them until they go back home.)
The hearing was conducted in the aftermath of massive protests against the ABS-CBN shutdown, anti-terror law, Duterte's 5th State of the Nation Address, and the overall problematic coronavirus response of the government.
4. Accused of having a hand in actions vs progressive groups
Sinas' rant against protesters and progressive groups at the House of Representative was not an isolated case. In fact, he was accused of having a hand in actions against activists.
Progressive groups accused Sinas of meeting with Quezon City Regional Trial Court (QC RTC) Executive Judge Cecilyn Burgos-Villavert for a "dialogue" on the day she issued warrants allowing the police to search offices of various groups and residences of their members in Bacolod City and Manila in October 2019
This led to the arrest of as many as 62 activists in a span of days, including Reina Mae Nasino, the mother of baby River. (READ: Baby River, who died in 'cracks' of justice system, laid to rest under tight police watch)
Sinas, however, denied any involvement and said the visit was a mere "courtesy call." He also denied a crackdown on the Left.
5. Harassed a family in Taguig City
Sinas and other armed cops allegedly stormed the Taguig City home of former policeman Arnel delos Santos and his family in July 2020, hoping to displace them.
This incident was caught on CCTV. The footage shows cops in fatigues taking down barriers, as ordered by Sinas, and allegedly intimidating members of Arnel's family.
They did not show any documents supporting their calls for the eviction of Delos Santos' family.
According Arnel's son, Arles, National Capital Region Police Office (NCRPO) cops started "harassing" his family since the lockdown began.
6. Issues with journalists, media
Sinas also figured in controversies involving the media.
In October 2019, Sinas was criticized for his "anti-media policies." According to a report by the Philippine Daily Inquirer, he allegedly told NCRPO journalists to vacate the press office, apart from implementing rules that include no media interviews.
In May 2020, Rappler police reporter Rambo Talabong was removed from the Viber group intended for journalists covering the NCRPO beat. This was in the aftermath of Talabong's report on Sinas' mañanita.
Sinas, however, insisted he is not "anti-media." – Rappler.com