Cellar-dwellers UP and Adamson meet in a bid to snap out of their slides.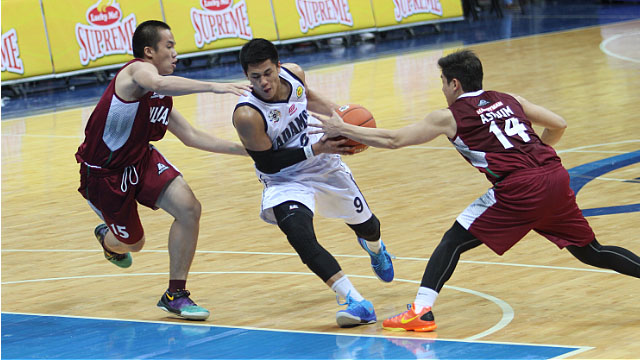 MANILA, Philippines — Second round action in the UAAP season 76 men's basketball tournament continues Saturday, August 31 at the Smart Araneta Coliseum as two cellar-dwellars try to end their respective losing skids and salvage some pride.
Adamson Soaring Falcons (3-8) vs UP Fighting Maroons (0-9)
First round meeting: Adamson (79) – (67) UP
Jericho Cruz – 19 points, 6 rebounds
READ: Host Adamson gores UP to start with a bang
Why Adamson will win: Rodney Brondial is slowly regaining his might, averaging 14.5 points and 6 rebounds in their last two meetings. Foward Jansen Rios is quickly rising and has scored 26 of his 40 points this season in JUST two games. Against UP, the Soaring Falcons are going to get contributions from everyone on their roster.
Why UP will win: New head coach Rey Madrid infused new energy to the Fighting Maroons and they SHOULD sustain that momentum for 40 minutes to avoid another meltdown. Diliman also found a new scoring option in Henry Asilum, who led the Maroons against La Salle with 18 markers. As Madrid continues to shuffle his boys, UP will find the right blend and eventually break into the win column.
Key Match-up:
Jericho Cruz (15.5 PPG, 4.8 RPG, 3.4 APG) vs Sam Marata (14 PPG, 3.4 RPG)
Cruz and Marata are Adamson and UP's leading scorers, respectively. They are once again tasked to carry the offensive load for their squads. Their contrasting styles will make an even more exciting match-up to watch. Cruz is more of a slasher who likes to break down his defenders, while Marata is a spot-up shooter who likes to get hot from the outside. Whoever gets the roll early will help his team end its losing streak.
X-Factors:
Adamson: Roider Cabrera
Adamson's backcourt gunner shot a stinging 1-of-11 from downtown in their loss against UST, ending up with just 5 points in 25 minutes. I see no reason for him not to explode today against a struggling UP squad. The more effective he shoots from beyond the arc, the better for the San Marcelino 5.
UP: Raul Soyud
The Fighting Maroons' burly center can't fall in love with that rainbow shot again. He must utilize his size and try to get high-percentage shots inside the paint. He must also work really hard to get control of the boards, even if it's Ingrid Sewa who's standing on his way.
What this game means: Since both teams are virtually out of contention for the Final Four, they are out there to show the people that they can compete. Adamson has lost 6 in a row and UP is a team they've beaten in the first round. Likewise, UP can end their streak as the Soaring Falcons are yet to get into their groove. – Rappler.com