This is AI generated summarization, which may have errors. For context, always refer to the full article.
UAAP Rookie of the Year Arvin Tolentino boldly predicted that Ateneo would flourish after a disappointing last season, and so far has been proven right
MANILA, Philippines – On a hot summer afternoon a few months ago, Arvin Tolentino made a claim. While taking sips from a cold Frappucino in the middle of Manila's unforgiving noon-time weather, the then soon-to-be Ateneo rookie didn't lack confidence as he shared to Rappler: "We can be champions this year."
He then sat back and put his drink down and started in on a piece of cheesecake following a tiresome practice session with his new teammates. Not many pundits expected Ateneo to rise up so quickly from the ashes with a cast comprised mostly of rookies, albeit high school all-stars. Some even had them missing the Final Four. But Tolentino didn't mind that; he was confident nonetheless. 
He talked about how Kiefer Ravena would come back with a vengeance after spending most of 2013 hobbled by an ankle injury. He talked about how Chris Newsome would take many by surprise and become one of the best the UAAP has to offer. He talked about how he believed in Coach Bo Perasol's principles, saying he had faith it would give an Ateneo team that missed the Final Four a year prior an opportunity to reclaim lost glory.
"Nothing is impossible. With our talent, us rookies, there's so much potential. Compare us to the rookies of other teams," he said in Filipino.
He was right. In 2014, Ravena came back with a vengeance by winning the UAAP MVP award after dominating the statistical points race (77.64). Newsome came in fourth place (60.64), which warrants a spot for him in the Mythical 5 team. Perasol hasn't been perfect, but he's helped spearhead the Blue Eagles to an 11-3 record while becoming the mentor they need off the court.
"Sobrang bait niya. Father figure talaga si Coach Bo saamin eh. Hindi lang siya coach – kuya, tatay, lahat na eh. Siya na yung tatay sa team. Yung pag mo-motivate niya saamin, ibang klase talaga eh." Tolentino boasted about his mentor in an interview with Rappler on Thursday, September 18.
(Coach Bo is really nice. He's a father figure to us all. He's not just a coach. He's an elder brother, father, everything. He's the father of the team. The way he motivates us, it's really something.)
He was also right about Ateneo's cast of rookies having so much potential. He displayed as much all throughout the elimination round of the 2014 UAAP men's basketball tournament. And for his efforts, he'll receive an award to add to his already crowded mantle soon. The same award given to Ravena and many other great UAAP stars in the past received in their rookie seasons.
"Masaya naman, masaya ako sa na-achieve ko," promised Tolentino, who is Season 77's Rookie of the Year after averaging 8 PPG, 5 RPG, and compiling 40.21 statistical points. "Syempre kung baga motivation saakin yun. Dapat makapag contribute ako sa team ko.
(I'm happy with what I achieved. Of course, it gives me even more motivation. I should be able to contribute to my team.)
(RELATED: Ateneo's Arvin Tolentino stands out in first test)
But as happy as Tolentino is with winning ROY, he prefers to win another trophy. The kind that is given to the best team in the UAAP each season after they become the last ones standing.
"Yung mga individual award, parang bonus lang 'to eh. Hindi talaga ito yung target ko eh, yung target ko yung championship," a motivated Tolentino told Rappler. "To be honest, wala talaga eh. I'm not into individual awards. Gusto ko lang talaga mag champion."
(Individual awards are just a bonus. This really isn't my target; I want a championship. To be honest, I'm not into individual awards. I really want to be a champion.)
WInning championships isn't foreign to Tolentino, who won a title in each of his last three high school seasons with the San Beda Red Cubs. Like those dominant Jr. San Beda teams, the Blue Eagles are in possession of the top seed in the league standings following the elimination round, providing extra motivation for Ateneo to get the job done.
"Yung number one, motivation saakin yun. Kasi, number one kami, so kailangan maganda yung laro namin," the young stalwart said.
(The number one seed is motivation for me. Because, of course, we're no. 1, so we need to play well.)
"Sobrang dami na naming sacrifice at hard work para makarating dito sa number one. So hindi na dapat mawala saamin yun. Binigay na kami nang chance. Nandito na kami so I gra-grab nalang namin yung opportunity and ibibigay namin ang lahat para makapag champion ulit."
(We've had to sacrifice so much and give a lot of hard work to get to where we are now. So we shouldn't give it up. We were given a great chance. We're here so we're going to grab the opportunity to become champions again.)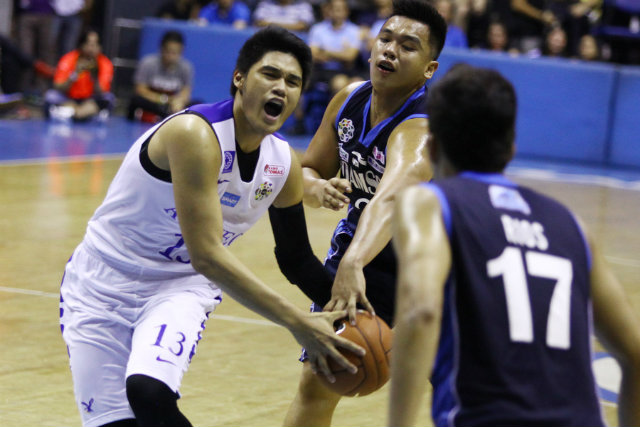 From 2008-2012, Ateneo was the undisputed ruler of the UAAP (men's basketball). They won five straight titles, a feat that hasn't been accomplished by any other team since the implementation of the UAAP Final Four format 20 years ago. 
But in 2013, the Blue Eagles failed to defend their title as Ravena crawled to the finish line with his ankle hindering his play. Ateneo didn't even make it to the Final Four round, as they lost to UST in a playoff for the no. 4 seed.
What they felt at the end of their campaign last season will be a similar feeling either the UE Red Warriors or NU Bulldogs will go through on Saturday, September 20. Both clubs are scheduled to battle in a tiebreaker for the last Final Four seed, and the right to face the Blue Eagles, who will have a twice-to-beat advantage.
"Saamin kung sino lang yung deserving or sino makakatapat saamin, sige, go kami. Wala naman kaming reklamo duon," Tolentino mentioned his team doesn't have a preference on whom they'd rather face.
(Whoever wins, we'll be ready for them. We won't have any complaints.)
During the elimination round, two of ADMU's three defeats came at the hands of NU, which hasn't lost to the Blue Eagles in the past two years. UE fell to Ateneo on both occasions this past elimination round, though they've won four straight and six out of their last seven games, making them the hottest club in the UAAP right now.
"Para saakin, kahit sino. Basta ibibigay namin yung best namin kahit sino yung kalaban namin," the willful Rookie of the Year claimed.
(For me, it can be any of the two, because we'll still give our best regardless of whom we face.)
Part of the reason why Tolentino believes they're capable of beating anyone is because of the team's overall talent and ability to come back from any deficit – the latter a feeling UE and the FEU Tamaraws know too well. 
The Blue Eagles have shown the capacity to rally back despite facing huge leads because of the clutch play of their now-healthy star, who'll receive his individual plum the same day Tolentino receives his.
"Si Kief talaga, sobrang laking factor sa team namin," Tolentino praised his teammate. "Hindi lang as a scorer – as a passer, as a rebounder. Pero yung leadership na nabibigay niya sa team, kasi, sobrang lakas eh. Silang dalawa ni Newsome. Iba yung team kapag nandiyan si Kief."
(Kief's a huge factor for our team. He's not just a scorer. He's a passer and a rebounder too. But the leadership he brings, it really resonates. Both him and Newsome. The team is different when Kiefer is around.)
"Sobrang nakatulong sila," he went on, also referring to Newsome. "Pag kailangan ko nang tulong, lagi lang sila nandiyan. Lalo na pag nawawala ako or pag pangit yung laro ko. Lagi nila akong pinupush eh."
(They really help. When I need help, they're always there. Especially when I'm lost or when I'm not playing to well. They're always pushing me.)
Winning a title for Ravena and Newsome – the latter of whom is in his final season – is a personal mission for Tolentino as he looks to give back to those who have helped guide him in his rookie campaign. And also for Coach Perasol, whose doubters will be ready with their pitchforks if ever Ateneo gets eliminated.
"Itong sobrang special talaga kung mag cha-champion kami. Lalo na sa mga senior namin. And kay Coach Bo, syempre, sa mga doubters."
(Winning a championship would be really special, especially for our seniors. And for Coach Bo because of his doubters.)
But most of all, Tolentino wants to win the championship for the people who have welcomed and embraced him with open arms ever since he started his college career in Loyola Heights.
"We promise sa Ateneo Community na gagawin namin lahat para mabalik yung championship sa Katipunan."
(We promise to the Ateneo Community that we'll do everything to bring the championship back to Katipunan.)
With the Rookie of the Year award already in bag, Arvin Tolentino is on a mission for another, bigger prize at stake. – Rappler.com