The eSports and Gaming Summit is shaping up to be the Philippines' premier gaming event

One of the biggest events in the local gaming scene is all set and it's one that no self-respecting Filipino gamer would want to miss. The eSports and Gaming Summit (ESGS) is now on its third year, bringing with it a fresh new batch of games, guests, gears, and community events for every kind of gamer.
If you've ever wanted to go to the Electronic Entertainment Expo (E3) in the US or the Tokyo Game Show but haven't had the necessary funding for such an epic gaming adventure, allow the ESGS to give you a taste of those iconic gaming conventions. That the Philippines now has a gaming summit such as this points to the healthy growth of the Philippine gaming scene.
 We have 5 reasons why we're not missing this one:
1) Some of the biggest names in the industry are participating
First off, ESGS is slowly taking the shape of E3 where some of the biggest developments in gaming are announced. ESGS is bringing in the big guys. E3 regulars such as Bandai-Namco, Sony Playstation, Capcom and Ubisoft, are just some of the major companies exhibiting at the event. And you can expect that they're going to show off their upcoming games for attendees to try out. 
For instance, Bandai Namco is bringing in Tekken 7, Sword Art Online, and Little Nightmares. Meanwhile Sony Playstation will be showcasing Call of Duty: Infinite Warfare, NBA 2K17, and an obscure, little title that goes by the name Final Fantasy XV.
If you're curious to know more about Resident Evil 7, ESGS also announced that Capcom will be giving players a sneak peak of the much talked about horror game. The presence of these global gaming giants is enough reason to visit the event.  
2) Castlevania's Koji Igarashi is here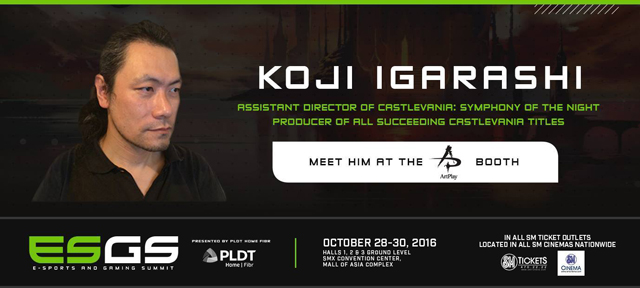 Castlevania fans, rejoice! Koji Igarashi, the assistant director of the most important 2D adventure game in the Playstation 1 era, Castlevania: Symphony of the Night, will be presenting at ESGS 2016. He will be showcasing his upcoming game project Bloodstained: Ritual of the Night. 
Igarashi will be hanging out at the Artplay booth where fans can ask him questions about his project – or yes, maybe about Symphony of the Night. He was also a producer for other Castlevania games like Castlevania Chronicles and Castlevania: Harmony of Despair.
3) eSports galore

It wouldn't be ESGS without eSports. The team behind ESGS has prepared a pretty lengthy and varied line-up of tournaments and exhibition matches for attendees to witness and participate in. From League of Legends, DoTA 2, Tekken 7 to NBA 2K17, there seems to be a competition prepared for almost every genre. Some of these tournaments will be held on the main stage of ESGS. 
For those following DoTA 2's professional scene, you can look forward to the viewing party of the Boston Majors Southeast Asia qualifiers. The qualifiers will be streamed throughout the three-day event so Filipino fans can throw in their full support to the participating Filipino DoTA 2 teams.  
Finally, fighting game fans will be glad to see the return of Brawlfest. The biggest fighting game communities in the country will be teaming up to host a series of tournaments featuring several popular fighting games like Street Fighter V, Mortal Kombat XL, Super Smash Bros., The King of Fighters XIV, and more.  
4) A chance to support indie devs! 
If you haven't been to the last ESGS, you should know that there's usually a dedicated space for indie developers and indie game lovers.  Attendees are free to check out and try some of the best games developed and showcased by our local gaming developers. Indie developers from abroad will also present their titles to the Filipino audience.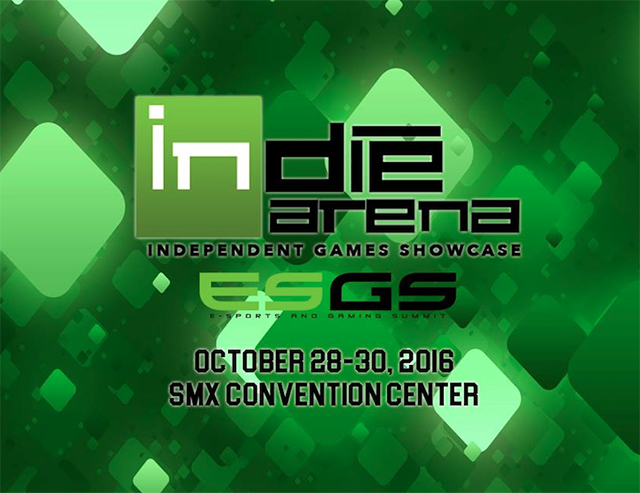 This year, it looks like gamers will be able to sample a more diverse catalogue, as the list of developers and titles to try seems to be significantly longer than last year's.  
5) Toys, gaming gear, and merchandise
Now would be the best time to tick off some of your items from your Christmas wish list. It's a tradition for the ESGS hall to be decked with collectible toys, high-end gaming gear, and coveted merchandise for the discerning gamer, and this year will be no different. 
We've already spotted a couple of popular brands on ESGS' Facebook page. Razer, MSI, and Samsung are just some of the exhibitors at the event. And there are plenty of toys stores, gaming and anime merchandise shops setting up as well.  
Convinced? Good. The jam-packed event will be held from October 28 to 31 at the SMX Convention in Pasay City. Tickets are sold here. – Rappler.com
Nadine has been a passionate gamer since she was a freshman in college. When she isn't playing video games, watching her favorite YouTubers, or trying to share her gaming misadventures, Nadine is working on her photography and her travel plans. Her biggest gaming wish? To build her own gaming PC and to see the release of Devil May Cry 5.