Donald Trump and an acquiescent social media helped radicalize US citizens in the years leading up to the US Capitol siege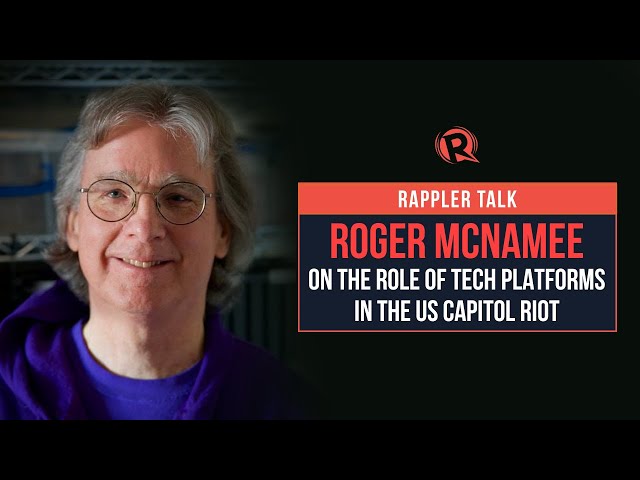 In a Rappler Talk interview with Maria Ressa on January 19, Roger McNamee outlined just how social media was able to accelerate the radicalization of people in the US.
This radicalization eventually led to the January 6 insurrection by supporters of former US President Donald Trump in a siege on the US Capitol.
McNamee is an early Silicon Valley investor and is author of the book Zucked: Waking up to the Facebook Catastrophe. He is the Managing Director of Elevation Partners, a private equity investment fund that focuses on developing technology and media.
According to McNamee, the operation of social media today – from Facebook and Twitter to things like Parler – grew on the strength of the most valuable data of one's private persona.
Social media, McNamee explained, "can influence your behavior in ways that are economically desirable" for the companies because "they control the menus and they take what they know about you and control those menus."
What appeared to be the most valuable data – that of one's private persona – is what happens when a person is afraid or angry. As a result, social media companies "tune their algorithms to amplify the content that triggered fear and outrage. That turned out to be hate speech, disinformation, and conspiracy theories."
McNamee said these realizations by social media companies weren't incidental – they were what made the whole thing work to begin with – and companies were willing to profit from it.
The Republican Party, McNamee added, joined in to "play with fire against the public health, the democracy, the privacy, and the competitive nature of the US economy." From 2015 moving into Trump's election into office, this was an active thing – until it came to a head in 2020.
McNamee explained the recommendation engine on Facebook had been radicalizing people. A 2018 study by Facebook to determine if it caused polarization in the US showed that 64% of the time that people joined extremists groups on Facebook, they did so because Facebook recommended it.
"When Facebook confessed in 2020 that there were at least 3 million members of Qanon – the conspiracy theory on Facebook – just on the largest pages and groups, that meant Facebook had radicalized 2 million people into QAnon," McNamee added.
Facebook didn't do it on purpose, though it just so happened the radicalized people were more valuable to Facebook because they spent more time on the site and gave up more private information.
Leading to the insurrection
Donald Trump's love of social media as an amplifier for his voice was also responsible for helping to cause some of the over 400,000 deaths due to COVID-19 in addition to starting an insurrection.
Trump used COVID-19 to undermine democracy by creating a mythology that mail-in voting was fraudulent, and compounded it by declaring the election itself as a fraud.
"He says this over and over again, and Facebook, and Instagram, and YouTube, and Twitter, and Google all let them get away with it. And members of Congress and the Republican Party all join in. They are playing with fire in the midst of a pandemic, they're undermining belief in democracy, which is going to be absolutely essential for beating the pandemic," McNamee explained.
On the day of the insurrection, Trump basically encouraged his supporters to head to the House of Representatives to make themselves and their will known.
"He does so with language about being strong and you know, clearly implying that they're supposed to not take any kind of answer other than 'Trump is president,'" added McNamee.
Aside from Trump himself as a mouthpiece, "Facebook and Google and Twitter, created the environment, they radicalized the people, and then gave them a platform for organizing this attack," McNamee said.
Accountability: Regulating safety, privacy, and competition
During the interview, McNamee also discussed what he hoped would be steps to make social media companies – and big technology companies in general – more accountable.
He touched on the ideas of safety, privacy, and competition as parallel points of regulation the US could try to enact.
For safety, McNamee explained a cultural leaning in the US towards a lack of accountability for harm created by something one has created. Safety thus "starts with creating personal liability for both executive officers and for engineers, for any harms that happen" in order to change their behavior, and urge them to anticipate and mitigate harm before the product becomes available.
This safety paradigm of emphasizing personal liability for harm, he says, "matters not just for internet platforms, this matters for artificial intelligence, facial recognition, and smart devices, all of which are really dangerous today. "
For privacy, McNamee is pushing for the opt-in approach. Unlike the opt-out approach, wherein a user has to tell a company not to use his data, opt-in means "the company is obligated to find you and tell you they have your data and get your permission before they use it."
McNamee added Apple is implementing opt-in through iOS 14, but since that will only be for iOS applications, it'd be good to push for opt-in everywhere.
Lastly, as regards competition, McNamee urges the US government to get companies to choose between being the operator of a marketplace (for things like apps or technology) or being the provider of the things being sold in the marketplace… but they cannot be both.
As such, they cannot give a preference to their own products over others and thus discriminate against the competition.
McNamee said, "We need to increase competition, make it possible for alternatives to come along. And then after that, I want to break them up into 1000 little tiny pieces, so that they can't harm us again" by creating a monopolistic entity.
Real hope
Despite the challenges of 2020 and the January 6 insurrection at the US Capitol, there is potentially some real hope to be found.
Said McNamee, "In the United States, the system we've had, since 1787, is done. We've blown it up. Now we have to decide, what is the United States going to be? Is it going to be a democracy? And if so what shape is that going to take? Or are we going to be authoritarian? Which case? What shape is that? And the people in the United States have enormous leverage here."
McNamee added the US people have shown more interest, from a civic engagement perspective, in the last two years arguably than compared to other points in time from the last 60 years – especially since there was a record turnout in the last election. As such, it's up to citizens to start pushing for the changes they want to see in their elected officials.
His hope is people in the US will insist on politicians doing their jobs full time, and working on the issues that matter to their constituents.
"I think that people of the United States are beginning to realize that it's up to them. I think the challenge is that our leaders largely embraced politics because it had many attractive perquisites and benefits, and they generally shun confrontation, they generally shun the hard stuff. And this is all about hard stuff. Right now. We're about to find out, 'Do our politicians have that?'" – Rappler.com