The siege is a culmination, a violent one at that – online hate transforming into real-world violence
Disinformation expert Kate Starbird, also a professor at the University of Washington, experienced a sense of surrealism over the events that transpired at the US Capitol on Wednesday, January 6, US time. But at the same time, she said she wasn't even surprised.
Starbird was a guest on Rappler Talk, Friday, January 8, Philippine time.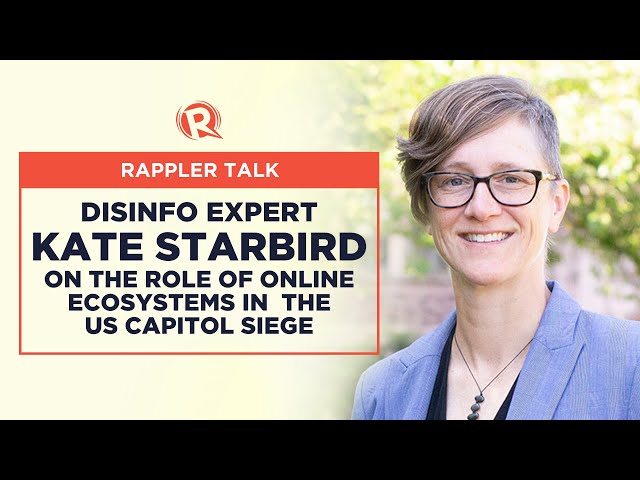 The participants in the riots were very visible online – people waving their flags, their rhetoric, and their online personas – she said. The siege had only been a culmination, a violent one at that – online hate transforming into real-world violence. It's something we've seen from violent shootings around the world where the origin had been online but this time the target is the beating heart of the American government.
Starbird described the riot as a coming-together for various groups – QAnon believers, pro-Trump activists, right-wing militias, white nationalists – under the banner of Trump. For the past 4 years and beyond, the outgoing US president has proven to be the expert at exploiting people's grievances. Starbird described many of these groups as the aggrieved, which for a populist such as Trump, are fruits ripe for the picking, ready to be processed for political power.
How did the US get here? It's not so much as a single cry to march from Trump. Instead, this has been brewing for months, Starbird said. "There has been a constant push for misinformation and disinformation, sometimes from the president himself." Eventually, these "broad Trump supporters integrated into other communities more focused on anti-government activities."
Trump's attack on many democratic institutions in the past months – on the election specially – had a galvanizing effect for these communities that had been feeling or been made to feel disenfranchised.
"They've been told that the election was stolen from him, and therefore from them. There was a landslide victory that was stolen by evil people. So they feel this sense of grievance. They're very bought in to that sort of grievance. They were online sharing the information that was claiming there was all this voter fraud so they feel like they've experienced it, even though there's no evidence to support it.
"And so they feel aggrieved, and they feel motivated to do something about it, even though that's all based on false conspiracy theories that are easily refuted except you're not able to see that because you're just so caught up in a media space that is telling you that this other reality is the real one," Starbird said.
This was the fuel that Trump hosed his supporters with up to the very last statement video on Twitter and Facebook. That vitriol led the platforms eventually suspending Trump's online accounts. These were his direct link to supporters, and well of online power, which can, as we've just seen, translate to real world chaos.
Years in the making
While Trump spouted lies on the US election these past few months, the environment in which he has thrived could equally be blamed. It is, to put bluntly, populist-friendly.
"You have to go down years back," Starbird said, referring to online platforms' evolution into left-wing, right-wing echo chambers, and which are, sadly, here to stay, pending more effective, multilateral action.
"The information that reaches [people] now is wrapped in its own 'political wrapper.' That makes [the content] easy to absorb if it's in your own political wrapper. And very easy to reject if it isn't." Echo chambers, cognitive segregation, "personalized" political wrappings – that's how social media has evolved.
It reinforces biases, makes the other party look nearly impossible to understand. It can be artificially exploited to create a whole, different, false reality for exploitable people, for the aggrieved, and for those who may not be so aware how their emotions can be manipulated.
Starbird also touched on the "participatory" element in disinformation now. "The audience is participating because they could be retweeted by Trump." Say something sensational and emotional, and the algorithm spreads it, triggering a feeling of reward for the user.
At the same time, populists who may want to manipulate people's grievances are able to see on social media right away how the people feel, and so, are able to come up with the content that can trigger them the right way. This exploitable architecture, and the lack of policies from social media platforms up until recently has helped lead to this situation, Starbird said.
Platforms remain toxic
Will a Biden presidency solve all of this? One man could hardly be the panacea.
"I don't think a Biden presidency fixes the toxicity of all the people. In fact, they're going to be more aggrieved; more susceptible to people who might want to manipulate their grievances for their political power.
President Trump turned out to be really good at using social media, and using these new media environments for political power. Will he be replaced by someone else? I'm worried about that scenario. I'm worried about him setting up, and having a relationship with the aggrieved," Starbird said.
The expert also noted that it's not like we're restarting the social networks. The current networks are still dense, she said. "They're connected and wired for disinformation now. Everybody's following everybody. Everybody's wearing their political armbands. You know who to accept and reject. We're starting from a very toxic social environment."
What's her advice? "You know it's been hard to tell people not to use [social media]. Be aware when I get emotional or excited, I'm vulnerable to spreading misinformation that aligns with my views, and each time I do that, I erode people's sense of trust in me.
"I try to be much more careful now that I understand the problem. I'm much slower to participate in emerging events before I add to the noise."
She also advised to tune in to emotions because that's where we're likely to be manipulated. "It's when we're angry that we're most vulnerable to being manipulated." – Rappler.com