Why does it matter that its in-game creatures are NFTs? Read about the popular blockchain-enabled game here.
Axie Infinity is a game you can play on Android phones, iPhones, and the PC. Its core gameplay draws heavily from Pokémon: you have a team of 3 creatures called Axies with various skills, which you battle with, against either computer-controlled opponents or other real-life players.
What makes it different from traditional games?
Axie Infinity incorporates non-fungible tokens or NFTs into the formula. An NFT, simply put, is a certification that a certain digital asset is the lone, original copy.
One example of a popular digital asset that was minted as an NFT is the "Charlie Bit My Finger" YouTube video, which sold for more than $760,000.
NFTs recreate scarcity in the digital world, leading to the perceived increase in value of a digital object, which by its nature could be readily multiplied by simple copy-pasting.
The monsters or the Axies in the game are NFTs. This means an Axie you create through the game's breeding mechanics will be, by being minted as an NFT, a unique and original digital object.
So my in-game creature is an NFT – so what?
The game creates an economy revolving around these Axies or monster NFTs.
It takes real-world time and effort to breed a monster NFT.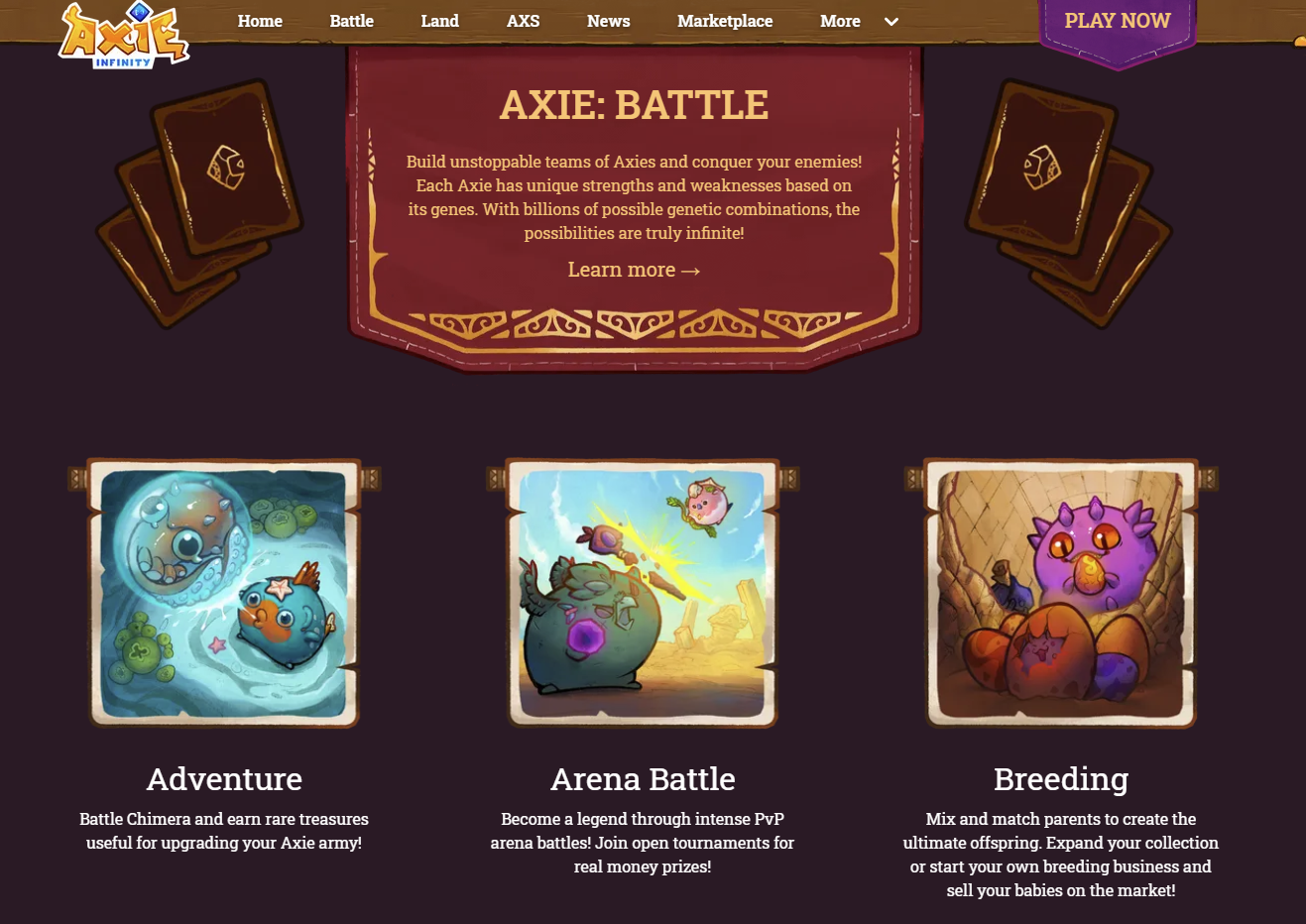 By playing and battling, you earn tokens. These tokens can then be used to breed another monster NFT.
Again, what the NFT minting does is that it ascertains the uniqueness and non-duplicability of the digital asset, in this case, the monster NFT. The NFT is minted on the blockchain, where the data recorded is immutable and tamper-proof. In essence, the blockchain minting creates trust – similar to a central bank ascertaining the value of fiat money – and verifies that the monster NFT is the result of real-world time and effort, and therefore has value.
The NFT minting is a crucial element. In the past, players have traded in-game items for real money. In a massively multiplayer game, for instance, a person could sell a rare in-game weapon that they found for real money. But it wasn't an economy that the game developers could officially support as these transactions mostly happened off the actual game, opening up the potential for fraud, and the possibility of in-game items merely being duplicated instead of legitimately earned.
In this sense, Axie Infinity is an attempt to circumvent those issues.
One other popular game that has attempted to institutionalize in-game trading with real money is Diablo 3 with its "Auction House" system. Players could officially sell their loot for real money.
But the system was later removed as it interfered with the game's core gameplay loop, which was to keep players playing with the promise of better items dropping from slain enemies. With the system, players merely bought items instead of playing for them, negatively affecting most players' experiences.
Axie Infinity is different in the sense that it primarily markets itself as a "play-to-earn" game. The key focus for gamers is to play well for the chance to earn tokens or breed monster NFTs, which they can sell and earn real money from. Diablo 3 is designed to have players focus on playing well to get new gear, which the Auction House system had undermined.
How is the Axie Infinity economy now?
At the time of publication, the cheapest monster NFT is at around US$200.
In order to start playing now, you need to have 3 monster NFTs, putting the total at about US$600 or about P30,000.
Here's a look at some of the cheapest monster NFT offerings in the marketplace: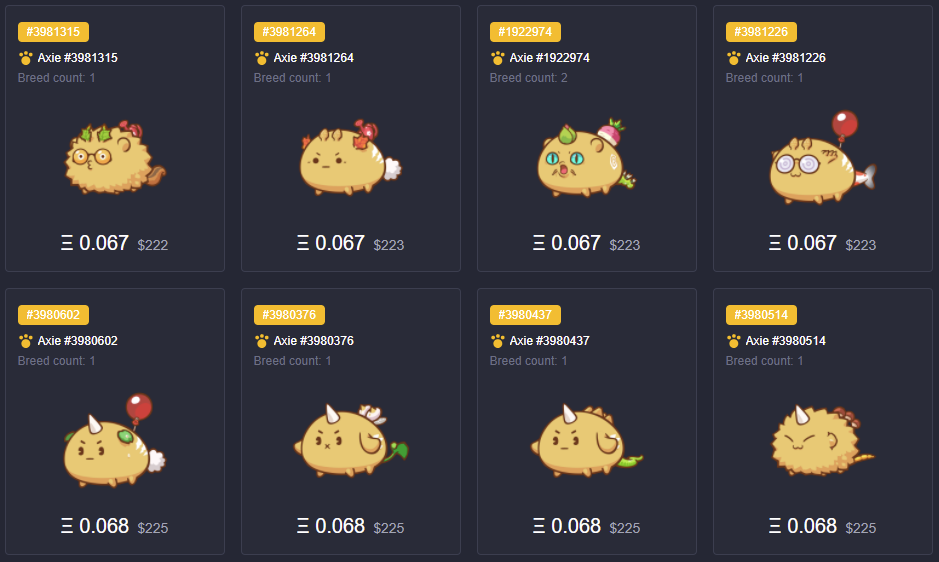 As of August 6, the official Axie Infinity Twitter account puts the number of daily active users on all platforms at 1 million. But not all of these are actually playing, it clarified: "Some players download the game client without owning Axies. There are still less than 1M Axie owners."
Why are they so expensive?
While the NFT minting lays the foundation of trust for the Axie Infinity economy, traditional supply-and-demand forces still underpin it.
The price for monster NFTs has grown because there's a surge of interest for the game, especially in the Philippines.
While Axie Infinity has been around since 2018, the hype in the Philippines began in May 2021 through a YouTube video showing Filipinos in Cabanatuan City, Nueva Ecija earning from the game, published on May 13, 2021.
The video was funded by a company called Yield Guild Games (YGG), whose two founders out of three are Filipino tech entrepreneurs.
The media push resulted in the video being featured in Venturebeat, CNBC, and Hypebeast, and Filipino sites Esquire.ph and Spin.ph within a week of the video being published.
The hype has since snowballed through word-of-mouth, and the interest has been sustained by the promise of a payday.
Token Terminal, a platform keeping track of crypto assets, shows the growth in transaction volume in Axie Infinity, starting around May 2021 before making a huge jump in late June and early July: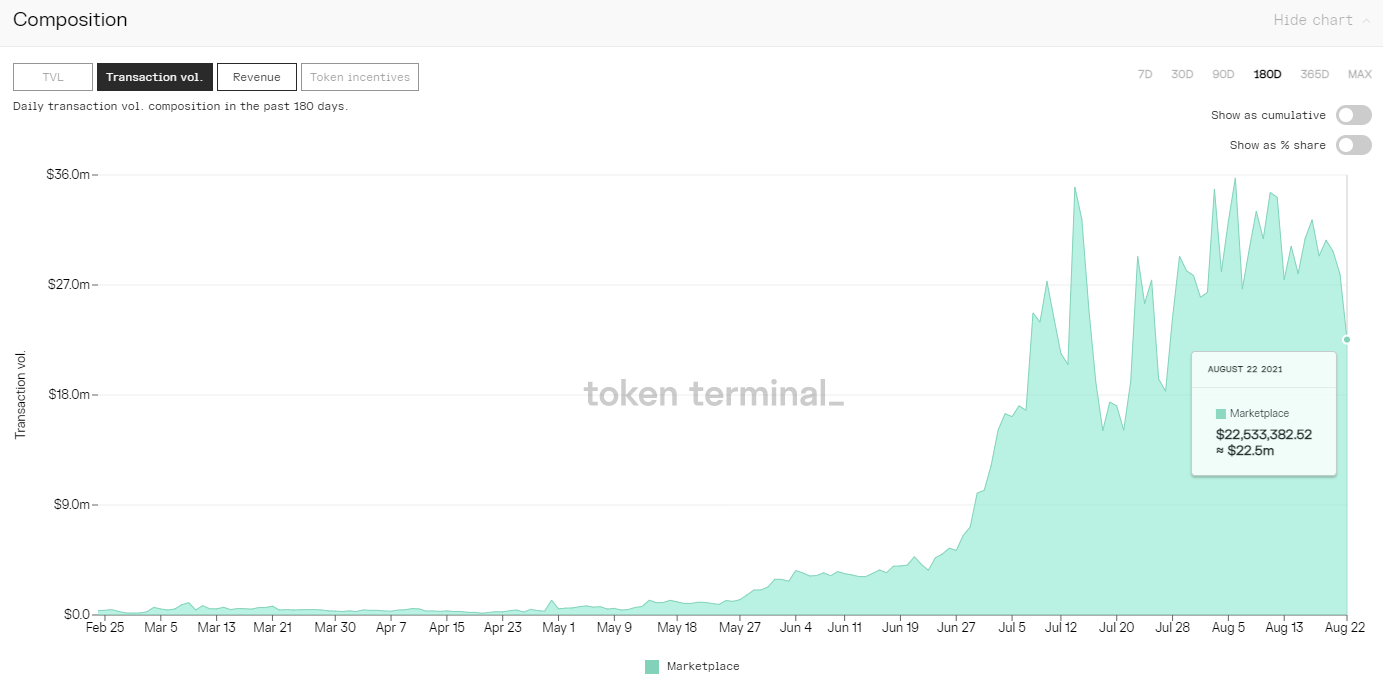 Helping Axie Infinity's cause as well is a $7.6 million funding round that included billionaire entrepreneur Mark Cuban, the Dallas Mavericks owner and featured investor on TV show Shark Tank.
Within the same time span, Yield Guild Games has also seen two funding rounds: $4 million in June 2021, and another $4.6 million announced just last August 20, reaffirming, in part the continuing growth of the play-to-earn vertical.
What does Yield Guild Games do?
Yield Guild Games lends out the monster NFTs to interested players who don't have the money to buy the initial team of three. These players being lent monster NFTs are called "scholars," and Yield Guild Games, in this relationship, is an "investor."
The general setup is that the scholar gets 70% of the earnings, and 30% goes to Yield Guild Games.
This is the traditional earning ratio for investors and scholars.
It's a system that has risen because of the high cost of entry. Anyone can opt to "play" the game as an investor but Yield Guild Games is one of the larger entities institutionalizing the scholar-investor relationship.
"As a provider of scholarships to the game Axie Infinity, YGG's player base can borrow its yield-generating in-game assets under a revenue-sharing model, so they can begin earning an income from playing NFT games without having to invest any money upfront. To date, YGG has 4,700 scholars, over 2500 of whom are Filipinos, in the game Axie Infinity that have earned over 43M SLP (US $8.6M)," YGG said in an August press release.
How do players earn?
Players can cash out the tokens they earn on a regular basis. There are 2 types of token in the game: Small Love Potion (SLP) and Axie Infinity Shard (AXS). It's the SLP that the players often earn, and cash out. The AXS is a proposed governance token which will, when it is implemented, allow owners to have a say in how the game is being developed.
What are the other ways for people to profit from the game?
The SLP and AXS can be traded like other cryptocurrencies.
Like Bitcoin, you can hold on to these, and hope the price rises so you can sell for a profit.
How do the game makers earn from this?
Vietnamese studio SkyMavis earns a 4.25% cut for every item, including the monster NFTs, sold in its marketplace.
The company, and those with the AXS governance token, also take a cut from breeding fees imposed on players.
As with any game, the bigger the player base, the bigger the potential profit pool for the company.
In the last 30 days, the total amount of trades on the Axie Infinity marketplace is $1.02 billion, with 1.65 million monster NFTs or Axies sold.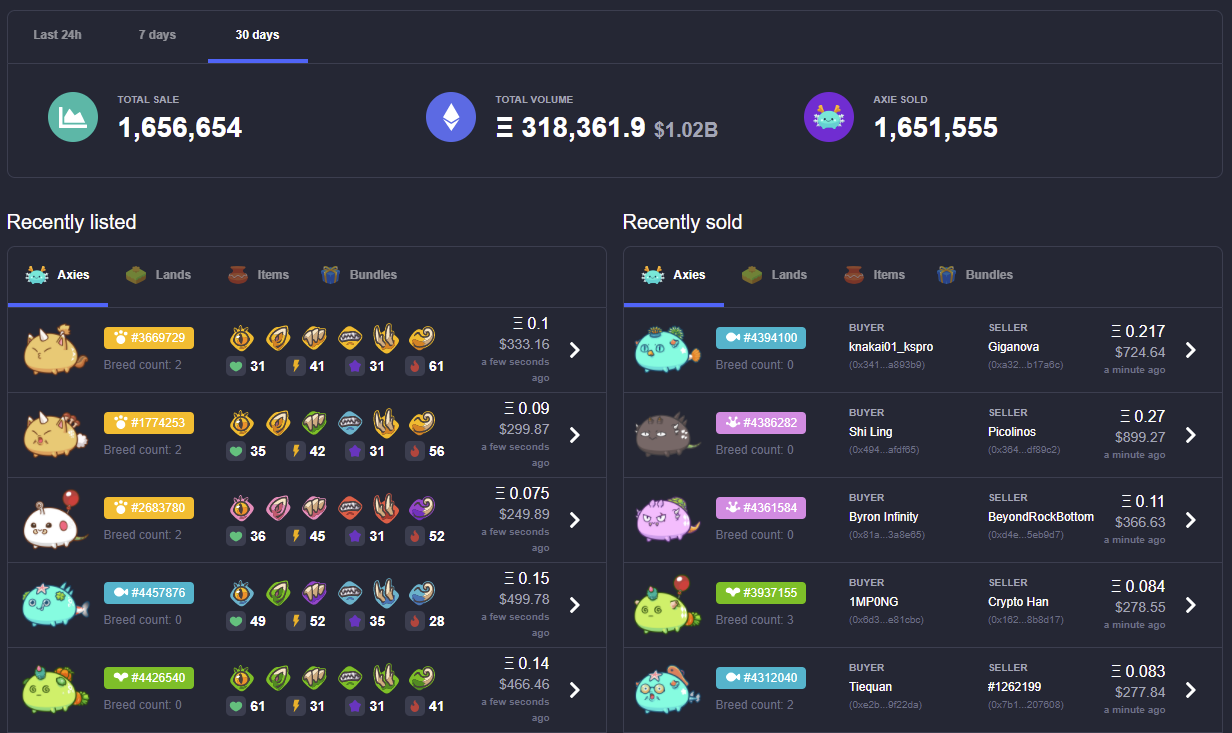 Final notes
A crucial question is whether Axie Infinity is a ponzi scheme. BloomX founder and crypto expert Luis Buenaventura currently has a series of entries in his newsletter about Axie Infinity, and one of these discusses whether the game is a ponzi.
Buenaventura argued that in a worst-case scenario, the demand for new monster NFTs or Axies will be gone as a result of the demand being fulfilled – no new players are coming in. The price of the Axies and the token needed to breed new Axies drop, causing those who bought Axies or tokens to lose their investments.
He argued, "As painful as this sounds, even if Axie Infinity fails completely as a play-to-earn platform, it will still be a game on your phone that you can load up whenever you have a few minutes to kill. It probably won't be worth a lot, but it won't be worth nothing."
Like Bitcoin, the poster boy for cryptocurrency, the value of Axie Infinity is subject to the whims of the market. A player can potentially put in P30,000 to start playing, and maybe recover that money after some amount of time, and proceed to make more or it could very well be a bubble that suddenly pops before that money is recovered.
Are the prices only that high now because of hype? Can it sustain player growth and interest – and hence the monetary value of its digital assets – like, for example, the nearly 17-year-old World of Warcraft? Could it support a gaming career like Dota 2 or is it a side hustle?
While answers to these questions will only show up after the fact, what's certain now is that Axie Infinity has brought to the mainstream a novel and seemingly logical implementation of blockchain technology in a video game. – Rappler.com 
Start your gaming journey with new gear purchased using this Shopee voucher code.