Ferdinand Marcos Jr's fake follower percentage drops to 42.6% on October 25 since a Facebook user posted a finding of 47.4% last Saturday, October 23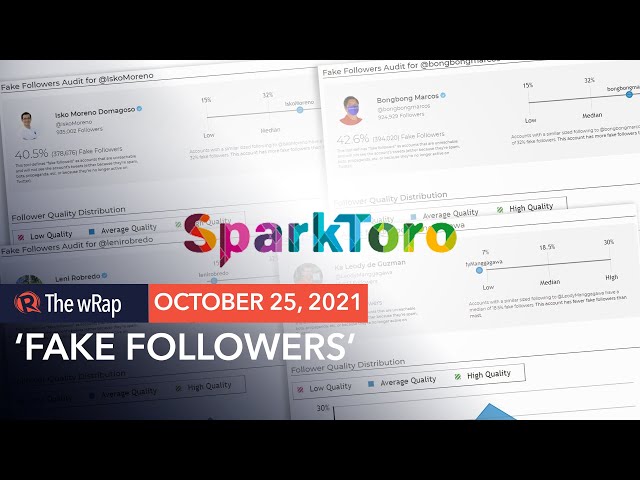 On Saturday, October 23, netizen Marvin Terce posted a series of screenshots showing the percentage of "fake followers" the Twitter accounts of four presidential candidates had.
The screenshots are from a free online tool called SparkToro, which you can use yourself here.
The screenshots showed that 47.4% of Ferdinand Marcos Jr's (@bongbongmarcos) followers out of 917,467 were considered fake; followed by Ping Lacson (@iampinglacson) with 37.5% of his 43,997 followers considered fake; Manny Pacquiao (@mannypacquiao) with 32.6% of his 2,682,801 followers considered fake; and Leni Robredo (@lenirobredo) with 13.4% of her 600,134 followers considered fake.
Below are the individual screenshots.
Terce did not post screenshots of analyses for other candidates such as Isko Moreno and Leody de Guzman. We tested their official accounts, Monday, October 25, past 3 pm: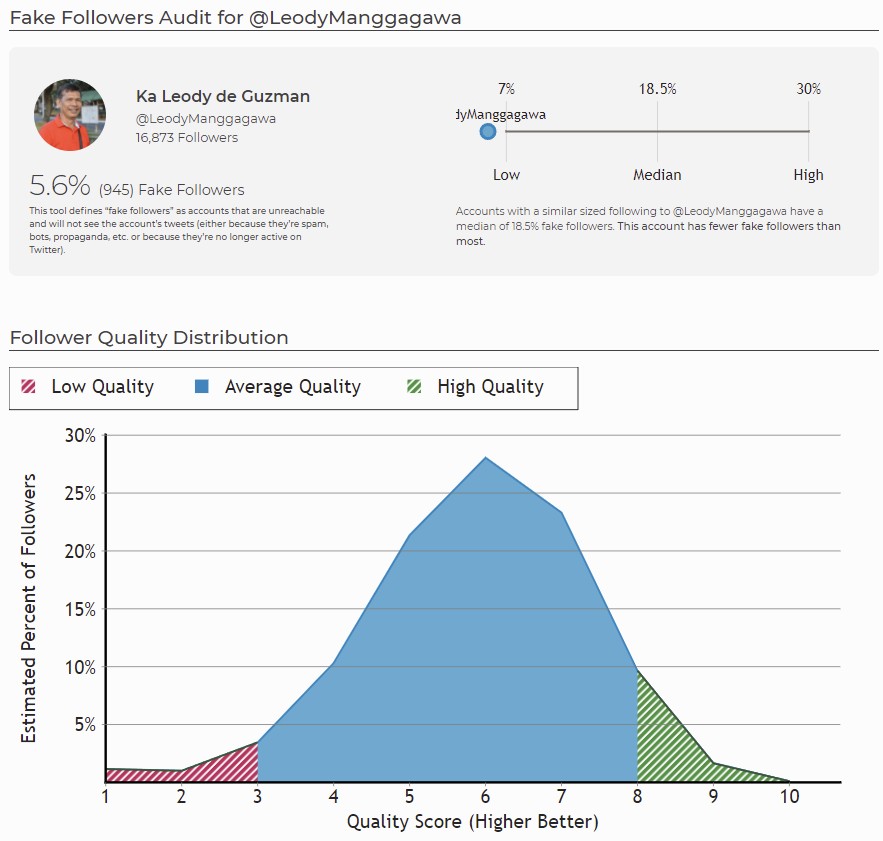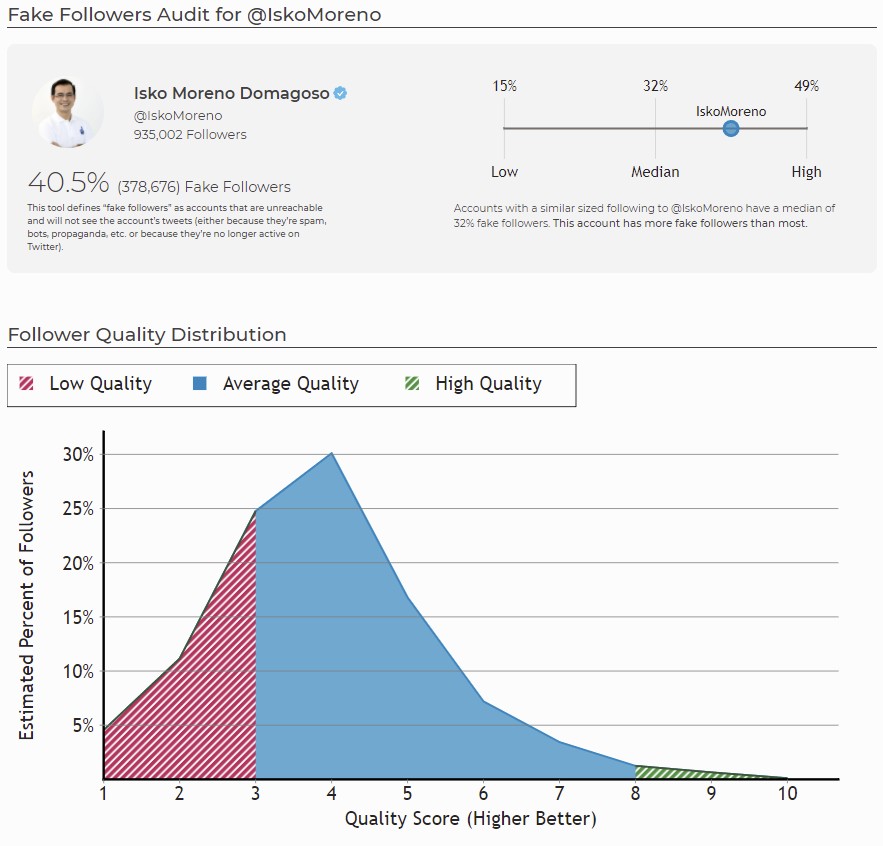 Moreno has 40.5% of his 935,002 followers considered fake and de Guzman has 5.6% of his 16,873 followers considered fake.
We also took newer screenshots of Marcos and Robredo's numbers on Monday, October 25, past 3 pm, shown below. Marcos' followers have increased by around 7,000 since Terce's October 23 Facebook post. The fake follower percentage has also gone down from 47.4% to 42.6%. Robredo's numbers have remained unchanged.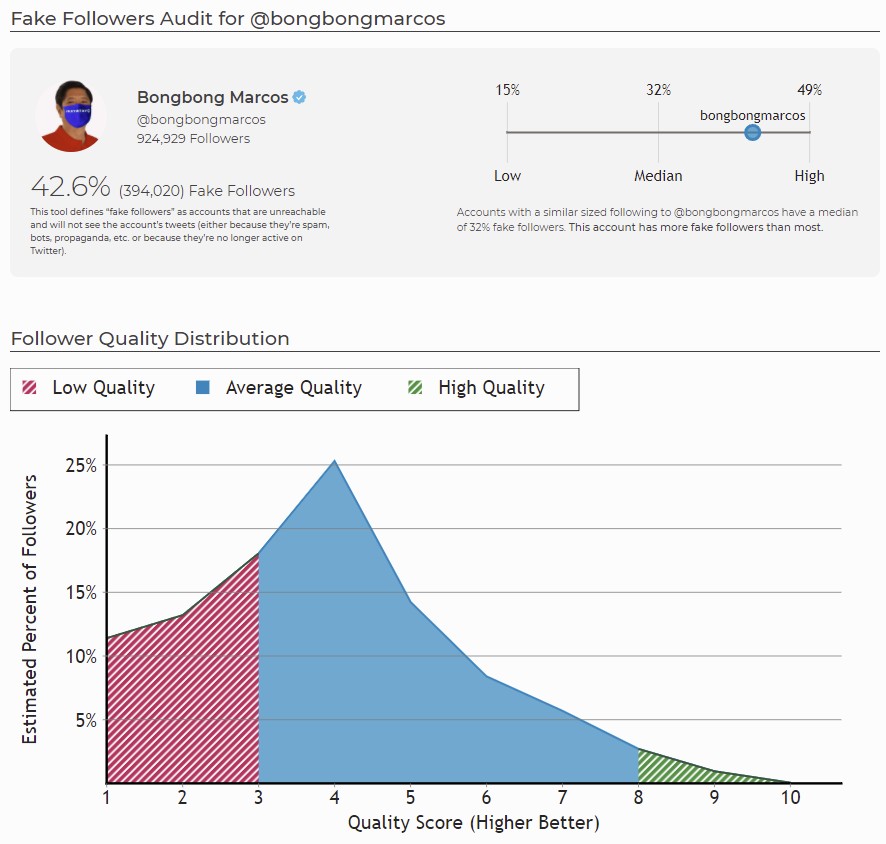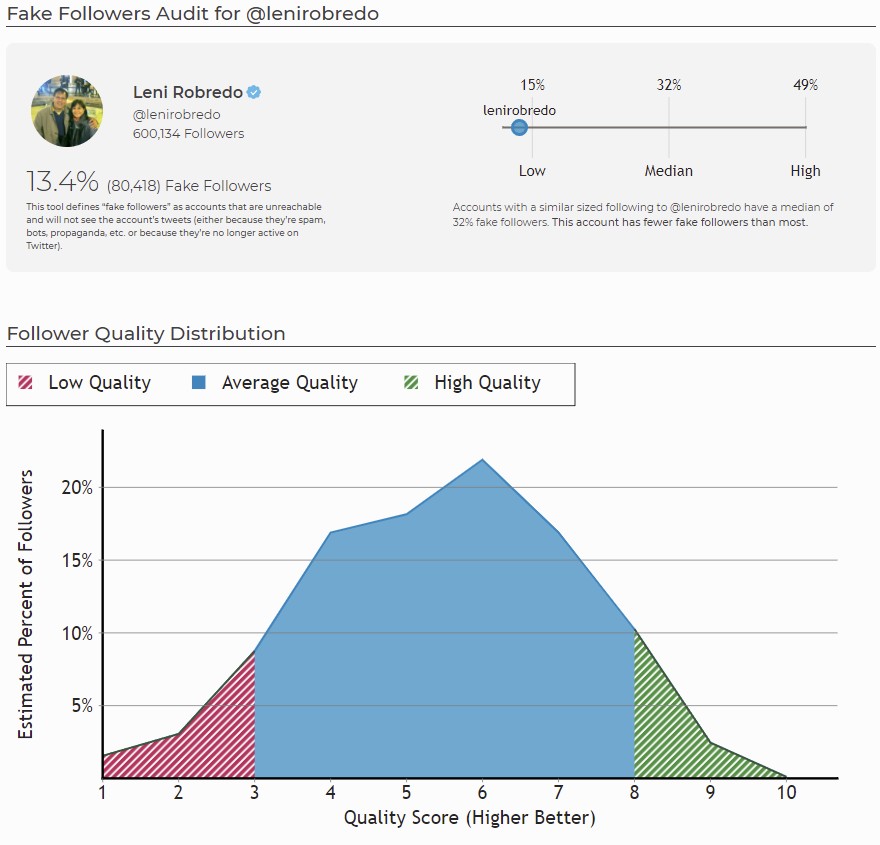 According to SparkToro, "This tool defines 'fake followers' as accounts that are unreachable and will not see the account's tweets (either because they're spam, bots, propaganda, etc. or because they're no longer active on Twitter)."
When you use the tool, SparkToro also explains how it does its audit:

"This audit analyzes a sample of 2,000 random accounts from the most recent 100,000 accounts that follow @lenirobredo, then looks at 25+ factors correlated with spam/bot/low quality accounts. None of these, alone, indicate a spam/low quality account; but, when many factors are present, there's strong correlation with low quality."
The tool also shows the issues that it found with the problematic, possibly fake accounts. For example, in Bongbong Marcos' account, the tool found that 82% of the sample follower accounts "have a suspiciously small number of followers." In Robredo's case, the tool found that 96% of the sample accounts "are on an unusually small number of lists.
According to Twitter on its help page, "Twitter Lists allow you to customize, organize and prioritize the Tweets you see in your timeline. You can choose to join Lists created by others on Twitter, or from your own account you can choose to create Lists of other accounts by group, topic or interest."
SparkToro also has a blogpost from 2018, explaining in more detail how it uncovers fake and real accounts on Twitter.
In the technology industry though, multiple tools are used to, for example, measure a computer's performance or measure internet speed. In the case of internet speed for instance, we have OpenSignal and Ookla's Speedtest, and locally, Project BASS.
Using other tools similar to SparkToro may put these findings to the test, allowing people to check if other tools will show whether the fake follower percentages are similar.
Forbes in an August 2021 article also found at least two high profile accounts with high levels of fake followers. Tesla CEO Elon Musk, they found, had almost 50% fake followers. Meanwhile, Bill Gates had 47% fake followers. Musk has about 61 million followers while Gates has 56 million. Their fake follower percentage are also considered to have more fake followers than most accounts of a similar size.
SparkToro considers Robredo and Pacquiao having fewer fake followers than most accounts their size while Lacson and Marcos have more fake followers than most accounts of their size. – Rappler.com