It's a message to all critics of Rodrigo Duterte: We will crush you, especially on this cherished day of yours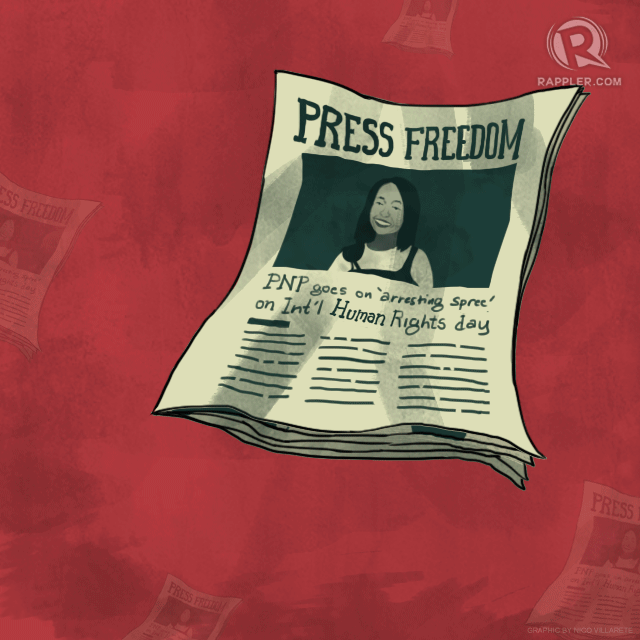 Last December 10, 2020, Human Rights Day, Manila Today editor Lady Ann Salem was arrested. Six other trade unionists were taken into custody that day.
According to a change.org petition, Salem and her companion were "forced to face backward for an hour" while state forces searched the premises, which is a "clear violation of protocols during search warrants." The petition adds, "the two were also denied their right to call their legal counsel during the arrest. This modus paved way for the state forces to plant fake evidence such as firearms, ammunition, and grenades."
The arrest is a message to all critics of Rodrigo Duterte: We will crush you, especially on this cherished day of yours.
It was an act that flaunted naked power. They did it because they can.
But this also tells us something about this bully apparatus: It's not subtle and it's drunk with power. Free media is up against a thug, a Goliath, who carries a big stick and does not speak in whispers.
This brings with it its own set of vulnerabilities. Even Goliath met his match in David. And even Ferdinand Marcos, with the might of state power at his disposal, could not silence a critical press.
Under Marcos's Martial Law, the alternative press like WE Forum of Jose Burgos, Jr Signs of the Times by the Catholic Bishops Conference of the Philippines and Mr & Ms Magazine led by Eugenia Apostol filled the vacuum of information and independent reporting and analysis.
Today's mosquito press
What Rodrigo Duterte does not realize is that his administration is not up against cockroaches but mosquitoes. His administration may have stepped on ABS-CBN but the network is redefining itself and rising again.
They tried to step on Rappler through a barrage of cases and an attempt to revoke its license. To this day, by dint of courage and resilience, Rappler remains standing.
They may have intimidated the owners of the Philippine Daily Inquirer, but not its editors who navigate spoken and unspoken newsroom restrictions to speak truth to power.
The mosquito press will be annoying and irritating to any authoritarian. It will inflict its own thousand cuts. It will fight many wars, big and small, on many fronts – and lose some battles – but will persist, survive, and thrive.
Media repression may be the new normal during the pandemic but there are many Lady Ann Salems out there.
Salem, a former student activist and campus journalist, could've enjoyed a better paycheck from a leading network, but chose to work for an alternative media organization, and helped set up an alternative media network, Altermidya. She fought for journalists' rights as a member of the National Union of Journalists in the Philippines.
'Dangerous' to be critical
Based on the results of a July 2020 Social Weather Stations survey, a majority of Filipinos believe it is "dangerous" to "print or broadcast anything critical" of President Rodrigo Duterte's administration, "even if it's the truth."
More than ever, media needs the support of all freedom-loving citizens, especially journalists in the provinces whose everyday plight gets little publicity.
Alternative media Northern Dispatch editor-in-chief and Inquirer Baguio-Benguet correspondent Kimberlie Quitasol and her fellow journalists suffer harassment and red-tagging frequently.
Last August 2019, Brandon Lee, a correspondent of Northern Dispatch was shot in front of his house. An Altermidya correspondent was arrested in Bacolod in February 2020, along with 4 human rights leaders.
Back here in Manila, on top of 11 cases, Rappler CEO Maria Ressa faced another cyber libel case this December from businessman Wilfredo Keng, who swears his persecution of the world-renowned journalist is in no way related to his daughter being given a government post by Duterte. This case sets another precedent for media harassment because, depending on its outcome, tweeting screenshots could be judged malicious.
Former NUJP chairman Rowena Paraan and fellow-journalist Inday Espina-Varona are regular targets of fake news, red-tagging, misogyny, and physical threats.
Since 2010, there were also around 1,000 cases of campus press freedom violations logged by the College Editors Guild of the Philippines.
Media repression, sadly, is a global phenomenon, and a key component of dictators' handbooks. Last week, Iran executed Ruholla Zam, a journalist and dissident. In Hong Kong, media mogul Jimmy Lai was charged under its repressive security laws.
Defend every voice
Every voice in media that is muted should be defended. Salem's media outlet may not be as large as ABS-CBN, but that makes this attack all the more insidious and ruthless.
Lady Ann Salem and other persecuted journalists like Ressa are a cautionary tale for fearful newspaper owners. Their harassment has a chilling effect on cautious media. But they are also beacons of light for all journalists who are passionate about, and excellent at, what they do.
The National Task Force to End Local Communist Armed Conflict (NTF-ELCAC) – an entity created to sniff out "rebel influence" from anywhere it decides – must stop its red-tagging activities. The attacks on free and independent media must likewise end, as should disinformation on social media, government lies, and red-tagging.
In the words of our very own Maria Ressa, "We will not duck, we will not hide, we will hold the line." We stand with Lady Ann Salem in defending press freedom. – Rappler.com