'The body pains, especially on my joints, came like jolts of electricity through my bones'
Despite all the layers of protection I had put between myself and COVID-19, I still got infected. By protection, I mean following all the public health standards: face mask, face shield, social distancing, etc. Yet, somehow, the virus still got me.
I received my first vaccine dose on July 2, at the Limketkai mall in Cagayan de Oro. Before that, doctors at the vaccination site had advised me to wait and consult with another physician first, because my blood pressure had shot up to 150/110. When my BP was down to 130/100, the doctor then gave me medicine, after which I finally got the jab.
The following week, on July 27, I heeded the advice of the doctors and went to a clinic. There, I submitted to a blood chemistry test. 
On July 30, I went back to get the results and to get a prescription for my hypertension. I stayed no less than an hour on each visit.
By August 2, I was feverish and had a cough. At first, I thought this was normal. But the following day, I lost my appetite and was already feeling weak. Soon I had a clogged nose, the likes of which were no longer normal. I was already breathing through my mouth. 
The following day, I sprayed perfume on myself, and that's when I validated that I had lost my sense of smell. I started to worry and tried steam therapy. I boiled leaves of cashew, mango, guyabano, oregano, and lemongrass. I did that thrice before I decided to call a friend at city hall to ask if I could be tested, because all the symptoms of COVID-19 were there.
My friend, former journalist and now city hall information officer Maricel Casiño-Rivera, advised me to head to a swabbing center and bring clothes, because it was likely that I would be taken to an isolation facility. 
The COVID-19 facility
I did that on the morning of August 6. I was tested, and in the afternoon, the City Health Office-Health Emergency Management Services Unit (CHO-HEMS) took me to a hotel that had been turned into a temporary treatment and monitoring facility by the local government. By this time, I was already a patient with an assigned number, which I did not bother memorizing.
By 6 pm that day, I was already hooked up to an oxygen tank – my oxygen saturation level was way below normal. And that was when it sunk in that I was a COVID-19 patient, sans the official test result, which only came two days later.
My BP and heart rate had gotten so irregular that health workers had to take me by ambulance to the city hall-owned JR Borja Memorial General Hospital. So I would not be exposed to other people and vice versa, the physician took out the ECG machine from the emergency room and brought it to the ambulance. 
I was in bad shape, and the nurse told me that I was headed to the state-run Northern Mindanao Medical Center (NMMC), Region 10's primary COVID-19 hospital. 
The problem was, the NMMC had been having problems with space, given the surge in the number of COVID-19 patients in Cagayan de Oro and elsewhere in Northern Mindanao. Like me, NMMC was feeling serious pressure – but of a different kind.
I was, however, a priority on their waiting list. The nurse told me, "You are number 37." 
But it didn't happen. I was never transferred to NMMC, and I stayed the rest of the ordeal in the hotel.
As the virus ravaged my body, I had breathing difficulties. I was relieved I had oxygen support.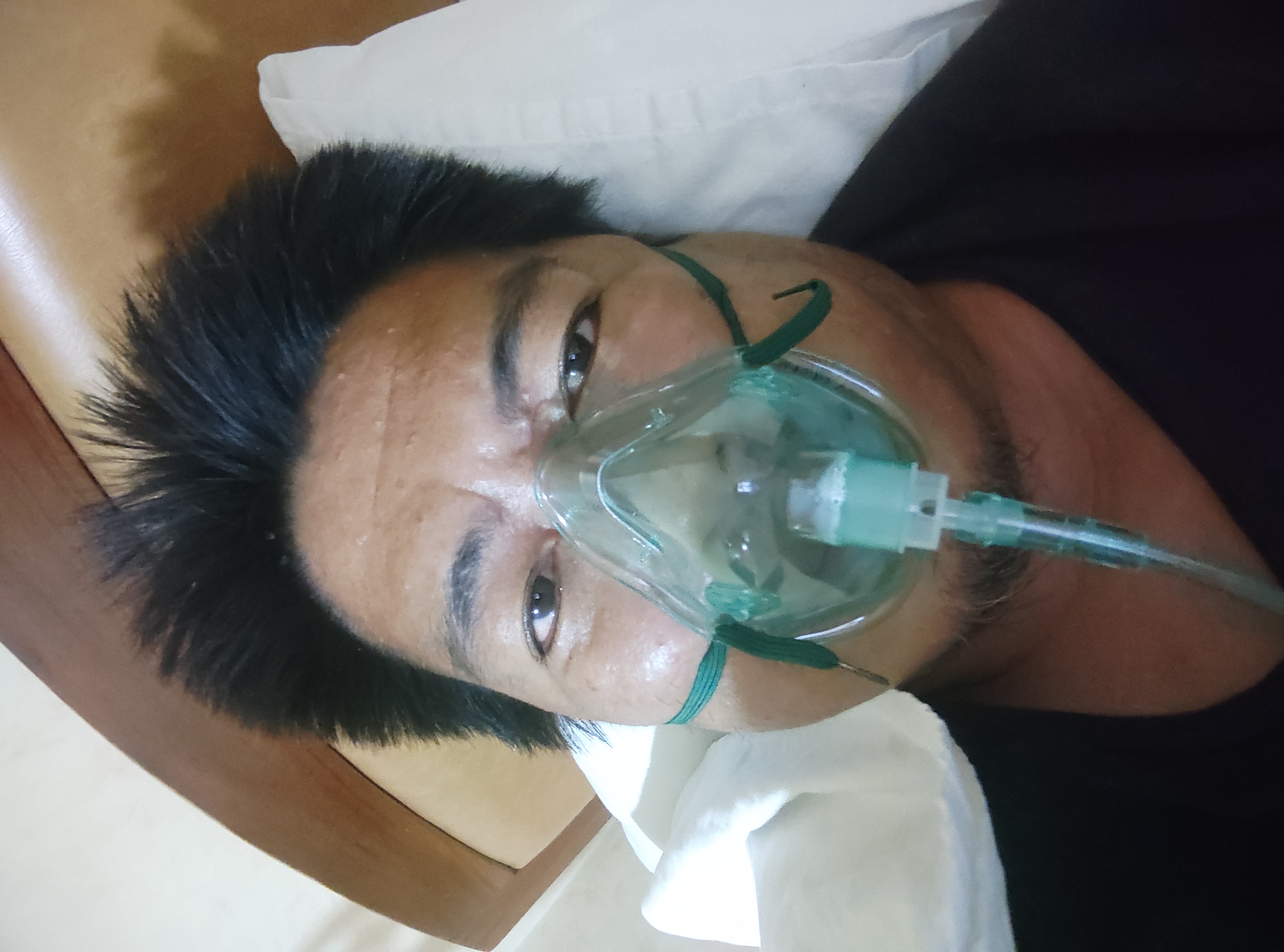 I also suffered from diarrhea so bad that there were times I'd stay in the restroom for almost an hour. The stomachaches were too much, and often, I felt like throwing up.
My body rejected any food I forced myself to eat. Each spoonful was a battle in itself – I would have to cover my mouth with my hand and raise my head to swallow the food. Many times, I couldn't even finish a single cup of rice, and it took about an hour for me to consume my rations. It was such a struggle. 
The body pains, especially on my joints, came like jolts of electricity through my bones. Moving around the room was difficult. 
There was a series of nightmares that began on August 7. I dreamt of being attacked by black creatures. One came after I watched what was happening in Afghanistan. In the dream, I was sent there to cover the story and soon found myself being chased by men in black. When they finally caught me, they riddled me with bullets laced with COVID-19. The nightmares were all about death and violence carried out by dark figures who, at times, sat or jumped on my chest. The nightmares were so terrible that I would wake up as early as 4 am sometimes, and was deprived of sleep.
But by August 12, I started feeling better. There was no more fever; my sense of taste was back; the coughing lessened; and I could eat better, albeit still slowly. I could already stand without much pain, and was also able to take a bath, unlike the days before when I would just use a wet face towel to clean myself. 
The nightmares also stopped as soon as I got better.
Nurses in the hotel cum city hall treatment facility had their stories to tell, too. Every four hours, they would knock on my door for my regular vital signs monitoring, and they would talk and ask me about how I was feeling.
The lives of nurses
Being a journalist, I also had questions about their life on the pandemic frontline.
One nurse confided that she was already tired and that she dreaded every time there was a new admission.
Picture this: the four-story hotel cum COVID-19 facility where I was brought had a dozen rooms on each level, and all were occupied. There was only one nurse station on my floor. My room, which was good for only one person, was at the end of the hallway on the second floor. It had a TV, an air conditioning unit, and a bathroom. Other rooms had two patients each from the same family. 
Another nurse told me Room 212, where I stayed, used to be his. He had contracted the virus at the facility, was isolated for two weeks, and subsequently returned to work because, "I need to respond to the pandemic."
Another nurse was worried about his father, who had pneumonia and had to be admitted to a hospital on August 18, days after he received his first jab. I hoped that the old man did not catch the virus, but the following day, the nurse told me his father was already on oxygen support. 
"I never imagined this would happen," the nurse told me.
He told me I and the others in that city hall facility were lucky because there was a good supply of oxygen there, unlike in the hospitals. Oxygen tanks were lined up along the hallway on the second floor.
At that time, the nurses had yet to receive their special risk, meal, and transportation allowances from the Department of Health, but they made it clear to me that they would be there to perform their duty.
One of the nurses quipped: "But it would be great if they would deposit it into our accounts."
I was discharged from the facility at around 10 pm on August 21. I was told that they had been doing this late in the evening because they didn't want the patients being seen by people outside.
This virus will find a way to spread and infect people at any given chance, because it is airborne. It is in the air that we breathe, and will be here to stay – whether we like it or not. – Rappler.com
Bobby Lagsa is a Rappler correspondent based in Cagayan de Oro City.
Voices features opinions from readers of all backgrounds, persuasions, and ages; analyses from advocacy leaders and subject matter experts; and reflections and editorials from Rappler staff. 
You may submit pieces for review to opinion@rappler.com.