'Like you, Harry was singled out and seen as a real threat. Like you, some tried to silence him, and like you he didn't give up.'
The following speech was delivered on March 6 at the University of the Cordilleras (UC) in Baguio City during the third Philippine launch of Maria Ressa's latest book, How To Stand Up to a Dictator.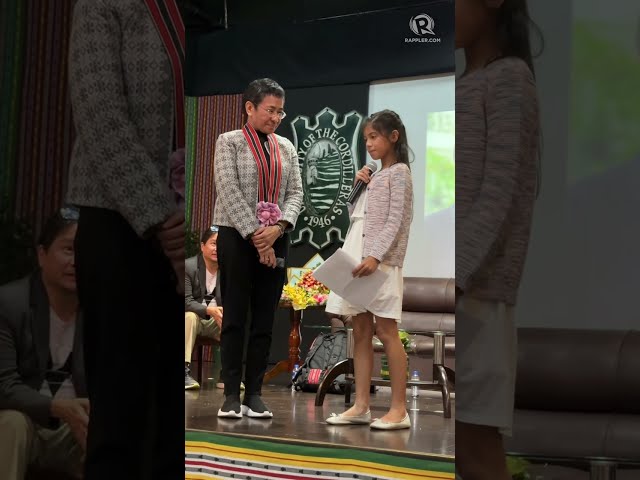 Good afternoon, everybody, and to you, Ms. Ressa. I first want to say that it is a very much appreciated honor to be here today to hear you speak and share your stories firsthand. I can't believe that I'm in the presence of the first Filipino to ever win the Nobel Peace Prize.
Imagine, out of hundreds and thousands of people, your fight was acknowledged to send a message that real journalism shows the truth. Aren't you proud? Isn't the country proud? Well, if it isn't, it should be.
When I was asked to speak today, I wasn't sure what to say. What would a 10-year-old like me share about? Then my mom suggested I should talk about something I can say about. That's Harry Potter.
When I think about what you've done, it reminds me of the story and the brave characters in Harry Potter. Like you, Harry was singled out and seen as a real threat. Like you, some tried to silence him, and like you he didn't give up. Like you, Harry Potter had within himself a strong power that made Voldemort afraid and want to destroy him.
You have that same special strength inside of you, and you've shared it with the world. Your special power is making sure that the truth is not silenced. When Harry tried to speak the truth that Voldemort really was bad, many tried to deny it. And so he was punished with cuts in his arm and he was attacked by Dementors. He even had to stand trial. Sound familiar?
And still, he kept fighting for the truth and what is right, like you did. I have no doubt the sorting hat would have placed you in Gryffindor for being a brave and courageous person.
But at the end of the day, unlike you, Harry is a fictional character. And to be a real person facing real challenges is much harder. You're probably going through struggles every single day. Your life may even be in danger and some things you do or say can be used to hurt you, even as you try to do the right thing. You've been forced to be so strong and brave in your fight for truth, and peace, and democracy. But like you said, you don't really know who you are until you're forced to fight for it.
Unlike a fictional story, we don't know what's going to happen next. We won't know if everything will work out in the end. All we can do is hold the line.
Recently, we discussed heroes of social justice in school, and I chose to research and make a speech about an activist named Susan B. Anthony. She is a famous American woman who fought for women's rights to vote and own property. Like you, she had a strong moral compass. Her actions led to many new changes, and I can see your actions will do the same.
So I would like to take this opportunity to say thank you. You've inspired many people to tell the truth. You helped them learn the truth and you helped me learn the truth, too. You've encouraged all of us to stand for the truth. Because of you, we can be even prouder to be Filipinos. You've done so much to fight for what is right. What you do matters, especially to the young like me, because it teaches us that the truth really does help us make a better and friendlier world.
When I look around this room, I feel hopeful. I think it's safe to say that all of us that are here today are amazed by what you have done and all your accomplishments. We've all gathered here like Dumbledore's army, to show you how much we support you and we are proud to be a part of the fight for our future. Like you and because of you, I choose to believe that there is good in the world. And even if it takes seven Harry Potter books, good will win in the end.
When I did some research about you, I was so amazed by what you have done. I even came across a video called "11 things you may not know about Maria Ressa" by Rappler. The 12th mystery fact was that she can skateboard. When I talk about this, I realize you're not just smart and brave, you're awesome and cool, too.
Congratulations on your new book, How to Stand Up to a Dictator: The Fight for our Future. I think what the world really needs is paper, a pen, the truth, and more people like you.
Thank you and good afternoon to everyone. Except you, Voldemort. – Rappler.com
Emma Orendain is a 10-year-old student from Baguio City.