Some Filipinos in China have to bear the weight of the row between their host country and their motherland
QUANZHOU, China – The banquet hall of the Winner International Hotel in Jinjiang reverberates with the live rendition of an Alicia Keys hit.
The singer is soulful and confident in her copycat version of "If I Ain't Got You." She sounds eager to please and impress. I tell a fellow visiting journalist my suspicion, and we are united in our conclusion: the singer is a compatriot. 
I have doubts when we see her – she seems to be a local – but not for long. "Hello po," she says as she waves to our group from across the feasting crowd.
After the set, we learn that she is Janet Lopez, 31, of Cagayan de Oro. She began her overseas singing career at Ratsky in Dubai and when her contract ended, she ventured into China, her host country for the last 7 years. 
Caviteño Leo Lavapie, who is on keyboards and alternates in singing, is in his 30s. He has been in China for nearly 10 years.
Their former Chinese agent had paired them. Now, they are a freelance duo.
'Free'
"We are free," say Lopez and Lavapie, relishing their declaration. They used to lose as much as half of their earnings to their agent.
Prior to their freedom, they performed anywhere in China their agent sent them, from Harbin in the northeast province of Heilongjiang, notorious for its cold weather and long winters that earned it the name Ice City; to all over Fujian province in the southeast.
Lavapie says he became a freelance performer after 5 years in China, when he gained enough experience and contacts to process his working documents on his own, and make direct bookings.
Jinjiang, which is in Fujian province, is their personal choice. 
Fujian sounds like an ideal place for Filipino workers as many of its people either have relatives in the Philippines or have visited the country. It is the Chinese province where most Filipino-Chinese trace their roots, including Jose Rizal, whose paternal great-great grandfather immigrated to the Philippines from Shang-guo village in Jinjiang county.
Jinjiang has honored the national hero with Rizal Square, a spacious park with a full-scale replica of his Luneta monument, minus the photobombing building. It was built in 2002 to celebrate the Philippine hero's Chinese ancestry but for Filipinos living there, it will always be a reminder of what they left behind.
Beating the blues is a constant struggle but the financial rewards of overseas work numbs the pain. Lopez has the same description as other migrant Filipino workers of life in a foreign land: "Masaya na malungkot. Malayo sa pamilya pero masaya kahit papaano – 'yung gastusin sa bahay, 'yung mga kailangan, nabibigyan na namin hindi katulad dati. Ang hirap sa Pilipinas. Sorry po."
(It's happy and sad at the same time. You're away from your family, but you also have money for expenses, not like before. It's so hard [to earn a living] in the Philippines. Sorry.)
Lopez is a single parent to a boy, 9; and a girl, 11. She gets to see them at least once a year now that she is a freelance performer. 
Lavapie says he is single but he is obviously in a "relationship" – with Clash of Clans, a combat strategy game he plays on his smartphone during his precious breaktime.
Lopez and Lavapie did not take formal Chinese language lessons. Like other migrant workers, they are self-taught, and know enough to get by.
The duo plays at the hotel from 6 pm to 8:30 pm, then move to a bar for their second gig, from 11 pm to 3 am, 5 days a week. They rest on Mondays and Tuesdays.
As freelance entertainers, they earn a minimum of 400 RMB ($64) each  per night in the bar, on top of their monthly salary at the hotel where they get free meals. They can even stay at the hotel dormitory with other employees but they choose not to.
Why blame us?
During our chat, the inevitable question is asked. Has the row between the Philippines and China ever affected them? They say some Filipino entertainers have had to bear the weight of the dispute during performances and interactions with locals in some areas. 
Lopez recalls how she was confronted by locals in northern China who were angered by the Philippine claim in the South China Sea. They branded the motherland and Filipinos as "thieves" because of the Philippine government's actions against their country.
"Sinasabi po nila na ganoon talaga kayong Pilipino, e wala naman kaming alam doon. 'Pag may problema ang Pilipinas at China, kami na nandito sa China ang pinagtatanong nila lagi. Pero ang ginagawa namin, nakikinig lang. Tahimik lang kami," she says.
(They say, 'You Filipinos are really like that,' even when we have nothing to do with it. When the Philippines and China have a problem, we Filipinos in China are the ones who are always asked about it. But what we do is we just listen and stay quiet.)
She says the insinuation that the Phiippines "stole" the disputed islands from China makes her blood boil, but she has learned to keep a blank face when attacked with such rants.
"Nakikinig lang kami kasi pagka iimik kami, baka kami ang anuhin dito.  Mahirap 'pag kokontrahin 'niyo sila, magkakagulo po."
(We just listen because we if we make any counter remark, we would be at a disadvantage. It's hard to argue with them, there would just be trouble.)
Cautionary stories, though unverified, have been passed around in the community about Filipino performers who were reportedly mauled by angry locals in some Chinese cities outside Fujian because of arguments arising from their governments' dispute. 
Lopez says she just tells anybody who asks that they are in China for work, and they have nothing to do with what's happening in the South China Sea. 
'Luha'
In the context of that bilateral dispute, what happens next can be seen as nothing short of an act of bravery. For Lopez and Lavapie, though, it's just part of the job. As the duo prepares for the final set, Lopez announces to the Chinese audience that she's doing a Philippine song upon the request of a kababayan (compatriot).
Lopez looks over a lyric sheet; Lavapie hits the keys. We hear the opening chords of the undisputed Philippine videoke anthem – Aegis' "Luha (Tears)."
The crowd listens, visibly amused or enraptured by the unfamiliar song sang in an even more unfamiliar language. Any gap in communication seems to be bridged by the requisite attitude and emotion to carry the gritty tune – a blend of despair, longing, and hope in the face of betrayal. 
Some people ignore the performance and continue to have their fill of the buffet, but many watch from their seats, perhaps wondering why they're being moved by a song that has, for them, unintelligible lyrics. A few bring out their phones to record the performance, while a man walks from the other side of the hall  to show his appreciation to Lopez – he hands her a white rose – as she wraps up her number.
Gulong ng buhay,
Patuloy-tuloy sa pag-ikot
Noon ako ay nasa ilalim
Bakit ngayon nasa ilalim pa rin
Sana bukas nasa ibabaw naman.
(The wheel of life,
Continues to turn
I was at the bottom before
Why am I still there now?
Hopefully tomorrow I will be on top.)
The crowd breaks into resounding applause, the loudest that night. 
Watch part of her performance here: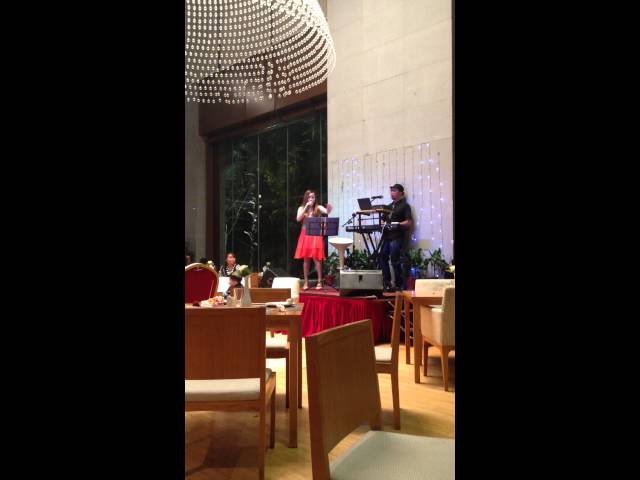 – Rappler.com