The crucifixion and validation of Aquino in an upended Philippines
Just over a year after he left Malacañang, former president Benigno "Noynoy" Aquino III was on his way home from Greenhills late Saturday night – a rare moment when EDSA seemed like a real major thoroughfare than a parking lot – when cops on motorcycles sounded their sirens and waved at his car to make way.
He surveyed his lane and saw that there were no other vehicles around. Then came a silver luxury car without the necessary car plate for VVIP treatment. It was accompanied by a Mahindra police patrol car, perhaps one of the thousands his administration, he said, distributed to police units all over the country during his watch.
"I said to myself, 'Wow, talagang feeling powerful ito (he really feels powerful),'" the former president recalled with a grin. "If ever that person, whoever he was, confronted me, I probably would've reminded him of what President Estrada said, that there are only five who are authorized: President, Vice President, Senate President, Speaker, and the Chief Justice. And I would've asked him which one of the five roles was he playing," he said in a post-Rappler Talk interview in his Times Street home on July 18, 2017 – a year and 18 days after he stepped down from the presidency.
"It was kind of hard to envision on EDSA but at that particular time – about 10:30 [pm] – his vehicle, especially his lane, had no vehicles in front of him. He didn't have to push people aside," he added.
While the conversation with the VVIP pretender didn't happen – Aquino said he didn't bother to know who that person was – that incident, which he described as "one of the smaller things" to happen to him after his term, apparently left an impression.
On that Saturday night, on the road where he had banned the use of sirens and observed traffic rules when he was president, a fake VVIP pushed aside someone who used to be the country's most powerful man. Aquino finally experienced "powerlessness" again, he said, but laughed without any trace of bitterness, as if still amused by the incident.
To this journalist who was seated across from him and had covered him during the first half of his presidency when he seemed invulnerable to controversies, the anecdote sounded far more sad than funny. Years later, it became clearer that Aquino's experience of being an ordinary citizen in EDSA – needlessly pushed aside by people linked to power – was a portent of things to come.
Aquino said that at least he had an idea of the kind of job that awaited him in Malacañang when he assumed office in 2010 – he was a Palace "observer" from 1987 to 1992, during the presidency of his mother, the late Cory Aquino. Her portrait and that of the late senator Benigno "Ninoy" Aquino Jr. greeted visitors in the living room of the Aquino home. During the interview, they were in the backdrop, looking over their son's shoulder.
"I think I sympathize with my successor. It's the onset [of his presidency]. Going to Malacañang during my term, I had some notion of what would happen if I got there. I was an observer during my mother's term. But suffice to say it was a leg up but it didn't prepare you completely for what you had to face…. Then living in the fishbowl; the nitpicking," Aquino recalled.
The interview happened a week before President Rodrigo Duterte lumped Aquino with his friends – then-US president Barack Obama, then-UN Secretary General Ban Ki-moon, the European Union, and the United Nations, among many others, including God and the Pope, later on – in a list of personalities and institutions that the Philippine leader cursed for either criticizing his drug war or any random reason.
Duterte had called Aquino "gago (an idiot)" for observing that nothing was happening in his successor's campaign against illegal drugs despite the piling corpses – which Duterte himself would later corroborate when he called his key program a failure.
'Bumaligtad ang mundo'
With the Marcoses back in power, Gloria Arroyo acquitted, and Senator Leila de Lima detained in Camp Crame, Aquino could only describe the situation in the Philippines as many others had: "Bumaligtad ang mundo (The world has turned upside down)."
"You know, there was a period after I stepped down I was asking, 'Parang ibang-iba na ang tama at mali (It seems that right and wrong have become vastly different).' And what we should be doing to correct what we think is a wrong situation," he said.
A month later, Aquino would condemn what he described as the "horrific" killing of teenager Kian delos Santos at the hands of cops in the name of Duterte's drug war. In a media interview on August 21, 2017, on the sidelines of the 34th death anniversary of his father, Aquino uttered words that many Filipinos wanted to hear from Malacañang: "Importanteng sabihin sa lahat ng mga katrabaho sa security sector, dapat may pinagkaiba 'yung mga lumabag sa batas kesa doon sa nagpapatupad ng batas. Kung pareho ang ginagawa natin at nila, at walang pinagkaiba, mali ang nangyayari."
(It's important to tell our co-workers in the security sector that there should be a difference between those who violated the law and those who are enforcing the law. If both of us are doing the same thing; there's no distinction, then something's going wrong.)
Aquino spoke in public only if he had to.
Later in 2017, at the risk of potential humiliation, he accepted a Senate invitation to face the probe into the Dengvaxia controversy where he explained his administration's decision to use the dengue vaccine on public school children. His decision – and testimony – was widely praised; people were reminded of how a Philippine leader should speak and act: with clarity, dignity, and proper decorum.
Sick in 2019
The public would have glimpses of Aquino from time to time, usually through media interviews during the commemoration of his father's death anniversary at the Manila Memorial Park, which he religiously attended – except in 2019.
Speaking at the brief ceremony in front of their parents' crypt on August 21, 2019, an emotional Kris Aquino divulged that her brother could not attend the event as he was "not okay."
"These three years have been tough on him…. A good person should not be crucified. Please include him in your prayers because he needs strength," she said in a mix of English and Filipino, raising concerns about the former president's health.
Kris also said that her brother was not the kind of person to make a fuss about himself in public. "He would never tell you that he's not okay."
Aquino finally appeared in public on November 20, 2019, and joined fellow supporters of his former justice secretary, De Lima, in demanding her freedom. It was De Lima's 1,000th day of detention in Camp Crame over what she and her supporters called trumped-up drug charges. Aquino told Filipinos that it was the "right time" to take a stand against the Duterte administration's abuses before they, too, became victims of injustice.
On that same day, Aquino told reporters that he had contracted pneumonia but that he was "okay." Two weeks later, on December 9, 2019, rumors about his health prompted his camp to disclose that he had gone to the Makati Medical Center for a "scheduled checkup and routine procedure" but that he was "alright."
His camp said Aquino was at the ICU, supposedly to help secure him, but he was later moved to a regular room. He was discharged less than two weeks later as his doctors reportedly seized the opportunity to run several tests "necessary for someone his age." He was 59 then.
Fake news target
The following year, Aquino was hardly in the public eye. He was a senior, after all, and there was a pandemic – but he would release statements for special occasions, like the 35th EDSA People Power Revolution anniversary on February 25, 2021, and also a day later, as a recipient of the 2021 Ka Pepe Diokno Human Rights Award. Aquino sent a representative to read his message, which spoke of how honored he was for standing up to China when he was president, which earned the Philippines a historic victory over the regional giant before an arbitral tribunal in The Hague – a landmark win that remained unenforced during his successor's time.
A ONE News Facebook post on Aquino's message at the awarding ceremony sparked a meme war in the comments section, where pro-Duterte supporters tried to drown out his key role in the Philippines' legal victory over China in the West Philippine Sea by portraying him as someone who supposedly "sold Scarborough Shoal" in the first place.
Old League of Filipino Students posts dating back to the Aquino administration were also resurrected in the comments thread. One branded Aquino as a "Massacre King" while another insisted that he should be jailed once he stepped outside Malacañang – never mind that he had left the Palace five years earlier.
The former president continued to be fodder for false social media posts, from the plain mean – he allegedly fell into a creek – to the Philippines allegedly incurring a far larger debt during his time than the Duterte administration. The Rappler Fact-Check team had also come across a number of false posts targeting the Cory Aquino administration.
In February 2021, a false video claimed that the Aquino government imposed a media blackout on its officials' supposed illegal shipment of 3,500 metric tons (MT) of gold to Thailand. It apparently sought to reinforce another false report in 2019, that Aquino and some members of his Cabinet allegedly stole 3,500 MT of gold worth $141 billion, and illegally deposited it in Thailand in 2014.
One doesn't have to be any kind of expert to see the common goal of these false posts: to obliterate the legacy of the Noynoy Aquino administration from the consciousness of many Filipinos through a sustained vilification campaign. Seeds of disinformation sowed in fertile minds on social media have sprouted faster than Jack's beanstalks, giving rise to an opposite image of Aquino as a bumbling, corrupt, inept leader – an object of ridicule who allegedly did absolutely nothing during his presidency.
Derogatory adjectives and memes that political rivals had used during the 2010 presidential election campaign had been regrafted on social media to fuel the offensive. Aquino supporters had tried to fend off these attacks but were usually pounced on by an ever-ready army; it was like fighting a swarm of bees with a twig.
Doing the right thing
While Aquino had some misjudgments during his presidency – Mamasapano is on top of that list – he was consistently unapologetic over the Disbursement Acceleration Program (DAP) which he had envisioned to boost the economy by using idle funds for readily implementable projects and programs.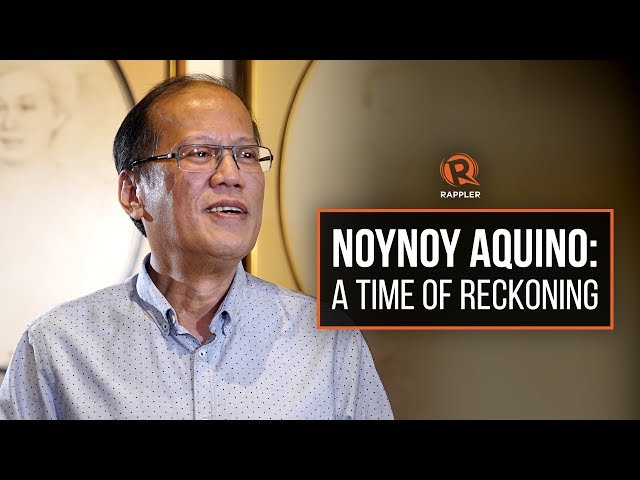 The Office of the Ombudsman initially dismissed the administrative charges against Aquino over the DAP, but later found him liable for usurpation of legislative powers after a reevaluation of the case.
In the 2017 interview with Rappler, when all DAP-related charges against him were initially dismissed, Aquino recalled how, during his mother's presidency, "one of the complaints was that some Cabinet secretaries adopted the position of 'no talk, no mistake,' and the 'no talk, no mistake' became 'no action.'" One of those who did take action, then-public works secretary Ping de Jesus, got severely criticized when he spearheaded the construction of flyovers in EDSA, and even faced cases filed by losing bidders.
"When did Ping resolve this? It was halfway through President FVR's (Fidel V. Ramos') term. So he did something positive for the country and he had to undergo the nightmare of all of this litigation just to do the right thing," Aquino said.
He also recalled that foreigners had told him that he was being "courageous" for pursuing projects that would only show results long beyond his term, like the Conditional Cash Transfer program or 4Ps.
"But you're going to invest in that aspect," Aquino said. "There, I keep saying, I hope that most of our people recognize: first they have tangible benefits right now. But assuming we would finish that first batch – they finish high school, they have marketable skills. And then they uplift already their particular family. And then he, in turn, would be able to afford an even better level for his children. Then that becomes a permanent thing," he said.
He added: "We really are uncomfortable in saying we will eliminate poverty and then go into a program that goes for four months, three months, two months, six months, as limited value, or just tackles a particular aspect of the multifaceted problem. We wanted that complete solution, so PPP, the universal health, peace and order situation, the diplomatic efforts, the efficiency in putting up infrastructure."
There was this congresswoman from Negros Island, he said, who suddenly lay down, and then rolled over, a newly finished road that was finally built in her district, after decades of waiting. There was also that bridge in Isabela that was only rebuilt in 2015 – 20 years after it was destroyed by a typhoon.
"What really made me smile a lot of times is when people say, they never imagined that they'd be getting what they were getting during our watch," he said.
Aquino's approach to solving problems can be likened to how he organized his Music Room. In the Rappler exit interview in May 2016, Aquino said that the first thing he would do after he left Malacañang was to fix his Music Room, which would house his music collection, at their family residence.
A year later, the room was still being organized. He had about 6,600 albums at the time, which were still being divided into genres and subsets. Jazz albums, for example, were classified into subcategories like Brazilian jazz. The process is painstaking but the outcome is supposed to be perfect and not subject to further major changes.
'I did everything I could'
During the 2017 Rappler Talk, Rappler CEO Maria Ressa asked Aquino to react to all the changes in the year he had been out of power, compared to the time he was president. He said he was briefly "shocked" when "alternative media" – in the context of the 2016 election results – supposedly made it appear that Filipinos hated him and his administration. But he had his own practical way to verify this claim.
"For a short time, I was surprised. Perhaps I was surprised, shocked, I was convinced by the alternative media that yes, everybody hates us so much. [But] all I have to do is just step outside. How many people will want a picture taken? How many people say thank you? How many people chase my car just to say, 'Sir, I'm so lucky I saw you'," he said.
Aquino used this practical tool when he was in places where, he said, people "were not as warm to me as others."
Toward the end of the interview, Aquino volunteered how he self-assessed himself when he was president.
"There was a point in time where I was trying to calculate the effect of all the stresses that we all have to undermine, say, in my motto: If I can go to my bedroom at night, and before turning in, look at myself in the mirror, or when I wake up and I look at myself in the mirror, I can honestly say, 'I did everything I could.' Then, I'm sure I will have a restful night and be refreshed for tomorrow's new set of necessary and unnecessary issues and problems," he said.
Aquino apparently kept this mindset in the years that followed, amid the relentless attacks against him and his legacy. His sister, Pinky Aquino-Abellada, mentioned this in the family's statement confirming his death on Thursday, June 24.
"Masakit para sa amin na tahimik niyang tinanggap ang mga batikos. Natatak sa aming mga magkakapatid na noong sinabihan namin siyang magsalita at labanan ang mga maling haka-haka, simple lang ang sinagot niya sa amin: Kaya pa niyang matulog sa gabi," Abellada said.
(It pained us that he took the attacks quietly. When we told him that he should speak out and fight the false rumors, his response to us was simple: He can still sleep at night.)
'Unappreciated' no more
It's unfortunate that the "unappreciated" Aquino – as his friend and ally Senator Panfilo Lacson had put it – did not get to see the outpouring of love and gratitude for his years at the helm of the nation, which was at great cost to his personal well-being and even his love life. In a 2012 roundtable interview with my former publication, BusinessMirror, he told us that he wasn't keen on having a first lady as he didn't want anyone to "become a magnet of all the criticisms" from people who "are not accountable for what they say," or anonymous netizens. He seemed to have made up his mind then, even when his popularity was at an all-time high.
Remember, too, that he was a genuinely reluctant presidential candidate; one of the things he looked forward to while president was stepping down from office so that he could again browse in a bookstore or drive to Tarlac on a whim, without all the requisite fuss.
Following his death, personalities – including non-allies – as well as institutions, and foreign governments and leaders backed up everything he had reported to the nation in his final days as president: millions of people unshackled from poverty, a beefed-up military, cleaner government, respect from the international community, and a reinvigorated economy, among other achievements.
The Department of Foreign Affairs said Aquino "left a remarkable legacy on our country's foreign policy and national history" as he "elevated the country's conduct of foreign relations, steered foreign policy towards a principled direction that earned international respect and esteem, and invigorated the foreign service with a collective sense of patriotism, commitment to service, and professionalism."
The Department of Social Welfare and Development described Aquino as a "diligent and dedicated public servant" whose "passion to serve the public was unparalleled."
"This was seen through his 'Daang Matuwid' leadership which ensured that government reforms and policies will be made to improve the lives of the poor, marginalized, and vulnerable sectors of society," the DSWD said.
The Commission on Population and Development recalled Aquino's role as a reproductive health champion, as he supported the reproductive health law in 2012 amid pressure from the Catholic Church and anti-RH advocates.
The Philippine Stock Exchange, Incorporated also honored Aquino, saying that the stock market "recorded several milestones" during his term as his "policies transformed the Philippines from a high credit risk to an investment grade rating country starting in 2013." For the Financial Executives Institute of the Philippines, "the Philippines transformed into a rising star in Asia" under Aquino.
The Zobels, through Ayala Corporation, said Aquino's "legacy of transparent governance, the patient deliberation of policy, and firm stance on championing the welfare of the Filipino will be his indelible mark in our nation's history."
There were attempts to negate the tributes to Aquino but these were no match to the torrent of social media posts honoring the late president and offering words of comfort for his family, and the long line of ordinary folks at his wake on Friday, June 25. Many people have also posted either photos of Aquino or selfies with him – passing his personal gauge of appreciation.
In his homily at the funeral Mass for Aquino, Archbishop Soc Villegas offered a salve to Aquino's inconsolable family, friends, and supporters: he was in a far better place now where there's no fake news "and trolls are dead."
The validation of Noynoy Aquino's legacy has finally come, but he's no longer around to revel in it. Not that he would have. For Aquino, what always mattered was the "tangible" end result, even if it meant getting robbed of credit. – Rappler.com