The city has been rocked by social and political changes, leading to an anxious wait for what its future holds
On the surface, Hong Kong doesn't appear to be a city in decline. Towering skylines crammed together besides worn apartments and colonial architecture. Verdant green peaks act as a backdrop, while dazzling waters connect to the outlying islands. On a good day, Hong Kong's buzzing inner-city character, created by both local and international influences, make it Asia's finest city.
But Hong Kong's boat full of buzz is sinking into anxiety. The city has been rocked by social and political changes, leading to an anxious wait for what its future holds.
Exodus begins
Since the national security law was passed – curtailing pro-democracy demonstrations and freedom of speech – thousands of Hong Kong residents have contemplated their future within the city.
An exodus appears to be slowly taking place.
The UK has offered approximately 3 million residents who hold a British National Overseas (BNO) passport a path to residency, and around 200,000 residents are set to move according to Foreign Office estimates, reported Financial Times.
Other countries such as Taiwan, Japan, Australia, and Canada have also offered support for fleeing residents.
E, 28, had prepared for the outcome.
"My family and I renewed our BNO [passports] last December. We weren't so sure how things would go then, (but) I would probably leave Hong Kong with a heavy heart…. It's like jumping off a sinking ship," she said.
According to a survey conducted by the University of Hong Kong, three-quarters of Hongkongers who participated are having negative thoughts due to the protests and pandemic. In addition, up to 40% have symptoms of post-traumatic stress disorder, reported the South China Morning Post.
Shirley, 48, explained the changes are a daily struggle.
It's been very painful to watch what our home has become. Some days you just want to scream, pack your stuff and get out of the city.
Shirley, Hong Kong resident
Over 29,000 left the territory in 2019, but numbers are expected to increase significantly in 2020 amid the security law.
Stress on the press
Before the protests began in 2019, media companies have had a fairly free rein within the former British colony.
But as the protests got worse, so did the incidents with the press. Dozens of reports state journalists have been injured, harassed, and intimidated. Now the new security law has raised questions whether press freedom will be safeguarded.
And there has been no assurance from controversial Chief Executive Carrie Lam.
"It is not a question of me standing here to give you a guarantee of what you may or may not do in the days and weeks and years ahead…. We need to prevent and curb and punish in accordance with the law," Lam recently said.
The feeling now is that journalists are also being targeted at an international level.
Several have recently been refused entry to Hong Kong, while those already living in the city have also had visa renewals denied.
Recently, Irish journalist Aaron McNicholas – who has lived in Hong Kong since 2014 – was denied a visa transfer for an editor's role with Hong Kong Free Press after a 6-month wait.
And according to local media outlets, a national security unit within the Hong Kong Immigration Department is now verifying work visas for journalists.
In July, the New York Times confirmed it was relocating staff from Hong Kong to Seoul as a result of the national security law.
Business operations, restrictions in education
The business appeal in the city seems to be floundering too. A recent survey said nearly 4 in 10 members of the American Chamber of Commerce are considering relocating. Thirty-nine percent said they are moving capital, assets, or operations away from the city.
"Business sentiment is down and some people don't feel as safe living here as before," said Johan Nylander, author of The Epic Split: Why 'Made in China' is going out of style, which is due to be published in the coming weeks
Inside the city, the catalogues of Hong Kong's recent chronicles are also shifting.
Shortly after the security law became active, pro-democracy books were removed from libraries and protest slogans were banned. Educational methods and teaching curriculum are also coming under scrutiny.
"Some subjects I teach involve discussion and they won't be so open," one international teacher said.
But some teachers have admitted they are considering quitting altogether, despite earning over US$9,000 per month.
"I have had many conversations with teachers thinking about their long-term plans. I am considering leaving," one international teacher said.
Self-censorship, arrests
Self-censorship on social media in Hong Kong has increased because of the new security law, with protesters scrubbing history from their social media accounts. Furthermore, local authorities are monitoring posts for any violations.
Tony Chung, 19, of activist group Studentlocalism was the first political figure arrested under the law on charges of inciting secession via social media. Chung was later released and ordered to remove the posts.
Yet the arrest that made the biggest headline was on August 10, when Jimmy Lai, media mogul and owner of pro-democracy newspaper Apple Daily, was arrested from his home under "foreign collusion" charges.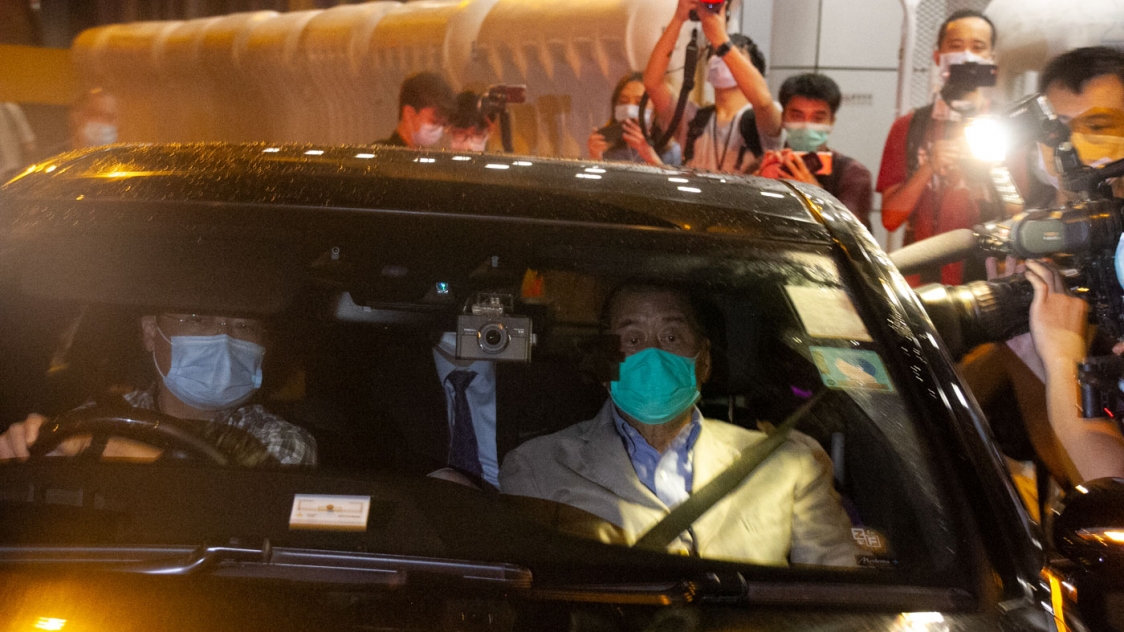 A day later, former Demosisto activist Agnes Chow, 23, was arrested from her home. Chow's face as she looked glaringly from inside a police vehicle epitomized the moment Hong Kong finds itself in: anxious and with fear of the unknown.
Both were later bailed, but these arrests indicate a silent nudge from the government. Self-censor or you'll be next.
Police state?
It didn't help matters among locals when the Hong Kong Police Force recently attempted to downplay a violent attack that took place against pro-democracy protesters at a train station in Yuen Long in July 2019. Footage suggested white-clad triad gangsters were responsible, while police were late to arrive on the scene.
The numbers of officers often outnumber protesters during demonstrations this year. Policing is needed to monitor social distancing laws because of the pandemic, but the intimidation is also clear to many.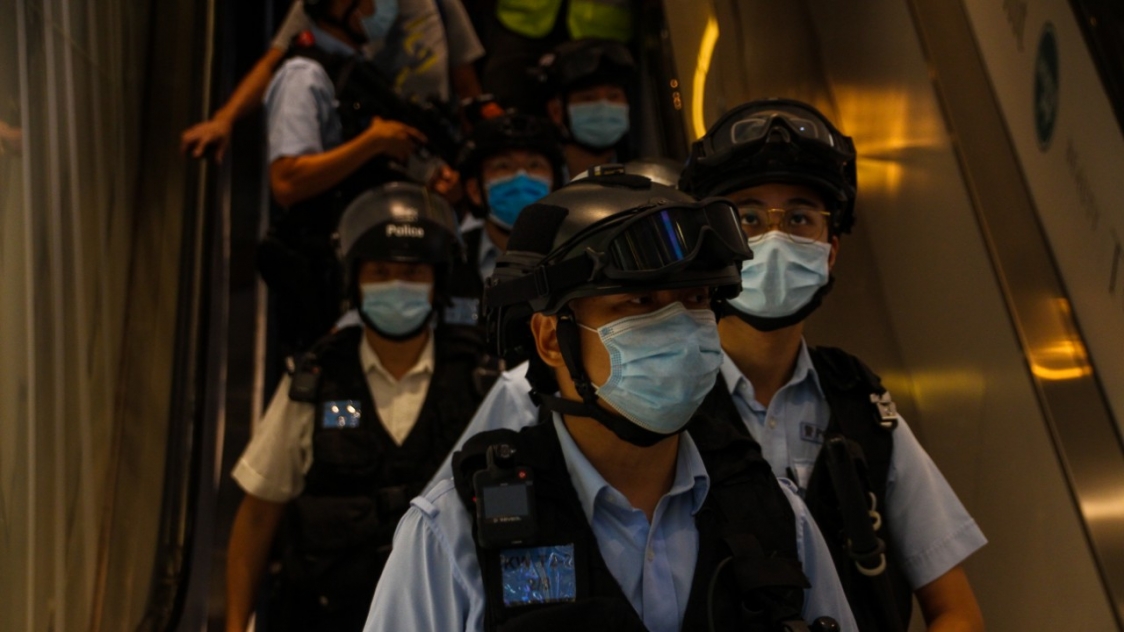 Strain on international relations
Article 38 of the security law outlines even non-Hong Kong residents overseas can inadvertently break the law, suggesting that future numbers of arrivals may be affected.
As of June, tourism had dropped by 99.7%, according to the Hong Kong Tourism Board.
Furthermore, the US, UK, Canada, Australia, and New Zealand have removed extradition agreements with Hong Kong, straining international relations that may spiral in the future.
Although 2019 showed tear gas filled streets and urban clashes, it is this year that has endured the most sweeping changes to Asia's once deemed "world city."
The city's decline may not be obvious to some, but one only has to say the wrong thing to learn the ramifications of what Hong Kong is becoming. – Rappler.com
Tommy Walker is a freelance multimedia reporter and correspondent. He covers news, politics, health, and travel, and has reported on events and stories relating to North Korea, Colombia, Venezuela, France, and Russia. He is based in Hong Kong.