Andrew Kirkwood, UN acting resident coordinator in Myanmar, says the rate of poverty in the country is something 'that we have not seen in Myanmar for at least 20 years'
The United Nations' top humanitarian official in Myanmar painted a bleak picture of the embattled Southeast Asian country, as he said that nearly half of the population lived in poverty since the February military takeover.
Andrew Kirkwood, UN acting resident and humanitarian coordinato in Myanmar, told reporters that over 20 million people are now living below the poverty line there.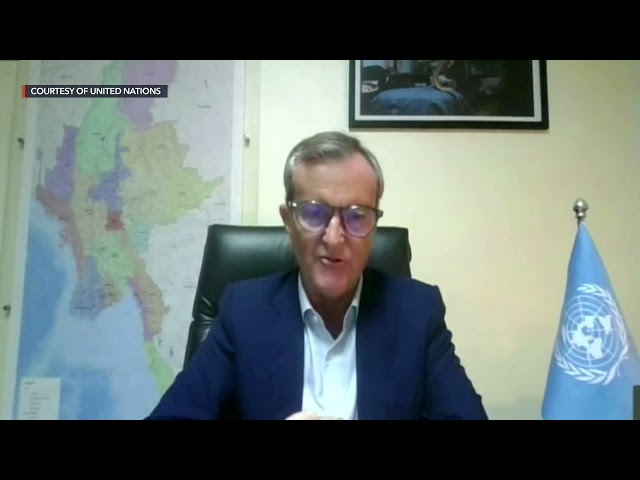 He gave the virtual address to reporters past midnight on Friday, October 1 (Manila time), from his office in Yangon.
"We use the term crisis a lot in this world, but I really want to emphasize now that the people of Myanmar are really living in a severe crisis at the moment, no matter how one defines that," Kirkwood said.
"There are now 20 million people living below the poverty line, nearly half the population. And that's a rate of poverty that we have not seen in Myanmar for at least 20 years," he added.
Myanmar has been in turmoil since the military seized power on February 1, ending a decade of tentative democracy and prompting outrage at home and abroad at the return of military rule.
Kirkwood said Myanmar residents have to deal with "a crisis, on top of a crisis with yet another crisis on top of that" with the alleged abuses of the junta compounding the crippling impact of the coronavirus pandemic.
He said the number of people in need of humanitarian aid in Myanmar ballooned from 1 million to 3 million since the junta took control of the government.
The UN has provided food and cash assistance to over 1.4 million people, while 660,000 residents have received various protection-related services in conflict areas. Over 260,000 people were also given temporary shelters, while another 330,000 were given access to potable water.
Kirkwood admitted that this aid was not enough. COVID-19 restrictions and other border control issues have hampered the delivery of humanitarian assistance to the people of Myanmar.
He appealed to world leaders to do everything they can to help boost the humanitarian aid efforts in Myanmar, including increasing funds.
Kirkwood said they have requested a total of $385 million to provide humanitarian aid but only about $128 million has been released.
"I guess what I'm really saying is that we are saving lives, we are making a difference in people's well-being, but we're also quite frustrated that these numbers aren't higher and we aren't able to reach all of the 3 million people who we know need the humanitarian assistance," said Kirkwood.
His remarks on Friday is consistent with the report of UN High Commissioner for Human Rights Michelle Bachelet, who warned of a "human rights catastrophe" happening under military rule in Myanmar.
Bachelet said some of the junta's violations in Myanmar may amount to war crimes and even crimes against humanity, arguing that military authorities are showing no signs of any effort to address the abuses.
As political turmoil continues to grip Myanmar, no one was able to represent the Southeast Asian country during the high-level debates among world leaders at the 76th UN General Assembly. – Rappler.com
Rappler multimedia journalist Mara Cepeda is a 2021 fellow of the Reham Al-Farra Memorial Journalism Fellowship. She will be virtually covering the 76th United Nations General Assembly, foreign policy, and diplomacy during the program.