WHAT YOU NEED TO KNOW
As vaccine news brings hope to the world, here in our region, countries with success stories like Vietnam are seeing an uptick in coronavirus cases, leaving officials scrambling to prevent wider outbreaks.
Will a proposed ASEAN travel bubble push through in early 2021?
In the Philippines, one of the countries with the longest lockdowns in the world, minors may soon be allowed to leave their homes and enter malls as long as they are accompanied by their parents.
We bring you the latest from across the region on Dateline Southeast Asia, our dynamic wrap of the latest from 10 countries each week.
Bookmark and refresh this page for updates and analyses of the latest news in Brunei, Cambodia, Indonesia, Laos, Malaysia, Myanmar, the Philippines, Singapore, Thailand, and Vietnam.
LATEST UPDATES
INDONESIA: Police shoot dead 6 supporters of firebrand cleric
At least 6 supporters of a firebrand Indonesian Muslim cleric were shot dead Monday, December 7 as they tried to reach a police station where their leader was to be questioned, Jakarta's police chief said Monday.
Fadil Imran said police were forced to defend themselves when 10 supporters of Rizieq Shihab attacked them at a toll road some 50 kilometers east of the capital Jakarta.
"When our officers were following the cars of followers, they came closer and attacked us using guns and sharp objects," Imran told reporters.
Police officers shot in response, leaving 6 people dead, he added. Four others managed to escape during the early morning shootout.
Shihab was due to be questioned Monday for allegedly violating coronavirus restrictions last month when tens of thousands of his followers gathered at his home to attend the wedding of his daughter.
The charismatic leader of the Islamic Defender Front (FPI) had only returned to Indonesia days earlier from Saudi Arabia, to where he had fled in 2017 after police named him as a suspect in a pornography case.
Tens of thousands of his supporters had also flocked to Jakarta's main airport to welcome him home, defying coronavirus regulations banning crowds.
Shihab was a key figure in a series of mass rallies in Jakarta in 2016 against then governor Basuki Tjahaja Purnama over allegations he insulted the Koran.
Basuki, a Christian of Chinese descent, was sentenced to two years in prison for blasphemy.
Indonesia receives first batch of COVID-19 vaccine from China's Sinovac
Indonesia gets its first shipment of a coronavirus vaccine from China's Sinovac Biotech on Sunday, December 6, as the government prepares a mass inoculation program.
Reuters reported on Monday, December 7, that Indonesia received 1.2 million doses of Sinovac Biotech's vaccine, which Indonesia has been testing since August.
The government is set to receive another 1.8 million doses in early January.
VIETNAM: Locally-made COVID-19 vaccine to start human trials`
According to a report in Vietnam+, human trials for a COVID-19 vaccine made by local company Nanogen will begin on Thursday, December 10.
Other Vietnam-made vaccines from Ivac and Vabiotech are also making progress in their respective laboratories. Minister of Health Nguyen Thanh Long urges these companies to speed up their work, and promises to help them get capital.
INDONESIA: Social affairs minister arrested over pandemic aid corruption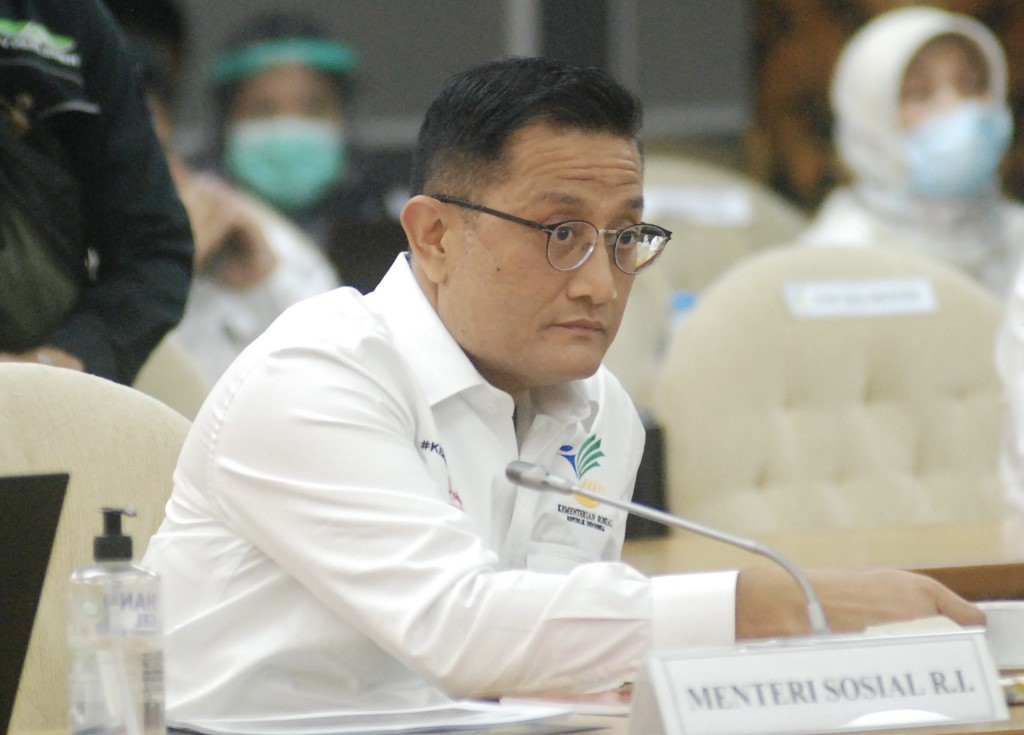 This picture taken on September 23, 2020 shows Indonesia's social affairs minister Juliari Batubara delivering a report in parliament in Jakarta. Photo by Bambang Tri/AFP
Indonesia's social affairs minister was arrested on Sunday, December 6, for allegedly taking $1.2 million in bribes linked to food aid for those hit by the coronavirus pandemic.
Juliari Batubara was named as a suspect after Indonesian anti-corruption agents seized suitcases, backpacks and envelopes stuffed with cash equivalent to $1.2 million in a sting operation on Saturday.
He turned himself in on Sunday at the anti-corruption agency's headquarters, becoming the second minister in President Joko Widodo's government to be arrested over alleged graft in recent weeks. Read more about this story here.
INDONESIA: UK ambassador summoned over Papua separatist leader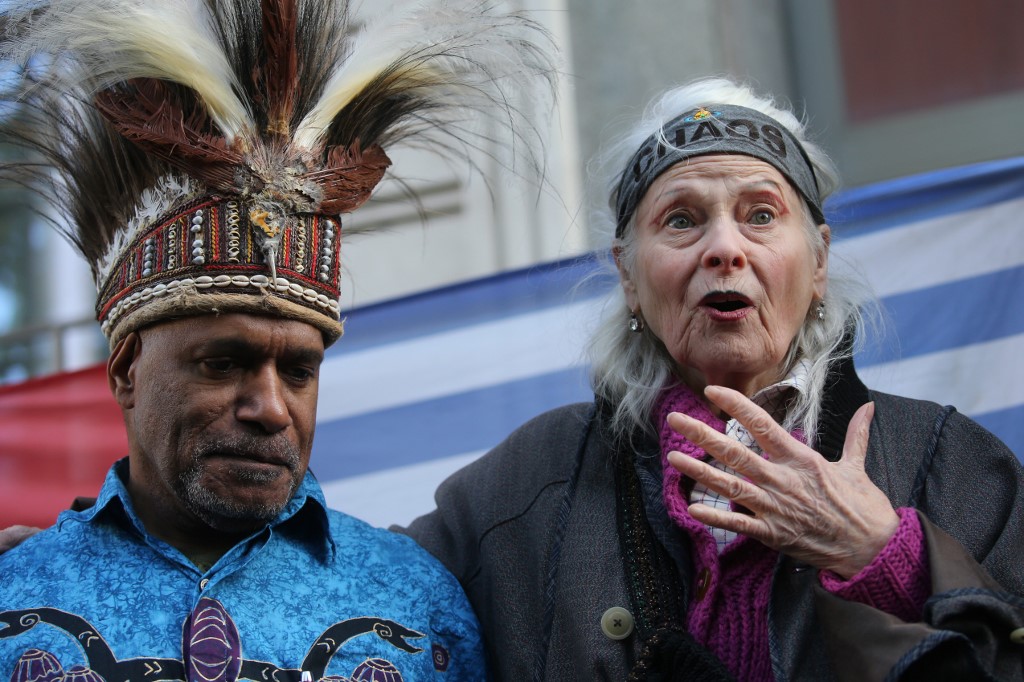 Stock photo shows British designer Vivienne Westwood (right) with West Papua activist Benny Wenda during a protest action to highlight the exploitation of the West Papua rainforest on October 18, 2019. Photo by Isabel Infantes/AFP
Indonesia has lodged a formal protest with Britain after a UK-based separatist leader announced an interim government-in-exile for the restive Papua province.
Mineral-rich Papua, Indonesia's easternmost province, has been dealing for decades with a low-level separatist insurgency, as well as poverty and communal tensions.
Benny Wenda, leader of a pro-independence group, this week declared himself the president of a new interim government in Papua, but an infuriated Jakarta dismissed his claim. Read the complete story here.
Malaysian goldsmiths mold a profit out of pandemic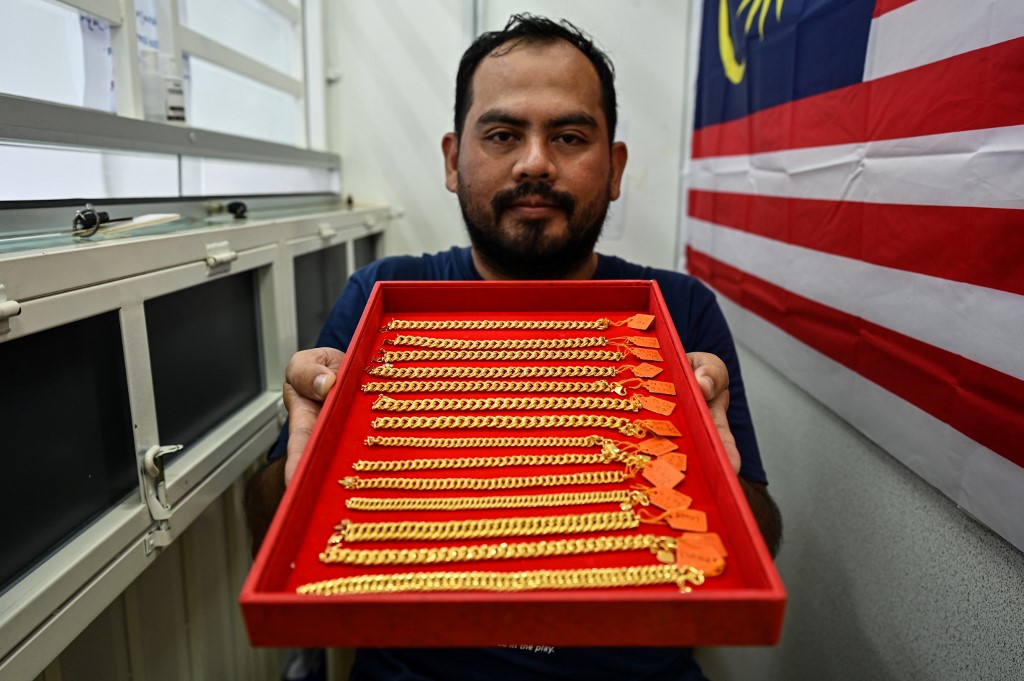 In a backroom workshop in Malaysia, goldsmiths with blowtorches and chisels sit at wooden desks as they melt and mold the precious metal into glittery jewelry.
Demand for the safe-haven commodity has soared during the coronavirus pandemic and it is not only professional investors who are cashing in, but small businesses too.
The Makmur Gold company, which is based in northern Kelantan state and mainly makes jewelry, has enjoyed brisk business this year even as the Southeast Asian nation's economy fell into recession. Read the story here.
ASEAN trivia: The Myanmar flag
Did you that the current flag of Myanmar was first officially raised in October 21, 2010?
THAILAND: 'Rubber duck revolution' takes off in Bangkok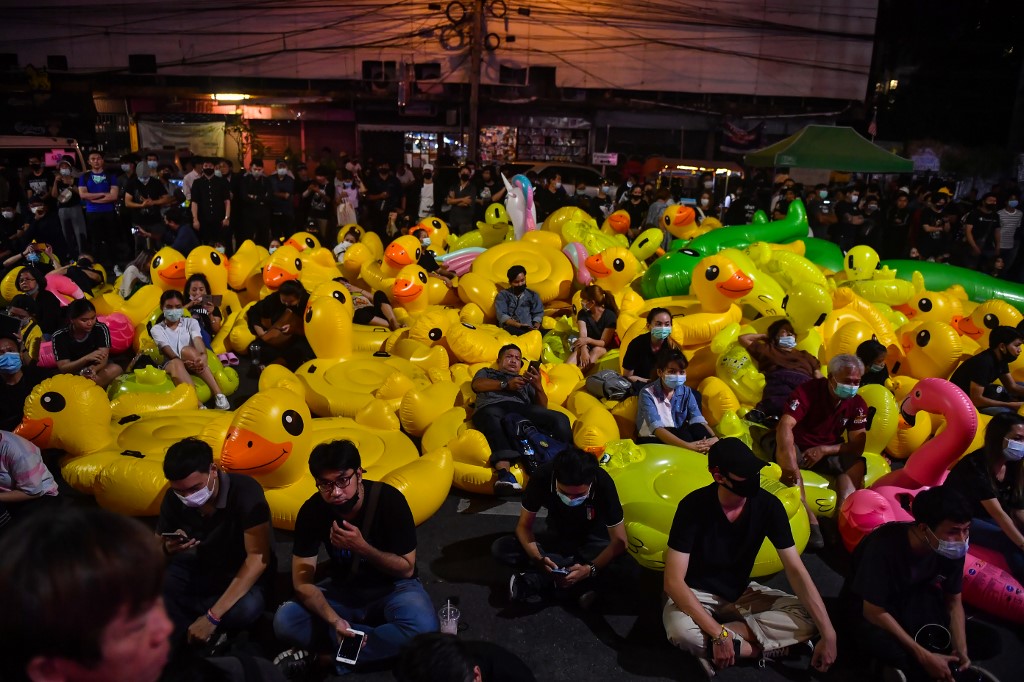 RUBBER DUCKIE REVOLT. Pro-democracy protesters rest on large inflatable ducks during an anti-government rally at Lat Phrao intersection in Bangkok on December 2, 2020. Photo by Lillian Suwanrumpha/AFP
Bangkok has been gripped by a rubber duck frenzy since pro-democracy protesters used giant inflatables to shield themselves from water cannon spray last month.
When police mounted a crackdown on a November rally, deploying tear gas and water cannon outside parliament, footage of demonstrators hiding behind giant ducks went viral.
Within days, duck-themed paraphernalia became a staple among street vendors at protests, the birds featuring on everything from hats to hair clips. Read the story here.