WHAT YOU NEED TO KNOW
Indonesia, the country worst hit by the coronavirus in Southeast Asia, welcomed the New Year with news that mass vaccinations for COVID-19 will begin in the country on January 13.
The vaccination program will launch in Jakarta, and no less than President Joko Widodo is set to be given the first shot. Indonesia has received 3 million doses of CoronaVac, the vaccine made by China's Sinovac Biotech.
Meanwhile, Cambodia has started relaxing its six-week lockdown, in contrast to some of its neighboring countries that are facing new COVID-19 restrictions.
Bookmark and refresh this page for updates and analyses of the latest news in Brunei, Cambodia, Indonesia, Laos, Malaysia, Myanmar, the Philippines, Singapore, Thailand, and Vietnam.
LATEST UPDATES
China's top diplomat visits Myanmar in Southeast Asia tour, promises vaccines
THAILAND: Palace photos show king, royal consort visiting prisons, sweeping floors
Thailand's palace has released photographs of King Maha Vajiralongkorn visiting prisons with his royal consort, Sineenat Wongvajirapakdi, as the royal family steps up public appearances following mass protests demanding reforms to the monarchy.
In a segment on the nightly royal bulletin on state and private TV channels on Saturday, January 9, the king and his consort – restored to her position last year after having been disgraced and stripped of her titles – are shown inspecting projects in jails across Thailand.
They are photographed sweeping floors and speaking to officials during the last two months of 2020, and the segment also featured interviews with inmates speaking about the benefits of the projects.
Such appearances have become more common since the king returned to Thailand with Queen Suthida and his entourage amid unprecedented protests calling for changes to the monarchy and the resignation of the military-backed prime minister.
Demands for the ouster of Prime Minister Prayuth Chan-ochua and curbs to newly expanded powers of the king broke a long-standing taboo in a nation where conservative tradition views the monarch as semi-divine and above criticism.
The palace has made no official on months of protests, although the king, when asked late last year what he would say to those demonstrating, told Channel 4 News that "We love them all the same."
Soon after arriving back from Europe, where he spent most of 2020, the King, Queen Suthida and his daughters set out on visits around Thailand, sometimes posing for selfies and signing royal pictures.
The 35-year-old royal consort, Sineenat, joined some of the events.
After his coronation in 2019, the king conferred the title Royal Noble Consort on Sineenat, a former nurse, before stripping her of her titles for being "disloyal" in what an official statement at the time described as a rivalry with the queen.
Her titles were restored in September, and she was publicly declared "untainted" in another official statement.
INDONESIA: Authorities name first plane crash victim, step up 'black box' hunt
Indonesia identified a victim from the Sriwijaya Air crash on Monday, January 11, as emergency crews prepared to send in a remotely operated underwater vehicle to search for the jet's cockpit recorders in the sea.
The Boeing 737-500 plane with 62 people on board plunged into the Java Sea two days ago, minutes after taking off from Jakarta's main airport.
Divers scoured the sea bed on Monday, retrieving human remains, personal possessions and pieces of plane wreckage until fading light ended the search, emergency officials said.
Okky Bisma, a flight attendant on the plane, was identified by his fingerprints, a police official told reporters
Read more here.
MALAYSIA: Gov't imposes 2-week lockdown as virus spread strains hospitals
Malaysia's Prime Minister Muhyiddin Yassin on Monday, January 11, announced a nationwide travel ban and a 14-day lockdown in the capital and 5 states, as the country grapples with a surge in coronavirus cases that threaten to overload its healthcare system.
Malaysia was among the first nations to impose strict movement curbs in March during the early stages of the pandemic, which helped keep transmission down but led to its first economic contraction in a decade in the second quarter.
Health officials say the current wave of infections that started in September could see daily cases grow to as many as 8,000 by May if strict curbs are not imposed.
"Our healthcare system is at a breaking point," Muhyiddin said in a live televised address.
The number of new daily infections breached the 3,000 mark for the first time last week, while total coronavirus cases passed 138,000 on Monday, with 555 deaths overall.
The lockdown in the capital Kuala Lumpur and 5 states, which takes effect at midnight on Wednesday, January 13, will bar all social activities and interstate travel nationwide.
Muhyiddin said businesses in 5 essential economic sectors can operate, involving factories and manufacturing, construction, services, trade and distribution and plantations and commodities sectors, but at reduced capacity.
Supermarkets, banks and health clinics can remain open, while restaurants can offer only take-out services.
To build herd immunity, Malaysia aims to vaccinate 70% of its population of about 32 million.
The first batch of vaccines jointly from Pfizer and BioNTech, which Malaysian regulators have just approved, are expected to arrive by the end of February, Muhyiddin said.
Earlier on Monday, Malaysia announced the purchase of 12.2 million more doses of the Pfizer-BioNTech vaccine, on top of 12.8 million already secured.
It has also booked supplies from AstraZeneca and via the COVAX facility, and is in discussions with China's Sinovac and CanSino and Russia's Gamaleya institute for additional supply.
MALAYSIA: Muhyiddin denies cancer rumors amid power struggle
The office of Malaysian Prime Minister Muhyiddin Yassin, who is grappling with discontent in his ruling coalition, denied on Monday, January 11, that he was undergoing treatment for cancer.
Muhyiddin was declared free of cancer in June after being diagnosed with pancreatic cancer in 2018.
His premiership has been occupied with managing the coronavirus pandemic, with cases surging past 135,000 total infections including 551 deaths as of Sunday, January 10.
"Rumors saying that the prime minister requires treatment for cancer are not true and are ill intentioned," Muhyiddin's office said in a statement.
Muhyiddin took office in March and has remained in power with a slim parliamentary majority, but faces increasing pressure from the United Malays National Organization (UMNO) former ruling party, the largest bloc in his ruling pact and whose leaders are unhappy playing second fiddle to the premier's smaller Bersatu party.
One UMNO lawmaker declared on Saturday, January 9, would no longer support the government, potentially leaving Muhyiddin with a hung parliament.
Local media on Monday also reported that Muhyiddin would appoint a deputy prime minister from UMNO in a bid to stop more of their lawmakers from abandoning his coalition.
His office denied the reports.
INDONESIA: Gov't approves China's Sinovac vaccine as infections surge
Indonesia gave Sinovac Biotech's COVID-19 vaccine its first emergency use approval outside China on Monday, January 11, as the world's fourth most populous country launches nationwide inoculations to stem surging infections and deaths.
A lack of data and varying efficacy rates reported for the vaccine from different countries could undermine public trust in the rollout, according to public health experts.
Interim data from a late-stage human test of CoronaVac showed it is 65.3% effective, Indonesia's food and drugs authority BPOM said – lower than figures in Brazil and Turkey which have yet to launch mass vaccinations.
"These results meet the requirements of the World Health Organization of minimum efficacy of 50%," BPOM head Penny K. Lukito told a news conference.
Read more here.
INDONESIA: Clerics declare Sinovac's COVID-19 vaccine halal
A COVID-19 vaccine produced by Sinovac Biotech is deemed halal, or permissible under Islam, the Indonesian Ulema Council said on Friday, January 8, days before the country is scheduled to start its inoculation program using the Chinese vaccine.
Indonesia, the world's largest Muslim-majority country, has 3 million doses of CoronaVac and plans to use it when it starts its vaccination program on Wednesday, January 6, with President Joko Widodo due to receive the first shot.
Asrorun Niam Sholeh of the council's fatwa commission told a news conference that Sinovac's CoronaVac was "holy and halal," although authorization for its use still rests on Indonesia's food and drug agency (BPOM).
"This could be the information that could soothe the people, especially Muslims," Niam said.
Indonesia is struggling with the worst COVID-19 epidemic in Southeast Asia and authorities are relying on a vaccine to help alleviate the health and economic crises ravaging the country.
It confirmed a record daily rise in COVID-19 cases for the third consecutive day on Friday, reporting more than 10,000 daily infections for the first time and passing the 800,000 mark in cases, among the highest number in Asia.
It reported 10,617 new infections on Friday, taking total cases to 808,340. It has recorded 23,753 deaths.
Regulator BPOM has said it is hopeful that emergency use approval for CoronaVac, which depends on the results of the vaccine's Indonesian trials, will be issued before Wednesday, January 13.
CoronaVac was 78% effective in a late-stage Brazilian trial with no severe COVID-19 cases, researchers said on Thursday, January 7.
INDONESIA: New daily COVID-19 record reported, total cases top 800,000
Indonesia reported on Friday, January 8, a record daily number of new COVID-19 cases for the third successive day with 10,617 infections, bringing the total to over 800,000, data from the country's COVID-19 task force showed.
The Southeast Asia biggest country also reported 233 new COVID-19 deaths, taking that total to 23,753.
SINGAPORE: PM receives first dose of COVID-19 vaccine
Singapore Prime Minister Lee Hsien Loong received the first shot of a vaccine against COVID-19 on Friday, January 8, the 68-year-old said in a Facebook post sharing a video of him being injected in the arm at a local hospital.
Singapore has so far only approved Pfizer-BioNTech's vaccine but has said it has also secured enough doses for its 5.7 million population including from other vaccine-makers like Moderna and Sinovac.
"We got vaccinated early to show Singaporeans we are confident that the vaccine is safe and effective," Lee said, adding that he had been vaccinated alongside the country's top health official, Kenneth Mak.
MALAYSIA: Record jump in COVID-19 cases amid fears of new lockdown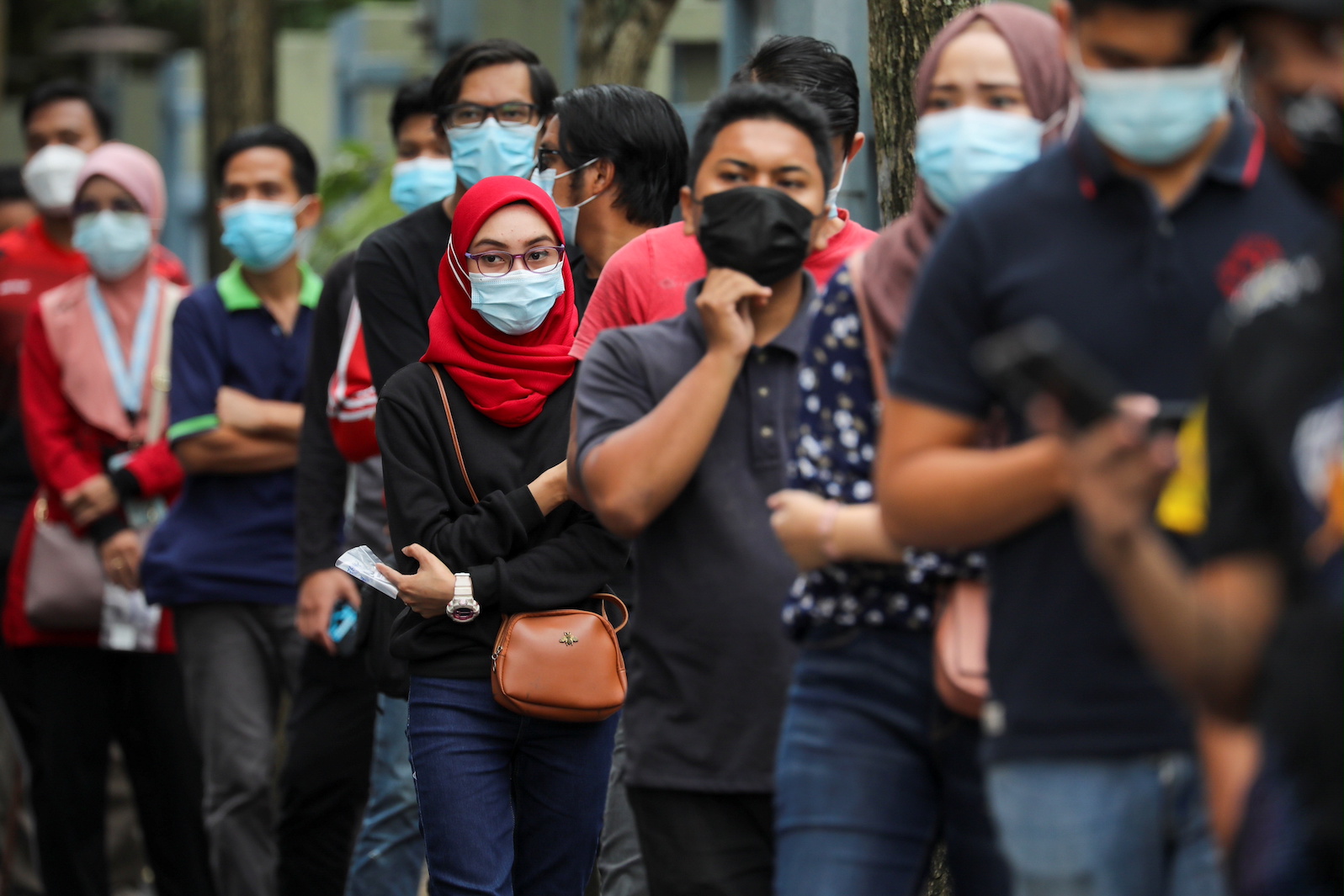 People wait in line to be tested for the coronavirus disease (COVID-19) in Shah Alam, Malaysia January 7, 2021. Reuters/Lim Huey Teng
Malaysia reported its biggest daily rise in coronavirus cases on Thursday, January 7, as the government considered imposing restrictions in some areas, while businesses warned that another nationwide lockdown would further batter the economy.
A jump in infections has spooked investors, with the Kuala Lumpur stock index falling as much as 1.2% on Thursday, a day after authorities said the rise in cases was straining the health system.
The government was considering targeted lockdowns in parts of the country in response, Director-General of Health Noor Hisham Abdullah had said on Wednesday.
The Federation of Malaysian Manufacturers said that it supported a partial lockdown but that wider restrictions could cripple businesses already impacted by the pandemic.