This is AI generated summarization, which may have errors. For context, always refer to the full article.
Data Greenpeace: Asia Pulp & Paper (APP) miliki jumlah konsesi dengan titik api terbanyak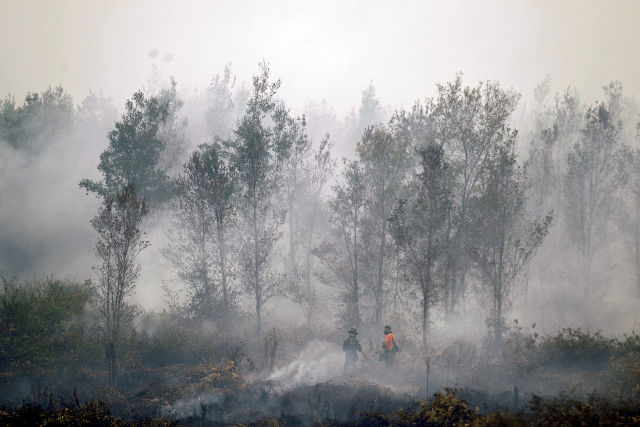 JAKARTA, Indonesia — Kabut asap akibat kebakaran hutan dan lahan Indonesia yang terjadi sejak lebih dari dua bulan lalu berpusat di Sumatera dan Kalimantan.
Namun menurut hasil penelitian Greenpeace, saat ini terjadi kenaikan jumlah titik api di Papua secara signifikan. Dari setidaknya 112.000 titik api sejak 1 Agustus hingga 26 Oktober, 10 persennya berada di Papua.
"Salah satu yang paling mengkhawatirkan adalah sepuluh persen titik api ditemukan di Papua, wilayah terbaru bagi pengembangan industri perkebunan," ujar juru kampanye hutan Greenpeace Indonesia Teguh Surya saat acara peluncuran hasil penelitian Greenpeace di Jakarta, Kamis, 29 Oktober.
"Kebakaran pada skala ini belum pernah terjadi sebelumnya di Papua."
Jumlah titik api yang ditemukan di Papua bahkan lebih banyak dari pada jumlah titik api di Provinsi Riau, wilayah dengan titik api terbanyak pada tahun-tahun sebelumnya.
"Kita tahu Papua itu seperti last frontier bagi hutan tropis di Indonesia karena Papua memiliki tutupan hutan paling luas di Indonesia. Ini menunjukkan deforestasi Papua mulai masif," demikian penjelasan juru kampanye hutan di Greenpeace Indonesia Yuyun Indradi dalam acara yang sama.
Menurut penuturan Yuyun, terdapat hubungan yang kuat antara jumlah titik api yang meningkat di Papua pada tahun ini dengan proyek pemerintah untuk mengembangkan pertanian di Papua, yaitu proyek Merauke Integrated Food and Energy Estate (MIFEE).
"Dari pernyataan-pernyataan Pak Presiden, beliau ingin meneruskan proyek tersebut di Merauke. Dengan meningkatnya titik api di Papua, ini memberikan sinyal bahwa pemerintah juga harus memperhatikan faktor-faktor lingkungan," tutur Yuyun.
'APP miliki jumlah konsesi dengan titik api terbanyak'

Dalam kesempatan tersebut Greenpeace juga menyebutkan bahwa titik api terbanyak berada dalam konsesi milik perusahaan Asia Pulp & Paper (APP).
Menurut Teguh, APP merupakan perusahaan dengan total luas konsesi yang terbesar, terutama di Sumatera bagian Selatan, wilayah dengan titik api terbanyak. Namun bisa jadi kesimpulan tersebut ditemukan karena APP adalah satu-satunya perusahaan yang mempublikasikan dengan akurat peta persebaran lahan konsesi mereka.
"Perusahaan lain perlu dengan sukarela mengungkapkan data dan informasi yang sama agar data kebakaran hutan dapat diketahui publik, dan dapat menggambarkan betapa buruknya situasi kabut asap yang terjadi di seluruh perkebunan," ujar Teguh.
Ketika dihubungi Rappler, pihak APP tidak bersedia memberikan keterangan lebih lanjut mengenai tanggapannya atas hasil riset Greenpeace ini.
Namun dalam pernyataan resminya, Managing Director Sustainability APP Aida Greenbury mengatakan bahwa saat ini APP dan para pemasoknya telah berusaha untuk melindungi lebih dari 500.000 hektar kawasan konservasi dan hutan alam milik mereka.
"Fokus kami sekarang adalah untuk bekerja sama dengan pemangku kepentingan lainnya, masyarakat lokal dan bisnis lainnya untuk mendukung Pemerintah dalam mencegah kebakaran dan, yang terpenting, lahan gambut dan perlindungan hutan bakau dan pelaksanaan pengelolaan praktek terbaik lahan gambut di tingkat lanskap," tulis Aida dalam rilis pada Kamis, 29 Oktober.
Berikut daftar lengkap perusahaan yang memiliki konsesi yang terbakar yang dilansir oleh Greenpeace:
—dengan laporan Antara/Rappler.com
BACA JUGA: