This is AI generated summarization, which may have errors. For context, always refer to the full article.
Kimi Raikkonen berhasil lampaui catatan rekor putaran tercepat FP2 GP China pada 2015. Rio Haryanto di posisi 19.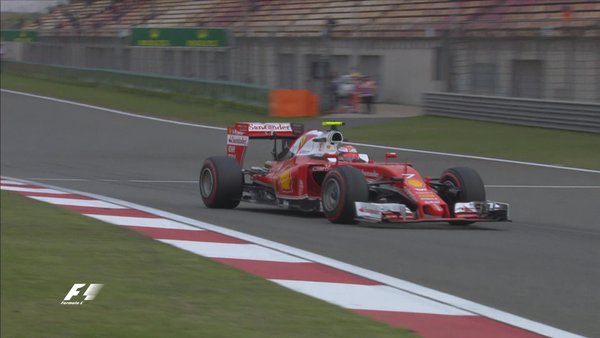 JAKARTA, Indonesia — Dengan catatan waktu 1:36.896 detik, pembalap tim kuda jingkrak, Kimi Raikkonen, berhasil menempati posisi teratas pada sesi latihan kedua (Free Practice 2, atau FP2) Grand Prix (GP) China di Shanghai International Circuit, pada Jumat, 15 April.
Rekan satu timnya, Sebastian Vettel, tertinggal di posisi kedua dengan catatan waktu 0.109 detik lebih lamban.
PROVISIONAL CLASSIFICATION: Ferraris steal the show in #FP2 at the #ChineseGP pic.twitter.com/4OiMXSnoyZ

— Formula 1 (@F1) April 15, 2016
Catatan waktu yang diukir oleh Raikkonen jauh lebih cepat dibandingkan catatan waktu FP2 GP China 2015 silam. Tahun lalu, Lewis Hamilton menjadi yang tercepat dengan catatan 1:37.219 detik.
Sang pembalap Finlandia tersebut juga menjadi yang pertama di akhir pekan ini untuk menembus batas catatan waktu di bawah 1:37.000 detik.
END OF FP2

Ferrari P1 and P2#ChineseGP pic.twitter.com/D0v9BmWQGs

— Formula 1 (@F1) April 15, 2016
Nico Rosberg, yang pada sesi FP1 menjadi yang tercepat, harus mengakui kecepatan duo Ferrari di depannya. Rosberg hanya mampu menempati posisi ketiga tercepat, tertinggal 0.237 detik dari Raikkonen. 
Pembalap Jerman tersebut menunjukkan bahwa kompon ban super soft-nya langsung turun drastis daya lekatnya hanya setelah enam putaran, dan catatan waktunya menjadi dua detik lebih lamban setelahnya.
IN PICTURES: The best photos so far from the #ChineseGP >> https://t.co/HnZ71hazgQpic.twitter.com/RdeHyTtgYX

— Formula 1 (@F1) April 15, 2016
Sesi FP2 GP China lebih banyak dimanfaatkan oleh semua tim yang berlaga untuk melakukan simulasi balapan pada Minggu, 17 April. Para pembalap melakukan long stints untuk mengetahui kinerja mobil dan durabilitas kompon ban. 
On it. @RHaryantoracing #FP2 #ChineseGP pic.twitter.com/ryXzl6eNwB

— Manor Racing (@ManorRacing) April 15, 2016
Rio Haryanto dengan mobil MRT05 Manor Racing-nya turut melakukan strategi yang sama untuk persiapan balapan pada Minggu. Sayangnya, posisi akhir di FP2-nya sedikit lebih buruk dibandingkan FP1. 
Ia hanya berada di posisi ke-19, tertinggal 3.654 detik dari Raikkonen dengan catatan 1:40.550 detik. Namun Rio berhasil menjadi yang tercepat ke-8 di Speed Trap dengan kecepatan 329.7 km/h.
Masih penuh drama di FP2
Pembalap Haas F1 Team, Esteban Gutierrez, sempat menghadirkan drama di putaran pembuka FP2. 
VIDEO Esteban Gutierrez limps back to the pits with flaming brakes >> https://t.co/rPyAMTSwXw #ChineseGP pic.twitter.com/sskVgSRSwx

— Formula 1 (@F1) April 15, 2016
Ia mengalami problem elektrikal di sistem pengereman brake-by-wire roda belakangnya yang berkaitan dengan motor generator unit-kinetic (MGU-K) dalam menghimpun tambahan daya tenaga. Masalah tersebut membuat kaliper rem kiri belakang VF-16 milik Gutierrez overheat dan terbakar mulai tikungan ke-12 hingga akhirnya ia kembali ke pit.
Pascal Wehrlein dari tim Manor Racing juga sempat mengalami permasalahan, meski tak terlalu parah. Bagian sisi kanan head-rest Wehrlein sempat longgar dan terlihat sedikit mengganggu kinerjanya saat melajukan mobil.
Kevin Magnussen tidak ikut serta pada sesi FP2 dikarenakan tim Renault masih menginvestigasi kerusakan yang diderita mobil RS16-nya di sesi FP1 sebelumnya. —Rappler.com 
BACA JUGA: