Following the school's recent partnership renewal with DepEd, BSM continues to uplift its scholars
Editor's note: This content is sponsored by British School Manila and was produced by BrandRap, the sales and marketing arm of Rappler. No member of the news and editorial team participated in the production of this piece.
In any part of the world, a sign of a thriving school community is a sense of belonging for all its students, no matter how different everyone's backgrounds may be from each other. This atmosphere is the fruit of an environment that welcomes inclusivity and celebrates potential – much like the community that the British School Manila (BSM) continues to create today.
One of the school's many initiatives to foster this energy is its Taguig Scholarship Programme (BSMTSP). Now 19 years running, the program supports academically outstanding senior high and college students from less fortunate local communities. Its track record so far includes four magna cum laude graduates, nine cum laude, an executive dean's lister, and a Gold Awardee, among other academic and leadership accolades.
This month BSM also signed a new memorandum of agreement with DepEd Taguig-Pateros, renewing their partnership and commitment to the BSM Taguig Scholarship Programme.
So what makes this program the legacy that it is today? The secret sauce may be BSM's dedication to understanding their scholars' unique needs and providing support beyond a tuition subsidy. In BSM, scholars are developed to aim for life experience, and not just straight A's.
Take BSMTSP scholar Daniela Castro's case. She began her application process unsure if she lived up to the academic standards of a prestigious school like BSM. "First meeting with the other students, they were like the valedictorians of their class," said Castro. "I [had] this thinking that, oh, they are better than me, they are much more intelligent than me."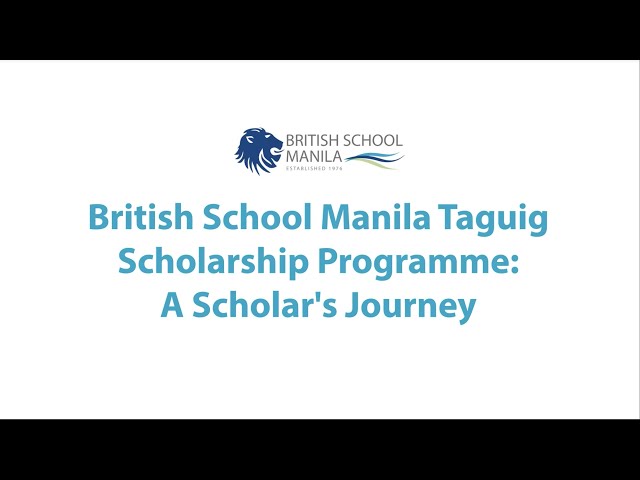 But upon meeting the panel, it became a matter of owning her whole potential and not just her report card. "The panel made me feel comfortable. They made me feel like I'm just talking with my friends," she said.
Now, Castro is an aircraft maintenance technology student, but she finds the time to engage in community outreach work to give back the same way that BSM has done with her. "With all the opportunities they have given me, I'm now creating other opportunities and platforms for students as well," said Castro.
Scholars like Castro became candidates through BSM's long-standing partnership with the Department of Education Taguig-Pateros. Candidates come from a DepEd-endorsed list of the top Taguig public school graduates, who will then undergo interviews, exams, and ocular visits to ensure that, along with upholding transparency, the committee can thoroughly assess their potential.
Successful scholars receive holistic support that the BSM has developed to maximize their overall potential. They typically prepare their scholars for higher education through leadership seminars and skills development activities, and they also provide support for the timely challenges that these students face.
Case in point: Recently, the pandemic shifted these executions to address the scholars' challenges on focus and drive during lockdown periods. Adapting to the times, the school held online activities like the BEI Scholars E-Brunch in 2020 and virtual Tambayan sessions to encourage peer support and socialization.
Prioritizing the scholars' mental health, the SAFE SPACE workshop was also conducted to help scholars manage the psychological pitfalls of the pandemic. The initiative included one-on-one sessions with BSM counselors, well-being workshops, and regular check-ins to ensure they are mentally prepared and fully supported for the pandemic-caused shifts in education.
Now, as students come back to school physically, the BSM also looks forward to a new chapter for their scholars and the program's legacy of uplifting the local community. "We are truly inspired by our Taguig scholars. Their incredible commitment and tireless pursuit of academic excellence are praiseworthy and they have achieved truly remarkable success," said Martin van der Linde, BSM's head of school.
"We take great pride in our scholarship students and their outstanding accomplishments in their respective fields. They are a testament to the transformative power of education and collaborative pursuits. Our commitment to the program remains unwavering."
Established in 1976, the BSM is the oldest and sole non-profit British international school in the Philippines. Hosting over 900 students from more than 40 nationalities, the school is dedicated to creating an international community that promotes respect and kindness across cultures. To learn more about the school and their programs, visit their website at https://www.britishschoolmanila.org/. – Rappler.com