Here are the highlights of her speech
Editor's note: This content is sponsored by GCash and was produced by BrandRap, the sales and marketing arm of Rappler. No member of the news and editorial team participated in the production of this piece.
The Mobile World Congress is back in full swing, once again bringing the biggest mobile phone industry players in the world into the halls of the Fira de Barcelona convention center. The annual affair was canceled in 2020 due to the pandemic and was also downsized in the past couple of years.
This year, however, they're pulling all the stops. And standing among trail blazers in tech is GCash's own president and CEO Martha Sazon who gave a keynote address during the congress' third day.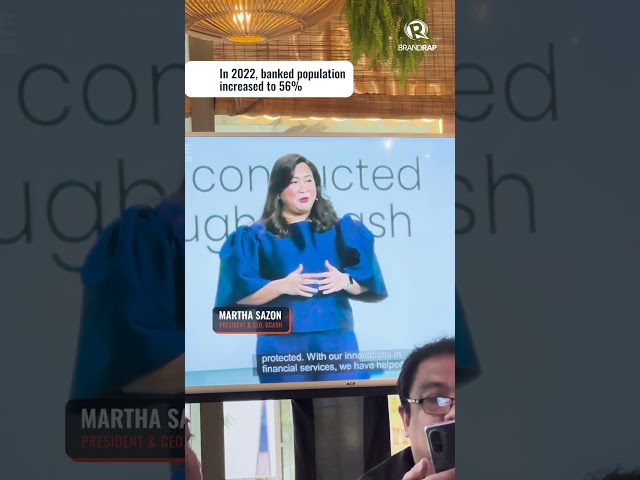 Sazon's session was about new behaviors for a new reality where she told the story of how GCash, a company that was started in 2004, flourished during the pandemic as it provided essential services that made life in quarantine more possible. She spoke alongside Iconiq's Lauren Kunze, and Tjodolf Sommestad who was the president of King (developers of hit game Candy Crush).
GCash was the only Filipino fintech company in the entire congress, and Sazon was there to share how the superapp uplifts millions of lives in multiple fronts, most especially financial inclusion.
Financial inclusion was a growing concern in the Philippines. Before the COVID-19 pandemic happened, 70% of Filipinos were unbanked, which meant that the majority of Filipinos had no access to savings accounts, insurance, investments, credit, and other financial services.
By making banking services easier, less intimidating, and more accessible, GCash helped improve these numbers during the pandemic. In 2022, the banked population rose to 56%, 76 million of which have a GCash account.
Apart from providing Filipinos access to an e-wallet, Sazon shared the other services that were made more accessible through GCash. Users can create a savings account through their GSave without having to physically go to a bank branch, and earn up to 12% annual interest depending on which bank or neobank they choose. Today, one in four banked Filipinos has a GSave account.
Sazon also shared how their investment marketplace, GInvest, helped conduct three out of four UITFs in the country, and a third of total new insurance policies in 2022 were purchased through the GCash app via GInsure.
Apart from empowering users through various financial services, Sazon also shared how they give their users an opportunity to help save the environment through GForest. Here, users earn green energy points with each transaction which can be used to plant actual trees through the app's partner communities.
GCash also helps disburse aid for government beneficiaries, as well as digitalization of government billings.
Sazon ended her speech by renewing the GCash team's commitment to enable and empower more underserved segments of the nation. – Rappler.com
Stream GCash president and CEO Martha Sazon's full keynote address at the Mobile World Congress 2023 here: https://www.mwcbarcelona.com/agenda/session/keynote-7-new-behaviour-for-a-new-reality