PHLPost advises the public, especially the OFWs, to send their mails and parcels before the suggested date of mailing at post offices and abroad to reach the destinations in time for the Christmas 2020 and New Year 2021
This is a press release from PHLPost.
To help ensure that mails and parcels are received in time for the Yuletide season, the Philippine Postal Corporation (PHLPost) has released its recommended early Christmas mail schedule for 2020.
PHLPost advised the public, especially the overseas Filipino workers (OFWs), to send their mail and parcels before the following dates to reach their destinations in time for Christmas 2020 and New Year 2021:
Holiday-related Domestic Express Mail (DEMS) – December 10, Thursday
International Express Mail (IEMS) – November 29, Sunday
Domestic Registered Mail – December 4, Friday
International Registered Mail – November 16, Monday
Domestic Ordinary Mail – December 5, Saturday
International Ordinary (Air) Mail – November 18, Wednesday
Domestic Parcels – December 1, Tuesday
International Air Parcels – November 18, Wednesday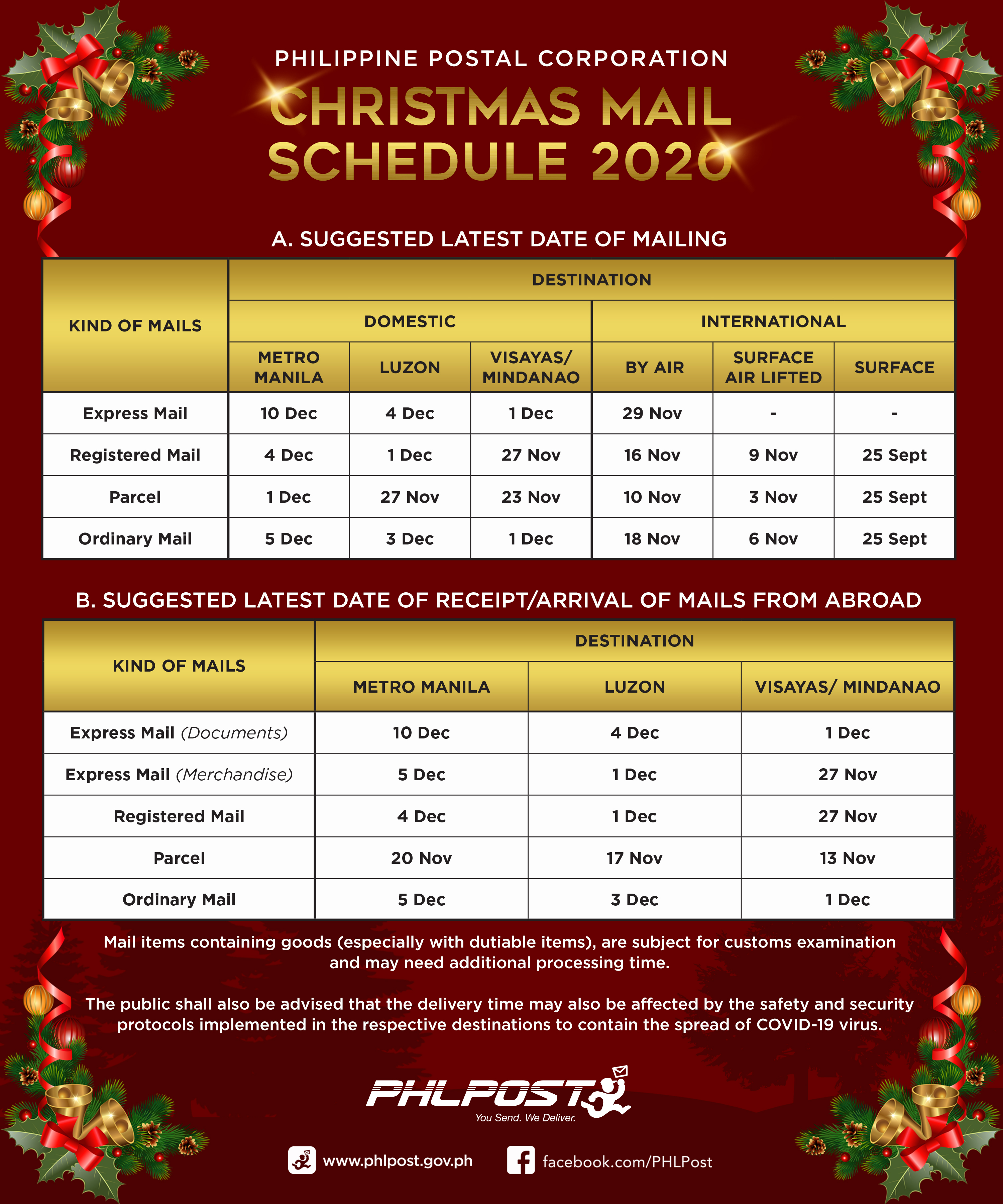 Mail items containing goods (especially with dutiable items), are subject to customs examination and may need additional processing time.
The public shall also be advised that the delivery time may also be affected by the safety and security protocols implemented in the respective destinations to prevent the spread of COVID-19.
Post offices nationwide are open from Monday to Friday, 8 am to 5 pm, except during holidays.
For inquiries, please visit their PHLPost Website at www.phlpost.gov.ph or follow their official Facebook Page at https://www.facebook.com/PHLPost. — Rappler.com