Bike lanes in Metro Cebu and Metro Davao are eyed for completion by June 15, while bike lanes in Metro Manila are targeted for June 30 completion
The Department of Transportation (DOTr) said the long-awaited bike lane network totaling more than 500 kilometers will be completed within June.
At the House transportation panel hearing, Transportation Assistant Secretary Steve Pastor said bike lanes in Metro Cebu and Metro Davao are set to be completed by June 15.
Bike lanes in Metro Manila, meanwhile, are targeted for June 30 completion.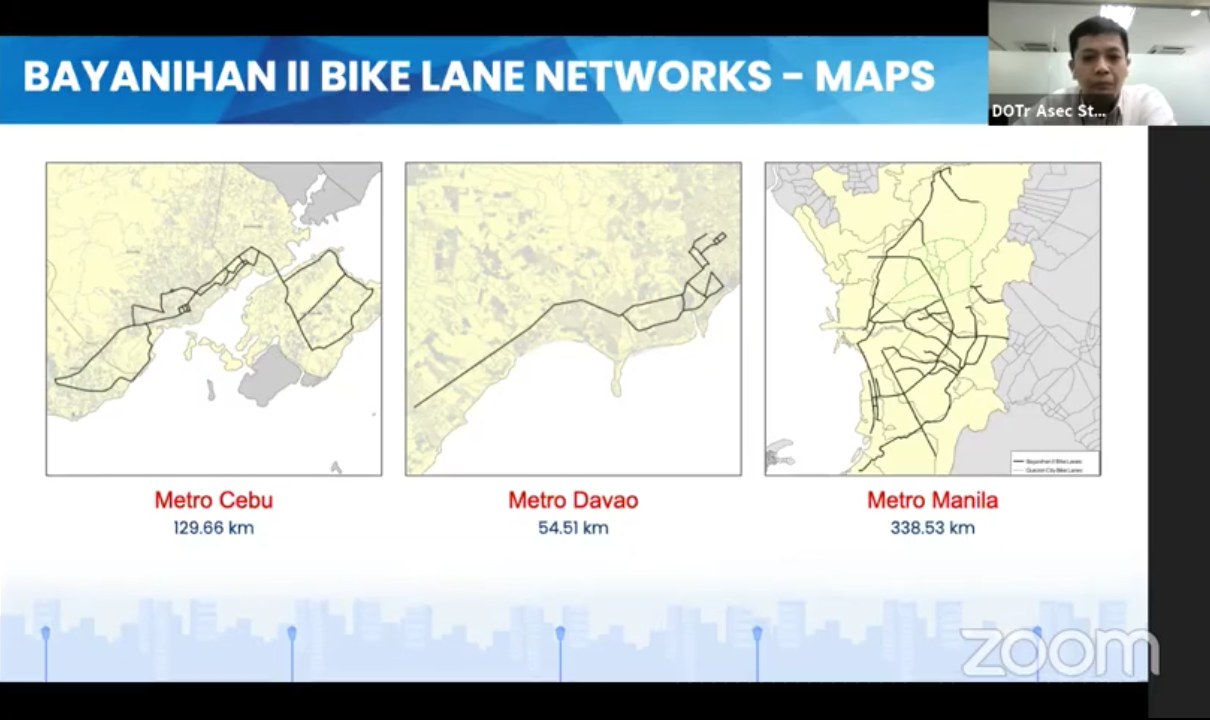 Based on the photos shown to the House panel, some bike lanes have pavement markings, while others have short posts, called bollards, or curbs.
House Minority Leader Joseph Paduano asked if the Metro Manila bike lane network could really be completed by June 30, given that about 70 kilometers will still have to be covered.
In response to Paduano's question, Public Works Metro Manila Director Eric Ayupana answered in the affirmative.
In April, the DOTr had said that the bike lane network should be completed "before the year ends."
Issue on length
On Tuesday, ACT Teachers Representative France Castro asked Pastor why pronouncements on the length of the bike lane network keep changing.
"Based on our House resolutions, as to the number of kilometers, we said that there will be a total of 490.726 kilometers. But based on the report – which you also validated, Mr. Chair – there will be 540 kilometers. Is this the latest?" asked Castro in a mix of English and Filipino.
Earlier, the DOTr said the total length of the network would be 535 kilometers.
From Pastor's presentation to the panel, the network will now span 522.7 kilometers. Here is the breakdown:
Metro Manila – 338.53 kilometers (68.41% completed)
Metro Cebu – 129.66 kilometers (80.35% completed)
Metro Davao – 54.51 kilometers (79.05% completed)
Asked for his comment, Public Works Assistant Secretary Ador Canlas cited the same figures.
In response, Castro said: "Nakikita natin iba-iba po, 'no. Sino ba talaga paniniwalaan natin?" (We're seeing varying numbers. Who should we believe?)
House transportation panel chair Edgar Sarmiento asked the transportation and public works departments to consolidate the data and submit these to the committee. Pastor did not comment further on the matter.
Members of the House transportation panel also pushed for an inspection of the network, saying that it has long been delayed.
As early as June 2020, the DOTr committed to putting a bike lane along EDSA. Cones were initially placed to delineate the lane.
But funds came at a later time, as the budget was appropriated only in September 2020 through the Bayanihan to Recover as One Act, amounting to P1.3 billion. – Rappler.com