(2nd UPDATE) For the entire 2022, inflation averages at 5.8%. The Philippines misses its target for the second straight year.
MANILA, Philippines – The Philippines' inflation rate soared to 8.1% in December, the highest since November 2008, as Filipinos celebrated the holidays with even tighter budgets.
The latest figure reported by the Philippine Statistics Authority on Thursday, January 5, is slightly higher than the 8% recorded in November 2022 and more than double December 2021's 3.6%.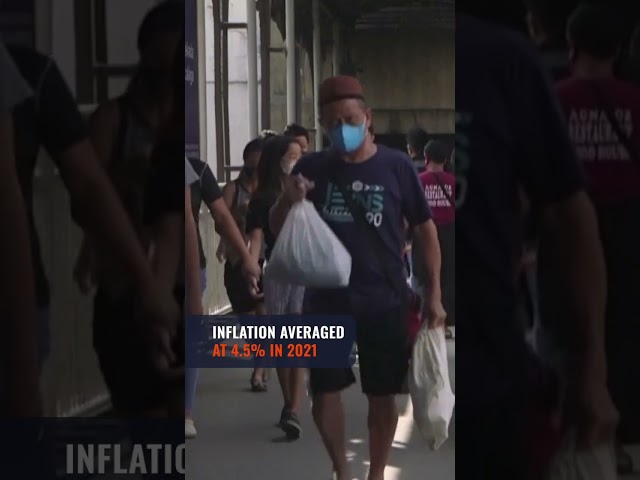 For the entire 2022, inflation averaged at 5.8%, well above the target range of 2% to 4%.
This is the second straight year that the Philippines missed its inflation target. In 2021, inflation averaged at 4.5%.
Food prices
December inflation was primarily brought about by the faster year-on-year growth rate of the following items:
Food and non-alcoholic beverages – 10.2%
Restaurants and accommodation services – 7%
Housing, water, electricity, gas, and other fuels – 7%
Food inflation at the national level rose further to 10.6% in December, from 10.3% in November. In December 2021, food inflation was far lower at 1.6%.
Faster food inflation was driven by higher prices of vegetables (32.4%) and sugar (38.8%) amid higher input costs and lower production.
Food, restaurant prices, housing costs were the main sources of acceleration of December 2022 inflation. @rapplerdotcom pic.twitter.com/ieGppMgyKi

— Ralf Rivas (@RalfRivas) January 5, 2023
Asked for his reaction to the inflation rate, President Ferdinand Marcos Jr. zeroed in on agricultural production. Marcos is also agriculture secretary.
"Kailangan talagang ayusin 'yung production natin kasi import tayo nang import (We really need to improve our production because we keep on importing goods)," Marcos told Philippine media in Beijing on Thursday, during his state visit to China.
Regions
Inflation in Metro Manila moved at a faster pace of 7.6% in December from 7.5% in November. In December 2021, the inflation rate in the area was at 2.1%.
In areas outside the capital, an uptrend of 8.2% was observed in December, higher than the 8% in November. In December 2021, it was recorded at 3.4%.
Western Visayas posts highest inflation rate at 10.5%.
Lowest was BARMM at 6.3%.

11 regions post higher inflation rates. @rapplerdotcom pic.twitter.com/Yfgy1UvapP

— Ralf Rivas (@RalfRivas) January 5, 2023
Peak reached?
ING senior economist Nicholas Mapa said the December print will "likely be the peak for this inflation episode."
But he noted that price pressures are now broad-based, as core inflation stood at 6.9%.
Core inflation is the change in prices of goods and services, except for those from the food and energy sectors. Stripping out the volatile items allows economists to see the broad underlying trend in consumer prices.
"Storm damage to crops may have helped fan price pressures for basic food items but elevated transport and utility costs for nearly a year may have also contributed to price pressures spreading across the CPI (consumer price index) basket," Mapa said.
Despite inflation possibly peaking in late 2022, Mapa expects prices to remain elevated, which would push the central bank to remain hawkish.
"We could see [the Bangko Sentral ng Pilipinas or BSP] roll out additional rate hikes to match moves by the [Federal Reserve]. However, once the Fed carries out its much-anticipated 'pivot,' we believe Governor [Felipe] Medalla could consider a pause of his own as policy rates are currently already in restrictive territory," Mapa said.
Anchoring inflation expectations
Economists project inflation to remain elevated and above target, as the global economy continues to face supply chain disruptions and braces for a recession.
To anchor inflation in 2023, the Marcos administration has extended the temporary tariff cuts on pork, rice, corn, and coal, which would in effect augment supply.
"Executive Order No. 10 will continue to provide diversified sources of food and agricultural inputs in the short term. The operational intervention, however, is to ensure food security by boosting food production, improving farm-to-market connectivity, and investing in disaster resilience, climate adaptation measures, and coordination mechanisms," said Socioeconomic Planning Secretary Arsenio Balisacan in a statement on Thursday.
The Philippines' economic growth will likely take a hit, as central banks around the world hike interest rates to anchor inflation expectations.
The BSP projected that inflation would average at 4.3% in 2023. – Rappler.com