This is AI generated summarization, which may have errors. For context, always refer to the full article.
(3rd UPDATE) Prices of goods in the Philippines continue to increase at a faster rate, with February 2021 inflation at 4.7%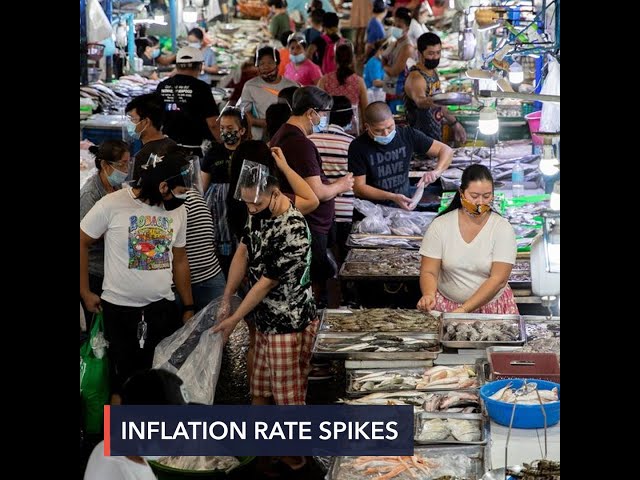 The Philippines' inflation rate spiked to 4.7% in February 2021, the highest since the 4.4% recorded in January 2019.
It is also the 5th straight monthly increase, and follows the 4.2% inflation rate in January 2021.
A year ago, in February 2020, the rate of increase in the prices of goods was only at 2.6%.
National Statistician Dennis Mapa said on Friday, March 5, that the uptick was mainly caused by the increase in meat prices, which had an inflation rate of 20.7% in February 2021 from 17.1% in January 2021.
In particular, pork prices have been surging. Hog raisers attributed this to the African swine fever outbreak.
President Rodrigo Duterte imposed a 60-day price ceiling on pork and chicken prices starting February, but it backfired, instead prompting vendors to stop selling.
Economists from the academe have urged Duterte to scrap the price ceiling, pointing out that it is not solving the problem of high prices.
Vegetables posted a lower inflation rate of 16.7% in February, compared to 21.2% in January. But vegetable prices still largely contributed to the food and non-alcoholic beverages index.
Mapa also noted 5.1% inflation for fish in February, higher than the 3.7% in January.
Aside from food, transport was the second major driver of inflation, at 10.4% in February from 8.7% in January.
In particular, tricycle fares at 46.6%, jeepney fares at 6.3%, and bus fares at 4.6% pushed up the transport index.
Housing, water, electricity, gas, and other fuels also posted higher inflation of 0.9% in February, compared to 0.5% in January.
Regions, poorest households
Inflation in the National Capital Region (NCR) slightly went down to 4.1% in February from 4.3% in January.
But inflation in areas outside NCR climbed to 4.8% from 4.2%.
Cagayan Valley's inflation rate slightly decreased to 7.9% from 8%, but it continues to have the highest inflation among regions.
In contrast, Central Visayas' inflation rate rose to 1% from 0.6%, but it has the lowest inflation.
For the bottom 30% income households, inflation jumped to 5.5% in February, compared to 4.9% in January. Mapa said this is the highest recorded for this group since January 2019.
The surge for the poorest households was driven by food and non-alcoholic beverages, 5.6%; restaurant and miscellaneous goods and services, 4.1%; and transport, 19.2%.
Beyond expected yearly average
The Bangko Sentral ng Pilipinas (BSP) earlier projected that February 2021 inflation would settle within the 4.3% to 5.1% range, citing higher global crude oil prices and fish prices.
Year-to-date, inflation stands at 4.5%.
The BSP expects inflation to average at 4% in 2021, based on its latest forecast issued February 11. This is considerably higher than the 3.2% projected last December 17. – Rappler.com