(1st UPDATE) Joining the Regional Comprehensive Economic Partnership is a priority measure of President Ferdinand Marcos Jr. His sister, Senator Imee Marcos, abstained from the voting.
MANILA, Philippines – The Philippines joined Tuesday, February 21, the Regional Comprehensive Economic Partnership (RCEP), the world's largest trade pact, after the Senate voted to concur with the ratification after just two days of plenary debates.
The Senate voted 20-1-1, with opposition Senator Risa Hontiveros as the only one who opposed the measure. President Ferdinand Marcos Jr.'s sister, Senator Imee Marcos, abstained.
Senate President Juan Miguel Zubiri and Senate President Pro Tempore Loren Legarda sponsored the RCEP ratification.
The Philippines is the last country to ratify RCEP, which took effect in 2021.
Marcos' economic managers pushed hard for the Philippines to join RCEP despite heavy opposition from farmer groups who feared that a wave of imported goods would displace local producers.
"It must be ratified. The future of our country depends so much on our ability to attract investors, particularly foreign capital because the domestic capital is not enough," National Economic and Development Authority Secretary Arsenio Balisacan said in a Palace briefing on Tuesday, February 21.
Balisacan pushed back against claims that RCEP will hurt local agriculture, the same day as lawmakers deliberated on the trade pact.
The resolution backed by Speaker Martin Romualdez breezed through deliberations at the House of Representatives. Marcos' son, Ilocos Norte 1st District Representative Ferdinand Alexander Marcos, was among the House leaders who supported RCEP.
The Makabayan bloc objected via voice vote to House resolution supporting RCEP ratification.
Romualdez argued that aside from investment opportunities, RCEP would cure overlapping free trade agreements (FTAs).
"The complex set of overlapping FTAs negatively impacts economies by unnecessarily imposing transaction costs on business operations and can even potentially create competing trade blocs," Romualdez said.
RCEP is a trade pact between the 10 members of the Association of Southeast Asian Nations (ASEAN), along with Australia, China, Japan, South Korea, and New Zealand. The deal is now set to impact at least 2.1 billion people, equivalent to around 30% of the global gross domestic product, as it eliminates 91% of tariffs on goods.
The resolution saw a speedy passage in the lower chamber after it was filed only last January 26.
Senate deliberations
RCEP's ratification was likewise expedited in the Senate, as talks were expected to be concluded in March.
Among those that loudly expressed concern over the move was Senator Marcos.
Marcos highlighted that India has not participated in RCEP because of the adverse impact on its agriculture sector.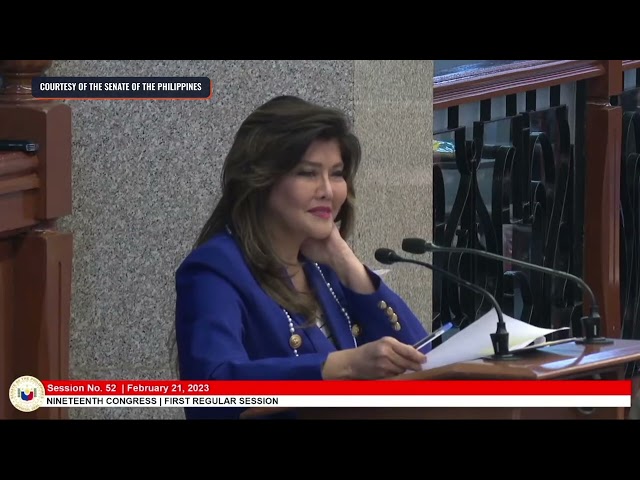 She went on to note that liberalization measures like rice tariffication resulted to a 40% drop in farmers' income.
"How do we ensure, protect the vulnerable sectors? Do these safety nets really serve their purpose?" Marcos asked.
Senator Marcos earlier did not sign the Senate committee report on RCEP. The measure is a priority bill of President Marcos.
Meanwhile, Senate President Juan Miguel Zubiri cited projections of economist Caesar Cororaton, where RCEP was forecast to generate some 1.4 million jobs by 2031.
"Maiiwanan tayo sa foreign direct investments. Magkakaroon ng trade diversion. Kung hindi tayo sasali sa RCEP, sa ibang bansa pupunta ang investors, dahil mas malawak na ang kanilang merkado," Zubiri explained.
(We will lag behind in foreign direct investments. There will be trade diversion. If we don't join RCEP, investors will go to other countries, because their market is broader.) – Rappler.com