(UPDATED) Unemployment rises despite the economy reopening. People who have jobs are looking for more to make ends meet amid rising food prices.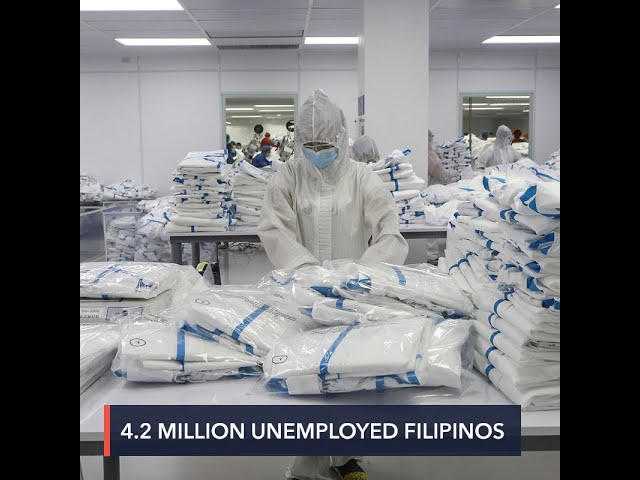 Hopeful Filipinos looking for a job as the economy opened up in February failed to find one, while those who did still struggled to make ends meet, latest figures from the Philippine Statistics Authority (PSA) showed.
The PSA reported on Tuesday, March 30, that the unemployment rate rose to 8.8% in February, higher than the 8.7% last January, reflecting the scars in the labor market brought about by the coronavirus pandemic.
The figure in the labor force survey (LFS) is equivalent to 4.2 million jobless Filipinos in February, higher than the 4 million unemployed in January.
Meanwhile, the underemployment rate or the percentage of the population with jobs but are looking for more work stood at 18.2%, equivalent to 7.9 million individuals. This is higher than the 16% in January, which had translated to 6.6 million people.
Underemployment shooting up indicates that people are likely struggling to cope with rising prices.
National Statistician Dennis Mapa noted that the number of working hours a week were trimmed to 38.9 in February compared to 39.3 hours in January, as businesses cut costs amid a challenging economic environment.
Meanwhile, the labor force participation rate, which reflects the percentage of the population working or actively looking for work, was at 63.5% in February, higher than January's 60.5%.
The labor force – individuals who are either employed or unemployed – reached 47.3 million in February, from 45.2 million in January.
Mapa said the increase in the labor force participation rate can be attributed to optimism brought about by the economy reopening.
"May expectation naman na mataas ang unemployment rate dahil marami ang pumasok sa labor force at [hindi] naman lahat nabigyan ng trabaho…. Mas marami man ang employed, tumaas din ang underemployment ng 1.3 million," Mapa also said.
(We expected the unemployment rate to go up because more people entered the labor force and not all of them found jobs. Though more people are employed, underemployment also went up by 1.3 million.)
February's employment rate stood at 91.2%, equivalent to 43.2 million Filipinos with jobs. This is slightly lower than January's 91.3%.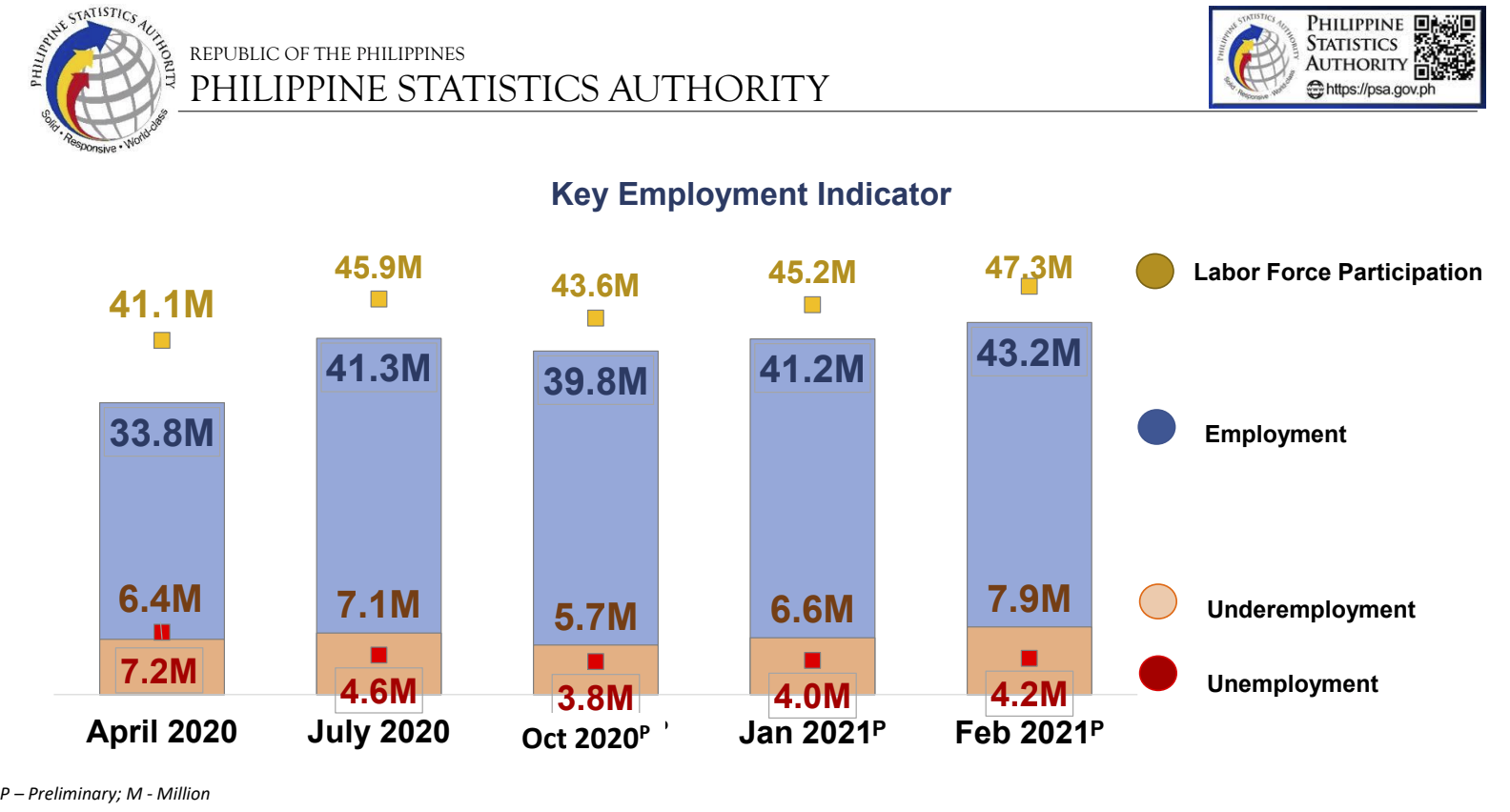 In a joint statement, the government's economic team said that some 1.9 million jobs were restored.
"This means we have surpassed our pre-pandemic employment level of 42.6 million in January 2020," the statement read.
The LFS also showed that some 9.1 million Filipinos experienced being laid off temporarily or permanently from March 2020 to February 2021.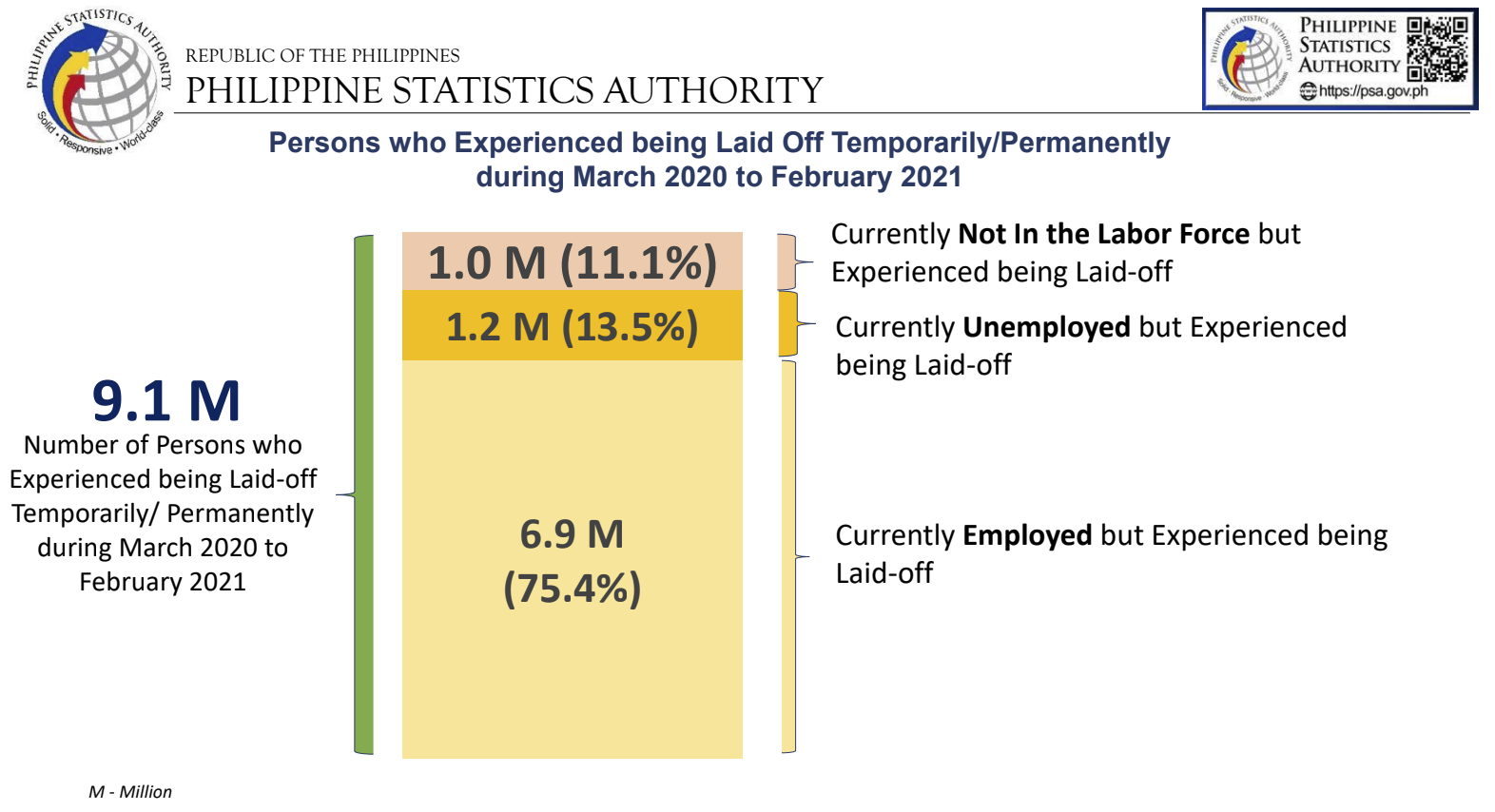 Sectors
The top 5 industries which registered the largest drop in employment from January to February were the following:
Administrative and support service activities – 1.8 million to 1.6 million
Accommodation and food service activities – 1.4 million to 1.3 million
Construction – 4.2 million to 4.1 million
Mining and quarrying – 177,000 to 144,000
Electricity, gas, steam, and air conditioning supply – 70,000 to 53,000
Despite the government opening up tourism spots in February, Mapa said many establishments have not operated.
Meanwhile, the following sectors got the largest increases in employment:
Wholesale and retail trade – 8.6 million to 9.6 million
Other service activities – 2.5 million to 2.8 million
Agriculture and forestry – 8.9 million to 9.1 million
Transportation and storage – 2.9 million to 3.1 million
Public administration and defense, compulsory social security – 2.5 million to 2.6 million
Optimism
Despite unemployment rising and more people looking for jobs, the government's economic managers, including Acting Socioeconomic Planning Secretary Karl Chua, Finance Secretary Carlos Dominguez III, and Budget Secretary Wendel Avisado, said they have seen improvements in the labor market due to the reopening of the economy.
"The results of the latest LFS show continued improvements in the economy. Although the unemployment rate marginally increased to 8.8% in February 2021 from 8.7% in January 2021, the gradual reopening of the economy allowed more people to rejoin the labor force," the economic team said.
The latest employment figures come as Filipinos find it harder to afford food amid rising prices.
The PSA is conducting the LFS monthly to track the employment situation amid the coronavirus pandemic. – Rappler.com