(1ST UPDATE) TV host Bianca Gonzalez-Intal and director Dan Villegas express their support for Locsin's #MarcosIsNotAHero post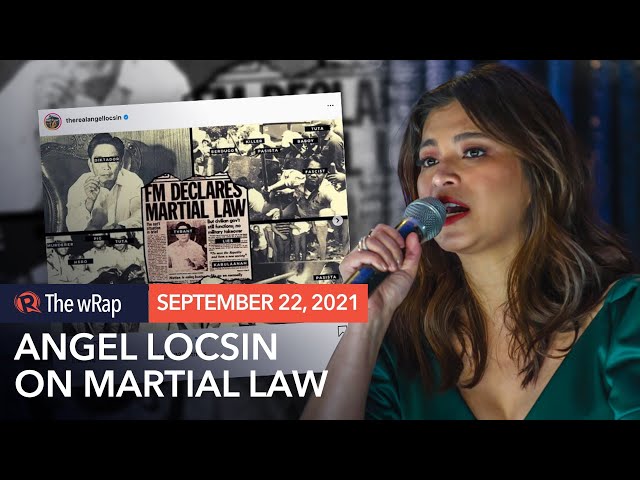 A Marcos crowd descended upon the Instagram post of actress Angel Locsin on Tuesday, September 21, the anniversary of the 1972 declaration of Martial Law in the Philippines.
Locsin posted a quote saying, "Those who do not learn from history are doomed to repeat it."
The actress ended her post with the hashtags "#NeverAgain #NeverForget #MarcosIsNotAhero."
Rappler research earlier found that an extensive network of Marcos and Duterte fan pages and groups attacked mainstream media, and produced and even amplified propaganda and disinformation to burnish the image of the Marcoses. (READ: Networked propaganda: How the Marcoses are using social media to reclaim Malacañang)
Two showbiz industry-mates TV host Bianca Gonzalez-Intal and director Dan Villegas (Exes Baggage, English Only, Please, Fan Girl as producer ) expressed their support for the post.
Gonzalez said "#Tumindig," referring to the social media movement started by artist Tarantadong Kalbo, protesting the current strongman rule of Duterte and the ongoing Marcos campaign to return to Malacañang.
Villegas exclaimed "Yaaaassss queen!"
A substantial amount hated their show of support.
One user said, "Hahahaha Tumindig ka kasama mo mga dilawan. Jusko Bianca kausapin niyo mga lolat lolo niyo para matauhan kau. Yung hindi nabayaran ng dilawan ha."
(Stand tall with the yellows. My lord, Bianca, talk to your grandmother and grandfather so you will know. Not those paid by the yellows, okay?)
On Villegas' post, one user said, "[Expletive deleted]. Dapat sa inyo hinuhulog sa inidoro. Dahil salot kang [expletive removed] ka sa lipunan."
(You deserve to be thrown in the toilet. You are a plague to society.)
These comments reflect some of the aggressiveness of some Marcos/Duterte social media influencers.
Gonzalez's post has nearly garnered 500 replies at the time of publication while Villegas has 14, as of writing.
The Marcos crowd also echoed familiar statements from the Marcos camp about people not living through the Marcos years and hence, not really knowing what happened; people getting what is supposedly the most accurate version of the truth from their lolos and lolas (grandparents) who didn't suffer during the Marcos years; and comments about the structures and buildings that the Martial Law administration built but failed to mention the massive government corruption during that time.
Locsin's post currently has around 116,000 likes, and 12,000 comments, a majority appearing to come from the Marcos camp.

Locsin is also the aunt of human rights lawyer and activist Neri Colmenares.
Last week, users asked Locsin and Gonzalez-Intal for their take on Toni Gonzaga's controversial Bongbong Marcos interview. This was seen on Toni Gonzaga's Instagram post celebrating her 4-million YouTube subscriber milestone where Locsin and Gonzalez-Intal had posted congratulatory comments.
Prior to the anniversary of the declaration of Martial Law, Gonzalez-Intal answered those demands, saying that her stand had "always been #NeverForget, #NeverAgain."
She posted again on the day of the anniversary, a 2016 video made by the group The Campaign Against the Return of the Marcoses and Martial Law (CARMMA), a coalition of Martial Law victims:
Locsin's Instagram post was her first post that answered the said users' demands.
Gonzaga, on the other hand, posted on Instagram Stories another screenshot of her interview with Bongbong Marcos on the day of the anniversary; along with a screenshot of her more recent interview with presidential candidate Manny Pacquiao, and a screenshot of her sister Alex Gonzaga's YouTube video with Senator Loren Legarda. – Rappler.com