This is AI generated summarization, which may have errors. For context, always refer to the full article.
'Taking a closer look at the movie's general story, script, worlding, and ideological sensibility shows us a woefully under-seasoned popcorn flick'
Pure star power was what allowed Korean sci-fi action flick Space Sweepers to debut at number 1 on Netflix in at least sixteen countries. Having Song Joong-Ki and Kim Tae-ri in the cast, plus hype that the movie would also be Korea's first "outer space" sci-fi movie, were the main variables behind the movie's sheer gravitational pull, and would also turn out to be its saving graces.
Good acting, on-screen chemistry, and dazzling particle effects are the biggest strengths of Space Sweepers, but those things alone do not a good movie make. Taking a closer look at the movie's general story, script, worlding, and ideological sensibility shows us a woefully under-seasoned popcorn flick. It's pretty bland.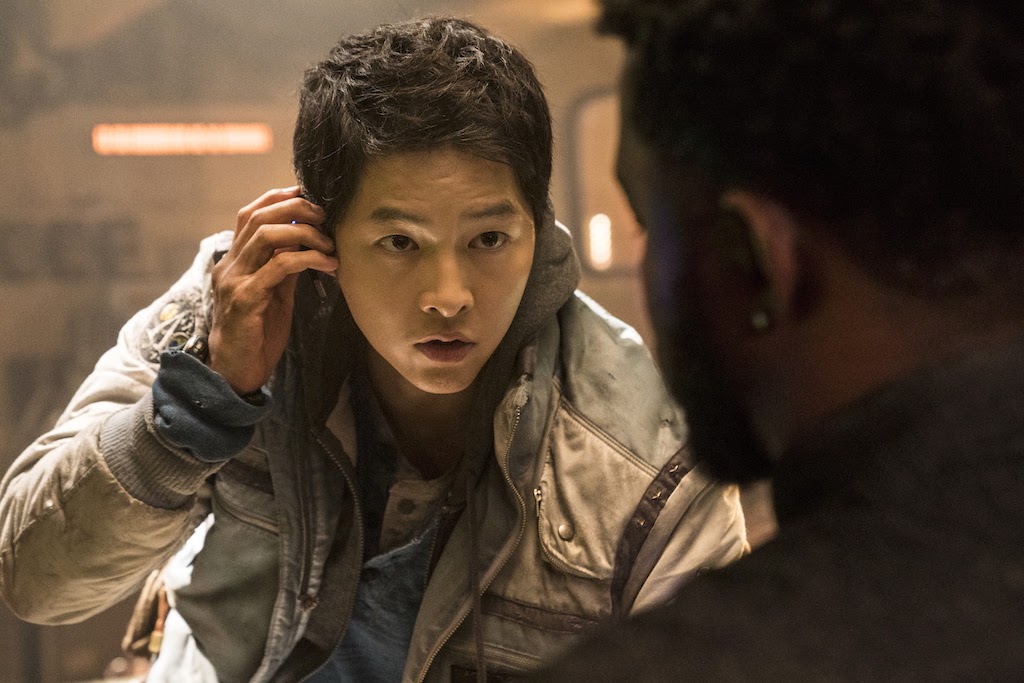 Anyone with a cursory knowledge of tropes can see that right from the get-go, Space Sweepers shows its hand. Right when it introduces James Sullivan (played by Richard Armitage), the CEO of terraforming-capable company UTS, you know that dude's the villain. The character's benevolent front is an embarrassingly thin veil, one that's easy to see through as long as you've sat through Monsters Inc. at least once and gotten to know its boss villain Mr. Waternoose. Couple that with how Space Sweepers sets the tone of its polluted planet, skies the color of acrid sepia, and how Sullivan presents off-world utopia as the only solution. One can't help but think of WALL-E.
This isn't to insinuate that Space Sweepers stole anything from Pixar (insert caveat here about nothing being perfectly original) but to say that the movie's narrative beats are so familiar, that these painfully easy parallels can't help but show themselves.
Still, let's be charitable and say it's not about the premise but what you do with it. The setting and worlding of Space Sweepers are incredibly prescient (which I wrote in a previous article about the film). That's how it is for most dystopian fiction, to reflect a world in crisis.
James Sullivan resembles greatly in motives, demeanor, and obscene wealth, the likes of Jeff Bezos and Elon Musk, who equate the highest possible human good to technological progress. Space Sweepers tries to work with this specific flavor of supervillainy, and comes up with… mixed results.
One interesting quirk about Sullivan is that he was born in the context war, and saw genocide transpire in front of his very eyes. So many of the characters in Space Sweepers come from contexts of hardship, but Sullivan is the one who comes to the conclusion that humanity is a disease, and that society needs cleansing. One compelling highlight of the film is when Sullivan invites an argumentative journalist back into his office for a one-on-one discussion about UTS's plans for Earth and Mars, and why Sullivan's perfect off-Earth society only lets in a select few—the bright and virtuous, who just so happen to be very wealthy.
Things take a turn for the grisly, however, when the journalist is forced to make a deal with the devil. Sullivan's secret ops throw a captured Black Fox terrorist in the room. He hands the journalist a gun and tells him, if you kill this man, you can get off Earth and on Mars. He says:
"You see, you talk about protecting the earth, but actually you want to be nothing more than to be here in Eden. And you resent the fact that you weren't one of the chosen. Why wouldn't you? You could have everything here. Clean air. Nice house. Friendly neighbors. Are you going to let your family suffer in that hellhole for the rest of their lives?"
The journalist tearfully pulls the trigger. "Look. Look! You see what you just did?" Sullivan says. "This is your true nature. Greed and hatred are engraved in your DNA." Sullivan promptly executes the journalist.
And then… that's kind of where it ends, in terms of the interesting points the film tries to make ideologically.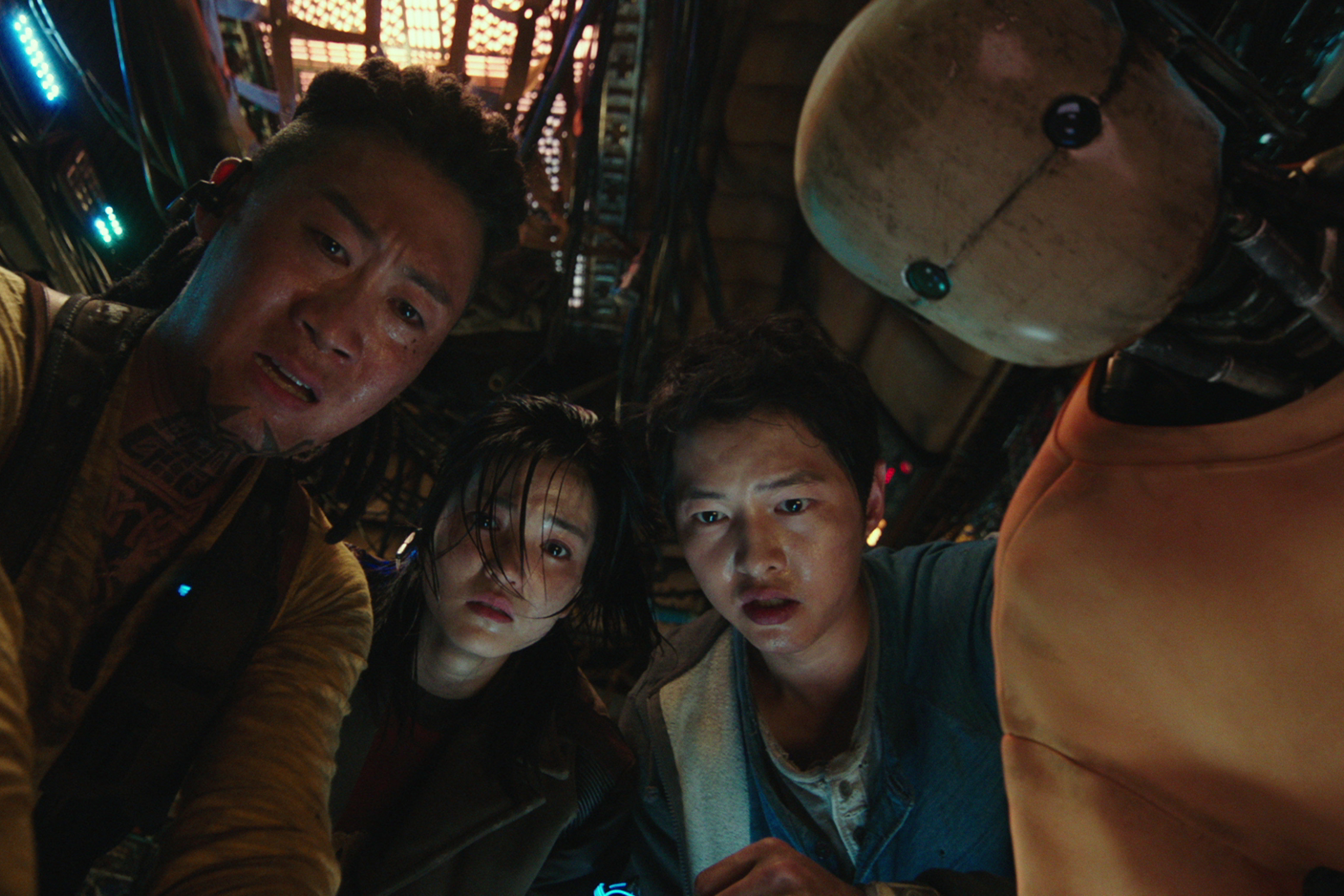 There's so much the film could have done with Armitage's character to take Space Sweepers from good to great. Script-wise, a film like Snowpiercer does a better job of articulating the misanthropic nihilism loaded into capitalist thinking. The rest of Space Sweepers plays out the way someone who's never seen Star Wars imagines Star Wars — space chase, blasters, big explosion, triumph, a robot gets what they want. (On a related note, while Bubs is a charismatic character, using a former robot soldier saving up for skin grafts as an analogue for the trans condition is… a little off.) You could also say that it plays out like a MCU movie from the first two phases —boring villain meets its end at the hands of interesting heroes. That's… fine, I guess.
Maybe it's a little unfair to expect big, sweeping statements from a Netflix original that, without pretension, marketed itself as an action-packed, sci-fi romp. The little gestures towards deeper thinking are just icing on the cake. But the little comments on Rotten Tomatoes make a different argument—that deeper writing could have made a better film, an original story.
Zaki Hasan of IGN Movies writes: "Space Sweepers is low-risk, low-reward entertainment. It's a breezy bit of escapism with some social commentary baked in, but it's the spectacle and whiz-bang that's on the front burner."
We can expect more than that, can't we? Aren't we already living in a post-Mad Max: Fury Road world? – Rappler.com