'The White Lotus' was shot at the height of the pandemic, when tourist traffic to Maui drastically slowed down
As the world starts to open, with more people getting the coronavirus vaccine and going on vacations, are you ready to encounter those vacationers and tourists again?
Mike White, who brought us Enlightened, the critically acclaimed dramedy, casts a sardonic eye on a group of folks who descend on a luxurious resort in Maui in HBO's new limited series, The White Lotus.
Taking its name from a fictional resort paradise, The White Lotus couldn't be timelier. In the real world, tourists are flocking to Hawaii in huge numbers since they consider the islands in the Pacific as a "safe" choice for their first destination after more than a year of being cooped up.
In fact, Maui mayor Michael Victorino recently made an unusual plea to airlines to voluntarily limit seats to the island destination.
The irony is that The White Lotus, one of this year's wickedly funny new shows, was shot at the height of the pandemic, when tourist traffic to Maui drastically slowed down.
Mike, directing from his satirical script, introduces us to his well-observed characters as they arrive for a week's stay at The White Lotus. The Four Seasons Resort Maui at Wailea stood in for The White Lotus.
But first, there is in medias res ploy – the viewers see a glimpse of a coffin being loaded into a plane, prompting the question: which character died while in Maui?
Resort manager Armond (Murray Bartlett) and his staff welcome the Mossbachers – Nicole (Connie Britton), a company CEO, husband Mark (Steve Zahn), who is fretting over a health issue, daughter Olivia (Sydney Sweeney) and her guest/friend Paula (Brittany O'Grady), both college sophomores who amuse themselves by observing everyone and antagonizing the teen brother, Quinn (Fred Hechinger).
There are the requisite honeymooners, the rich Shane (Jake Lacy) who is obsessed about being given the honeymoon suite his mom paid for and his brand new wife, Rachel (Alexandra Daddario), a journalist who is realizing she may have made a mistake in her groom choice.
Then there's Tanya (Jennifer Coolidge, who steals the show) as a woman dealing with her mom's death and seeking love or a massage.
Armond admonishes his staff, including spa manager Belinda (Natasha Rothwell), to treat each guest like "the special chosen baby child of the hotel."
I interviewed the main cast in a recent series of round robin video calls.
Jennifer Coolidge's baby child character in the miniseries wants a massage now and more after that, please. I asked the actress, who has been regaling us with her often wry characters since appearing as Stifler's Mom in American Pie, about her unforgettable massage experience in real life.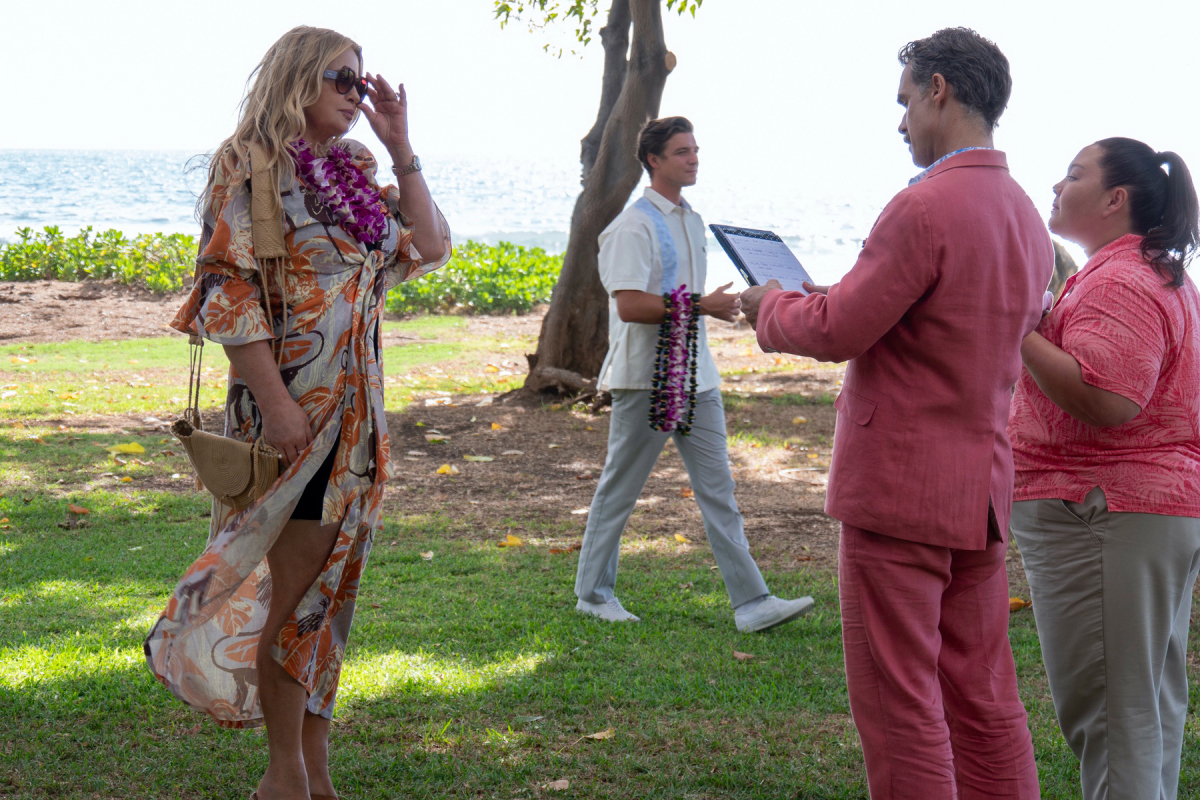 "I did have this funny massage experience," obliged Jennifer who brought up such an incident when she was part of The Groundlings, the LA-based improv comedy troupe which included the likes of Will Ferrell, Lisa Kudrow, Kathy Griffin, and Chris Katan.
"I went into this massage place and I ended up writing this comedy sketch with Chris Kattan. I wrote it with him in mind because I got a massage from this very strong woman."
"She sort of beat me up. It literally felt like I was being pummeled. It was hilarious, it was violent. The only thing she didn't do was throw me against the wall. But she was beating me up. She was just like shaking me."
"I almost felt like someone was playing a trick on me. I ended up putting it up on stage with Chris Kattan. I played this very strong Russian woman and he comes in for massage. I ended up pulling a cabbage out from under my dress and I started beating him with the cabbage. It was so violent, it was hilarious."
"I don't know if the woman was just messing with me or not. I'll never know but that's a true story. But I love nice massages. I'm one of those people who, if I'm in a hotel, and they have a spa, I certainly sign up for a massage. Just that one was bad… I mean, it wasn't bad, it was hilarious. But that was the one experience that didn't go as planned."
To this day, Jennifer is grateful for the break that American Pie gave her in 1999.
"Actually, I couldn't even get into any auditions (before American Pie). The first job I had before American Pie was, I got an episode of Seinfeld playing one of Jerry's girlfriends. For one episode. That was my one break that happened before American Pie, actually."
"Then American Pie changed everything. The doors opened and all of a sudden, I could get auditions and actually get offers on jobs that never would have happened before that."
I was done with my round robin with Jennifer when she suddenly appeared on my laptop again.
"Oh Ruben, I forgot to tell you one thing. When I was getting the massage from that very strong lady, at one point, she put her foot up against my shoulder. She was at the head of the table and she put her bare foot up against my shoulder and then she started pulling on my head."
"At first, I was, oh, I guess she's trying to adjust but then it felt like she was trying to pull my head off. I wish I had that on film because it was so extreme. I was wondering if people's necks are strong enough to hold our heads on."
"I was thinking, is it possible that she could actually pull my head off? That's how strong she was. And I'm glad it didn't go that far but it really was that bizarre."
In The White Lotus' first episode, I was amused to see Murray Bartlett's manager welcoming the arriving guests as he wore a printed white shirt. I have exactly the same shirt.
While I chuckled, I was not flattered because Murray's shirt, combined with a fruit punch red jacket, was meant to evoke what resort staff are usually required to wear.
Murray laughed as I pointed my sartorial tribute to him on this recent morning.
The Australian actor said, "We had an amazing costume designer. It was one of those situations where it really helps getting into the character when you can step into a fuchsia-colored suit and a really loud shirt."
Then Murray was, um, politely euphemistic: "Beautiful shirts, like the one that you're wearing. But definitely, it's not muted."
"And also, seeing some of the other people in the hotel where we were shooting, that's how they dress. So, it was very helpful to step into the character every day in those costumes."
Asked about any funny mishaps on the set, Murray – who also gives a memorable performance as the show's anchor – answered, "Any scene that you have with Jennifer Coolidge is going to be hilarious. So I wish that we could screen every time that she was on set because it's just brilliant and funny."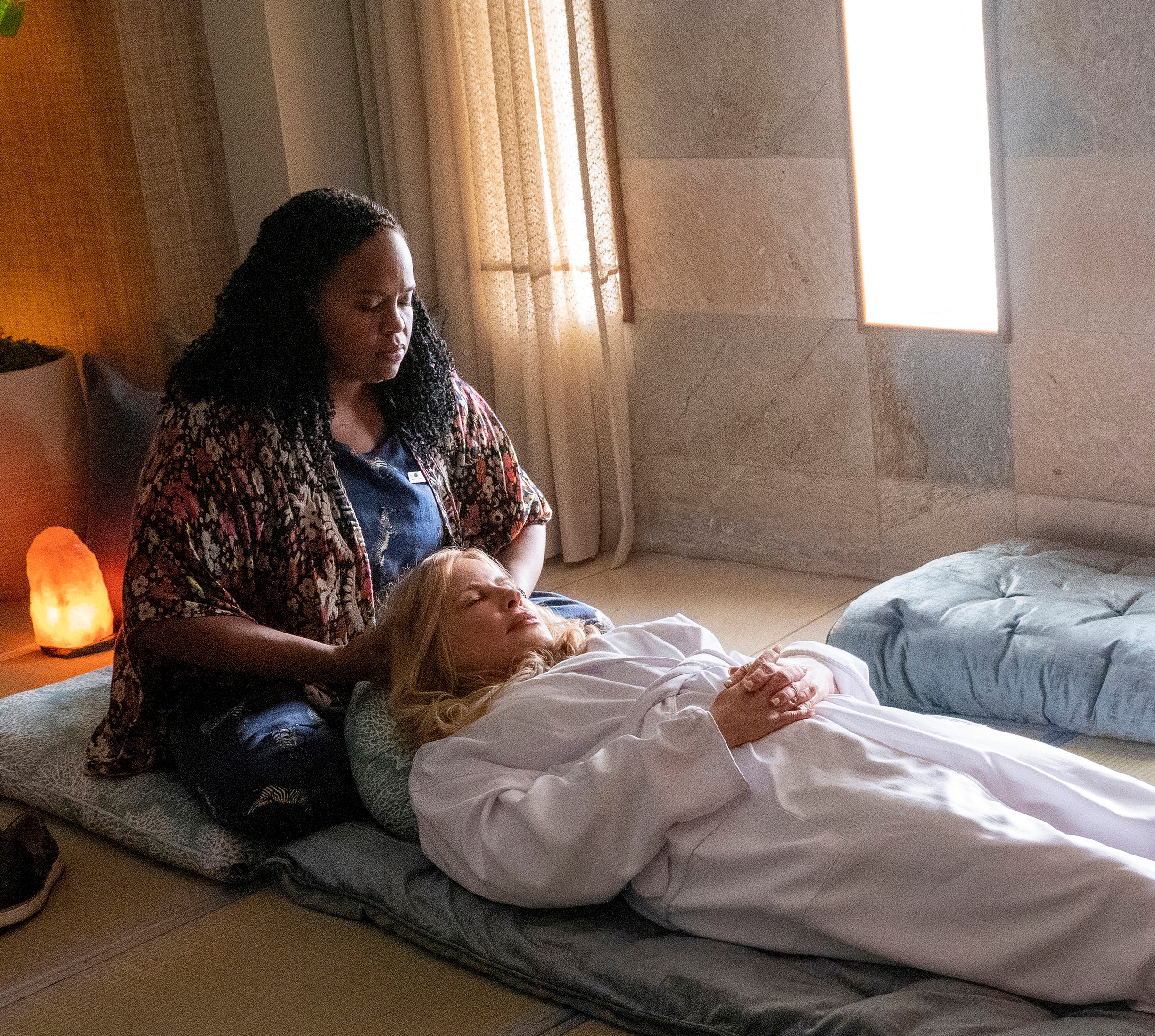 Murray echoed what the cast stressed – how unusual it was to be working as the COVID-19 health crisis was raging late last year.
"We all felt very lucky because it was the middle of the pandemic. And suddenly, we were whisked off to work with this great group of people in Hawaii. It was so surreal. It was a very fun set."
Murray said of the show's writer-director (he is also an actor): "Mike White creates such a feeling of joy, fun and freedom on set. It doesn't mean you don't have moments of feeling like, 'Oh my God, that was terrible.' But the thing is that you're given the license to play. So that was really amazing."
Playing a resort manager gave Murray this insight: "Dealing with really obnoxious people. Most actors, at some point, work in the hospitality industry and it's shocking sometimes. Shocking, I mean, in terms of some people's behavior."
"You're like, 'I can't believe that you're treating another human being like this.' One of the great things about this show is it holds a mirror up to that. What happens to us when we're in situations of privilege or when we get a little bit of power?"
"Do we act badly? Unfortunately, we can. We tend to. And not only at this more personal level but in a bigger picture in terms of what privilege does to a society when certain people have a sense of entitlement or power because of whatever cultural, racial, economical privilege they might have."
Steve Zahn also pointed out how fortunate and yet strange it was to be shooting in a tropical eden in COVID times.
"Everything was unexpected. We left a scary COVID-ridden world and we're dropped into a paradise where we were forced to stay, which is crazy. And it was beautiful. We swam with 120-year-old sea turtles and watched the sunset together as a cast every night. It was great."
"We had to get tested every other day," Connie Britton cited the health safety protocols that the production strictly enforced. "It was four times a week."
"For three months," interjected Steve who was paired with Connie in the round robin Zooms.
Connie added, "And we couldn't leave the premises. I was there with my son who was nine years old at that time. There were no other children there. So it was a little surreal in that way."
"And this was the height of COVID. So there was real fear. We had all been in quarantine for months and months. We're in this big group of people. Even though we're all living by the same rules, we were in that fear that we've all been in."
"Meanwhile, I'm trying to keep my nine-year-old entertained. Luckily, Steve and Fred were really good at that. They would take my son out body surfing on the beach. He probably felt really cool cause he was bonding with the cool guys."
Alexandra Daddario and Jake Lacy, who were also paired, chimed in about which scene where they couldn't keep a straight face because of Jennifer's comedic brilliance.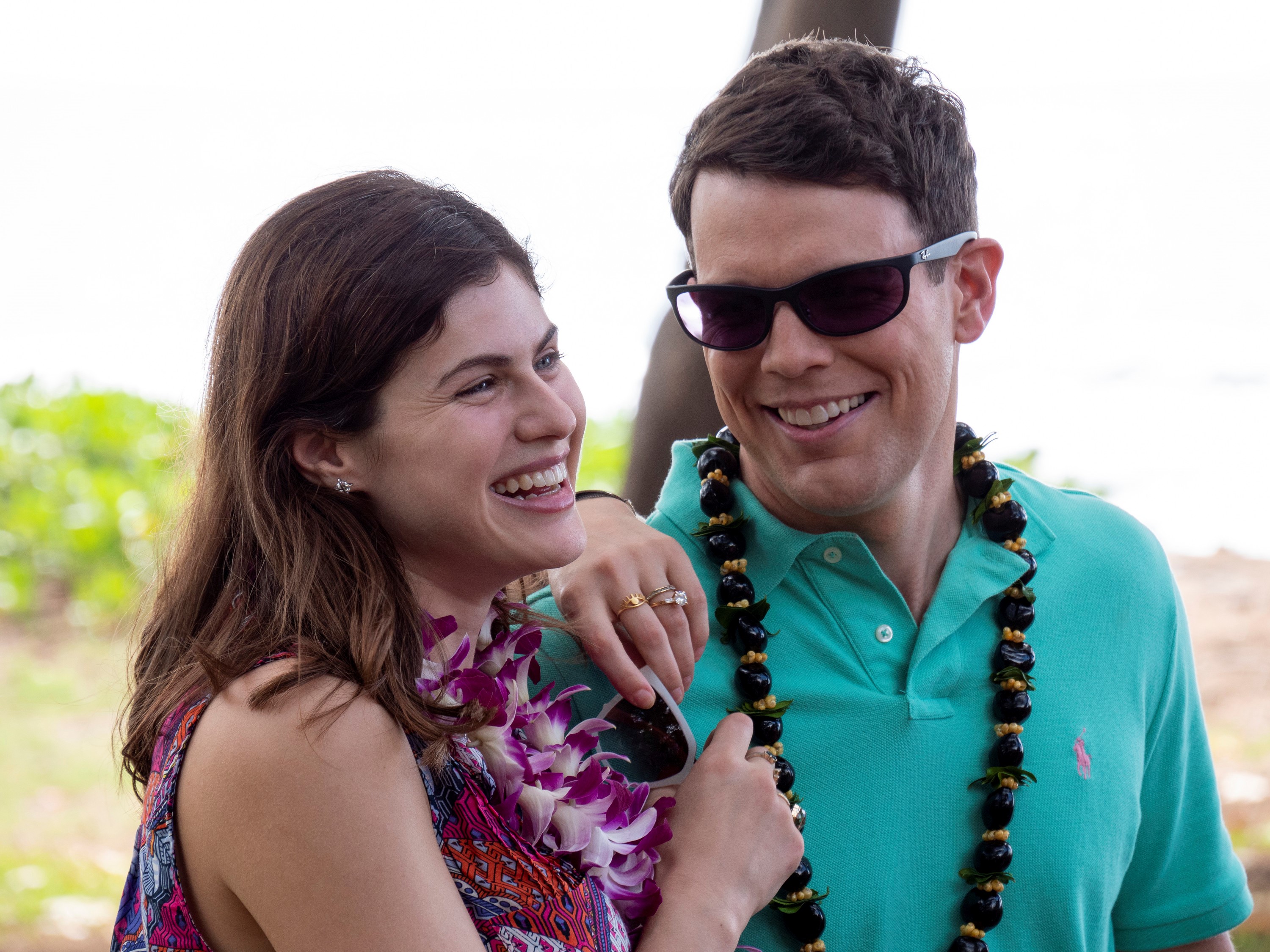 Jake pointed out, "The boat scene with Jennifer, for sure. There's got to be an hour-plus of unused Jennifer eulogy material somewhere. We were looking at each other instead, things like that, so we do not succumb to Jennifer's genius."
"Yes, it's hard not to laugh when Jennifer is around," Alexandra agreed.
For the actress, the chance to work with Mike, who penned such films as Chuck & Buck, The Good Girl and School of Rock, attracted her to the HBO project.
"Mike White was the main draw. He is just such an incredible filmmaker. I love his writing and his approach of the world. This very dark, comedic sensibility that the project has. I just think he's quite brilliant. So I was very excited to join."
"I hadn't even left my parent's house in rural New England to go to the grocery store," Jake recalled his coronavirus stay-at-home days and then there he was, en route to Maui.
"It was unbelievable to walk out onto the beach, see some water and be in this crazy moment. And also to have a moment of peace was a very bizarre and kind of a wonderful feeling."
"I was extremely shocked and excited to book the job during that period of time," Alexandra said. "I was not expecting to work. So I was very lucky and grateful."
Sydney Sweeney, Fred Hechinger and Brittany O'Grady, interviewed together, echoed the praise for Jennifer.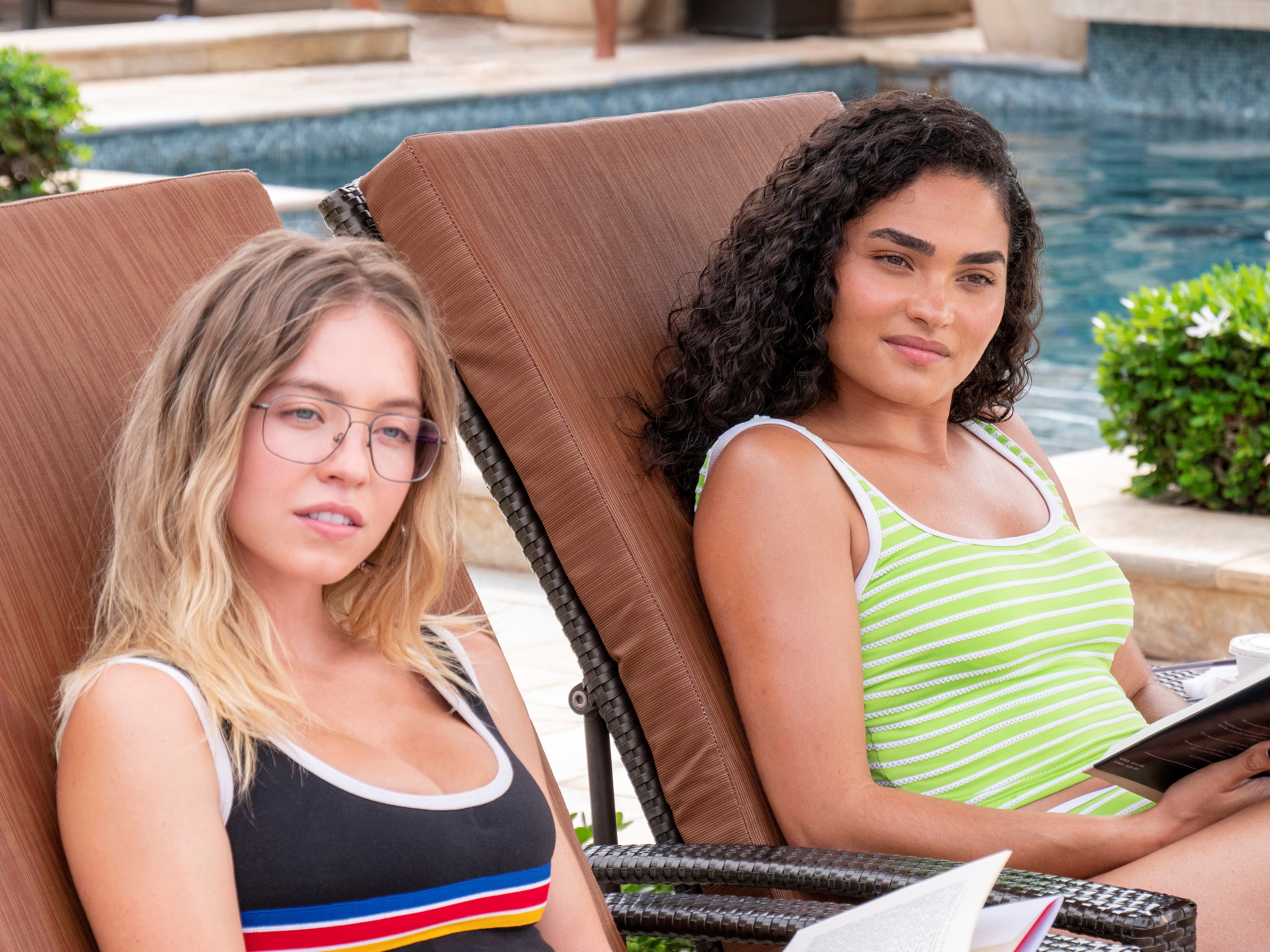 Sydney shared, "There was a scene where Brittany and I would go up to her at the buffet table and she's calling the waiter different names. She came up with this gold, like every single line she said, Brittany and I could not keep a straight face."
"The crew was dying of laughter. Like literally, anything she says at any given time, just be prepared to laugh."
Fred added, "I was in the background of that scene. I couldn't stop breaking. That's how funny she was. Jennifer truly just sees everything."
"She is so observant and sensitive to every little thing that people do. There's nothing that she can not make funny. Because she sees it all. It's incredible."
Brittany said, "These guys are way better at not cracking in a scene than I am. I feel like I was the worst. I really let the team down. I get the giggles very easily and have gotten in trouble for it."
"But just the way that Jennifer acts…We all have to remind ourselves that comedians are some of the most brilliant actors or people with a complete sense to their art because you have to be witty."
"There are all these layers of depth that you have to understand. As Fred said, you have to be extremely observant. It just takes an incredible amount of brilliance to come up with what she did."
The White Lotus debuts same time as the U.S. on Monday, July 12, at 9 am (Manila time) exclusively on HBO and HBO GO, with a same day encore at 10 pm (also Manila time) on HBO. New episodes air every Monday at the same time. – Rappler.com