This is AI generated summarization, which may have errors. For context, always refer to the full article.
'Here Lies Love' prepares to make its official Broadway debut on July 20, featuring a who's who of Filipino and Filipino-American stage performers
This story is published in partnership with SoJannelleTV, a magazine show about Filipinos in North America.
Lea Salonga has blazed many trails for Filipinos in the world of Broadway and theater, but there was still one milestone she had hoped to be part of.
The Tony Award winner Salonga, who will portray Benigno "Ninoy" Aquino's mother Aurora Aquino in the musical Here Lies Love in a limited guest engagement, had wondered in the back of her mind if the story of Imelda Marcos could become the first Broadway production to have an all-Filipino cast. Casting had not yet been completed, but she quietly held out hope.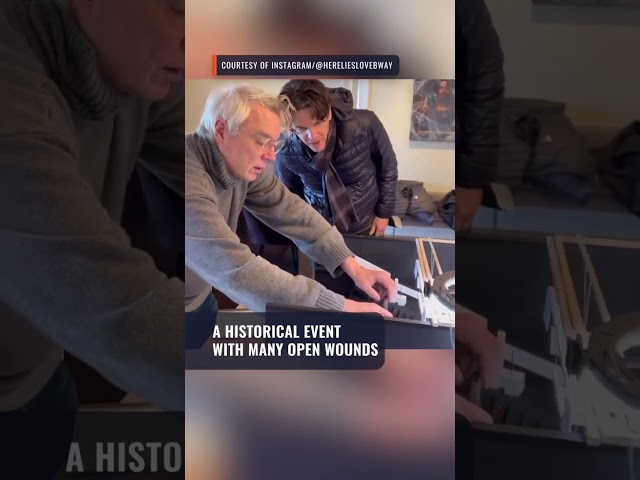 That dream came to reality as Here Lies Love prepares to make its official Broadway debut on July 20, featuring a who's who of Filipino and Filipino-American stage performers, including Arielle Jacobs (Imelda Marcos), Jose Llana (Ferdinand Marcos), and Conrad Ricamora (Ninoy Aquino).
"We did not know at the time but perhaps I was already manifesting. I wanted to be a part of the first all-Filipino cast on Broadway," admitted Salonga in a conversation with Fil-Am media pioneer Jannelle So Perkins for a segment on So Jannelle TV, which airs US-wide on cable channels The Filipino Channel (TFC) and ANC; as well as on local Southern CA digital channel KNET 25.1; and is also available on social media platforms. "An all-Filipino is a major step and we do have a lot of the creative team as well as assistants, associates who are of Filipino descent."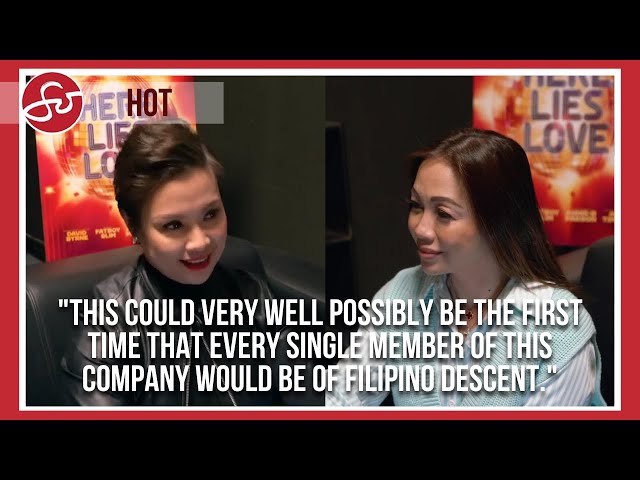 While there's no doubting the authenticity of its cast, Salonga, who is also one of the show's producers, acknowledges that there may be some who question why such an important story in Filipino history was written by a non-Filipino.
The play, which first debuted off-Broadway in 2013, was written by American music artists David Byrne (of Talking Heads fame) and Fatboy Slim. Salonga feels the amount of research done by Byrne, who traveled to Manila, plus Leyte, where Imelda Marcos is from, and Ilocos, where Ferdinand Marcos is from, makes it a well-balanced production.
"Yes, our creator is white but my god, the extent of the research that this man did in order to make this story and create it and now we as the company get to grab it and it becomes ours," said Salonga.
Byrne knows it may seem strange that an older, white musician would be taking an interest in telling the story of a Filipino woman's rise in power as the wife of Ferdinand Marcos all the way through Martial Law, but he says the story was the perfect fit for his vision of telling a story from inside a dance club. After all, Imelda Marcos had a disco mirror ball installed at her New York City townhouse, often frequented dance clubs and even turned the roof of Malacanang Palace into a dance floor of sorts.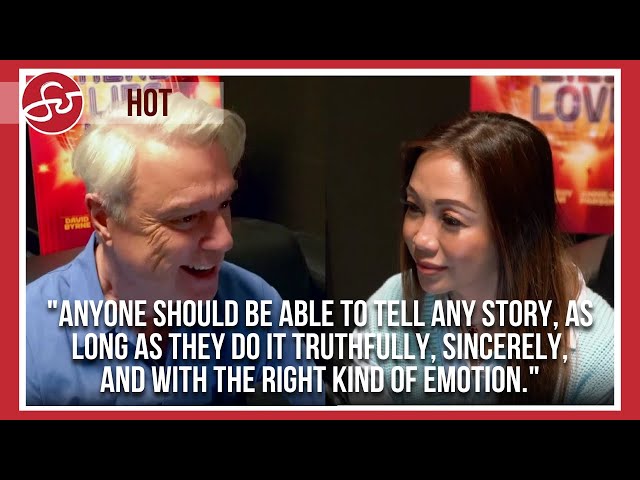 "I feel like anyone should be able to tell any story, as long as they do so truthfully, with the right kind of emotion and are sincere about it. But it is rather strange. So I constantly made an effort to check with people in Manila, with the actors and people here who either lived through that time or their parents lived through that era," said Byrne who adds that most of the song lyrics are derived from speeches and statements made by Ninoy Aquino and the Marcoses, which allows crowds to hear the history lessons from the protagonists' own words.
The subject matter is contentious and polarizing in itself, with Byrne adding that some audience members have shouted at cast members during shows. He understands that it comes with the territory when addressing a historical event that still has many open wounds.
"It's nuanced, it's a complicated story, it's not simple, you can't reduce it to one little thing. There's lots of context and factors and personalities involved that tell the story," said Byrne. "I think they will find it amazingly relevant to what's going on in the rest of the world today, with democracy under threat all over the world. They will see the example of what the Filipino people did."
Salonga acknowledges how contentious this story can be, but says the redeeming factor is how the story ends with the EDSA revolution, which restored hope to many people who were oppressed during Martial Law.
"There are going to be criticisms obviously," Salonga says. "Yes there's pain, yes there's so much heartbreak, yes there are people who have not had closure with regards to this particular part of history. But at the very end of the show, everybody knows the EDSA revolution, that's how the show ends. It's at the moment where people feel hope."
Salonga says that she felt emboldened in her role playing the mother of Ninoy Aquino after receiving a text message from Ken Kashiwahara, the husband of Ninoy's sister Lupita Aquino. Kashiwahara, a former broadcast journalist who was on board the fateful flight just before Ninoy Aquino was gunned down, told Salonga that his mother-in-law would have approved of her being casted in that role, and even shared intimate details of the moments before Aquino was murdered.
"The disco part is a trojan horse, it's supposed to pull you in," says Salonga. "But once we have you in, we have a story to tell." – Rappler.com
Rappler is partnering with Jannelle So Productions Inc (JSP), founded by Filipino-American pioneer and Los Angeles-based journalist Jannelle So, to publish video and written stories from SoJannelleTV about the journeys, successes, and challenges of Filipinos living in America.
Sundays, 4:30pm PT / 7:30pm ET on The Filipino Channel (TFC)
Mondays, 6:00pm on KNET Channel 25.1 Southern California
Replay on Saturdays, 7:30pm PT / 10:30pm ET on ANC North America
Any time on YouTube.com/SoJannelleTV