This is AI generated summarization, which may have errors. For context, always refer to the full article.
Companies are rethinking how they package goods to make them recyclable and reusable. But much needs to be done.
The clock is ticking.
By 2030, the amount of plastic waste in the world's oceans could reach 300 million tons, according to conservation organization World Wide Fund for Nature (WWF). International bodies, governments, and industry leaders aim to halve carbon emissions, reduce carbon footprint, eliminate plastic, and design greener systems by 2030, or a decade from now.
Environmental advocates, meanwhile, are pushing for more radical solutions, one that cuts at the root of the problem. They believe that in order to stop leakage of plastics into the environment, unnecessary plastics should be eliminated by designing them out of the economy.
According to WWF, plastic pollution is expected to increase by 40% or an additional 104 million metric tons of plastic waste by 2030. By 2050, solid waste in the municipal level will increase by 70% – a spike that will shape people's living conditions.
As these deadlines draw near, different sectors of the society are being encouraged to design greener solutions in order to reduce plastic waste.
Rethinking plastics
Even new start-ups are now putting more effort into looking for alternatives and the technology needed to undertake eco-design.
Eco-design refers to designing physical materials that are intended to be integrated into a sustainable environment.
Improving the design of products and materials to make them recyclable after use would reduce their leakage into nature. Thus, applying eco-design standards will urge manufacturers to eliminate all unnecessary packaging and make the rest recyclable, reusable, and even compostable.
According to EcoNest PH founder and CEO Nikki Sevilla, the technology and design for eco-design are already available, and it's just a matter of making these more accessible to the local market.
"Eco-design is providing a holistic solution…[and] lessening carbon footprint throughout the whole production, the life cycle of the product," Sevilla explained.
Her company EcoNest PH is a local start-up that distributes eco-friendly packaging materials in the country.
One of its main products is the cassava biobags, which they market as a renewable alternative. Because cassava is a cheap and common root crop, turning them into biobags opens the potential for bigger production. The material does not mix with food and other goods it can carry, making it a safe and functional alternative to plastic bags.
More importantly, cassava biobags are meant to lessen producers' dependence on petroleum-based items, according to Sevilla. Because plastics are produced from fossil feedstocks, their very production contributes to carbon impact and climate crisis.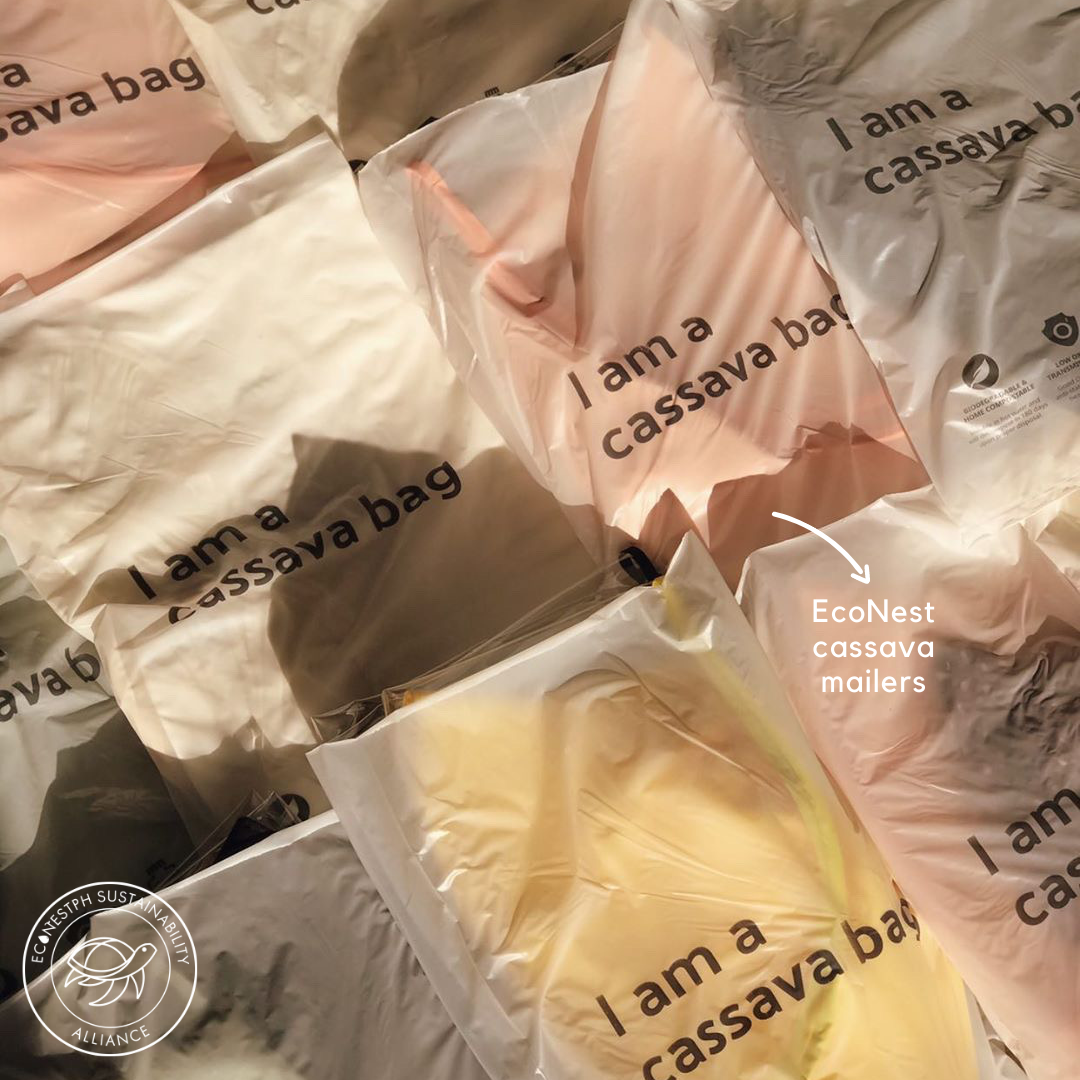 If this production trend continues at its present rate, the Ellen Macarthur Foundation (EMF) – a UK-based charity that works toward the building of a global circular economy – said plastic will account for 20% of total oil consumption and 15% of global annual carbon budget by 2050. Reducing plastic production, then, goes beyond cleaning the environment – it also mitigates climate change.
Because they are made from natural resources, the cassava biobags are pegged at around P7.50 to P20 per piece, depending on weight and size. While this is 30% to 40% higher than the conventional plastic price, the bags are compostable after 100 days – a rate more sustainable compared to plastics that may take hundreds of years to dissolve.
The start-up dreams of localizing this kind of packaging in the future. "Hopefully, magamit ng masang Pilipino, sa carinderia, sa sari-sari store. Ito na 'yung standard packaging," said Sevilla. (Hopefully, the Filipino masses will be able to use these materials as the standard packaging – the packaging we'll use in cafeterias and sundries stores.)
But fulfilling this dream would require a change in the design of how we do things and a reimagining of how we produce and consume. After all, even well-meaning alternatives like the cassava biobag may end up in our environment without proper waste management.
What companies are doing
In its 2019 brand audit, global anti-plastic movement Break Free From Plastic identified the top corporate plastic polluters, with the world's top 3 being Coca-Cola, Nestle, and Pepsico.
In the Philippines, the audit said Coca-Cola, Nestle, and Universal Robina contribute the most to the country's plastic pollution. Plastic bags, sachets, and plastic films were the most ubiquitous plastic items found dumped in nature.
Several of these big companies in the country banded together in 2014 to form the Philippine Alliance for Recycling and Materials Sustainability (PARMS). The alliance aims to address common problems on waste management, and implement Republic Act No. 9003 or the Ecological Solid Waste Management Act.
Among PARMS' company-members are Nestlé Philippines, Coca-Cola System, Liwayway Marketing Corporation, Monde Nissin, Pepsi-Cola Products Philippines, Procter & Gamble Philippines, Unilever Philippines, and Universal Robina Corporation.
Nestlé Philippines in particular has focused its plastic reduction efforts on 3 areas: developing packaging for the future through packaging and delivery innovation, and plastic reduction; increasing waste collection and recycling; and educating consumers on solid waste management to shape behavior and understanding.
Right now, Nestlé is exploring refillable or reusable packaging, simplified packaging materials, recycled packaging materials, as well as bio-based, compostable, and biodegradable materials.
Many companies have committed to making packaging sustainable by 2050, and some have already started innovating their products. Nestle is working on easy-to-recycle materials for milk and coffee products. Coca-Cola Philippines introduced the Viva! eco bottle in 2019 – the first beverage bottle made from 100% recycled plastic. Other top companies have followed suit, with Unilever doing the same thing with their beauty product line Dove in 2019.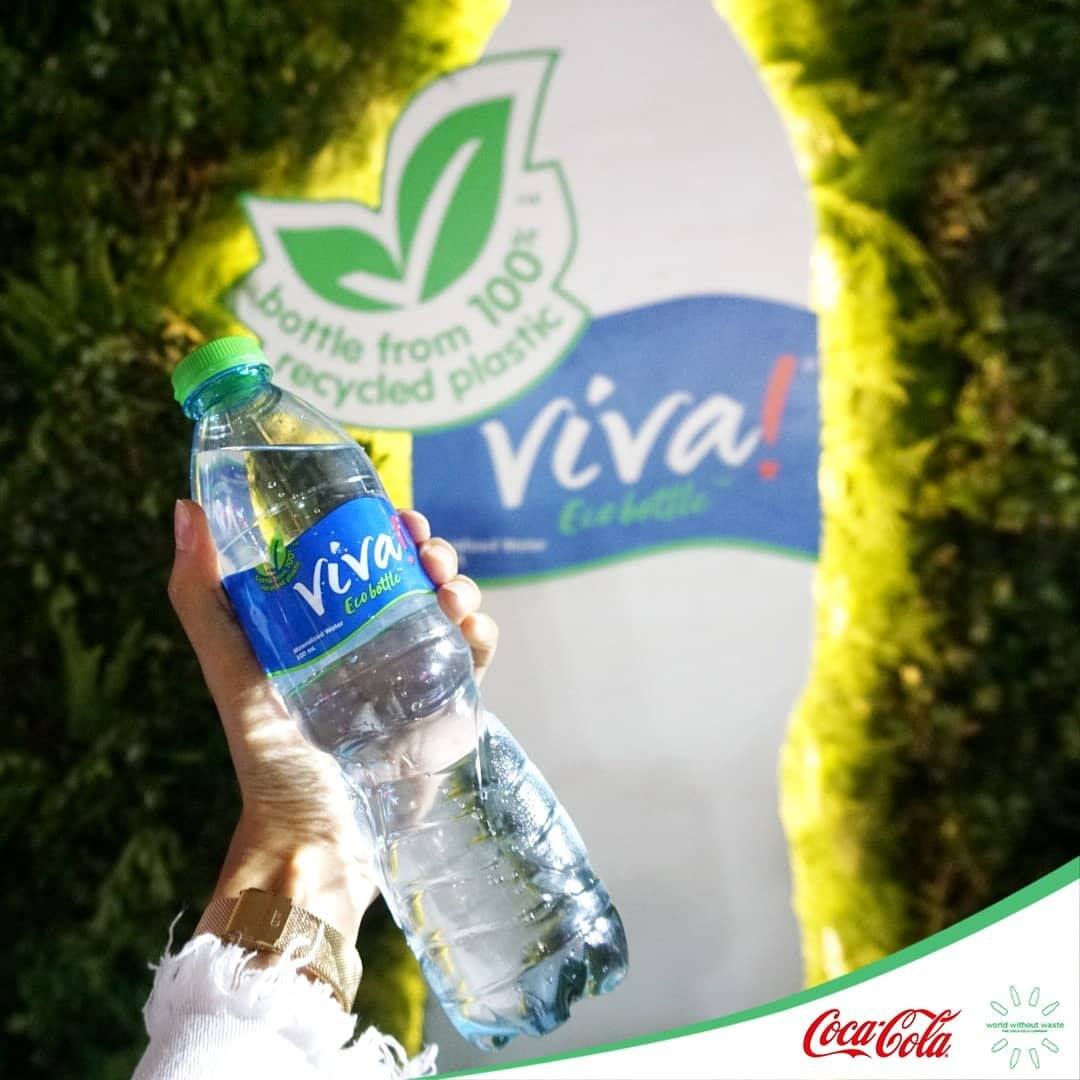 While these efforts are commendable, such efforts come up small against the global statistic. In 2016, the EMF found that only 14% of plastics are actually recycled globally – a far cry from companies' target, like Coca-Cola, to make all packaging recyclable and sustainable before 2030.
For Czarina Constantino, the national lead of the WWF-Philippines' No Plastic in Nature initiative, addressing plastic pollution and redesigning the products we consume will require measures in all stages of production and consumption across all sectors of society.
"It is important to focus on both the reduction of the production and the consumption of unnecessary plastic, and also on managing plastic products and packaging, ensuring that materials are used as long as possible in our society," she said.
According to the plastics policy playbook of Ocean Conservancy, a nonprofit organization which helps formulate ocean policy in the United States, developing eco-design standards for product packaging and implementing them on a national level "can address challenges around non-recyclable or difficult to recycle plastics."
Every day, Filipinos use almost 48 million shopping bags and 45.2 million pieces of plastic labo bags, the Global Alliance for Incinerator Alternatives found in their study released in 2019.
Meanwhile, according to a material flow analysis conducted by WWF-Philippines in 2020, a Filipino generates 20 kilograms of plastic waste per year. Of this figure, 62.6% are low value plastics that are discarded into landfills or the open environment.
With this in mind, institutionalizing change on such a big scale would require an equally extensive solution: pushing for a nationwide scheme that would mainstream eco-design standards.
Redesigning PH's waste system
Redesigning packaging is just part of the whole effort to redesign systems in place. The Ocean Conservancy said that a long-term root cause solution is "the incorporation of circular economy principles into the plastic sector."
In a circular economy, waste is phased out, and products and packaging are designed to be reused. Everything that you buy is not put to waste; instead, it goes back to production to be recycled and repurposed.
At present, advocates in the Philippines are pushing for a legislation on the Extended Producer Responsibility (EPR) which upholds principles and ideas of the circular economy. At least two bills lobbying for the EPR are still pending at the committee level both in the Senate and the House of Representatives.
Simply put, the EPR scheme obliges producers and manufacturers to collect their products after consumption, to eliminate single-use plastics, and to effectively manage their materials and make them recyclable.
Under an EPR scheme, companies would have to redesign their packaging to reduce waste, and change their business models to adapt more sustainable production practices.
Companies would be held accountable by a Producer Responsibility Organization (PRO), composed of representatives from the government, private sector, and nonprofit organizations. The government would be responsible for monitoring the PRO, as well as strictly implementing EPR standards and targets.
In a report released last October, WWF-Philippines recommended a 3-year transition period for the country to localize the EPR scheme. This is meant to prepare all stakeholders, including companies, government agencies, waste management operators, and communities, to transition from voluntary participation in an EPR scheme to mandatory participation once an EPR legislation is in place.
According to Constantino, once the EPR is fully implemented, the country will have a stronger waste reduction and management system.
"Mandatory EPR system is a way for businesses to be more engaged in eliminating unnecessary plastics through eco-design and strengthening waste management. [They become] more responsible for the full life cycle of their plastic packaging," she said.
This should ultimately eliminate leakage of plastic into nature, Constantino also said.
Eventually, once all stakeholders are on board, the work will shift to acquiring data regarding unnecessary plastics and information on the life cycle of plastics to better stimulate waste management. With the data at hand, WWF-Philippines said it will be easier to "design out problematic packaging and [switch] to easy-to-recycle packaging."
Mandatory EPR system is a way for businesses to be more engaged in eliminating unnecessary plastics through eco-design and strengthening waste management.
WWF-Philippines No Plastic in Nature initiative national lead Czarina Constantino
WWF-Philippines believes that implementing the EPR would speed up the process of mainstreaming eco-design standards. While producers and manufacturers can develop more sustainable products on their own, an EPR legislation would cover all stakeholders and ensure a streamlined transition to better product design and a circular economy.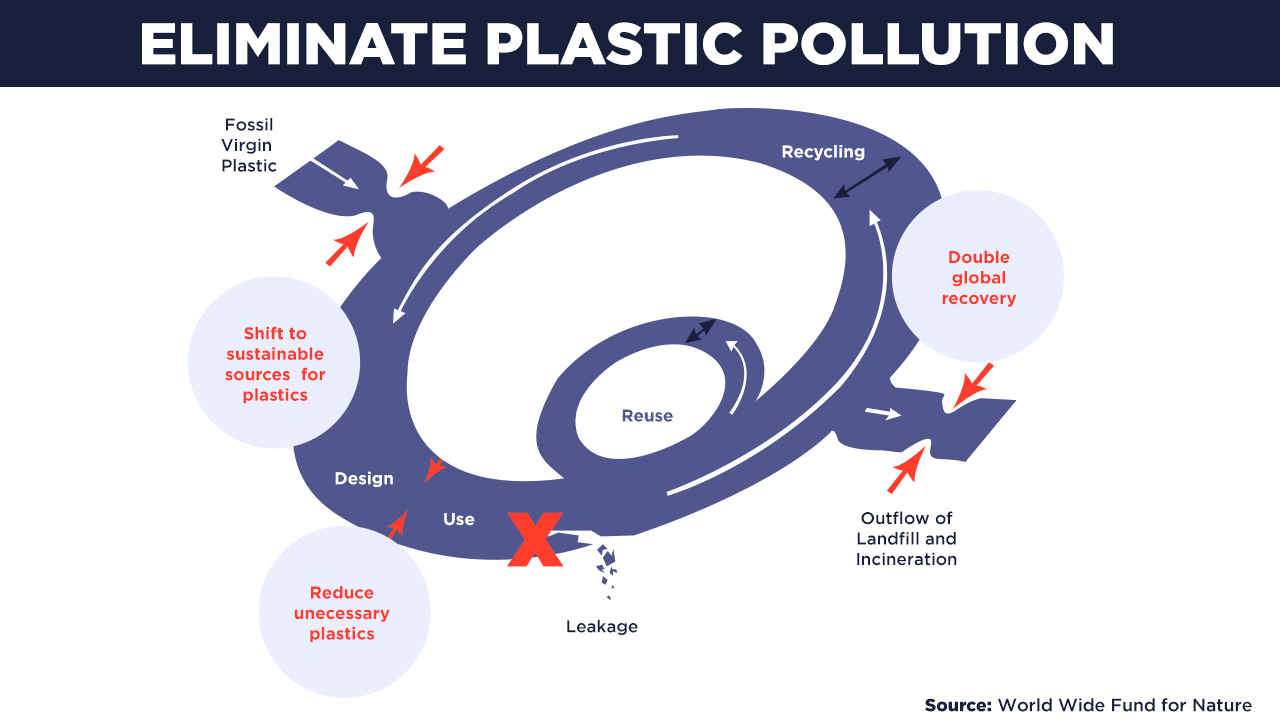 According to WWF, the EPR scheme would make the transition to eco-design easier to jumpstart and facilitate. Because the scheme covers all packaging and products, it is also largely concerned with the smallest single-use plastics that hound our oceans: utensils, coffee stirrers, and straws that should be included in recycling streams. Under the scheme, companies would be prompted to either eliminate these or shift to more sustainable materials for the remaining plastic products.
Implementing the EPR scheme is also expected to result in an increase in recycling rates. The scheme reinforces waste management operators and companies to build better facilities for recycling, collecting, and processing waste. There would be more opportunities to recycle products and reduce landfill rates.
As producers eliminate unnecessary plastics, shift to more sustainable materials, and increase recycling capacity under an EPR scheme, they could gather more comprehensive waste management information and gain a better understanding of what works and what doesn't.
A shift in the plastic paradigm
In 2019, Greenpeace USA senior research specialist Ivy Shlegel said that plastic production is projected to increase in the coming years despite solutions offered by the biggest consumer goods companies.
"To solve the plastic pollution crisis, companies need to rethink how products are delivered to consumers, and invest significantly in reusable and refillable delivery systems," Shlegel had said.
With the growing demand for a complete (and greener) redesign of products, companies should be made accountable for the waste they produce.
"We should account for the entire environmental impact of the raw material," Constantino said, noting that the EPR scheme covers all packaging materials, as some plastic alternatives are not sustainable in the long run. (Learn more here: The Alternative Materials Tool)
The goal to localize redesigned packaging and eliminate unnecessary plastic is only partly achievable with a plan of action to strengthen the country's waste reduction and management system. Simultaneously, all stakeholders should make innovating with products and packaging a key priority if the Philippines must radically cut down its plastic generation.
The EPR scheme can help in this regard by mandating manufacturers to shift to a new paradigm in production, and providing a framework for the deployment of solutions that change the very blueprint of how we produce and consume.
Current trends in plastic generation as well as low recycling rates show that the world is still falling short when it comes to tackling plastic pollution. The global volume of plastic in our oceans is set to triple over the next 20 years, according to WWF, which means triple the 11 million metric tons of plastics we have now in our oceans.
What the world needs to push is the urgency and political will to build and design a greener future. – Rappler.com
This story is produced in partnership with WWF Philippines.