Harassed by Chinese vessels, Pag-asa fisherfolk have no one to turn to and express their rage in silence. They hope that when the Philippine government finally takes action, it won't be too late.
In 2008, Larry Hugo was stunned when he first ventured into the cerulean seas around Pag-asa Island – 932 kilometers southwest of the Philippine capital of Manila and known internationally as Thitu. Only a few hundred meters away from the shore, he found his outrigger boat already brimming with a wide array of fish. It was a haul enough to feed his small island community for a day. He sold it for P80 ($1.60) per kilogram, primarily to military personnel stationed on the island. 
After a year as a construction worker (and while fishing on the side), Hugo quit to become a full-time fisherman. Back then, the pristine seas gave him a daily income of P500 to P1,000 ($10 to $21), three to four times higher than his salary from construction work.
The abundant harvest continued in the following years. During the fishing season that ran from March to May, whenever he and his 45 or so fellow fishermen returned home, they would unload basins filled with tanigue (mackerel), talakitok (trevally), maya-maya (snapper), lapu-lapu (grouper), molmol (parrot fish), danggit (rabbitfish), and labahita (surgeonfish).
Life was easier back then for Hugo and the nearly 200 other settlers from across mainland Palawan. Food wasn't a problem, and government provided almost all of the island's basic needs, like potable water, power, housing and monthly rice supply.
Why do the residents of Pag-asa receive such incentives? These inhabitants play a vital role in supporting the Philippines' assertion of sovereign rights in the West Philippine Sea (WPS). It's a region that China has been claiming as part of its nine-dash line, which encompasses much of the South China Sea and encroaches into the exclusive economic zones (EEZ) of not only the Philippines, but also Vietnam, Malaysia, Brunei, and even faraway Indonesia.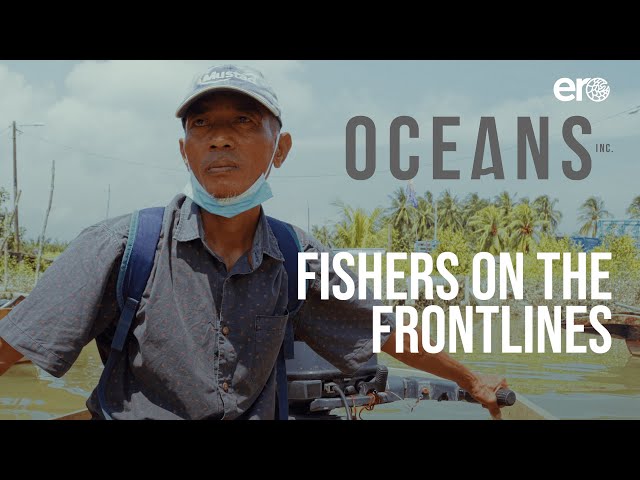 Signs of destruction
Originally from Roxas in the mainland of Palawan, Hugo was 29 when he moved to the island of Pag-asa. Packing only a few clothes and some fishing gear, he went aboard a chartered ferry that took two days to reach the remote island in the WPS. That was 13 years ago.
What pushed him to leave his former home? "I don't think there's a bright future there for artisanal fisherfolk like me," Hugo told a Rappler journalist working with the Environmental Reporting Collective. Fish stocks were declining on the mainland as more and more fishing players started operating in the coastal waters to feed the province's booming population.
After his move, the sea surrounding Pag-asa became his fishing haven. The West Philippine Sea itself was prized not only for its vast fisheries, but also for its fossil fuel reserves. But everything started to change in 2014, when China began constructing military facilities on an artificial island on Subi Reef. Hugo was among the first fisherfolk to spot and report the construction to the Philippine military stationed on Pag-asa.
"Barges carrying aggregates and other construction materials arrived one by one. When they finally swarmed the area, we were no longer able to go there," recalled Hugo. The occupied reef sits 26 km southwest of Pag-asa and was once a rich fishing ground frequented by him and other fisherfolk.
Experts have long cautioned about the potential collapse of WPS's marine ecosystems due to China's illegal reclamation and fishing – environmentally destructive activities that President Rodrigo Duterte's government did little to deter for several years. In 2019, the University of the Philippines Marine Science Institute estimated that the country is losing at least P33.1 billion ($681.4 million) annually due to reef ecosystem damage in the WPS.
With an annual fish yield of 300,000 metric tons – which represents 7% of the country's total fish production – the Philippine fisheries bureau said the sea needs utmost protection as it is crucial for the country's food security. Studies show its coral reefs are vital for the long-term sustainability of the Philippines' marine resources as it replenishes the coastal fish stocks in the major fishing grounds of Palawan, northwest Luzon, and Sulu and Celebes Seas.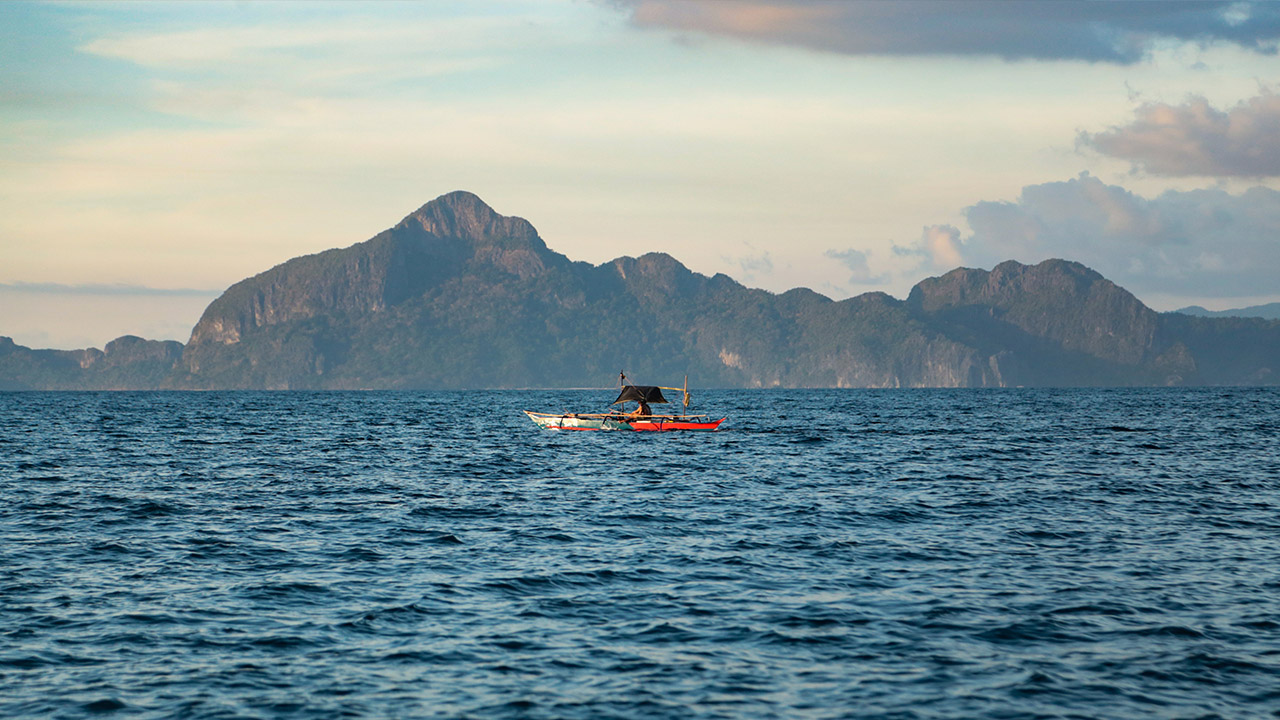 In March 2021, tensions flared in the area again after hundreds of Chinese militia-like fishing vessels entered the seascape. Experts called it an aggressive assertion of control over the geopolitical hotspot, and that the vessels, which were anchored there for weeks, were a tactic to push out boats from other claimant countries like the Philippines.
On the heels of these hostile incursions, Filipino marine scientists renewed the warning that the impact of China's activities could deal a hard blow to 1.8 million people, mostly from the small-scale fishing sector that depends on WPS marine fisheries to survive. These residents belong to one of the country's top three poorest sectors, government data showed.
While overall poverty incidence among small-scale fisherfolk slid from 41.2% in 2006 to 26.2% in 2018, Pag-asa fisherfolk said that the economic improvement was hardly felt on the island. Their yield began to shrink in 2015 and they suspect that it was an effect of China's presence in Subi Reef. The blast and cyanide fishing activities of Vietnamese-owned fishing vessels may also have aggravated the deteriorating health of their coastal waters.
Now, fisherfolk have to go farther from shore and stay at sea longer, desperately chasing fish that vanish into the deep sea, navigating areas that their rickety boats are not designed for. This means spending less time with their families and more money on fuel, resulting in even lower income that is barely enough to sustain their needs.
"Before, a two-hour trip could yield more than three basins containing 50 kilos of fish each. Now, a whole day of staying at sea can't even match that," said Hugo, a father to two grade school girls. His biggest worry is not saving up enough money for them to continue their studies.
"My dream for [my daughters] is to finish their studies so they won't end up like us. I don't want them to suffer the same hardships that we've been going through," said the fisher, who, like his 32-year-old wife Jiera, did not graduate college.
To earn extra income, Hugo now wakes up as early as 4 am to go fishing before he reports for work at the municipal hall at 7 am. The day he spoke to Rappler, he said he was "blessed" to bring home 7 kg of fish. His wife Jiera cleans and dries the unsold catch to preserve it, since there is no cold storage on the island. She sells it for P30 to P150 ($0.30 to $3.15) per kilo to soldiers before the C130 plane flies them back to the mainland.
Another fisher, 59-year-old Romeo Malaguit, lamented that he had spent P480 (about $10) for six liters of gasoline, only to return without any catch after two consecutive days. Back in 2018, he had a daily haul of up to 30 kg. Today, he's lucky if he can catch 1 to 3 kg ($1.7 to $5) a day.
"If we're luckier, sometimes we could catch 4 to 10 kg of mackerel and yellowfin tuna. We can really feel the depletion as it's getting more and more difficult to bring home fish," said Malaguit.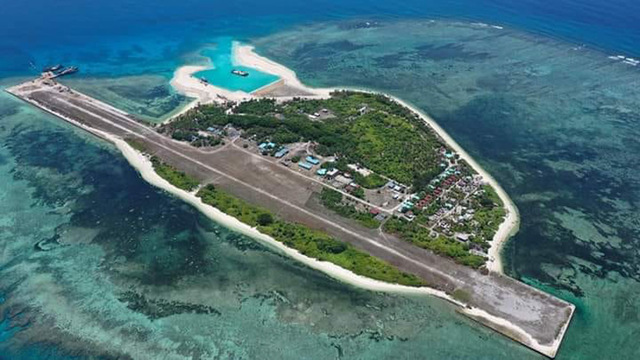 Harassment at sea
Various nautical charts warn seafarers to exercise prudence when traversing around the poorly mapped Kalayaan Island Group. But it doesn't prevent foreign fishing fleets from operating within the Philippines' 200-mile EEZ.
Data obtained by Rappler from Oceana Philippines showed that the WPS has been under constant threat from large-scale, illegal, unreported, and unregulated fishing. The organization said illegal commercial fishing vessels in the WPS numbered 102,737 in 2018, and increased to 109,885 in 2019. When the pandemic hit in 2020, the incursions drastically dropped to 70,465, but were still considered high.
"If our government does nothing about it, soon there will be nothing to catch here," said Hugo. "This is possible because the foreign nationals with their ships are amassing tons and tons of fish."
In January to April 2021 alone, Oceana detected 25,451 commercial fishing vessels in the WPS through the use of VIIRS, a satellite sensor that can detect fishing boats that employ lights to attract fish at night.
For Pag-asa fisherfolk, this makes WPS a perilous place. Their fear of getting harassed by China's maritime forces has been compounded by a recently-passed controversial law that allows the Chinese Coast Guard (CCG) to forcefully evict foreign vessels entering these fiercely-contested waters.
On January 25, 2021, Hugo tried to go to Cay 2, an immaculate white sandbar emerging from a reef teeming with marine life. On his way, he said he was blocked by not just one, but four CCG vessels that had been lurking nearby. "I have many enemies at sea. Look, those are Chinese ships just in front of me," he said in a video he filmed as he propelled back to safety.
The incident made headlines, but Hugo's claim was denied by both the Philippine military, who claimed that the incident was "improbable," and the Chinese embassy in Manila, which dismissed it as "fabricated" news. Progressive lawmakers and fisherfolk groups, however, stood by Hugo's assertion, and accused the Philippine military of colluding with China in denying the public incidents of harassment of fisherfolk in the WPS. Chinese vessels have been accused of not only engaging in illegal fishing activities but also ramming and sinking other countries' vessels.
"That could happen to us, and it'd be easy for them to say 'It's unintentional,' so our response is to leave that area once we see them approaching," explained Hugo.
Other Pag-asa fisherfolk share similar experiences. The fisherfolk say that they had asked the authorities many times to do more to prevent intrusions. Their appeals didn't lead to any change, until recently, when the Philippine government finally lodged a diplomatic protest, demanding China's withdrawal of assets around Pag-asa. Still, despite public criticism, Duterte has repeatedly insisted that asserting Philippine sovereignty could provoke war with his "good friend" China – something that the Philippines, with its inferior military capabilities (according to the President), can't afford.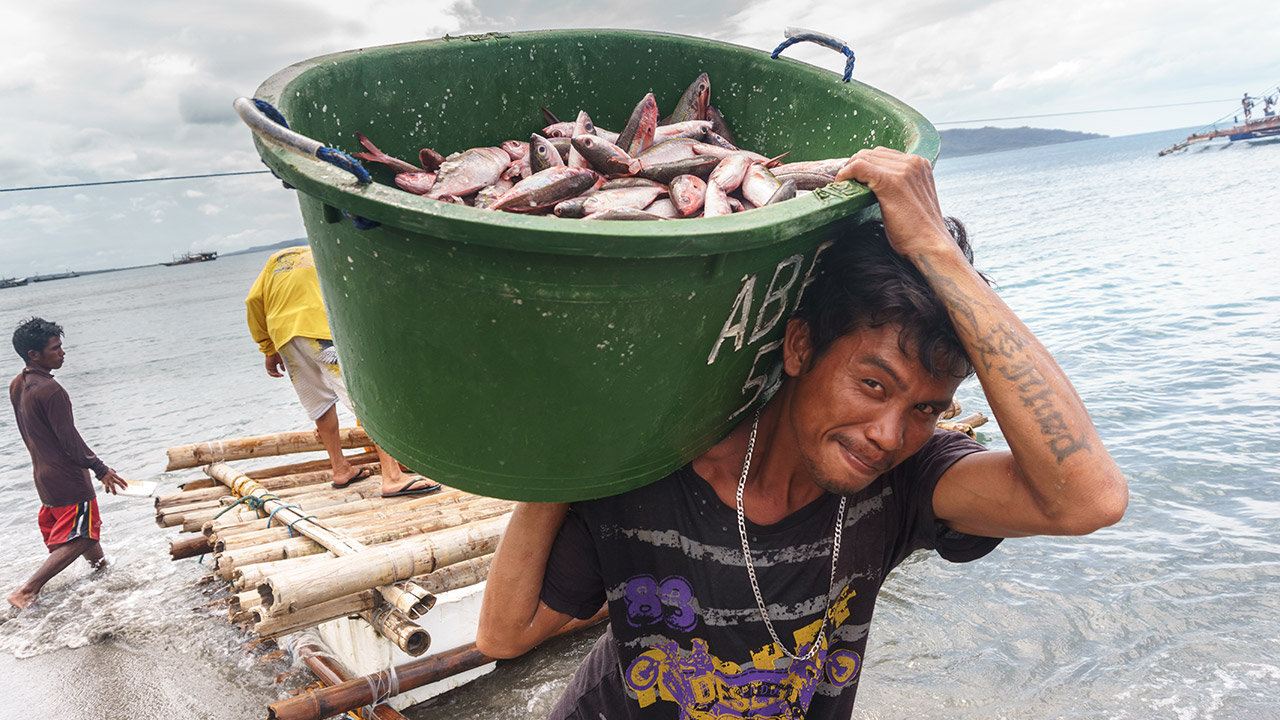 With no one to turn to, Pag-asa fisherfolk say that all they can do is express their rage in silence. The only thing that appeases and makes them feel safe is a promise from island authorities to keep an eye out for the fisherfolk, especially when they're out at sea. "At the end of the day," Hugo stressed, "we can't turn the tide because we have no power to fight for our rights."
But despite the risks of living there, the fisherfolk's optimism isn't ebbing away. After all, it's Pag-asa – a Filipino word for "hope" – that they cling to in order to stay afloat while drifting through the sea of island life's uncertainties. They hope that when the Philippine government finally takes action, it won't be too late.
"I haven't grown tired of believing that there is still hope here," Hugo said. – Rappler.com
(Editor's Note: All quotes have been translated into English.)
P1 = $47.82
This story is part of Oceans Inc's "Fishers on the Frontlines," which explores how fisherfolk across the South China Sea have been impacted by IUU fishing and the ongoing maritime territorial dispute.
Oceans Inc is a collaborative investigation by the Environmental Reporting Collective, involving 23 journalists from over a dozen countries looking into IUU fishing. Follow the full investigation at www.oceansinc.earth.