What happens when an organization becomes customer-centric? What does it mean to integrate compassion in your business strategy?
Have you heard about the phrase customer-centricity? What is your personal take on customer-centricity today?
Let me share mini-stories about a text message I got, realizations about TLC, and, lastly, a confession.
First, a story via text
Context: While I was having a Viber conversation with our valued client, she sent me this: "Thank you for your clientship and friendship."
As I read her message, my heart warmed, and I had to savor this moment. I realized that this is my aspiration: to turn my customers into life-long friends. I would like my engagement with them to go beyond the transaction of work.
I'd be delighted if my relationship with my customers would transcend beyond merely giving them the service they expected. I would like my customers to see me as a partner and a trusted friend.
My AHA! Moment: Customer-centricity, after all, is making them feel valued, listened to, and cared for no matter what the circumstances are.
Second, on TLC
TLC often means "tender loving care." When I engage with our customers, I also say TLC means "truly listen to customers."
In a world so noisy and broken, listening can be a rare skill to practice these days. When we listen to our customers, we assure them that we care about them no matter how difficult they can be. This is a good path towards the journey from clientship to friendship.
My AHA! Moment: By TLC (truly listening to our customers), we practice what customer-centricity is about.
Lastly, a confession
Context: I learned how to engage with both partners and customers in an internet company called iPhil Communications and Microsoft Philippines in the late '90s to early 2000. 
When I was younger, I will admit that difficult and angry customers would intimidate me a lot. I would get scared and emotionally affected when I would see or witness customers have their outbursts of emotions – when they are frustrated, impatient, or angry – at me or even at other people.
My AHA! Moment: Now that I am older, showing genuine care and concern to your customers, whoever they may be, would bring you on the right track – turning clients into life-long friends.
What happens when an organization becomes customer-centric? How does this transform both organizational culture and customer experience?
Making meaningful experiences for you and your customers
What happens when an organization becomes customer-centric? How does this transform both organizational culture and customer experience?
In these challenging times, to think about your customer first is to be humane. On Wednesday, November 10, from 9 am to 12 pm, via Zoom, coaches Boris Joaquin and JV Wong will conduct a workshop on the "New Wave of Customer Centricity: Making Meaningful Experiences for you and your Customers."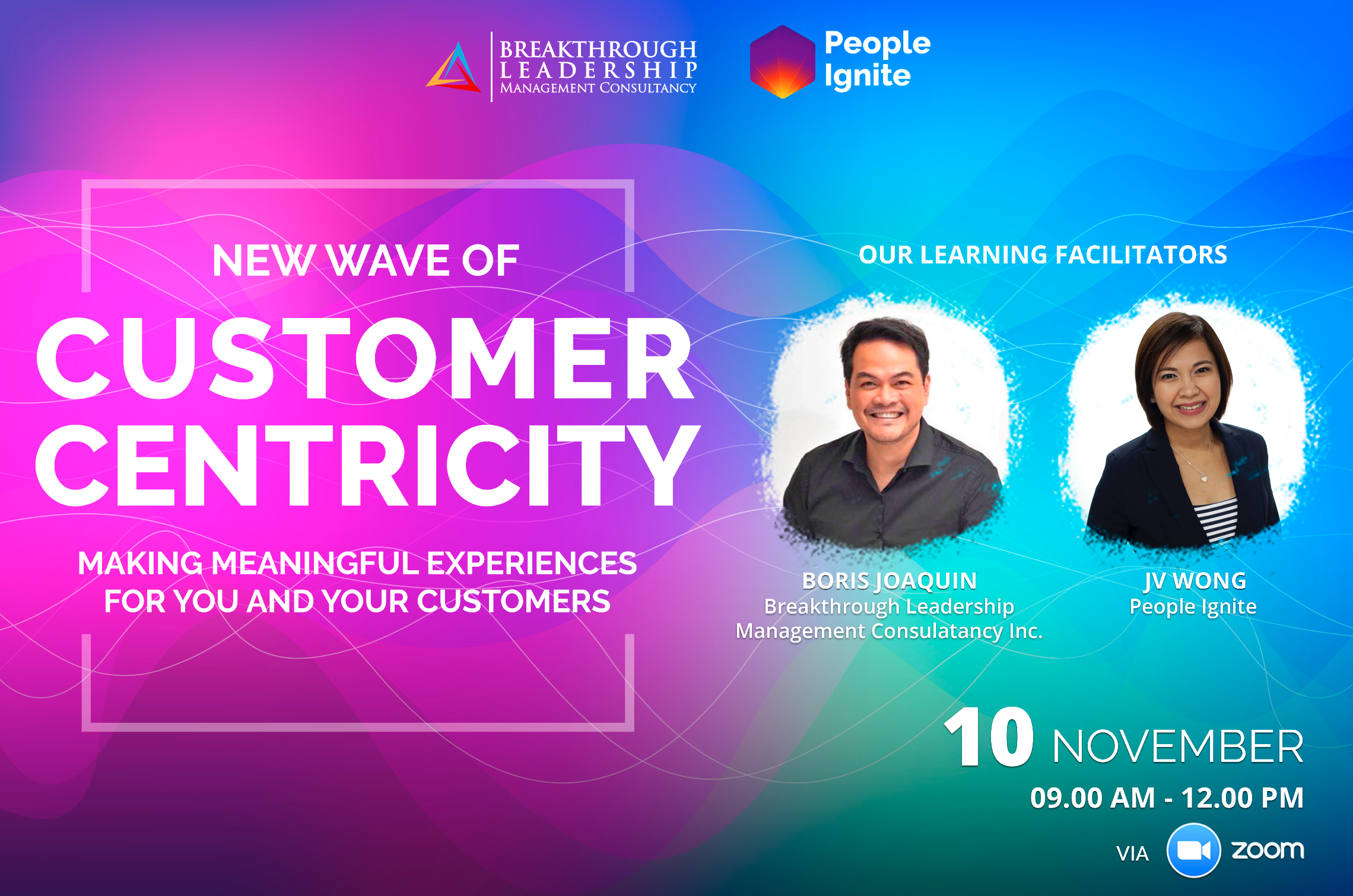 In this workshop, attendees will be taken through a learning session about integrating compassion in your customer and organization strategy. Lessons such as:
Appreciating what customer centricity is from both local and global perspectives
Learn how your brand can pivot from merely rendering service and offering products to creating meaningful experiences for customers.
Create a viable game plan for customer centricity that will produce new waves of mindset and behavior among your employees towards your customers.
For more information, you may call and text (+63) 917 5126392 or send an email to kervin@breakthroughleadership.asia – Rappler.com
With a degree in Organizational Communication from De La Salle University, JV started her career in marketing and made waves, eventually landing at Microsoft. There, she won the CPE (Customer Partner Experience) Hero Awardee for Microsoft Asia Pacific and Greater China Region – the first Filipina to receive such a prestigious award. After Microsoft, she pursued her passion by being a licensed teacher and shared her expertise as a professor in De La Salle University.