This hearty comforting stew full of fresh vegetables is considered as comfort food for many
Heading into lockdown almost two years ago, I never realized the courage and bravado I would eventually possess in creating dishes that would come out of our #TeamGellibean quarantine kitchen. Experimenting with matcha pancakes and ube champorado, to making tuna pockets and exploring both Japanese and Korean cuisine for our birthday celebrations have proven to be well worth the effort and research as I feed my family.
Matcha pancakes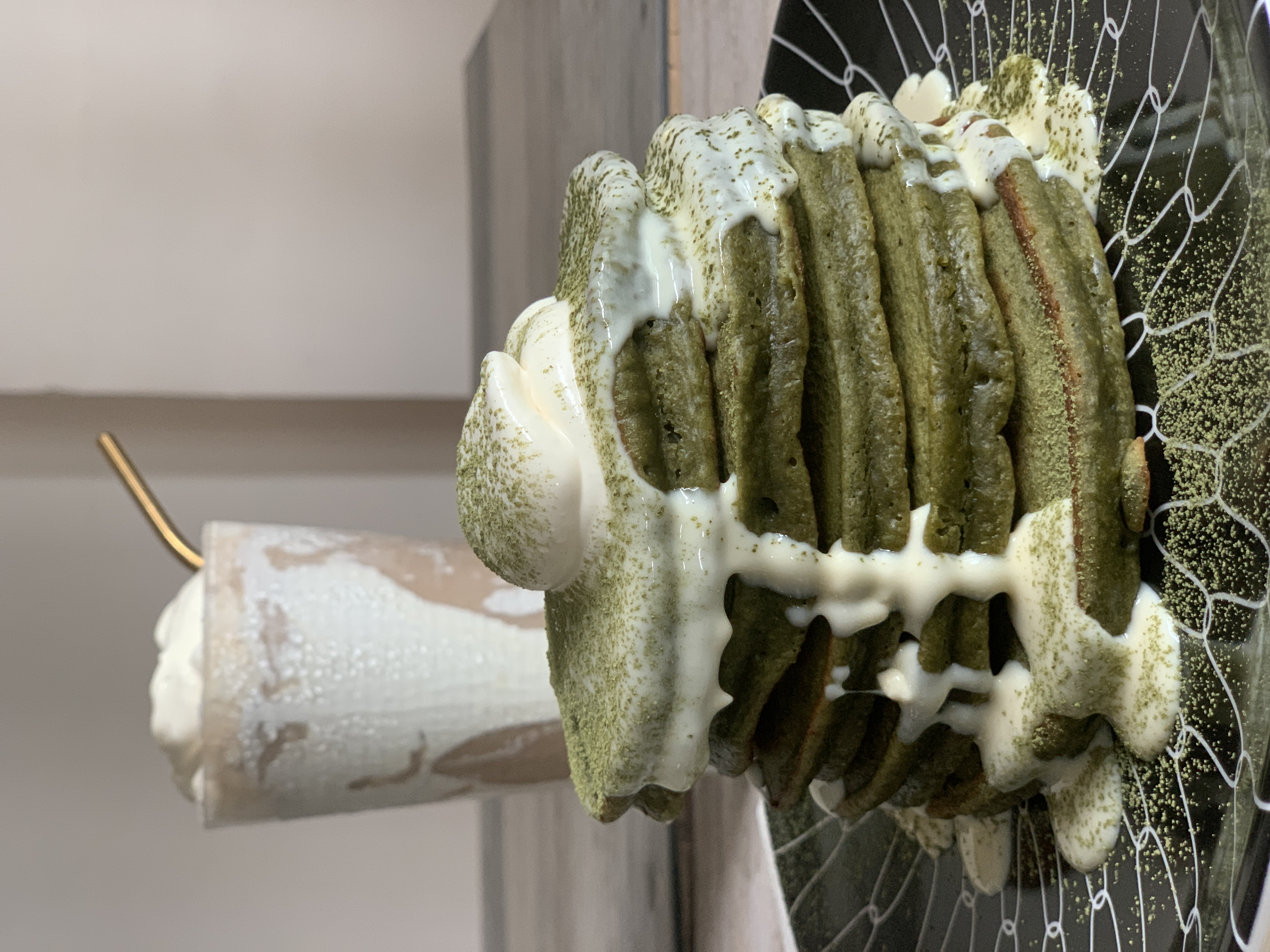 Each episode of Kitchen 143 has allowed me to research and eventually head down rabbit holes of trivia, information, origins, and recipes which I would adapt to suit our family tastes and preferences. I have enjoyed each of the facets to this evolving process, and as a result, I have enhanced my kitchen arsenal of "go-to" recipes.
Ube champorado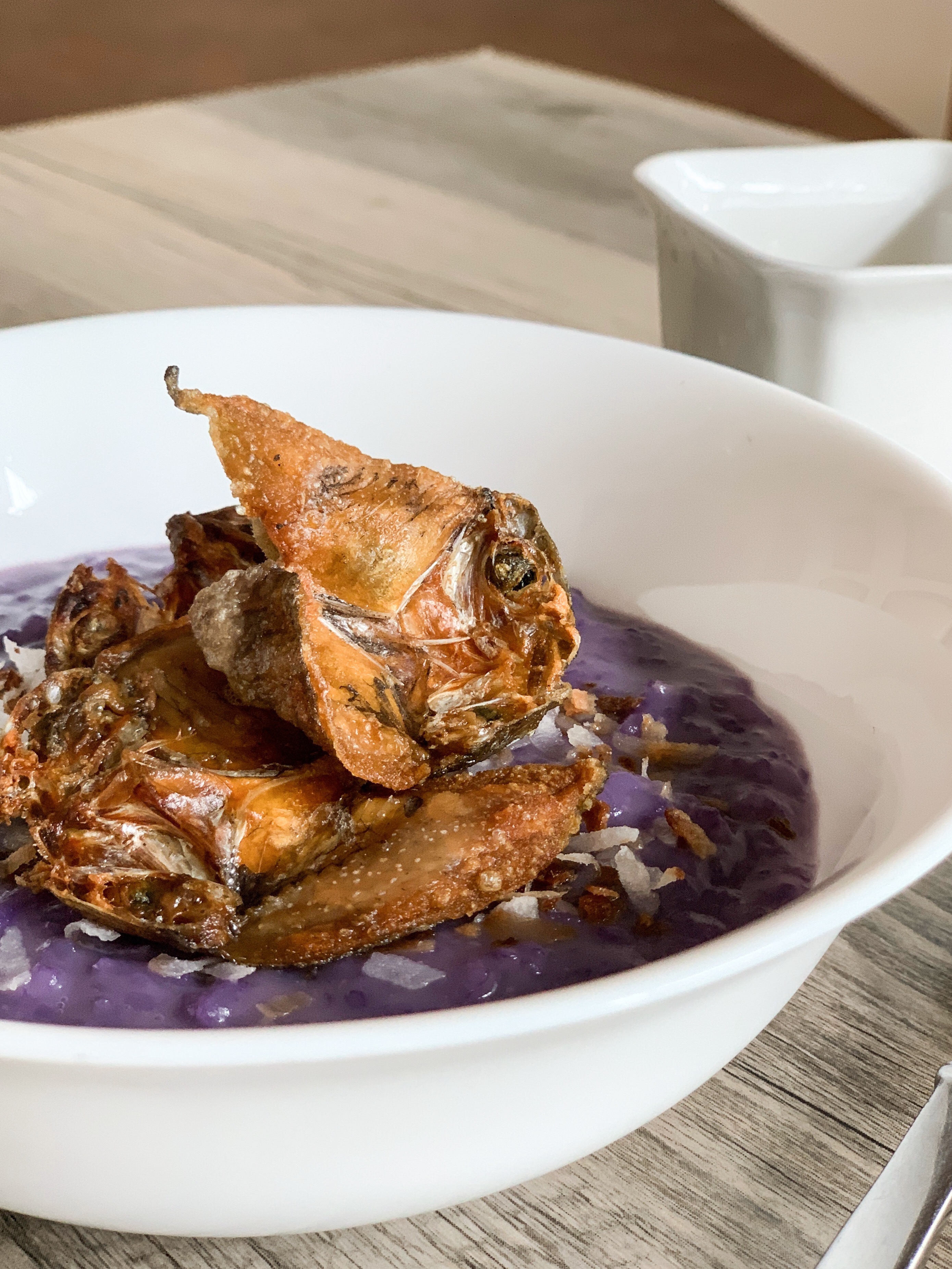 So many of these recipes were not as easy I had originally thought, others were quick and effortless, and many of the dishes are now on regular rotation in our household because they have quickly become frequently requested favorites.
Kimbap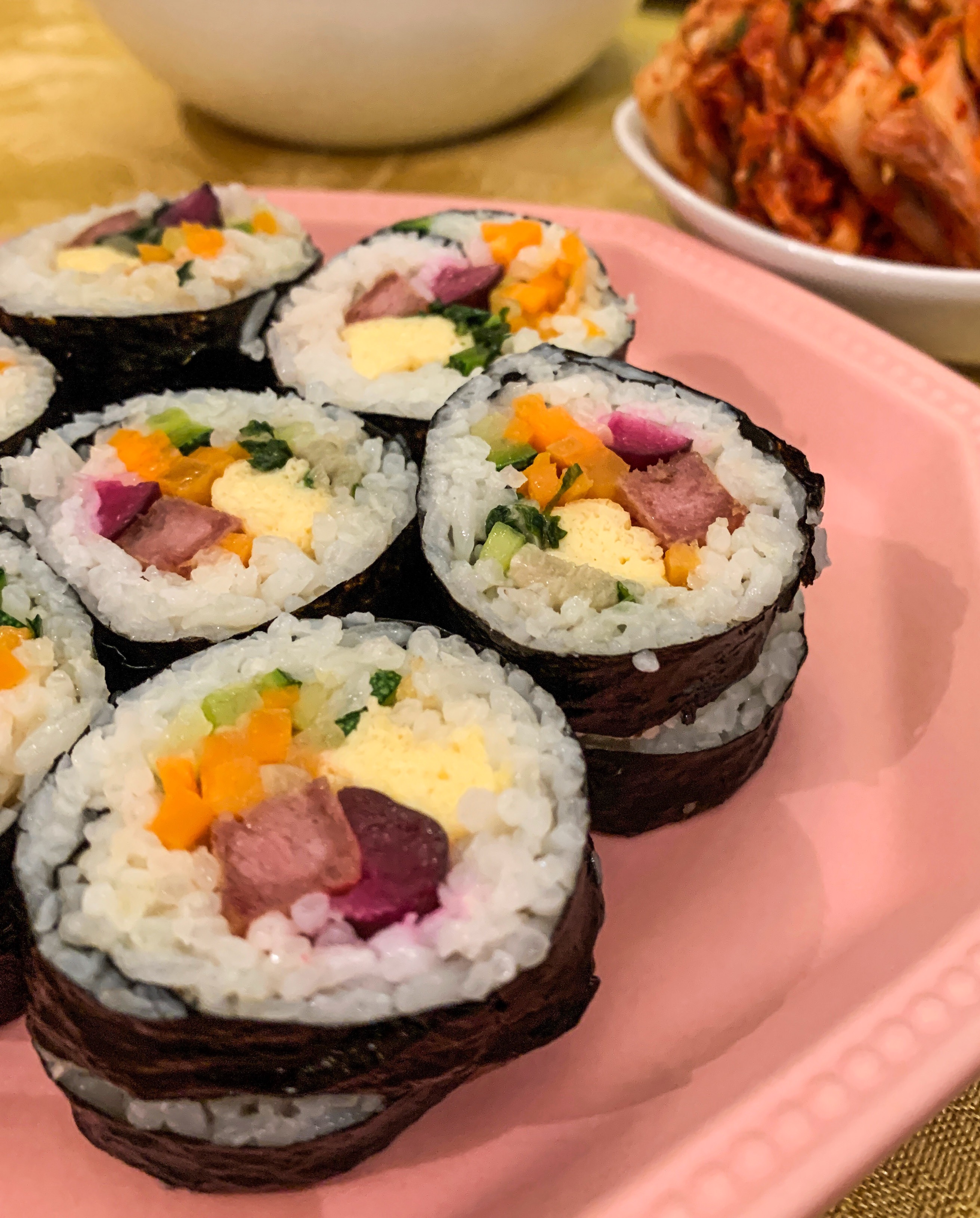 Two of these dishes that are now on regular rotation are Korean staples from restaurants that we would visit like Soban and Sariwon. Pickled radish, (aka chicken mu) is often served with Korean Fried Chicken to help cut the rich, smoky, spicy, sweet flavors of this deep fried treat. It's so simple in nature, and comes to our dinner table, even when the meal is not Korean in theme.
Chicken Mu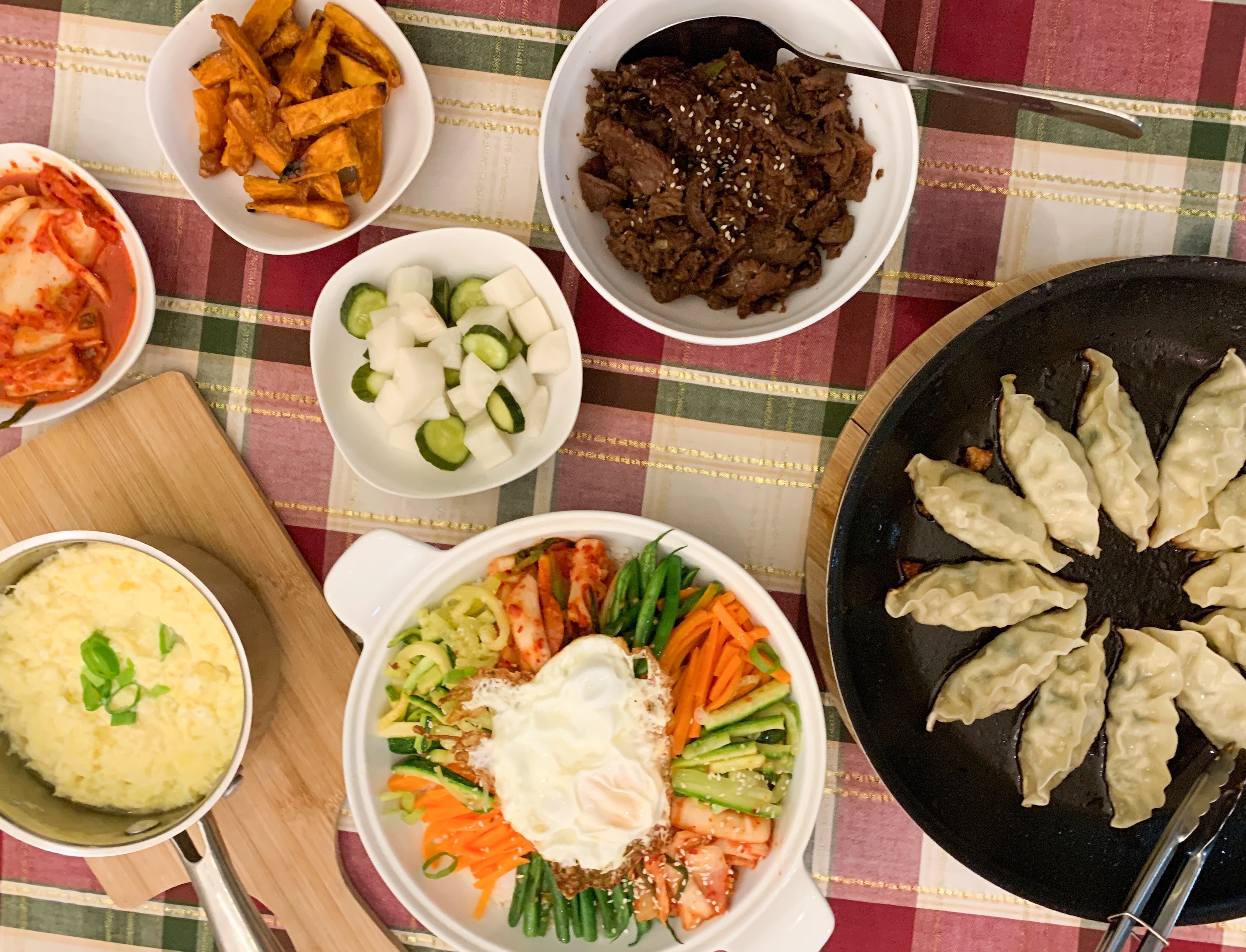 1 peeled and cubed radish
1/2 cup white vinegar
1/2 cup white sugar
I usually make this pickled radish as soon as we come home from the grocery store, as it needs to sit in the refrigerator for at least 4-5 days before it's ready to eat. There is no need to heat the vinegar, as some other pickling recipes call for, it's quite easy to throw together, and it's actually one of those fix it and forget recipes that is made and replaced, whenever we run out.
Kimchi Jjigae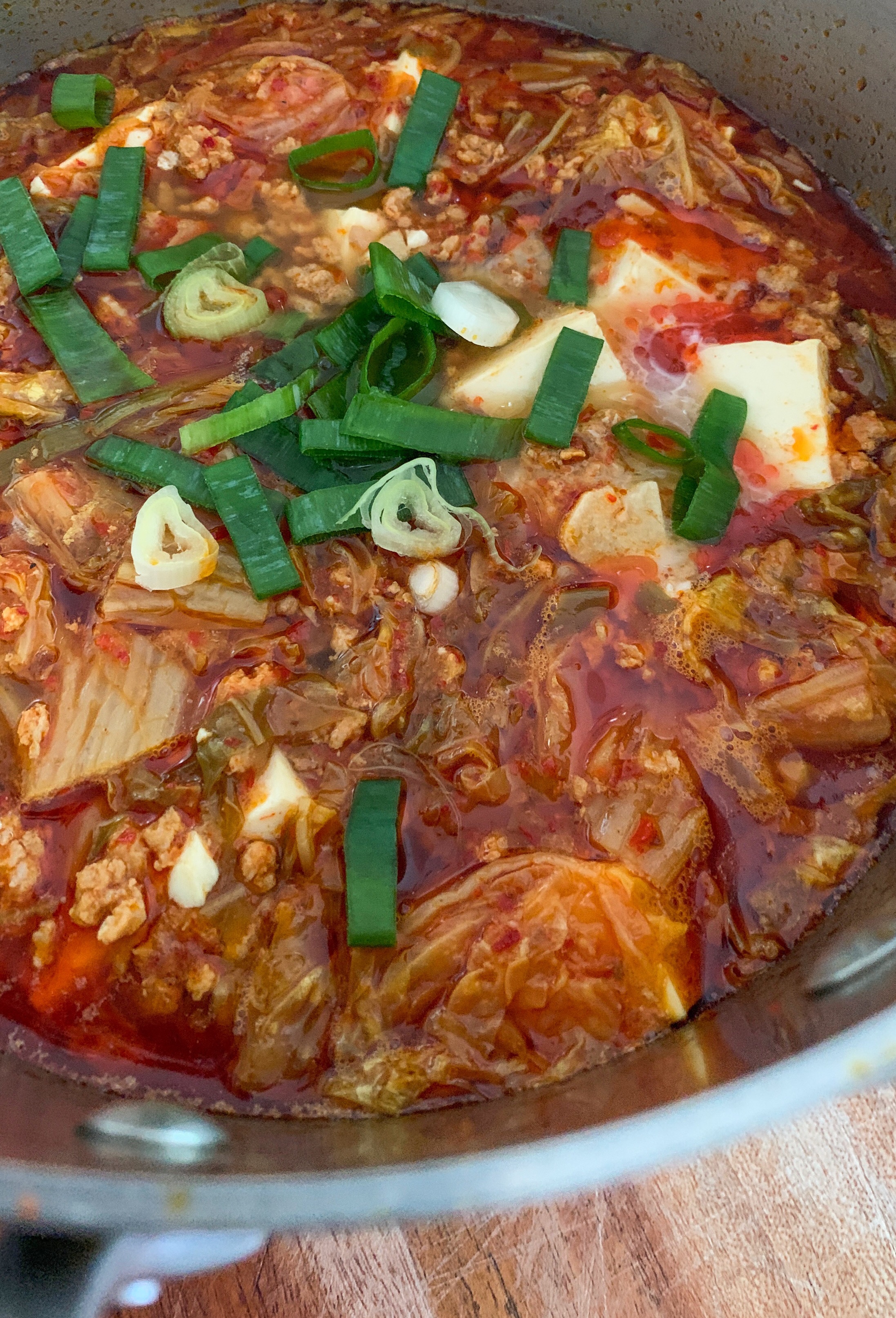 Korean stews and soups are hearty, well balanced meals and can be enjoyed with a small bowl of rice, and some kimchi (that is also always in our refrigerator since the pandemic) as a side dish. While I have yet to explore the vast range of soups and stews to create at home, I have often enjoyed different variations whenever we have eaten out in our favorite restaurants.
Korean dinner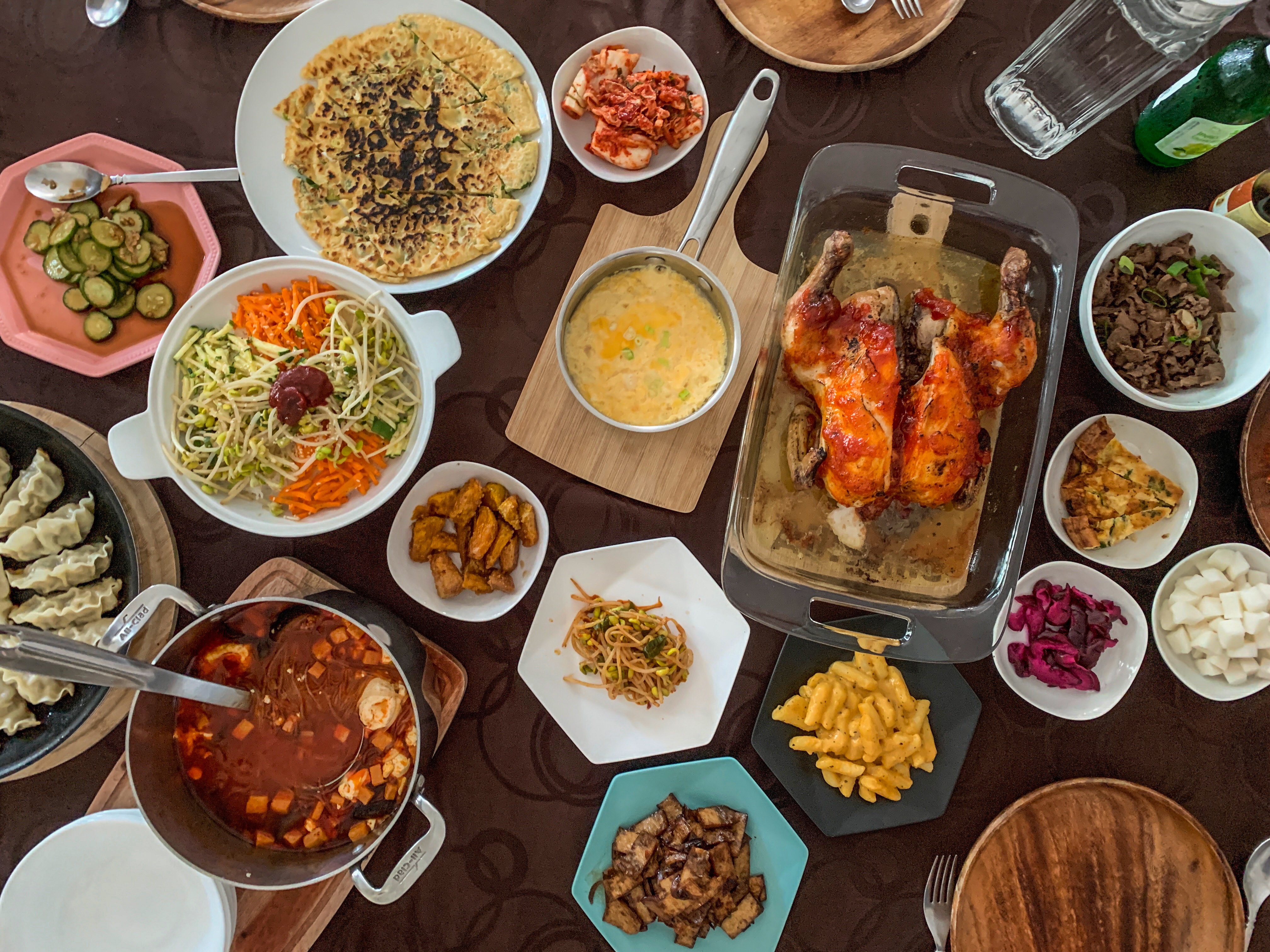 One of my first memories trying Doenjang jjigae includes when Nino and I found this very simple Korean joint in Fort Lee NJ, just across the Hudson River from Manhattan, many years ago. Back then it was a simple restaurant and only had two things on the menu. Barbequed Beef Short Ribs, and Jjigae. There were 4 choices of protein, and 5 levels of spice. Proteins included pork, beef, seafood, and vegetarian/tofu. It was always served with a small bowl of rice, and we always ate quickly, to be considerate of the people who were often queued outside. Each earthenware bowl would come to the table bubbling with a thick broth that was satisfying, and deep with layers of flavor. Depending on your level of spice, your stew would come to the table in different hues of brown to a vibrant bright red.
Doenjang Jjigae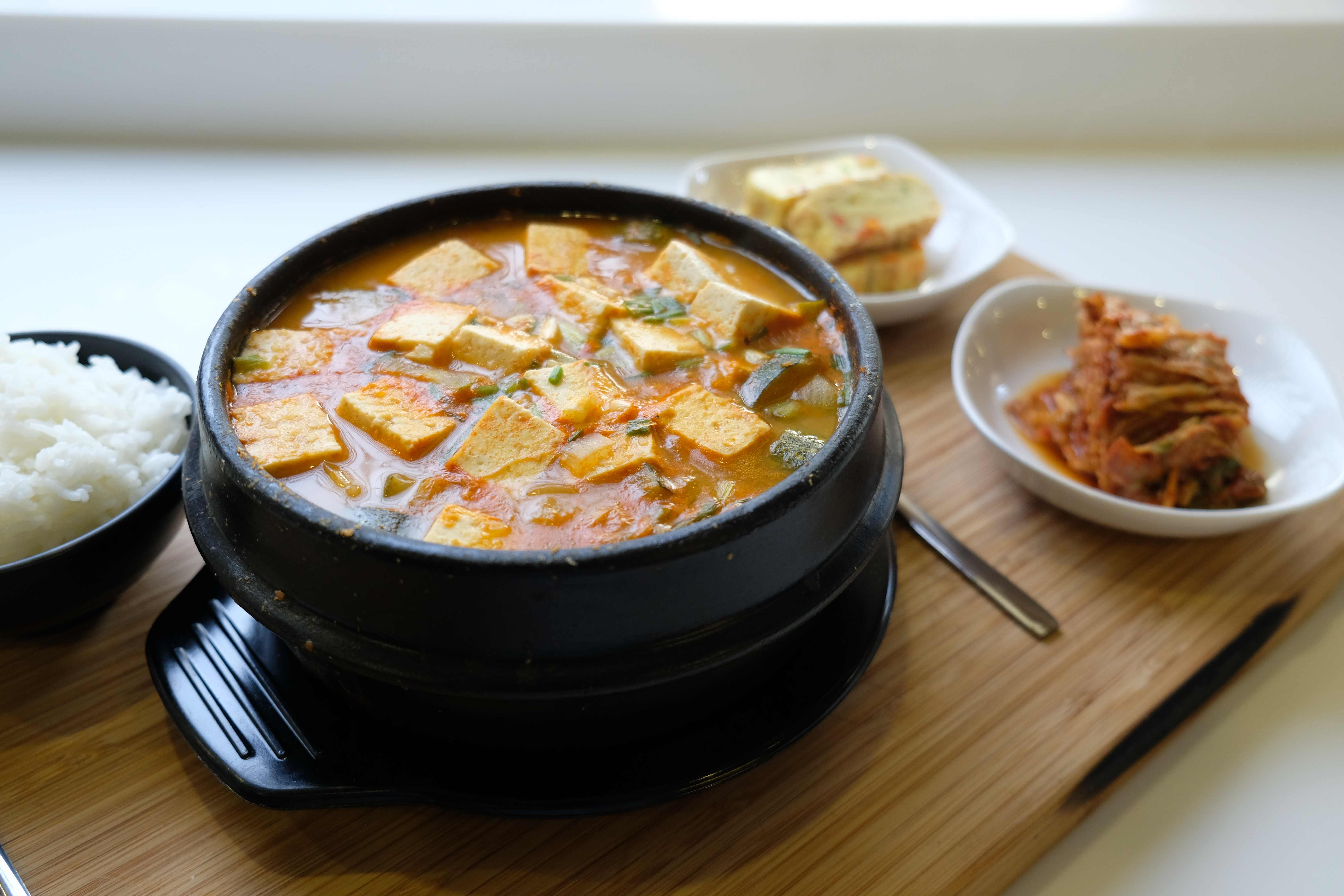 The base of Doenjang jjigae is a fermented soybean paste that can be compared to miso in Japanese cooking. It is earthy and salty and is complimented by the infusion of fresh vegetables, and a choice of protein, both of which give this stew body, making it a meal that is enjoyed quite simply. Because this dish is quite common and often referred to as "service" in many Korean restaurants, it could even be considered comfort.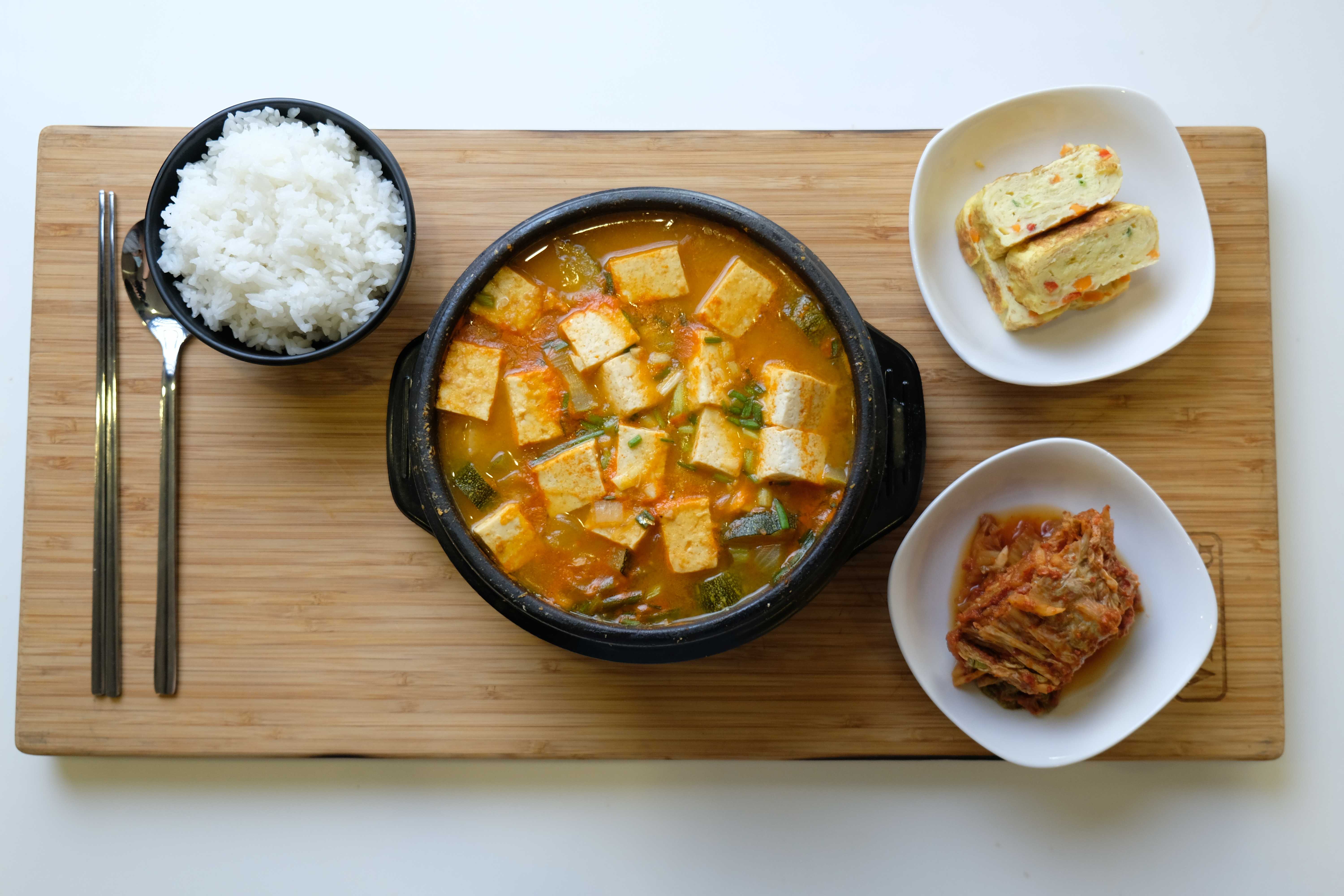 One thing is for sure, I enjoyed the dish so much that after the first time I made this dish for lunch, I made it again for dinner as soon as I got home from the Viking Showroom.
Ingredients:
One medium sized onion chopped
One large potato peeled and cubed
One small zucchini washed and cubed
Two sinigang peppers washed and chopped
Three cloves garlic minced
Five pieces dried dilis
Four pieces sugpo cleaned and rough chopped
Three-four tablespoons of Doenjang
One cup or more of cubed tofu
Handful of chopped green onion
Directions:
Layer the first seven ingredients in your earthenware pot in the order they are listed.
Fill the earthenware pot with water about three fourths full and cover.
Bring to a boil on medium high heat.
Lower heat to a slow boil, add Doenjang and stir.
Half cover the pot and cook for a few minutes more.
Remove cover, add cubed tofu, and add chopped green onion.
Cook for another 3-4 minutes and serve with hot rice.
Tips
It is important to layer vegetables first. If you add the soybean paste first, the stew will be saltier.
You can swap out sugpo for other forms of protein, or keep it vegetarian and just add the tofu. If there are leftovers, it's even better the next day!
Now that Gia and I have been empowered to making more of our favorite Korean dishes we see on our favorite K-drama of the week, I am sure that we will continue to expand the dishes we will create in our kitchen. – Rappler.com